Disclosure: Privacy Australia is community-supported. We may earn a commission when you buy a VPN through one of our links. Learn more.
Avast SecureLine VPN Review: An Adequate, If Overpriced, VPN
If you like spending more money than necessary for the same service, we've got your VPN right here.
Avast boasts more than 435 million users, making it a lot larger than other VPN providers.
Our Avast SecureLine VPN review will help you determine if Avast – a trusted name in the security world – lives up to its name when it comes to its VPN.
Avast SecureLine VPN is one of a number of programs offered by the world-renowned cybersecurity company Avast.
Based in the Czech Republic, Avast has offices in a number of countries around the world, including the United States, Germany, China, and Japan.
Since Avast Secureline VPN is just one of the many products the company offers, if you just want to purchase the VPN, you should know that you are going to be bombarded with a horde of attempts to upsell you on other security features.
This has the potential to be annoying. Thankfully, there is an option to disable the upselling features.
For the bottom line on whether bigger means better when it comes to VPN service, read on.
Avast SecureLine VPN Overview
---
| Features | Information |
| --- | --- |
| Usability: | Easy |
| Logging Policy: | No logging |
| Server Size: | 700+ servers |
| Server Distribution: | 34 countries |
| Support: | Phone, tickets, and knowledge base |
| Torrenting: | Allowed |
| Streaming: | Allowed |
| VPN protocol and encryption: | OpenVPN, IPSec & IKEv2 protocol/ AES 256-bit encryption |
| Headquarters: | Czech Republic |
| Price: | From AU$5.99/month |
| Official Website: | https://www.avast.com/ |
Pros
Good speed test results
Free seven-day trial
Unlock streaming services (sporadically)
No privacy leaks
Simple service to use
Cons
Higher than average price points
No VPN for routers
No anonymous pay via Bitcoin
The company does store some logs
Signing up for Avast SecureLine VPN
---
Signing up for Avast SecureLine VPN is relatively simple. You are immediately given the option to purchase the product or apply for their seven-day free trial here (link to Avast).

After selecting the seven day free trial, you are directed to a downloading page. The download should start immediately. After the download is complete, you can install the program on your device.
You will be asked to select the language for the install and to agree to their end-user license agreement. When you sign up for the free seven-day trial, you are not required to give a credit card number or any personal information.
When you sign up for the premium package, you will be required to provide a form of payment and personal information.
You will be directed to a connection screen. On the screen, you will see your actual IP address and whether or not the IP address is hidden. On the bottom of the screen, you will see the VPN that you are connected to.
By default, you are going to be connected to the best end point location for performance. More than likely, this is going to be a server in the country you are connecting from.
You have the option to change your location. Gotham City, USA is what Avast offers as the preferred option for video streaming using services like Netflix, Hulu, and other US-based content.
We tested the service a number of times and were able to gain uninterrupted access to Netflix US content while outside of the country. This surprised us because Avast SecureLine VPN has a spotty record, at best, when it comes to connecting to US streaming content from overseas.

Overall, signing up for Avast Secureline VPN is a relatively easy process. Avast SecureLine VPN has all of the basic features you would expect from a VPN. It's easy to use.
Even if you have a no prior knowledge on how to use a VPN, you will be able to download the app, install it in a couple of minutes, and be able to use it securely by following the on-screen prompts.
Everything is written in a self-explanatory way, using easy to understand terms. It takes just a few clicks and you are able to surf the Internet from a secured VPN. However, we were surprised that there were very few options under the menu button.
Can You Trust Avast SecureLine VPN?
---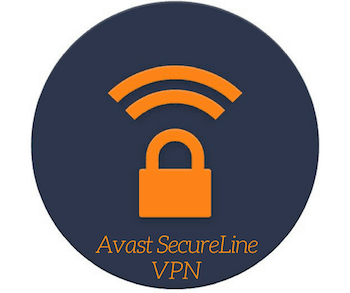 Yes and no. Avast sells so many services and applications and so it can be challenging to find the policy details connected to SecureLine.
However, if you visit the FAQ section of their support site, you'll start to unravel some clues.
The company says that they do not log your Internet activities, the sites you access, bandwidth used, or packet data. On the surface, this looks good.
However, when you thoroughly examine the FAQ page, you notice that there are no details provided on what might be logged by the company when you first connect to the service.
For example, while Avast VPN does not store connection logs, they do show when you connect and disconnect to the server. They store the amount of time you are connected and the amount of bandwidth you use.
Avast says that this information is only collected for diagnostic purposes and to prevent VPN connection abuse.
Avast is a company based in the Czech Republic. The Czech Republic operates using European Union privacy laws. As such, they have a strong incentive for keeping the user privacy policy.
The company is big enough to afford high-powered lawyers, and so it is unlikely that they will easily give up customer information.
It is disconcerting that there is potential adware in the VPN client installation files. As soon as you install the file and it begins to run on your computer, Avast can start collecting data to target you with ads.
Overall, Avast is a company that is concerned about security. However, there are some real privacy concerns and some logging that does take place in the background.
Where Are Avast SecureLine VPN Servers Located?
---
Avast SecureLine VPN has 55 server locations in 34 countries around the world.
They increased the number of server options available in January 2019. The countries that Avast SecureLine VPN currently has servers in include:
Australia (Melbourne)
Austria (Vienna)
Belgium (Brussels)
Brazil (São Paulo)
Canada (Montreal, Toronto)
China (Hong Kong)
Czech Republic (Prague)
Denmark (Copenhagen)
Finland (Helsinki)
France (Paris)
Germany (Berlin, Frankfurt)
Hungary (Budapest)
Israel (Petah Tikva)
Italy (Milan)
Japan (Tokyo)
Luxembourg (Luxembourg)
Malaysia (Johor Bahru)
Mexico (Mexico City)
Netherlands (Amsterdam)
New Zealand (Auckland)
Norway (Oslo)
Poland (Warsaw)
Portugal (Leiria)
Russia (Moscow, St. Petersburg)
Singapore (Singapore)
South Africa (Johannesburg)
South Korea (Seoul)
Spain (Barcelona, Madrid)
Sweden (Stockholm)
Switzerland (Zurich)
Taiwan (Taipei)
Turkey (Istanbul)
United Kingdom (Glasgow, London, Wonderland)
United States (Atlanta, Boston, Chicago, Dallas, Gotham City, Honolulu, Jacksonville, Las Vegas, Los Angeles, Miami, New York, Phoenix, Salt Lake City, San Francisco, Seattle, Washington DC)
Avast SecureLine VPN Security and Encryption
---
Avast SecureLine VPN uses AES-256 encryption. They offer two protocols, OpenVPN on UDP and IPSec. This is a military grade encryption. The 256-bit encryption is the best that is currently offered in the business right now.
This form of encryption is considered to be virtually brute force proof. It is used by a number of government agencies as well as security professionals around the world.
Avast SecureLine VPN offers DNS leak protection. A DNS leak can cause your IP to be revealed without you knowing that it happened.
Avast SecureLine VPN comes with a kill switch. In the event of your VPN dropping the connection, your IP address will not be exposed. If there is a connection problem with the VPN, your Internet connection is automatically shut down.
Speed Test
---
Avast talks about how fast their VPN services are on their homepage. A variety of tests prove the fact that Avast does have a fast VPN service. A speed test was ran on service between the United States and Netherlands to see how well the service works. The results were the following:
US Server

Ping: 113 ms
Upload: 13.67 MB per second
Download: 67.94 MB per second
Netherlands Server

Ping: 34 ms
Upload: 39.44 MB per second
Download: 65.97 MB per second
These are definitely impressive speed tests, especially compared to other VPNs.
Multi-Platform Performance
---
Avast SecureLine VPN works on a number of operating systems and platforms. These include Windows XP through Windows 10.11.x. IOS, Mac OS, and Android are also supported. Unfortunately, this VPN does not offer router support.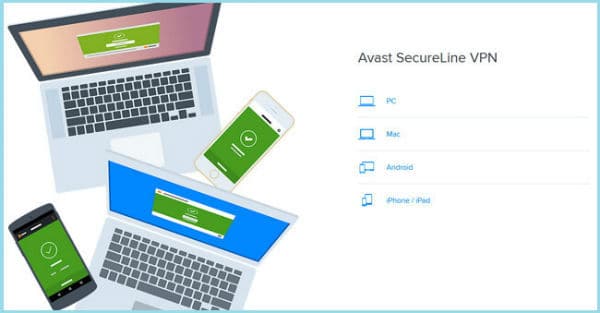 With a single account, you are able to install software on up to ten devices simultaneously. You can transfer your subscription freely between devices and platforms.

To check which subscription you purchased, check the order confirmation email, or your Avast Account that is linked to the email address you provided at checkout.
Does Avast SecureLine VPN Allow Torrenting?
---
Yes, it does. Avast SecureLine VPN allows torrenting (see best VPNs for torrenting) through its data centers.
Something you will notice in the small print is that torrents are allowed with this VPN only when you use Avast data center locations.
There are only nine of these covering all of the United States, Europe, the United Kingdom, and South America.
Support and Customer Service
---
Avast SecureLine VPN offers average customer support. The big drawback is that they do not offer a live chat option. You can find useful information on their forum and in the support section of their website. Information is available for beginners as well as advanced users.
We did find that at times you need to dig around to find the answers, but the search field does make it a little easier. In addition to the information on their website, you have access to their 24 hour seven day a week phone support.
They also offer a ticketing system. Once you send the email to their technical support or billing support department, you will get an instant confirmation. Most tickets are responded to within 24 hours.
Pricing Options
---
When you purchase an Avast SecureLine VPN (Multi-Device) subscription, you can activate your subscription on up to 10 devices simultaneously. You can transfer your subscription freely between devices and platforms.
Avast SecureLine VPN for one year will cost AU$71.88. You're free to cancel for a refund within 30 days of purchase.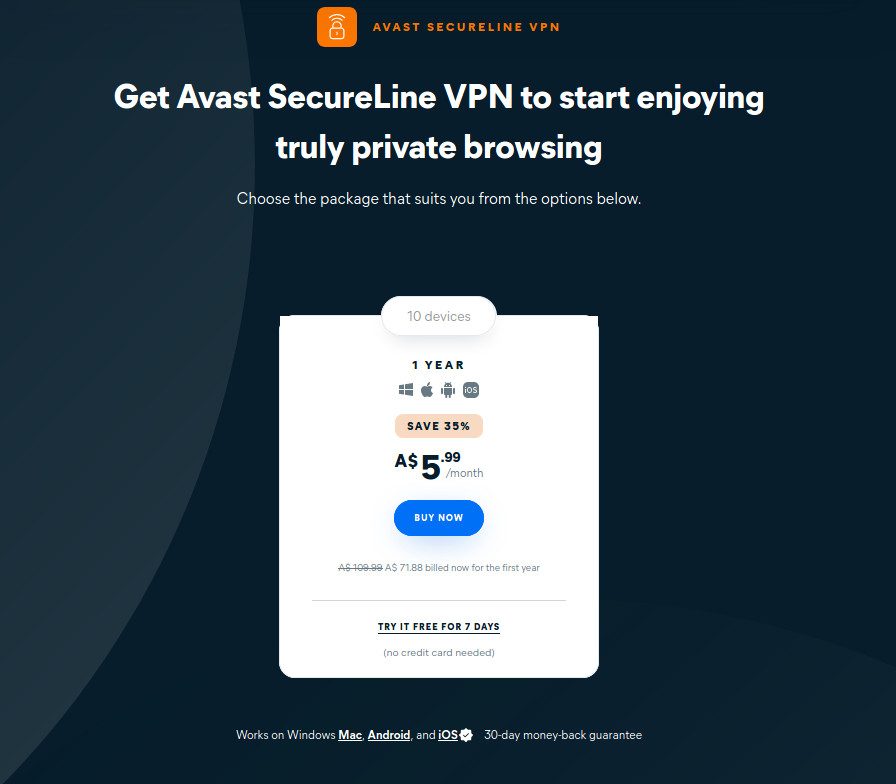 Payment options are limited to Visa, MasterCard, American Express, or PayPal. There is no option to pay with Bitcoin or any other form of anonymous payment.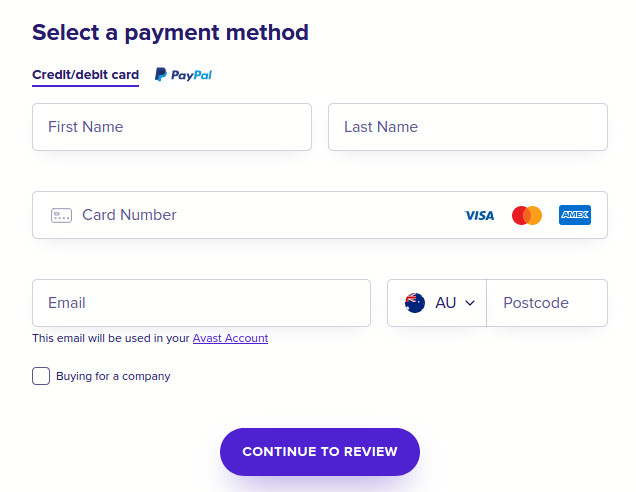 Do We Recommend Avast SecureLine?
---
After looking at a number of factors, we do not recommend Avast SecureLine. While it does have fast speeds, it is easy to use, and has military grade encryption, there are a number of things about the product that worry us.
Avast is a large company that offers good antivirus solutions. However, their VPN is problematic and full of privacy and security issues. One major downside for us is the fact that the VPN does not consistently work with streaming services like Netflix.
We understand that streaming over a VPN is not the reason why everyone purchases a VPN. However, there are a lot of people who buy a VPN specifically for that purpose.
We were very disappointed with the lack of router support. We feel that part of the reason there is not router support is because Avast wants to be able to charge you more to use the VPN on a number of products.
Speaking of pricing, for what you get, Avast SecureLine VPN is very expensive.
There are a number of cheaper VPNs that offer improved customization, improved privacy, and better security and allow you to connect multiple devices to the VPN simultaneously, like NordVPN and Surfshark.
Something else that worries us is the fact that the company is in the Czech Republic. The Czech Republic is friendly with other countries that do not take Internet privacy as seriously as some would like.
This means that there is a risk your information could be provided to governmental agencies without your knowledge or consent.
We are disturbed by the fact that there is potential adware lurking behind the scenes, looking to add files and collect your personal data. As privacy buffs, for us this is a no-no.
We're not saying that this is a bad VPN. It works with torrents, and the connection is virtually leakfree.
But there are a number of services that offer the same features and more for a fraction of what you will pay with Avast SecureLine VPN. Avast is not a terrible choice, but it is far from the best.
We give it three out of five stars.
---
You May Also Like: