Disclosure: Privacy Australia is community-supported. We may earn a commission when you buy a VPN through one of our links. Learn more.
Best Forex Brokers in Australia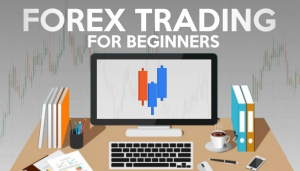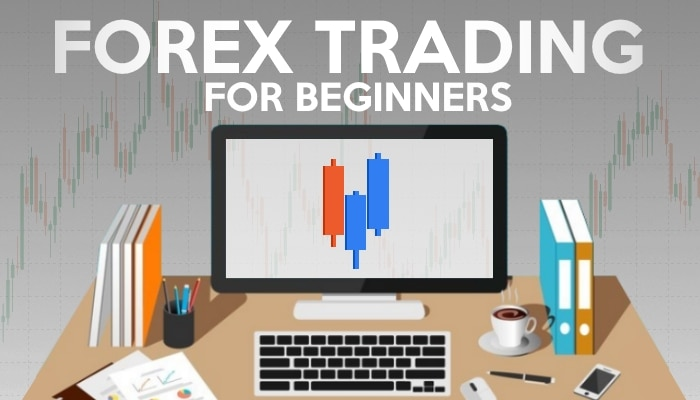 An international pandemic that shut down the economy, a boom in remote work and delivery industries.
In times of great flux, there is a real opportunity for regular people to jump from one class to another.
One way of doing this may be trading the forex as a beginner…
Avoid fantasies. Whatever you do, always treat trading in speculative assets as a risk. There are plenty of success stories where people make heaps of money, such as Glauber, who became a millionaire in two months.
There are at least as many horror stories, such as new cryptocurrencies suddenly disappearing after the owner swindles its user's money.
Always have an emergency fund, pay off any key debts, invest only what you're prepared to lose, and contribute to retirement savings first.
Do your homework, and mistrust shortcuts!
We've selected only the best brokers in Australia which all ASIC authorised.
Table of Contents:
How We Choose Our Trading Platforms 📚
---
Every broker on this list has a world-class reputation for security and regulatory oversight. For instance, to trade forex in Australia, you need to use a forex broker with operational rights.
This can only be granted by the regulatory authority Australian Securities and Investment Commission or ASIC, which is the regulatory authority for Australian financial markets. From there, we amalgamate top-performing names – with an eye on fees and ease of use – and rank order it.
Let's get into it, boil yourself a cuppa 🙂
Best Forex Brokers Australia 🇦🇺
---
This review article will help you to choose your best beginner Forex platform. But you can also use this as a beginner's guide to forex… Our Forex Trading Guide and FAQ section will give you good educational information as you start your journey.
🏆 The List
#1 eToro (Best Overall Forex Trading Platform)
#2 Plus500 (Very User-Friendly CFD Platform)
#3 Pepperstone (Best Rates & Growth)
#4 AvaTrader (Best Vanilla Options)
#5 IG Markets (Best Emerging Markets Forex)
#6 Interactive Brokers Australia (No Minimum Deposit Forex!)
#7 Superhero (Best for Zero Hidden Forex Fees)
#8 CMC (Award-Winning Forex Platform)
#9 Forex.com (High-Quality Research & Trades)
On to the 9 top forex brokers for newbies 👇
1. eToro – Best Overall Forex Broker
---
Key Specifications
Superb Social / Copy-Trading
Demo Account Available
$200 Minimum Deposit
Proprietary Platform
Zero Deposit Fees
eToro AUS Capital Ltd ACN 612 791 803 AFSL 491139. OTC Derivatives are speculative and leveraged. Capital is at risk. See PDS
Pros
Access forex and crypto markets
Social copy trading: android & iOS
Perfect UI for forex beginners
Cons
$10 inactivity fees
If you like other platforms, e.g. MT4, no integrations
📓 Reputation
eToro broke out of the gate as the ultimate beginner's platform for forex. With competitive features for beginner to intermediate trader levels, depending on asset types needed.
It is so well-regulated that the US has allowed it to operate. The US is notoriously stringent with forex brokers. There are more than 13 million users worldwide.
And the user interface is extremely friendly and well-designed. While there could be more currency pairs available for trading, and some of the research tools are average, it's more than what you need for starting out (eToro full review).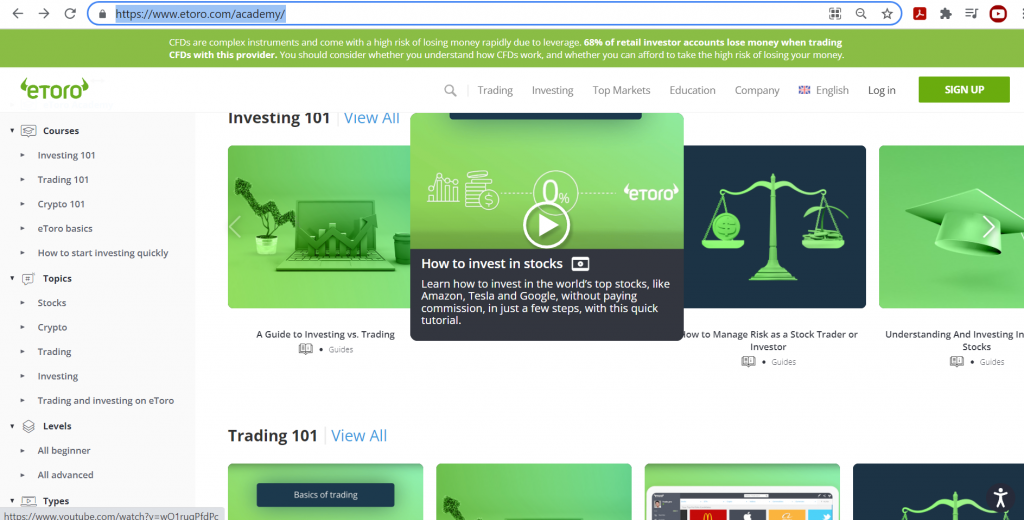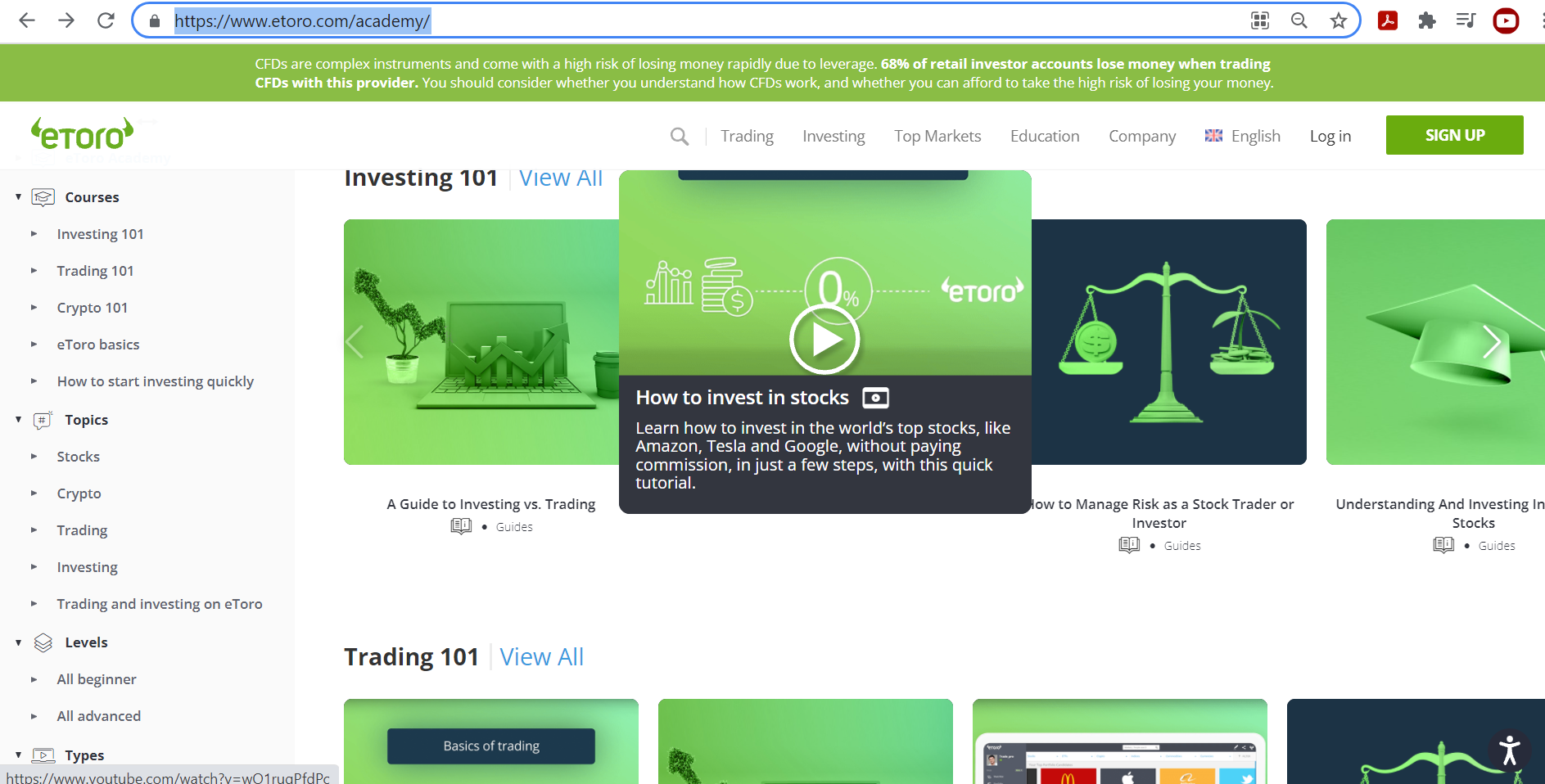 Add to that—a Goliath of educational resources that are incredibly well organised. Run through video courses investing, trading, crypto, eToro, and investing—from start to finish. There are beginner and advanced (intermediate) levels. And searchable individual topics that range in format from guides to videos, podcasts, and webinars.
Features
Beginner forex platform? If you are looking for MetaTrader or cTrader, this is not a good option. Instead, you'll get eToro's proprietary platform tailored to beginners. Trading stocks & ETFs and cryptocurrencies—fractional shares included.
News and Analysis 📰
Featured Articles: In a fast-moving space, get the simplified, cutting-edge advice necessary to make heads or tails of things as a newbie.
User Interface: An incredibly attractive and organised user interface makes finding the tools you need simple; from the specific trade market, traders you want to copy, newsfeeds, to live crypto coin prices and your portfolio.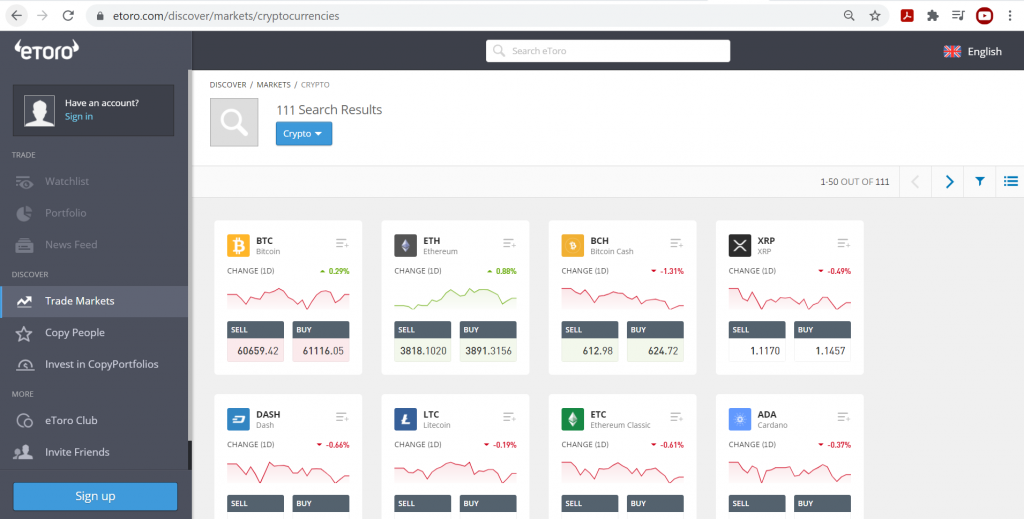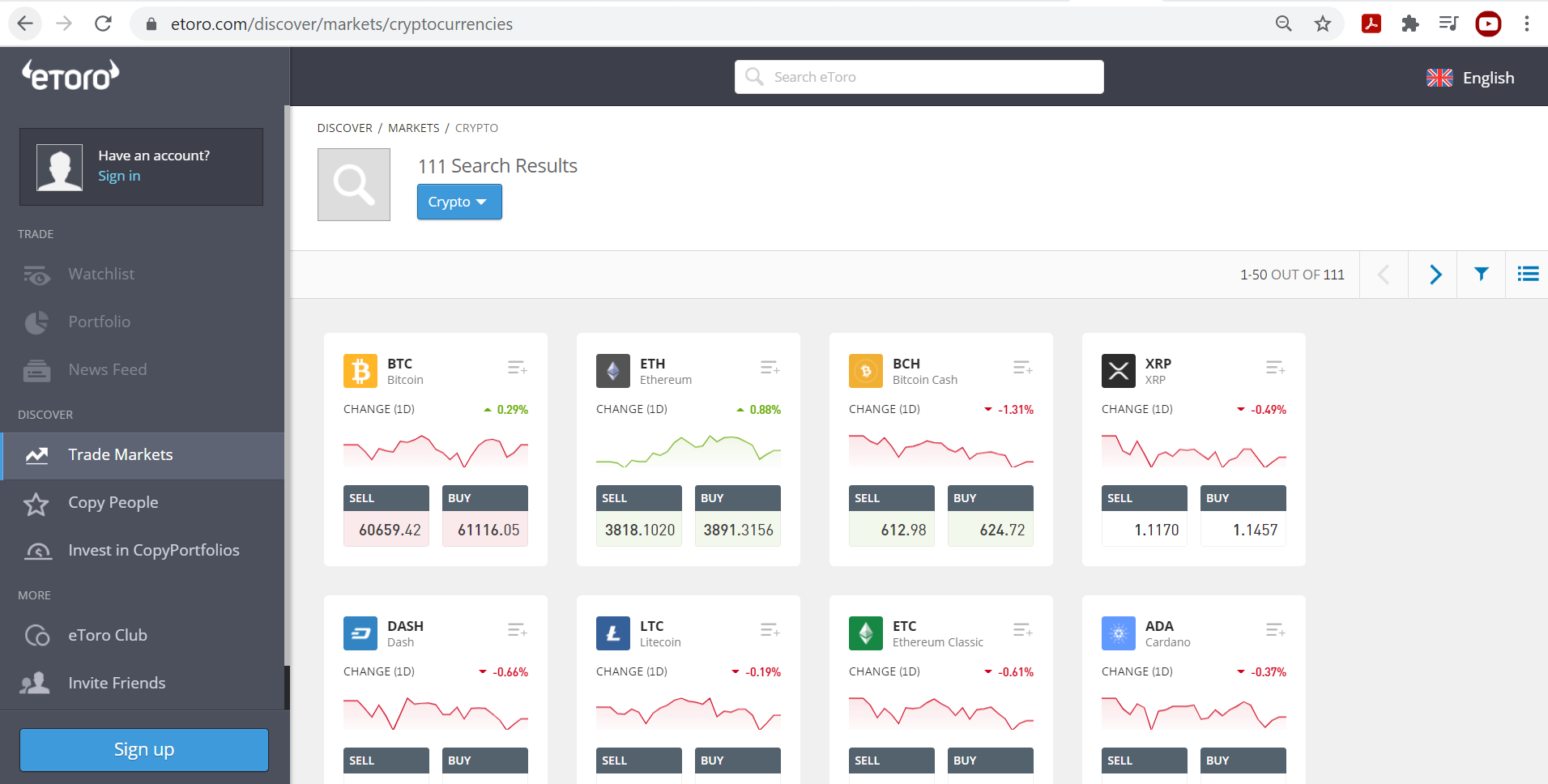 eToro Academy 📚
Attractive Courses: While many of them are short courses, eToro has made the effort to provide attractive videos and other types of guides on a large range of the essentials that beginners need to know.
⭐ Why eToro is the Best Forex Broker for Beginners
eToro stands out as the best social trading platform around. Its copy-trading feature is second-to-none.
Because its proprietary system has been designed from the ground-up for beginners and intermediates, you will be hard stretched to find a faster passive trading solution.
Furthermore, they have proved positive evidence that the system works, with profits of over 80% on average per users who mirrored the 50 most-copied traders in 2020.
Realistically, most people will not put the time into the master training. So this is a no-nonsense, astute way of investing extra cash as both quickly and astutely as possible.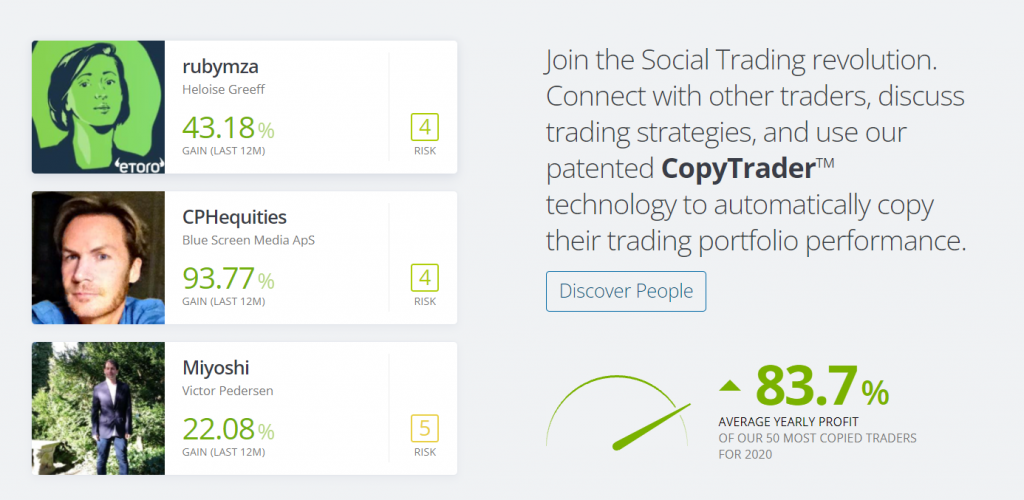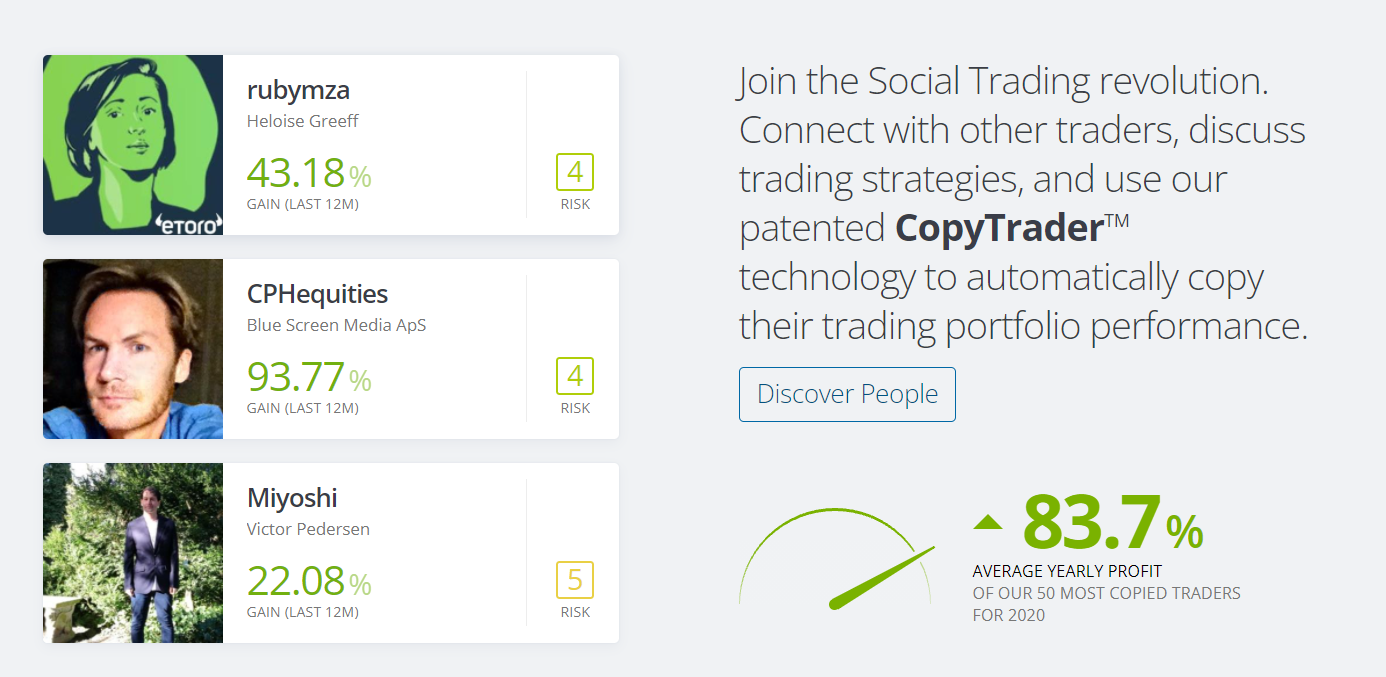 Verdict 🤔: A great option if you want to grow into your chosen forex broker platform. Use the various insight tools to help you sniff out trading opportunities and tune strategies. With a vast forex trading community that lets you connect with and learn from experienced traders.
2. Plus500 – Very User-Friendly CFD Platform
---
Key Specifications
AUD200 minimum deposit
$10 inactivity fee after 3 months
No deposit or withdrawal fees

CFDs are a leveraged product and can result in the loss of your entire balance. Trading CFDs may not be suitable for you. Please consider whether you fall within Plus500's Target Market Determination available in their Terms and Agreements. Please ensure you fully understand the risks involved.
Pros
Lots of tools for research and planning
Zero Commissions
Cons
Not suitable for beginners/inexperienced traders
The crux of foreign currency trading is diversity and maneuverability. You cannot maximize the value of your forex portfolio if you are stuck trading the same foreign currency pair over and over again. That will just leave you stuck holding a currency that is worth nothing to you. Instead, you have to stay moving.
But what does that mean? Well, the developers of Plus500 know the answer to that: Whereas most forex trading platforms keep their currency pairings limited by necessity, Plus500 goes big.
How Does Plus500 go Big?
They accomplish this by connecting to tons of different economies across the whole world. That means there are few currency pairs they don't cover. It also means that you can "filter" your trades through a number of pairs to get where you want to go. Trade pounds for yen, yen for dollars, and dollars for pesos if you think it will make you more money than just trading pounds for pesos.
The Tools are a Cut Above
But forex trading is nothing if you cannot plan your next move. To that end, Plus500 offers tons of tools for helping you compare how foreign currencies are doing and predict where they are going.
You basically can't trade foreign currency without this, try as you might. These tools include graphing and mathematical analysis tools, as well as research articles on current market trends.
Drawbacks
The most obvious issue that Plus500 has is also its greatest strength: Its size. This many foreign currency pairs means you can manoeuvre any trade into being beneficial to you. The problem with that is that it takes a high level of understanding of the industry in order to actually do that. Granted, the platform does offer you tools to that end.
Be aware that:
CFDs are "complex financial products", thus the platform is suitable for experienced traders only.
There are significant risks involved with trading which could not be avoided, and there are losses related to trading.
3. Pepperstone – Best for Fees & Growth
---
Key Specifications
Commission Rebates (for Professionals), No Inactivity Fees
Demo Account Available
$200 Minimum Deposit
Platforms: cTrader, TradingView, MT4, MT5
Award-Winning Customer Support

Pros
61+ forex markets, 18 crypto cfds
Social copy trading: android & iOS
Tight spreads at a great rate
Cons
No proprietary platform
Copy-trading not great for beginners
📓 Reputation
Where Pepperstone stands out is in lowest rates. They're regulated by the Australian Securities and Investments Commission (ASIC), and the Financial Conduct Authority (FCA) in the UK. This makes it one of the most regulated brokers in the world, with no commission fees and superb customer support.
Features
Beginner forex platform? MT4 & MT5 are suitable for all levels of experience, including beginners, with simple trading tools and automations in its UI. (cTrader is better for experienced traders seeking the sharpest insights.) MetaTrader 4 and 5 give you access to more than 61 different forex markets, including crypto, currency indices, commodities, and shares.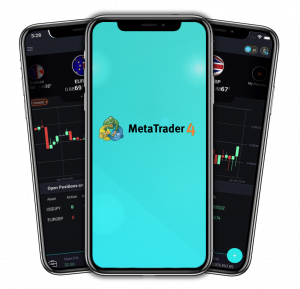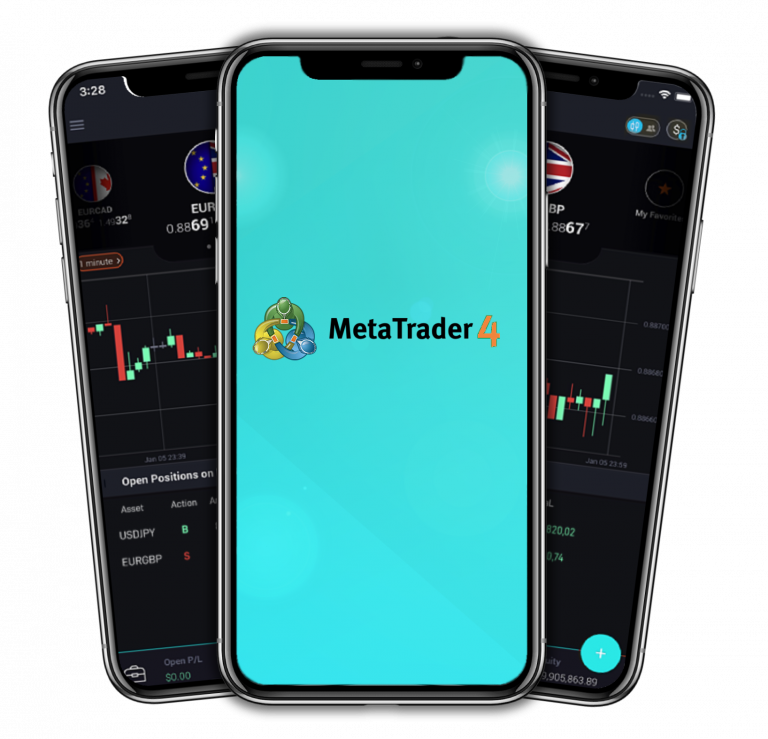 Algorithmic Trading
📊 Smart Trader Tools: Get paid or free indicators and expert advisers using the Meta Trader online MarketPlace.
📉 Expert Auto Indicators: The AutoChartist feature scans the market, to help beginners automatically find entry-points.
Social-Copy Trading
Why Pepperstone is Best Forex Broker for Beginners and Experienced Traders
While Pepperstone is very customisable and offers many of the same features that eToro does, its social trading is not as nearly as intuitive. If you don't want to mess around with technical-looking browsers, this isn't a great choice. But if copy-trading isn't your goal, then it gives you the advantage in spread costs.
Verdict 🤔: A great option if you want to grow into your chosen forex broker platform. Use the various insight tools to help you sniff out trading opportunities and tune strategies. Its vast forex trading community that lets you connect with and learn from experienced traders… However, expect a steeper learning curve.
4. AvaTrader – Best Vanilla Options
---
There are many ways of trading forex, but most of them have come into existence in the last five to ten years. This is because online trading has revolutionized how foreign currency is traded in many ways.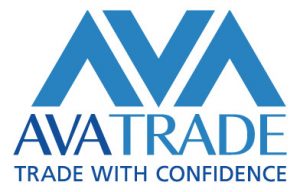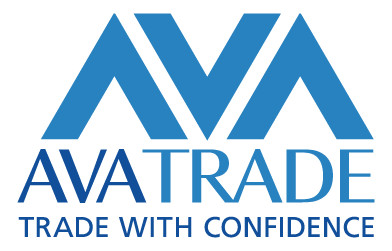 However, the foreign currency trade is far older than the internet that currently hosts it. That means underneath all of the different layers of techniques and strategies, there are fundamentals to foreign currency trade that are unchanging. The most essential style of these fundamentals is "vanilla trading".
Pros
Well organized
Little to no fees
Access to lots of other kinds of trading
Cons
Lacks the variety of tools other platforms have for forex
Fewer currencies than other platforms
What is Vanilla Trading?
Vanilla trading is what AvaTrader focuses on. It is the original way that foreign currency was bought in sold, back when the market was made completely out of paper without a computer in sight.
The essence of it is as simple as "buy low, sell high", an old adage on the stock market you have probably heard before. When vanilla trading, you are identifying a currency you would like to buy or sell, and then contacting a buyer or seller to see it moved for a designated price. It is that simple.
AvaTrade is the best at this because they organize their currencies into easily tradable "currency pairs". These currency pairs ensure that every buyer has a seller, and ever seller a buyer, no matter what.
That is what vanilla trading offers: Convenience. And AvaTrade provides that by organizing the market, removing the fees that would slow down your trades, and getting rid of accessory tools from its app.
Of course, this can make it feel bare and simple to people used to more complex ways of trading forex. But given the reliability of AvaTrade, and its variety of other trading tools, most people are going to want to get started with something simple rather than try to figure out a feature heavy app.
5. IG Markets – Best Forex for Cheap Access to Emerging Markets
---
Key Specifications
Very Well Regulated
Demo Account Available
$250 Minimum Deposit
Platforms: cTrader, cAlgo, MT4, MT5
World's No.1 CFD Provider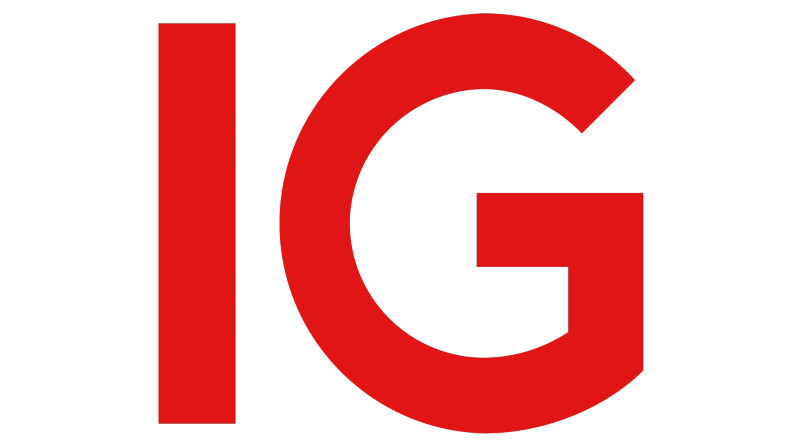 Pros
Over 16,000 markets
Advanced trading platform
80 currency pairs offered
Cons
No social/copy trading !
High fees for 2-year inactivity
📓 Reputation
The lack of social/copy trading might be the clincher. It isn't available with IG markets. But like Pepperstone, IG Markets stands out for low rates. They're regulated by the Australian Securities and Investments Commission (ASIC), the FCA in the UK, and the CFTC and the NFA in the U.S..
As the name suggests, with IG markets you also get enormous access to the markets, with over 16,000 markets available..
They've been around since forever, which is why there is such a huge variety of offerings. For instance, their currency pairs are divided into six categories: Majors, Minors, Australasian, Scandinavian, Emerging Markets, and Exotic.
Features
Beginner forex platform? MT4 & MT5 are suitable for all levels of experience, including beginners, with simple trading tools and automations in its UI. while US visitors can only trade forex with IG—Australians can use IG to trade cryptocurrency, forex, stock sectors, separate equities, and commodities.
Learning how to trade is a serious enterprise. It's important to meet students where they are at, avoiding industrial jargon, vagueness, and mind-numbing technicalities if they aren't necessary.
Compared to eToro, their Educational Academy is more in-depth, with better gradations for different experience levels. This ranges from beginner to intermediate and advanced (eToro, by comparison, basically jumps you from beginner to advanced, but it's probably intermediate).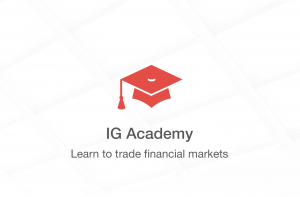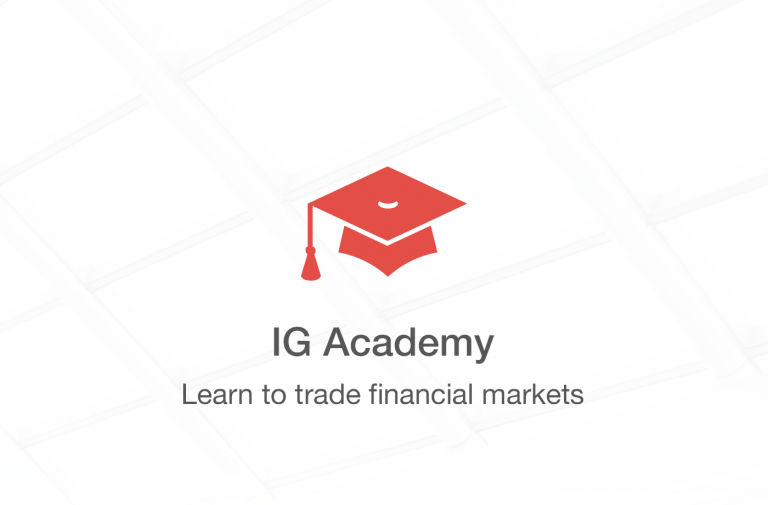 🎓 IG Academy
Properly-Gradated Courses: Teach yourself how to trade using online training courses are sensibly structured—this includes many videos.
Interactive Exercises and Quizzes: Check your understanding of key principles along the way.
🌐 Professional Reliability
Speed: IG is designed to handle high-volume trade and traffic, and also lets you trade outside of standard trading hours in some CFD markets.
Analytics: Comprehensive News, frequent market updates, and in-house analysis at every level.
Why IG Markets is the Best Forex Broker for Beginners
While IG Markets grants exceptional access to emerging markets for cheap, and offers many of the key features that eToro does, there is absolutely no social/copy trading.
If you want a system that you can set up today in a matter of minutes and begin investing money, this is not the one for you. The minimum deposit is also slightly higher. But it's a great choice if you want good spread costs, good market access, and educational resources.
Verdict 🤔: Probably best suited for traders who want to spend time learning to invest, already have a strategy, or who are intermediate-level beginners (small traders and new market pros).
6. Interactive Brokers Australia – No Minimum Deposit!
---
Key Specifications
Very Well Regulated
Demo Account Available
$0 Minimum Deposit
Proprietary Platform
Competitive Commission Rates
Pros
Wide diverse investment offerings
Physical cryptocurrency
Very high regulatory trust
Cons
No social/copy trading!
No crypto CFDs
Limited account funding options
📓 Reputation
Once again, this provider lacks social/copy trading, so if that's necessary this one is a no-go. But there's no deposit to get started—so the upfront investment is low.
On the other hand, they have an enormous amount of trust with the various regulatory bodies across the world. Their Tier-1 licence authorisations: Australia (ASIC) to Canada (IIROC), Hong Kong (SFC), Japan (FSA), Singapore (MAS), Switzerland (FINMA), UK (FCA) and U.S. (CFTC).
Features
Beginner forex platform? Other platforms cannot be integrated, such as MT4 & MT5. Like eToro, they use their own proprietary software—and this is part of the reason why their desktop and web platforms are so user-friendly.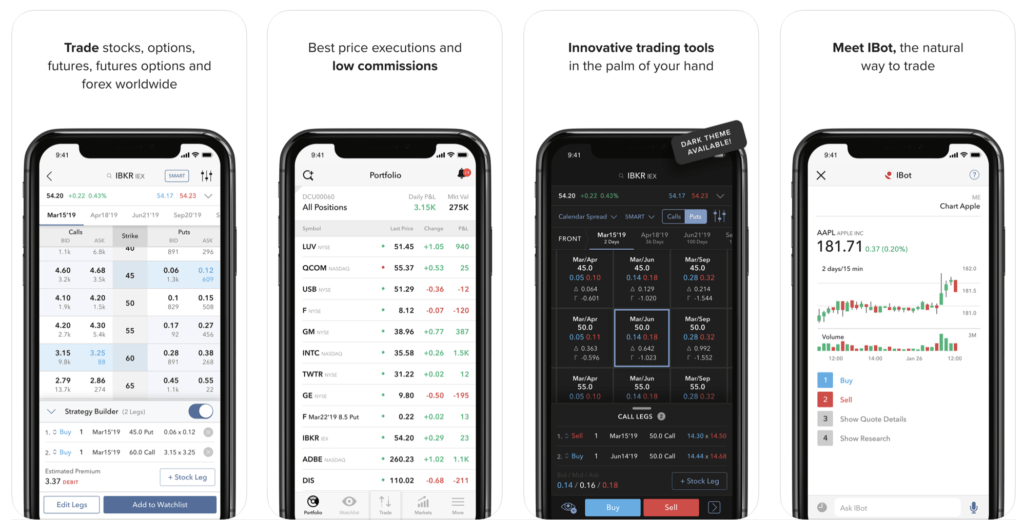 Their tools and analytics are advanced at the upper levels—trade from the chart, create watchlists and alerts, and do virtual trading.
There are limited ways to fund your account, however. There's no PayPal or credit/debit card support. But there is also no minimum deposit. This is one trusted way to begin trading even if you have a dollar in your account.
Cheap International Entry 📟
Fractional Shares: invest as little as a dollar, rather than buying several shares at once. Buy into big-name stocks at a fraction of the cost.
International Shares: 26 different markets with investment opportunities. Top-tier sources provide forex information directly to your newsfeed.
Offerings 🛍️
Advanced Charting: there are good and powerful tools that let you do customisable advanced charting, including 20 different order types. (Note that this won't be useful for you as a complete beginner.).
Massive CFD Offerings: IBKR offers an immense no. of investments—over 100 currency pairs, 7400 CFDs, and bitcoin futures.
Why Interactive Brokers is the Best Forex Broker for Beginners
Interactive Brokers Australia is a mixed bag for forex beginners…
One hand, there's no social trading, which can be a deal breaker for many beginners to forex. You can't fund your account using PayPal or credit/debit cards (has to be direct bank wire).
On the other, there is no minimum deposit to begin trading. And you can invest in international big-name shares for little-to-nothing—via fractional shares.
Verdict 🧐: A good option if you're ready-and-booted to get started in Forex as a beginner. (As long as you don't need copy-trading.) You won't need to invest a large minimum deposit into your account. Sure, it offers very powerful charting features—but these are probably not useful for beginners. There may also be our monthly fee, plus commissions for non-high-frequency traders.
7. Superhero – Super Accessible. No Hidden Fees.
---
Key Specifications
Demo Account Available
$100 Minimum Deposit
$0 Deposit Fees
$0 Withdrawal Fees
$0 Inactivity Fees

Pros
Only $5 per trade in Australia
Trade crypto
No monthly fees
Cons
No social/copy trading!
No international shares
Non-CHESS sponsored
📓 Reputation
These guys have only been around since 2020, so it's no surprise that they are still getting their feet under them. For instance, they are yet to have copy trading, and they're only regulated by Australia's AFSL.
But they've gained a reputation as one of Australia's most affordable forex trading brokers. Though you won't get all the bells and whistles as with other platforms, you do get something very straightforward that goes easy (and transparent) on the fees.
Start trading for as little as $100 if you're based in Australia—with a $5 flat rate.
Features
Beginner forex platform? It's intuitive and no-nonsense, which makes it suitable for beginners.
It's also proprietary, meaning that you can't integrate external platforms like MetaTrader/cTrader. Available on different devices, get easy access to reports, fast trading, and a dashboard with real-time updates.
One unusual feature is a tax liabilities tracker. Taxes can be complicated when trading. Superhero tracks this for you based on your account balance and activities—potentially saving an enormous amount of time at the end of the tax year 🗓️.


Why Superhero is the Best Forex Broker for Beginners
Superhero lets you start trading with a hundred bucks.
Tax reporting is expressly gruelling for new investors, all of the guesswork is taken out as reports are included directly on the platform—with transparent fees.
You can start trading in Australian and U.S. shares today, in a matter of minutes. Superhero's strength is in making its provisions user-friendly, transparent, and as accessible as possible. This is one to watch and many big names should adopt Superhero's strategies.
Someone to watch @_@.
Verdict 🧐: We're really hoping that they get a copy-trading feature, but it will take a while for them to establish track-records and deeper regulations. If you want to get some money invested today with minimal hassle, this is a good choice to consider.
8. CMC Markets – Award-Winning Forex Platform for Beginners
---
Key Specifications
Very Well Regulated
$0 Minimum Deposit
$0 Deposit Fees
$0 Withdrawal Fees
$0 Inactivity Fees
Pros
MT4 platform
Trade crypto + copy trade
Award-winning, lightning-fast
Cons
Global shares have high minimums
Non-automated copy-trading
📓 Reputation
Publicly traded company regulated by numerous tier-1 jurisdictions that includes ASIC. CMC is considered a trustworthy Forex and CFD broker.
They're also award-winning, with more than 30 years in the game facilitating online trades. There is no minimum deposit needed, nor are there withdrawal or deposit fees. Although international brokerage fees are high, they have among the lowest brokerage fees for every other type.
Start trading for as little as $11 if you're based in Australia—with lightning fast processing that happens in under a second.
Despite their reputation, account creation is simple. All you need is a driver's license or other bank account information in order to verify your identity. This is generally fast, and 100% free.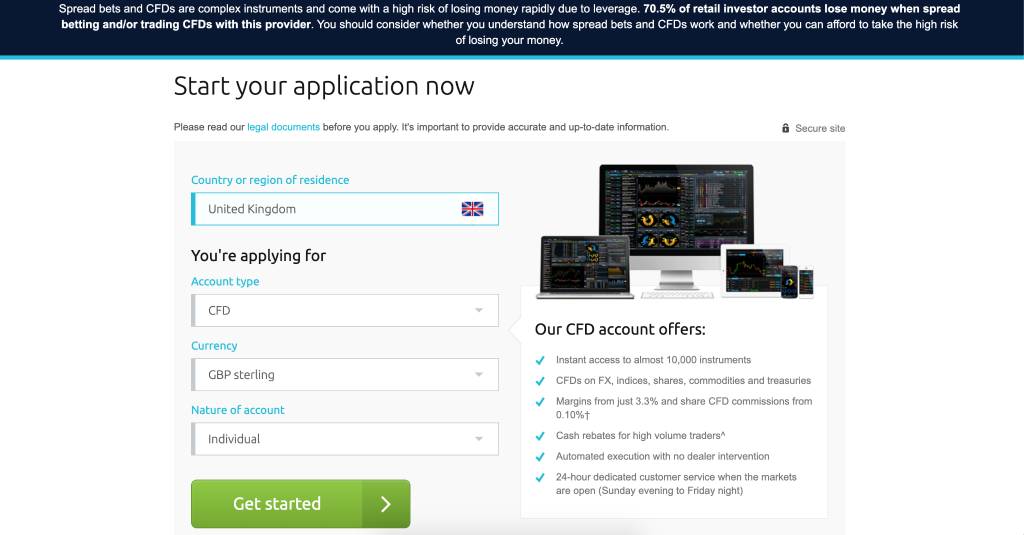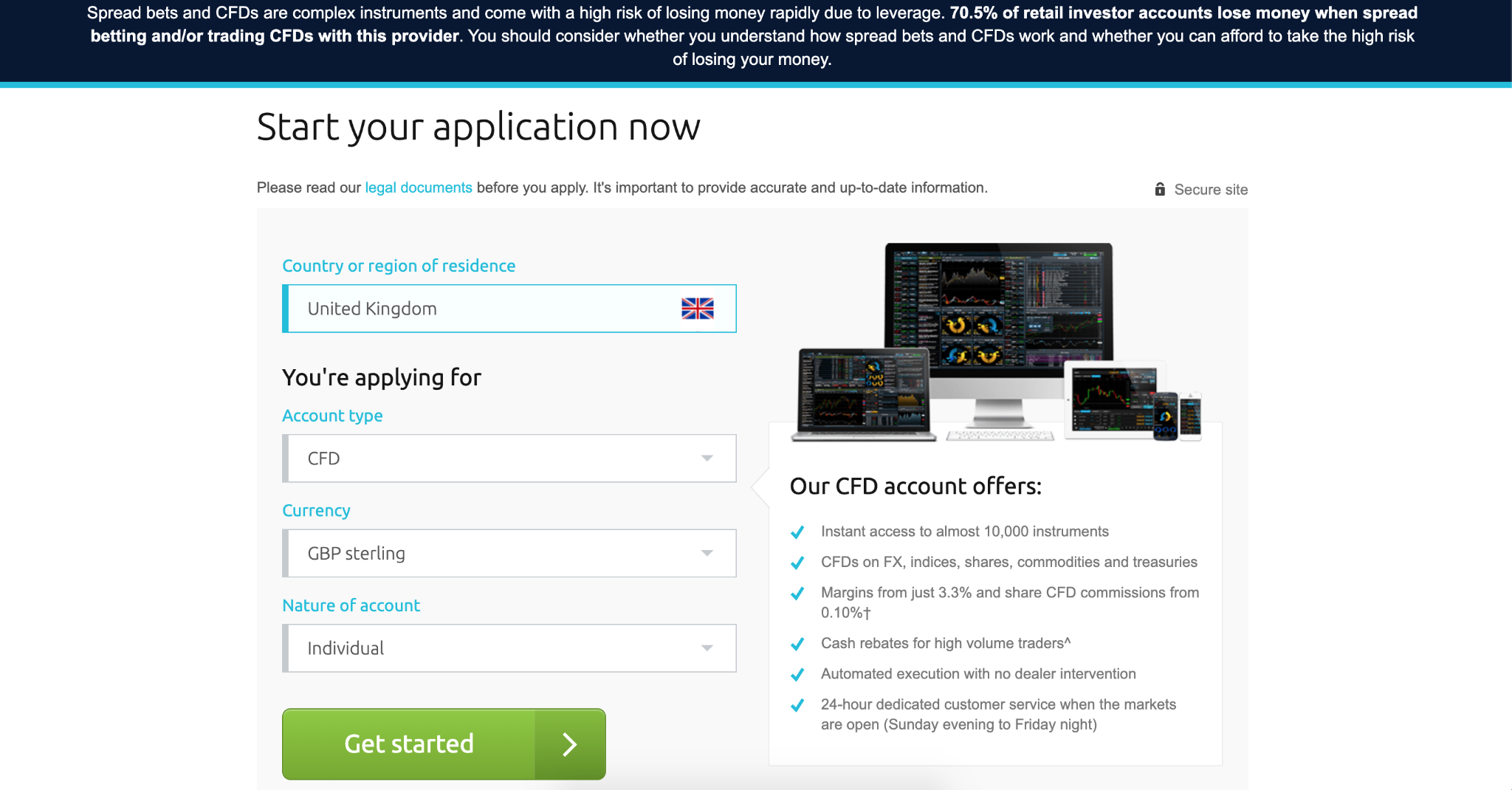 Features
Beginner forex platform? Uses MT4, which makes it suitable for beginners.
There are tons of trading options. Deal in base currencies using all major debit and credit cards. This includes the Australian dollar, US dollar, and British pound. And fund your account using major debit and credit cards, or e-wallets like PayPal or Skrill.
Whether for desktop or mobile, process different order types including stops, limits, and even trailing stop losses. There are more advanced order types available. The customer service team is responsive.
Their Guaranteed Stop-Loss Order (GSL) feature means that you can apply risk thresholds to all of your positions, guaranteeing that trades will close precisely as you specify. Most brokers charge for GSLOs, CMC markets refunds you this costs.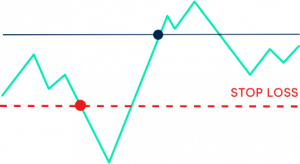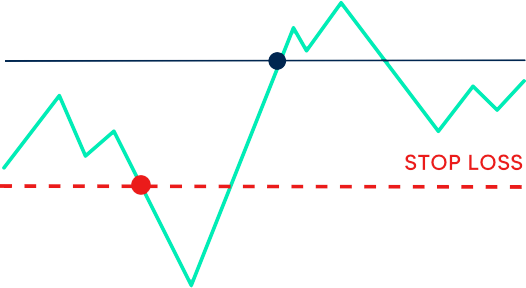 Why CMC Markets is the Best Forex Broker for Beginners
There is access to pattern recognition as well as social trading tools, although you have to directly copy your selected trader. So there's a higher learning curve, also due to it being on the MT4 platform, and the lack of social trading automations.
Also get access to a good range of educational resources and tools to help you learn about forex and CFDs.
Verdict 😎: There is no minimum needed to start trading, there's also a demo account. If you're an active trader, CMC markets will especially look after you via liquidity rebates.
9. FOREX.com – High-Quality Research & Trades
---
Key Specifications
Very Safe, Four Tier-1's
Demo Account Available
$100 Minimum Deposit
Proprietary Platform + MT4/5
Award-Winning for Costs & Education

Pros
Access forex and crypto markets
Mobile: android & iOS
Suitable for forex beginners
Cons
No automated copy-trades!
Sluggish customer service
Higher cost promotions
📓 Reputation
FOREX.com is a publicly traded company that has been around since 2001—with four 1 jurisdictions, including ASIC.
Access a range of assets including crypto currency, CFDs, stocks, and currency pairs. Although they push you towards higher cost services, base costs are competitive at volume spreads. This is the most beneficial for active forex traders.
With strong regulatory licences, they have accrued more than a 40,000 clients. This world-renowned brokerage—although US and UK clients won't be able to trade crypto with this broker. US residents are also banned from doing CFD trades.
Features
Beginner forex platform? Choose from their proprietary platform MetaTrader 4 or 5 (the younger version, MT5 this recommended however, because there are fewer investment offerings available).
Offerings 📰
Types: 9 cryptocurrencies, 80 currency pairs, 380 stock CFDs, 20 ETF CFDs, 20 stock index CFDs, and 29 commodity CFDs.
70+ Indicators: the proprietary version gives you more than 70 technical indicators, alert/notifications, and 50 drawing tools—with advanced order types
⭐ Why FOREX.com is Best Forex Broker for Beginners
FOREX.com gives you dealer execution, which means third parties are never relied on to make trades. This gives you higher quality trades.
Note however the $25 fee for domestic wire transfers, $40 for international transfers. This demo account, however this is limited to 30 days, letting you test-run the platform before committing.
Verdict 🤓: Get access to a plethora of third-party research, which includes a headline stream from Reuters, an economic diary, plus a weekly webinar. FOREX.com's in-house research team also writes materials each day, covering a broad variety of subjects.
Forex Trading Guide
---
Let's cover key concepts to forex trading as a beginner. This will give you more context before starting your new journey:
Forex Trading Explained 📈
---
Short history lesson…
The word "forex" means to exchange fiat currencies, which is thought to be centuries-old, dating all the way back to Babylonians.
But the barter system itself is the oldest method for exchanging value, introduced from around 6000 BC by Mesopotamian tribes who would exchange goods for other goods.
The process evolved further, when special goods like spices and salt became popular mediums for exchange. In fact, this was the beginning of foreign exchange, where ships would sail in order to barter for these goods.. It wasn't until the 6th century BC when the first gold coins were produced.
Why gold? Like currencies today, and even salts and spices, they had several key characteristics including durability, divisibility, limited supply, acceptability, portability and relative uniformity. However, gold is heavy. So, in the 1800s, countries accepted the gold standard. This meant that their governments would redeem any paper money for its equivalent value in gold.
After hyperinflation during World War I, the gold standard was suspended in order to print more money to pay for the war. This was finally transformed by the formation of the internet and internet trading in the 1990s.. Money trading became more sophisticated and faster than ever.
This changed the way people viewed things. Someone sitting at home could bid and view on currency prices, which also opened emerging markets under totalitarian political systems.
This is a very barebones rendition of events but should give you an idea of how the forex formed.
So, what's Forex trading? 🤔
Put the words "foreign currency" and "exchange" together, and you get Forex for short.
As mentioned in our short history lesson, foreign exchange began with bartering for salts and spices, in order to use them as the standard medium of value exchange. Ships would sail to new lands in order to obtain these commodities.
Today, at a login, this exchange is available online—their fluctuating values can be viewed at real-time on the forex exchange.
The value can also be agreed on, depending on the rate that people are willing to bid and sell currencies for. It's now a lightspeed, global marketplace for exchanging national currencies. Exchange rates are paired.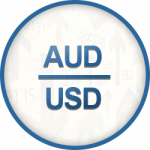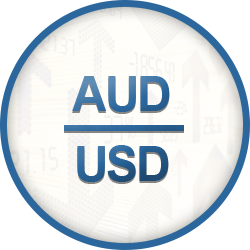 Currencies trade against each other, to establish value. For instance, AUD/USD is a currency pair where the Australian dollar is traded against the U.S. dollar. This becomes much more speculative when derivative markets are factored in, such as forwards, futures, options, and currency swaps.
This gives the market many different functions, from simply investing in a different currency for a more diverse portfolio, to speculating on geopolitical occurrences.
At the most practical level, the foreign exchange market forex is where currencies get traded. This is important because counties enable purchase of services and goods locally and across borders.
For business and foreign trades, international currencies need to be swapped. If you are living in Australia and want to buy wine from Italy, then either you or the company from which you purchased the wine will need to pay the Italians for that wine in euros (EUR).
This means that the U.S. importer will need to exchange equivalent value of Australian dollars (AUD) into euros.
The same is true if you're tourists visiting France. An Australian tourist in Paris cannot pay in AUD to see the Eiffel Tower because it's not the locally accepted currency. The tourist needs to swap their Australian dollars for the local currency, in this case euros, at the current exchange rate.
Forex market opening hours ⌚
The forex international market is unique in that there is no one marketplace for foreign exchange. Instead, this trading is electronic, done over-the-counter (OTC).
Every transaction happens through computer networks between traders across the world, instead of through one central exchange. The markets open 24 hours a day, 5.5 days a week, and currencies are traded internationally in the largest financial centres.
Trades happen across every time zone. Once the US trading day closes, the forex market starts anew in Hong Kong and Tokyo. Whatever the time of day therefore, the forex market can be extremely active, with valuations constantly fluctuating.
Top forex brokers for beginners provide optimal access.
What Makes a Great Forex Trading App?
---
Different forex trading apps have their own combination of strengths and weaknesses, but the best forex platforms for beginners typically have the following three characteristics:
(Each name we've recommended in this guide has each of these qualities 🧐.)
Updates in real-time
While we do not recommend day trading for beginners, currency values can change at a moment's notice, so you want instantly up-to-date value information in order to make the most accurate trade possible, from the moment you buy to the moment you sell.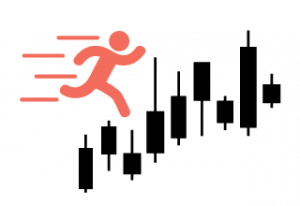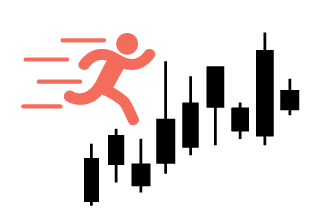 This can be trickier on mobile platforms, because they have less processing power than desktop computers—and a resulting lag or even a crash midway in a trade.
You should test out your forex trading app with a few small sample trades before you commit to the platform. That way, you'll know that you can trade a streaming speed needed to complete accurate currency trades.
Advanced Tracking and Analytics
Advanced tracking and analytics in forex trading apps let you dig into what the best currencies to purchase or sell that day are. Some apps help you to choose currencies to invest in more than others do.
Set up alerts for currencies when they hit a price threshold, compare with historical data to better inform your decision, and get notified of opportunities. Good investors never guess with their money!
Educational tools and resources
A beginner needs to get up to scratch with the foundations. And in a fast-changing market, especially with new types of assets like crypto, getting updates on new opportunities is invaluable.
Knowledge is power. The Privacy Australia team would overall recommend that new traders follow 1-2 mentors. Having too many different sources can lead to an incoherent strategy.
As your app gives you trickles of editorials and news, you'll filter it through lessons you've learned from your mentor. As time goes by, you'll get some sense of seeing patterns.
(And if you do copy trading, this can also work in the same way.)
Useful for Beginners and Experts
Your forex trading app should not only be useful for beginners but also for intermediates and experts. As you grow into investing, and begin to get your feet, you see yourself needing to migrate to a more sophisticated app with more advanced features.
Likewise, an application that walks you from stage 1 of your journey is more valuable than an app that over-impress you with loony charts and industry babble.
The best brokers for beginners today grasp the fact that, due to the digitalisation of currencies, beginners are taking trading more seriously than ever before. From Etoro's copy-trading feature to the abundance of educational resources and rewards available on many other top trading apps—new traders should be able to intuitively grasp things as much as possible.
If you are an advanced trader, seek customer-oriented apps that reward activity.
Minimized Spreads
In forex trading, the difference between the asking and bidding price of a currency is known as the "spread." The difference essentially represents the commission that you'll pay to your forex broker if she carries out your trade.
Although the spread is often only a small fraction of one unit of the currency you are training, active traders who do high-frequency may end up with a substantial percentage of their earnings bitten into by commissions and fees.
In this guide, we've focused on awesome forex brokers who offer fair fees—this helps to limit revenue losses when trading. While it's important to budget for commissions and spreads, there's no need to overpay.
Part of astute trading is holding on to as much of your earnings as is possible!
And Why is Cryptocurrency So Valuable? 🌏
---
You're not the only one who wants to invest in crypto as a beginner.
Indeed, the value of anything is largely to do with the scarcity versus perceived use of that thing. For something to be scarce or rare, it needs to be valued first by you or many people—and that's where crypto is moving.
Example:
Humans need food and so food is very important to us. The higher the quality of food the more it'll cost you, as it is harder to come by. (Which is why shopping at Whole Foods costs more than Aldi. Or why farmer's eggs cost more than the factory kind.)
Likewise, Crypto may lead to far greater interest rates from savings than an Australian Superannuation Fund might offer. The best forex brokers let newbies access crypto markets.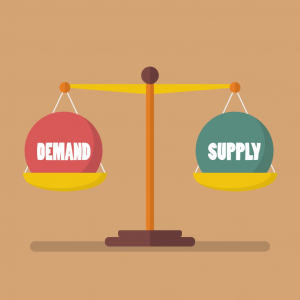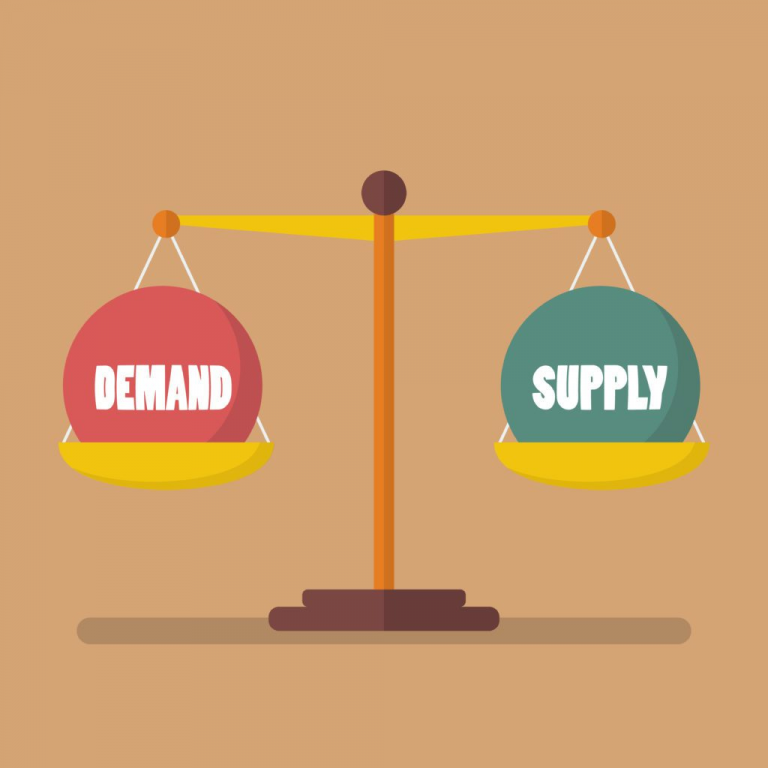 Simply, compared to traditional finance, crypto is a new innovation in its infant years. But it has potentially immense uses that make it valuable. And the different coins inherently provide limits on how much you can hold (for instance, a big single Bitcoin coin is divisible multiple times over).
As mentioned in the introduction, the pandemic proved how important remote work is across the world. With potentially yearly at the beginning of a second digital age. The currency lays the foundation for many other valuable innovations like NFT's — which allow artists to sell their digital assets online. The more that people buy into crypto, the more its value will solidify.
While many of the major earnings from investing in crypto took place years ago, when bitcoin was still garnering a reputation, there's still plenty of room for great returns on investment for new starters.
As the wheels of this infrastructure begin to move, this may become more extreme. So investing a little now may provide significant dividends later on. Of course this is all speculation, so always be wary.
What is cryptocurrency? The bare basics
Cryptocurrency is digital cash. As we mentioned in the history section the traditional finance, Once upon a time sort was used as a medium of bartering—before gold coins replaced it. Then it was the gold standard, which allowed for paper currency and coins of other materials.
Crypto is another form of bartering, forex, or trade, made possible by the internet. This digital currency can be used for goods and services, and is made transparent by an online ledger, that is itself secured via very strong cryptography to protect the integrity of online transactions.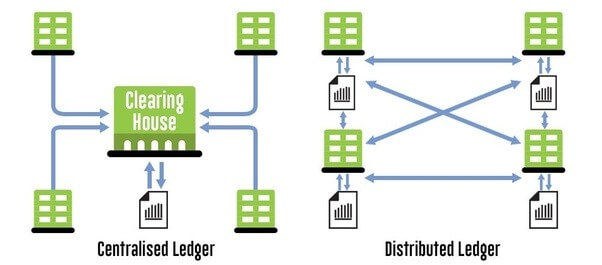 We call this online ledger the blockchain. Of all of the cryptocurrencies, Bitcoin (BTC) has been the most popular and also the most volatile; apart from that last part, it's the industry's "digital gold."
For instance, BTC was nearly $65,000 in April 2021, and lost nearly half of this value by May, before returning to the $45,000 range, months later.
Blockchain technologies allow cryptocurrencies to work. It's decentralised, which means that no one network or computer records or manages transactions. This decentralisation is part of its appeal and how it stays secure from manipulation.
If you want to trade crypto, you need to first have:
Cryptocurrency wallet (at least one) 💼.
Chosen exchange or platform for crypto trading 📊.
Method of payment and receiving money (for instance, a bank account) 💳.
You also need knowledge about trading cryptocurrency, although using a copy trader app means you can do most if not all of this passively.
If you intend to make decisions yourself, it can be simple to start, but you need to keep an eye on the market and stay up-to-date with new developments. The best forex brokers beginners should use offer great updates.
Copy Trading Explained, for Beginners ♊
---
In this section: we explain the basics of what copy trading is, how it works, how to begin copying traders, and how to start investing in a copy trading portfolio.
Copy trading is also known as 'social trading.' It's designed as the perfect solution for people who want to actively trade online—even if you have little-to–no experience with how trading works. (And it's suited to seasoned traders.)
Trading for a living requires treating it as a full-time job. But when you do copy trading, you are passively buying and selling—because your selected copy trader is "making" investment decisions for you.
In the old model, this would have been known as hiring a portfolio manager. But social trading gets rid of the restrictions. You don't need an enormous amount of cash saved up or to have networks.
What is copy trading? The fundamentals
In short, copy trading lets you 'copy' an experienced trader's portfolio exactly. For instance, let's say that a trader has made profits of more than 10% for each of the last 12 months.
You want this recipe for success. And so you use a copy trading platform, like eToro (eToro review), in order to achieve this at a button's click.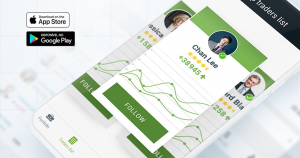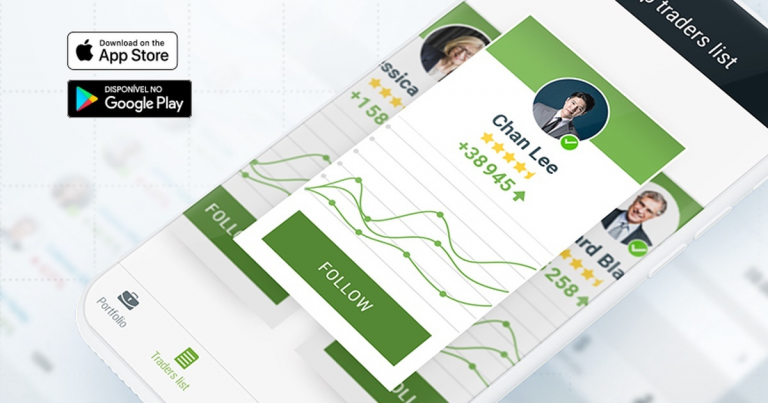 You choose that investor, and the app lets you mirror their portfolio. This means that if the trader has 5% of the portfolio in Tesla stocks and 10% in gold, your portfolio will do the same.
You should note that copy trading isn't only suited to long-term investments in funds or stocks. In fact, you can also copy an investor who does high-frequency short-term trades. Many copy trading apps allow you to do day trading for forex, or CFDs, so that you can mirror successful traders but fully passively.
This means that if your chosen trader buys AUD/USD and then exits the position 3 hours later, your portfolio will follow this pattern exactly. One of the most enticing features of copy trading with apps like Etoro is that you can start trading with as little as $200 in your account.
How to invest in a copy trading portfolio?
So how does copy trading work? It's biggest selling point is in being in fact astonishingly simple. Indeed, you simply need to find a trader that you think looks trusty and then choose how much you want to invest.
You need to have some understanding of how things work, as you will be investing your hard-earned capital. Let's run through two different investment types that you may end up practising: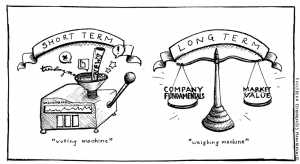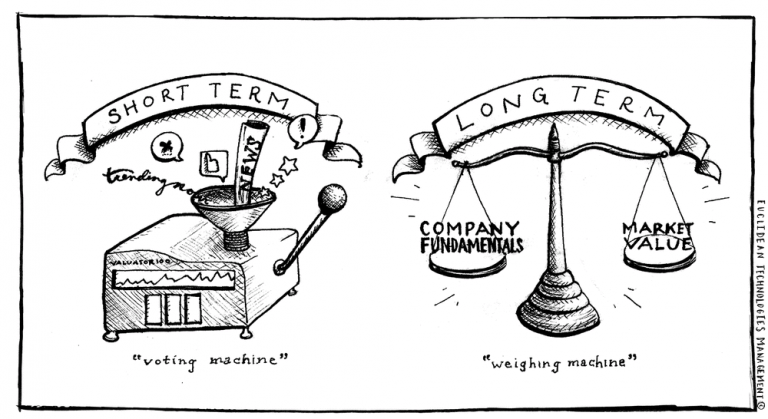 Long-term investment portfolio example:
For our first example, let's look over how copy trading works through the eyes of an investor who prefers to do long-term shares and stocks. Here are possible steps you'll perform for long-term investments:
You discover an experienced investor on your chosen platform.
You choose to invest $500 into the copy trader app.
This trader puts 50% of the portfolio into Tik-Tok stocks.
The trade also has 25% in Amazon stocks and 25% in Netflix stocks.
Once you've confirm your investment on the platform, your personal portfolio will be generated with the following values:
$250 of shares in Tik-Tok (50%).
$125 of shares in Amazon (25%).
$125 of shares in Netflix (25%).
Once you have reached the minimum amount of investment that your selected platform requires, the amount of capital that the trader you have copied has invested becomes relevant—as your portfolio matches them like-for-like, in ratio or percentage.
Short-term investment portfolio example:
For our second example, let's look over how copy trading works through the eyes of a day trader. A day trader is someone who prefers to do short-term positions that might change in hours. Here are possible steps you'll perform for shorts:
You select your trader.
You invest $500 into the copy trader app.
Your trader buys an order on AUD/USD at 1.180.
Your trader chooses to risk 3% of their trading capital with a 1:30 leverage.
Your copy trader automatically matches this like-for-like, which means it places a buy order on your portfolio for AUD/USD at 3% of your capital—amounting to $15.
Once you've confirm your investment on the platform, your personal portfolio will be generated with the following values:
A couple of hours later, your trader ends the position for AUD/USD at 1.2046.
This means a gain of 2%.
As your stake is $15, you make a profit of $0.30.
Because you also leveraged 1:30, your total profit is $9.
It's key to note that do high-frequency forex trades without needing to break a sweat. This all unfolds automatically; if that same trader makes another 12 positions later that day—all of these will be replicated like-for-like in your personal portfolio.
Pros vs. Cons of Copy Trading
Copy trading as one of the most innovative trading developments of recent times. You can sound too good to be true; no longer needing to have experience in order to invest money sensibly, or to spend countless hours trying to master the craft. It in fact qualifies as a passive income strategy.
There is an even strict need to conduct any research—other than selecting a suitable trader, you can leave everything up to your trader, down to what assets to buy and sell, and when.
So, in this final subsection, let's explore some of the advantages and disadvantages of using this method for investing in forex as a beginner:
✅ Pros at a glance
Trade sensibly using 100% passive methods.
Eliminate the need to gain experience online trading.
Avoid the temptation to trade emotionally or recklessly.
Choose a trader who fits your personal financial ambitions.
Take advantage of enormous opportunities in finance without needing the time to actively trade.
Copy trading can be carried out for most asset classes.
Select multiple copy traders in order to diversify your portfolio.
Close position at any moment.
❌ Cons at a glance
Despite the common corporate saying—past performance may be the most accurate predictor of future performance, but it is not a guarantee.
You might end up with less money back than you put in.
You have no control over the assets you buy or sell (although you can end a position at any given time).
Overall, it's a very simple process and easy to try out.
Once you confirm your investment, the funds are taken from a cash balance and allocated to your chosen trader. Once you exit, the funds are placed back into your cash account.
FAQs
---
📓 In this rapid round, we answer common questions that crop up when learning about the best Forex brokers that beginners use:
1. How many cryptocurrencies are there?
12,799in October according to CoinMarketCap, spread across over 400 exchanges, holding over 3 billion AUD capital together, with BTC making up 46.1% of capital.
The number of cryptos worldwide is constantly growing. New tokens also pop up all the time—each offers a different context and use case. As a new investor, it's tricky to know what to invest in. But, even a few dollars spent on an unknown crypto could give rewards if it booms unexpectedly in the future.
2. What is the difference between Tokens & Coins in crypto?
First, what is a digital asset? They are non-tangible assets existing in digital formats.This umbrella term includes cryptocurrencies, NFTs, tokens, and more.
Coins are native assets in blockchain networks that can hold value and be traded. They're also used to pay for transaction/network fees and to incentivise active users. But a different digital asset class exists called tokens (aka. 'crypto tokens'). They are often deeply compatible with cryptocurrencies that the network exists on.
Tokens do not have their own blockchain; they rely on smart contracts (eg. Ethereum uses the ERC-20 smart contract). You can swap some tokens for coins, or a combination of things. Think of them as deeds/titles; like a deed might represent a house and land, 1 token could represent 20 ETH coins and a piece of digital artwork.
3. What are nfts, how many nfts are sold per day?
This technology is relatively new, so you may have a few questions about it: what are nfts used for, why are some worth millions, what are nfts in the art world, and what are nfts in gaming?
The easiest way to understand non fungible tokens (NFTs) as a beginner is as a crypto-powered mechanism connecting a unique piece of digital art, music or other digital assets to an intangible marker. This marker proves who currently has ownership. (The original creator retains royalties for their artwork, no matter how many times it's sold.)
NFTs leapt from obscurity into the mainstream in March 2021 after digital artwork '5,000 days' sold for $69m. Since, it's expanded in use, to sell tweets, web source codes, even videos of basketball dunks. Once the NFT is made, an immutable record is entered onto the blockchain ledger. This publicly shows ownership.
4. Is forex trading good for beginners?
Forex trading can be complicated and isn't suited to everyone. Whether forex is suitable for you depends on your financial situation, ambitions, willingness to time-invest, and how much investing know-how you already have as a beginner.
Beginners are highly recommended to exercise caution, particularly because most forex traders lose money. This risk increases with CFD forex trading, because it becomes possible to rack up more of a negative balance than the amount you actually invested.
Note: unless you do copy trading, as a beginner you should start by learning about the risks associated with forex trading. The educational material and test our freedom accounts that let you trade using virtual cash, or a small amount of capital.. Do not invest essential money.
5. Is forex trading legal in Australia?
Because Australia has one of the most controlled financial sectors in the world, it has become an international hub for foreign exchange. Forex trading is therefore very popular with residents and global traders who want Australian-based brokers. You can find numerous forex brokers and many full-time traders in Australia.
Forex trading is completely legal in Australia. Many of the most successful brokers in the forex world are based here. Because it is so well regulated, it's easier and safer as an Australian trader than in some other countries.
6. What time does forex open in Sydney?
The forex market is open 24 hours a day, but isn't always active. Forex markets open in a pattern of 4 major trading sessions: Sydney, Tokyo, London, and New York. In Sydney, it opens at 7AM, closing at 4PM EST.
Which day is best for forex? The busiest times of the trading day are when there are two markets open at the same time, which happens most commonly during summer time or winter, when daylight saving hours are in operation. Tuesday, Wednesday and Thursdays are usually the most active in terms of useful volatility. Mondays are static, while Fridays can be unpredictable.
7. Why was the Australian dollar so weak in 2021?
The real question: why did the Australian dollar depreciate in 2020..? During bad periods of the pandemic, the Australian government was responsible for releasing death figures transparently. AUD rates tumbled in response, against the EUR and GBP.
Slowly, it started to bounce back in 2020 when speculators believed the worst was over. Since about June 2021 however, the Australian dollar has dropped against the USD. But the American dollar seemed to be falling faster. Overall, while Australian industries like tourism and retail have been severely affected, other key industries like mining continued to operate throughout the crisis. The AUD has held up reasonably well, compared with many other currencies.
8. How many people trade forex in Australia?
At least 450,000investors in Australia together hold $2 billion in client funds (in the 'over-the-counter' sector). And there are nearly 70 forex brokers with Australian Financial Services licence.
9. What does ASIC do in Australia?
ASIC stands for Australian Securities and Investments Commission. They're responsible for regulating providers of financial services, financial markets, registered companies, and credit services. Which includes forex markets in Australia.
All trading activities and brokers who are registered and operating in the country are overseen by ASIC; handling the issuing of licences, reducing procedural bureaucracy, cultivating proper records, releasing key information to the public, and taking preventative and corrective action to keep the forex financial system stable.
Last Thoughts
---
A year of lockdowns and other world happenings has sparked a new generation of income-earners to invest feverishly in new ventures. There's a sense that great opportunities are still available.
Old ways of thinking have been knocked down by surprising events. The growth of cryptocurrency and its increasing acceptability by the traditional model, plus remote work, has also shifted us towards adapting faster to digitization of currencies.
Even a casual YouTube viewer, commuter to work or Wallabies fan, will be familiar with, for instance, Etoro's widespread advertising campaign. They will have seen billboard signs for simple copy trading, as a way to begin to do online trading as a beginner.
The thing to remember is that trading is not a game. It's not something you do frivolously. And you should only ever invest money that you are prepared to lose. People who are sensible with their money, it's a viable means of bolstering their investment portfolio or savings in order to be better prepared and adapted for the future.
For that, it's worth a look into.
---
You Might Also Like: