Disclosure: Privacy Australia is community-supported. We may earn a commission when you buy a VPN through one of our links. Learn more.
Best VPNs for iPhone & iOS (2023 Review)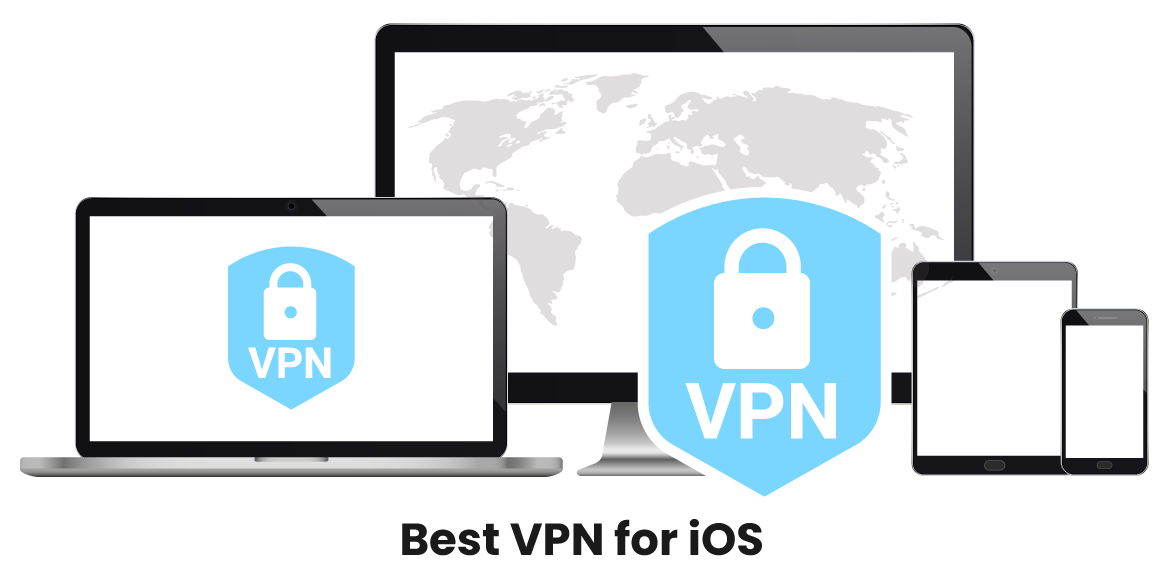 One of the miracles of modern technology is how open and free it is.
The digital marketplace is open to millions of budding entrepreneurs, each putting a little bit of their minds into the online world.
This is especially true of the iOS apple store, where every day thousands of people pour their knowledge and passion into countless new apps.
This digital world of cooperation and adaptation is truly beautiful…
Well, except for one tiny, little niggle.
Most of the Apps people make are crap.
As you might have gathered from the title of this article, that includes most VPNs out there.
Sifting through the muck to find gold isn't something anyone would want to waste their precious time with, and that's pretty much what going through the App store VPN catalog is like. Luckily for you (and unfortunately for us), we've put our wellies on and waded into the mess of half-arsed app store VPNs to find if there's anything worth salvaging so you don't have too.
As it turns out, there are plenty of incredible VPN products that will keep you safe, secure, and anonymous online. So, recline happily on your ergonomic work chair and read on, sound in the knowledge that the hard work has already been done and only the top VPNs remain on this list.
TLDR
The iOS app store is fraught with poor VPNs that don't adequately protect your privacy and security. With Apple's lackluster privacy commitments, you need a quality product to ensure you are safe and anonymous online. Here we've selected three of the best VPNs for iOS, to keep your web usage and data where it belongs: between you and yourself. NordVPN tops the list for its well priced and effective package, but Surfshark and ExpressVPN remain strong contenders.
If you want security and anonymity on your iPhone or iOS device (with a proven track record of success) for a good price, then by all means try NordVPN.
1. NordVPN
---
What is NordVPN?
NordVPN is a well-known, feature-rich and well-tested service.
Hosting a colossal 5,400+ high-speed servers across more than 60 countries it's easily one of the largest VPN providers out there.

The huge server range is combined with an automated connection that is fantastic for bypassing geo-blocks, accessing streaming, and avoiding censorship.
The security is solid, with plenty of built-in features that improve it further. It costs more than Surfshark, but at $6.99/mo for one year and 4.99/mo for 2-Years, the price is hardly prohibitive. Not to mention they are constantly slashing prices in sales and deals, so the NordVPN website always has something to check out!
Here's what you get for that price:
Intuitive iOS App:

the app is easy to use and customize, with plenty of auto-features that make your VPN experience top of the line even if you aren't already familiar with VPNs.

Advanced obfuscation settings:

These settings can get past some serious censorship, even in some of the world's most restrictive internet zones such as China.

Military-grade security:

the security on NordVPN is serious stuff, using the

IKEv2/IPsec security protocol

that, in their own words: "offers data encryption even a supercomputer can't crack." (if you want to learn more about VPN protocols, check out our

article about it here

)

Wide Netflix compatibility:

with such a wide range of servers and their varying focuses, some of them are bound to be streaming-incompatible. But for NordVPN a mere 5% of servers have this issue, and the other 95% can access over 150+ Streaming services including Netflix, BBC iPlayer and more. Better yet, the server switching needed for this access is automated.

Shortcuts:

This is Apple's dedicated Siri app. NordVPN is fully integrated with it, meaning you can control the VPN with voice commands.

Legal protections to match the technical:

NordVPN is based in Panama, outside of any major surveillance zone, so it has no legal compulsion to log your data. This means you can trust their promise to uphold your privacy and anonymity.

Intuitive feature-package:

with an automatic kill switch, built-in malware and ad blocker as standard, there's plenty of extras that improve upon already stellar foundations.
Do I Recommend NordVPN for iOS?
Completely, NordVPN can almost always be found on VPN leaderboards (It's even top of our 2023 overall VPNs!) for a reason.
Offering a wide range of specialized features and an outstanding baseline, its price -despite costing more than Surfshark- is more than worth it for the product you get.
TLDR
the best bang for your buck on the VPN market, Surfshark is the way to go if you're looking to save some cash, while not giving away the features that come along with an effective VPN.
2. Surfshark
---
What is Surfshark?
A rising star on the VPN market, Surfshark is the up and coming VPN service.
The network is rapidly growing but already includes 800+ servers across over 50 countries. Based in the British Virgin Islands, it's free from the 14-eyes surveillance zone.
Combine this with a commitment to no logging, strong encryption protocols, and other security features, it's a product that will certainly keep you safe and anonymous.
One of Surfshark's biggest claims to fame is its total Netflix compatibility, but that's only the start of its features.
Offering unlimited connections, minimized battery usage, and a slew of automatic features from ad-blocks to censorship-bypassers, Surfshark can fill almost any niche requirements you need.
On top of all this, it's also one of the cheapest on the market. For only $2.49 a month you get 2 years, whereas 1-year subscription will cost you just $4.98 a month.
Let's look at what Surfshark offers for this price:
NoBorders:

The NoBorders mode quickly and automatically switches your server location to one that can bypass censorship and access your favorite iOS apps, no matter where you are or what restrictions are in place.

Built-in security panel:

going above and beyond basic encryption and security protocols, the CleanWeb function also includes a slew of other features. It automatically blocks ads, jams trackers and stops malware or phishing attempts in their tracks.

Simultaneous devices connection:

Surfshark allows you to connect an unlimited number of devices (of any OS configuration) under the same VPN. Meaning you can protect as many devices as you'd like, all at once.

MultiHop:

this feature allows you to jump through numerous VPN server Hubs before reaching your location. This might sound superfluous, but if you are conscious of trackers, this makes your device virtually untraceable.

No logging data:

Surfshark won't gather anything from its users except the standard stuff like email addresses or billing information. Nothing about where you go, what you do or any of your online presence will ever be logged.

Camouflage mode:

this feature doesn't just hide your original IP address, but hides the fact that your using a VPN , so no one knows you're sneaking past firewalls and geo-restrictions.
Do I Recommend Surfshark for iOS?
Absolutely, you'll be hard-pressed to find any VPN that can match both the low cost and extensive features of Surfshark. This new service represents the cutting edge of VPNs.
TLDR
I'm not going to suggest you have anything to hide about your iOS internet usage, but if you did, ExpressVPN would be the VPN for you. Its security and privacy settings are unmatched, but you'll pay a premium for it.
3. ExpressVPN
---
What is ExpressVPN?
ExpressVPN is the easiest way to get the ultimate VNP security.
You can have your privacy locked down in one-click of the iOS app, letting you browse in safety while the ExpressVPN does the rest.

The server list is huge at 3000+, but more important is how varied it is. The 160 locations have an unmatched distribution, giving plenty of options for bypassing geo-blocks of any stripe.
With an unlimited, lightning-fast connection and top-notch security, this premium product justifies its cost easily. The only question is if you think you need this level of security for your iOS.
Let's look at some of those features you get for the cost:
Premium protection:

the monthly cost for a 12-month contract comes out at $8.32. whilst notably steeper than the other two, there is a 30-day money-back guarantee, giving you a chance to see for yourself if the stellar protection is worth the price.

Legal and Technical protection:

various test have confirmed that ExpressVPN is leak-free, which is no surprise, for a US military-grade VPN. Also, since they are located in the British Virgin islands, they aren't obligated to log any of your data.

Split-tunneling:

the split tunneling feature allows you to access VPN-incompatible sites without having to turn off the overall VPN, giving you freedom of access without having to forfeit overall protection.

TrustedServer technology:

a tech system of keeping servers updated in a more controlled way, meaning outdated server tech doesn't threaten the integrity of the overall VPN. During these updates all previous data is irrevocably wiped, meaning it is physically impossible that your data will be logged on these servers. To learn more, read ExpressVPNs

breakdown of TrustedServer technology

.

Lightning speeds:

run ExpressVPN through any speed tester, it consistently comes out as the fastest VPN out there, leaving the competition in the dust. Perfect for downloads and streaming, even in 4K
Do I Recommend ExpressVPN for iOS?
I do, this is frankly an outstanding system, in some respects, standing head and shoulders above the other VPNs on the list. While impressive, there's still the issue of if you need so much security, and if your willing to pay for it. Whilst a recommendable product, it depends on your needs as to whether it's right for you.
Best VPN for iOS
---
Of all the OS's considered for this VPN series, iOS is by far the most secure. With a closed-circuit code, built-in security, and a simple lack of malware volume targeted at it, basic security is one of the lesser concerns for an iOS user.
But that doesn't mean you're out of the woods just yet, because your privacy is still at serious risk. Thousands of Apps are essentially given free rein to constantly harvest your data; and for all Apple promises of their dedication to privacy, they've done very little to stop it. You might be pretty much secure from Malware, but your iOS data is easy prey.
What you want for an iOS VPN is a dedication to anonymity and privacy. Good encryptions, VPN-camouflage, and tracking jammers are the kind of features you need.
Having a good VPN will give you a lot of protection when it comes to cell phone spying.
Whilst decent Encryption and security protocols are to be expected of any worthwhile VPN, features such as Surfsharks 'CleanWeb' really help wrap up any loose ends. Multi-Hop and other 'doubling-up' VPN features are also great ways to throw off any particularly persistent trackers.
Once again, the most eternally sage advice I could give: do not get a free VPN. The app store has plenty of shoddy VPNs out there, but a free one doesn't even bear thinking about. We wrote an article on just how bad an idea it is already.
Conclusion
---
NordVPN is the chief here. Its greater focus on anonymity and privacy over security (though it's still very secure) makes it perfect for the iOS platform. Surfshark is a close second, only let down by its newcomer status, despite the cheap price.
ExpressVPN is a fantastic product, but for an iOS feels a bit overboard. That said, the UI is next to none; so if you've got the cash to splash, it might still sway you.
---
You Might Also Like: