Disclosure: Privacy Australia is community-supported. We may earn a commission when you buy a VPN through one of our links. Learn more.
CyberGhost Review – Good but Not Great (Our Complete Test Results)
This one is pretty good. Not perfect, mind you but pretty good. You could do worse for a lot more money.
On its website, Cyberghost espouses that they are a "major supporter and promoter of civil rights, a free society and an uncensored internet culture."
In our opinion, that's a pretty good place to start.

This Romanian company was founded in 2011, but it was recently acquired by Crossrider Limited and Robert Knapp. As such, they seem poised to offer continuously improving services that could help the company figure even higher in VPN service rankings.
CyberGhost claims to provide their services to more than 20 million people worldwide. Additionally, CyberGhost offers solid protocols with OpenVPN and IKEv2, among others. With AES 256-bit encryption, it's easy to see that your privacy and anonymity are assured with this service.
CyberGhost is designed to effectively hide your IP address while you surf, and the inclusion of a kill switch means that you can browse without worrying about exposing your true location and identity.
You can even have up to seven devices simultaneously connected to CyberGhost, which is perfect for anyone with numerous computers, tablets and smartphones.
Cyberghost Overview
---
| Features | Information |
| --- | --- |
| Usability: | Easy to use |
| Logging Policy: | No log policy |
| Server Size: | 7100+ servers |
| Server Distribution: | 91 countries |
| Support: | 24/7 Customer Support |
| Torrenting: | Allowed |
| Streaming: | Allowed |
| VPN protocol and encryption: | IKEv2, OpenVPN, WireGuard protocol / AES 256-bit encryption |
| Headquarters: | Romania |
| Price: | From AU$3.07/month |
| Official Website: | https://www.cyberghostvpn.com |
A Multi Platform Friendly Solution
---
Whether your devices are running Mac, Windows, iOS or Android, they are compatible with CyberGhost.
Advanced users will appreciate the ability to also connect their Linux devices.
And to connect the service to a router and Smart TVs.
Although it is not as extensive as other industry leaders, CyberGhost also features a relatively robust selection of servers located around the world.
All of this is available at an affordable price but it's definitely not a free vpn.
Other VPN providers offer slightly better security protocols and somewhat faster data transfer rates in addition to more expansive server networks. Nonetheless, CyberGhost is an undoubtedly solid choice.
Security and Encryption
---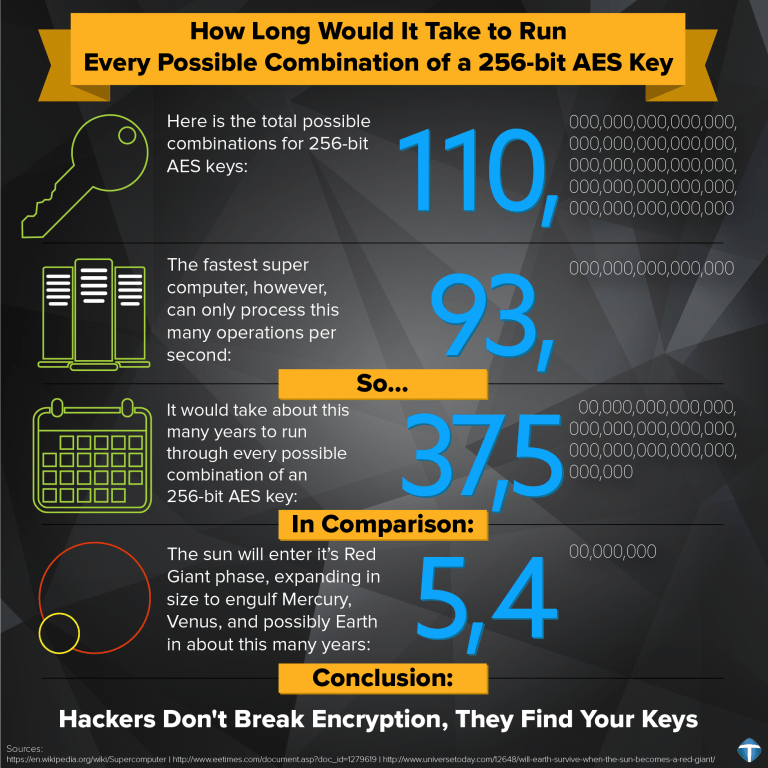 Although CyberGhost doesn't take security measures to the extremes that some other providers do, they still provide industry-leading protection. This includes a variety of VPN protocols, including the much preferred OpenVPN protocol.
IKEv2 and WireGuard also are available, along with a few others. Being able to choose the appropriate protocol is a big plus for many more sophisticated users.
In addition to trustworthy protocols, you get AES 256-bit encryption. That's the kind of encryption that is widely used by the government and the military. You can trust that your web traffic will be encrypted at a virtually unbreakable level.
If you prefer to use TOR in addition to a VPN, then CyberGhost is a good choice for you. This VPN is perfectly compatible with TOR.
Those who feel the need for even more security may want to check out the Double Encryption feature, which means that authentication data and VPN data both are encrypted.
CyberGhost's Server Locations
---
Currently, CyberGhost boasts a total of 7,110 servers. This is far more than most VPN providers can offer, but not quite as good as what is available through some of the best VPN companies.
CyberGhost's servers are distributed over 91 countries, and the company says that they are constantly striving to bring more servers online in a growing diversity of locations.
In the US, CyberGhost manages 1,145 servers, with an additional 336 in Canada. They have 50 in Mexico, 12 in Costa Rica. Coverage in South America is fairly good when compared with other providers. Servers are located in Argentina, Venezuela, Colombia, Brazil and Chile.
As with many other VPN companies, coverage in Africa is limited. Nonetheless, servers are found in South Africa, Nigeria, Morocco, Egypt, Algeria and Kenya. The Middle East with 37 servers being found in Israel, 14 in Iran, Qatar and Saudi Arabia, 12 being located in Pakistan and UAE.
Servers All Over the Place
Europe is comprehensively covered from Portugal to Ukraine and from Iceland to Greece.
Even smaller nations like Albania, Bosnia and Herzegovina, Belarus, Cyprus, Estonia, Lithuania, Latvia, Moldova, Macedonia, Serbia, Slovenia and Slovakia are covered.
Servers found in Hong Kong, Indonesia, India, Japan, South Korea, Malaysia, Singapore, Thailand and Vietnam mean that the Asian region is well represented.
New Zealand and Australia similarly are covered by hundreds of servers.
Some VPN service providers use a combination of physical and virtual proxy servers. Physical servers are actually housed in the geographic location to which they are assigned.
However, virtual servers may be anywhere and be loaded with software that makes it appear as if they are located in the country where the VPN service says the server is found.
There is nothing inherently wrong with this practice. Nonetheless, some VPN users are concerned about through which country their web traffic is being routed. From their perspective, they would much rather deal with physical servers only so that they know precisely where their data is going.
CyberGhost uses a combination of physical and virtual servers. A representative from the company notes that the majority of its servers are physical.
However, they do have a degree of virtualization on almost 350 of their servers. Users for whom this is a concern will be happy to learn that these virtual servers actually are located in the country as described.
Using BitTorrent or P2P with CyberGhost
---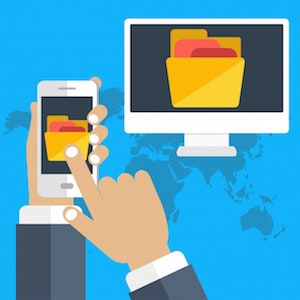 The people at CyberGhost appear to want their customers to have the most freedom possible during their online experiences. As a result, P2P file sharing and BitTorrent are allowed via this service.
While other providers may restrict users to certain servers for this purpose or others disallow this activity entirely, CyberGhost utilizes no such restrictions.
Many people also will be happy to know that CyberGhost further utilizes servers that are specifically designed to enhance the streaming experience. This is great news for people who want to be able to use their VPN while watching Netflix, Amazon Prime or other streaming services.
CyberGhost Speed Test Results
---
Overall, CyberGhost offers a pretty good package of features. Things seem to fall apart a bit in the speed department.
Benchmark testing before turning on the VPN gave download transfer rates of 98.71 Mbps and upload transfer rates of 53.00 Mbps.

Turning on CyberGhost meant that things got monumentally slower. Connecting to the US server in New York resulted in download speeds of 18.41 Mbps and upload speeds of 7.12 Mbps.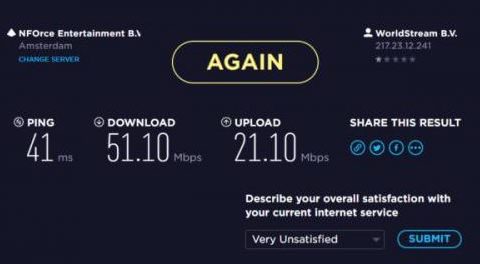 With data transfer rates this low, you might as well use a free VPN. Things improved when using a server located in Amsterdam. Download rates improved to 51.10 Mbps while upload rates changed to 21.10 Mbps.
Results from speed tests in Hong Kong and London were worse. Hong Kong featured nearly identical download and upload rates in the realm of 4.0 Mbps while downloading rates in London average 5.63 Mbps and 15.65 Mbps for uploading rates.
CyberGhost's Logging Policy
---
One of the most critical features that any VPN provider can offer is that they are not keeping records on their customers.
After all, the reason why people choose to use a VPN in the first place is to minimize intrusions on their privacy. They want to know that their sensitive data is not at risk and that no one is closely monitoring how they spend their time online.
This is crucial because if VPN providers kept records the way that Internet Service Providers do, it would defeat the purpose of the VPN. If law enforcement or other governmental authorities decide to demand customer records from a VPN company, it's always preferable if they have few or no records to provide.
Accordingly, it is not unusual to see VPN services boasting about their "no logging" policies. These policies rarely are followed in any strict sense. Instead, taking a look at the privacy policy or the terms of service reveals that some VPN providers actually maintain fairly comprehensive records.

This is NOT the case with CyberGhost. Their location in Romania certainly helps the situation because this country is not a part of the 14 Eyes surveillance network.
They do not share much data with other nations, and their laws regarding data and record keeping are virtually nil. This means that you can trust that your online activities are not being monitored and stored somewhere from which they could be accessed later.
CyberGhost makes it pretty clear on their website that they don't hold with tracking data. This means no records of the user's browsing history, the content of their data or even their search preferences.
The company does not even keep connection logs, so no one is monitoring when and for how long you log on to the Internet.
Pricing Options for CyberGhost
---
All billing options for CyberGhost include access to each of the company's servers and the ability to connect as many as seven devices at once. Customer support is provided on a 24/7 basis, and apps are available that are compatible with Mac, Windows, iOS, Android and more.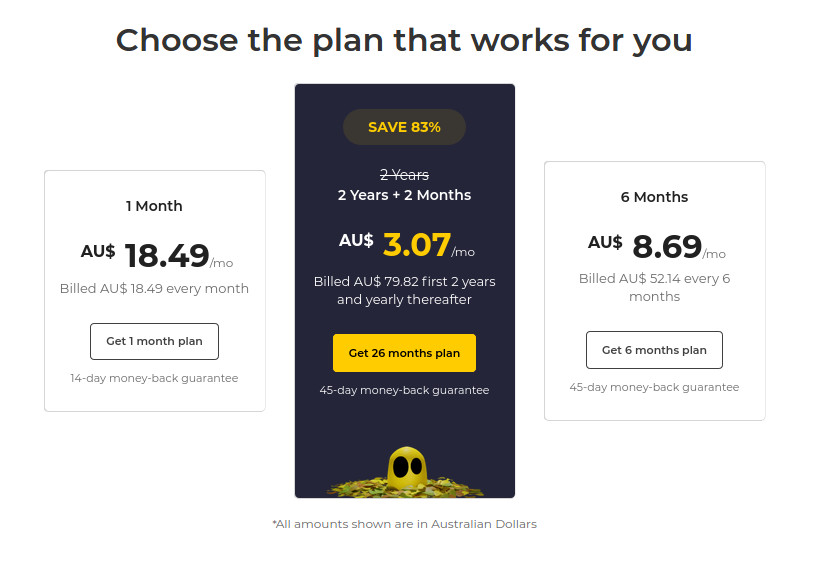 Customers who choose to pay on a month-to-month basis will pay AU$18.49 each month. Discounts are available for people who buy one year or more of the service in advance.
A 6-months package costs AU$8.69 per month, while the 26-months package costs AU$3.07 per month.
Given CyberGhost's fairly slow data transfer rates, it may not make sense to invest in a one-, two- or three-year commitment until you are certain that the product is truly viable for you. It may be best to purchase a one-month subscription to give yourself time to try out the service before buying a larger package.
Alternatively, a 14-day (on 1-month) and 45-day refund is available on all packages if you decide not to keep the service.
Payment options include PayPal and credit cards. If you want to remain truly anonymous, then you also can pay using Bitcoin.
Is CyberGhost Recomended – Yes
---
As a VPN, CyberGhost has a lot of going for it. Its security is solid with AES 256-bit encryption, and it is certainly nice to have a variety of VPN protocols from which to choose.
That these protocols include OpenVPN and IKEv2 is great news for people who are concerned about security.
Also, the option for double encrypting may be especially valuable for people who are anxious to avoid the prying eyes of totalitarian regimes.
Another thing that makes CyberGhost an attractive VPN option is the positive user experience.
It is remarkably easy to install and launch, which means that you can be up and running in fewer than five minutes.
Usability is great once you are inside the CyberGhost app.
Everything seems to be right at your fingertips, and you won't have to do a lot of hunting to figure out how to complete the most basic operations.
If users desire it, it is possible to configure the app so that it automatically launches with just one click.
CyberGhost's no logging policy also is a definite plus, especially for those who are really sensitive to issues regarding privacy and online anonymity. However, this company really stumbles when it comes to speed.
A VPN that boasts a network of around 7,000 servers should be able to deliver better transfer rates. A bit of a slowdown is expected whenever a VPN is used, but the CyberGhost speed test results are nothing but disappointing.
Keep in mind that user experiences can vary widely depending upon the computer system and where the user is located in the world.
Undoubtedly, CyberGhost has thousands of customers who are perfectly happy with speed of their browsing experience.

The test results shown here simply demonstrate that you may want to keep CyberGhost's refund policy in mind if you're not happy with the service.
Speed issues aside, CyberGhost offers all of the features and security that you would expect from a paid VPN service. Accordingly, CyberGhost is recommended.
---
You May Also Like: