Disclosure: Privacy Australia is community-supported. We may earn a commission when you buy a VPN through one of our links. Learn more.
Windscribe VPN Review (2023) – Surprising Results in Privacy & Speed

Windscribe is a solid VPN.
For anybody looking to ensure high speeds while still maintaining security.
Overall we think Windscribe is a good choice for those looking to start using a VPN or migrate from an existing service.
While Windscribe is pretty good it doesn't beat other competitors like Nord VPN which offers enhanced double encryption, more servers, cheap pricing and live support.
Lets Take a Look
In this review, we're going to take a deep dive into Windscribe VPNs service to better understand their tech, download speeds, logging policies, and pricing.
Besides having a cool name, Windscribe is a VPN service that packs some serious punch while being seemingly 100% transparent about their operations.
Transparency and VPN services haven't always gone hand-in-hand. We find Windscribe refreshing.
Usually here at Privacy Australia, we shy away from free VPNs. Windscribe is different as they also have a premium option and a neat way of keeping your costs low if you're so inclined.
On the free version of Windscribe, the VPN offers average but usable speeds with a 10 GB monthly allowance. Their premium option comes with a bevy of tools and quicker speeds.
Sidenote: I have to mention how cool the home page of their website is. These weird geometric shape things follow your cursor around and it has seriously distracted me from testing the service itself.
Windscribe Overview
---
Windscribe is a Canadian-based company, providing a good alternative for US-based customers. It offers a free VPN plan with 10 GB of bandwidth per month along with their premium plans.
They offer 256-bit AES encryption and the standard OpenVPN tunneling protocol. The premium option is quick and has a multitude of tools available.
| Features | Information |
| --- | --- |
| Usability: | Easy to use |
| Logging Policy: | No Identifying Logs |
| Server Size: | 480+ servers |
| Server Distribution: | 63 Countries |
| Support: | Automated chat support |
| Torrenting: | Allowed |
| Streaming: | Allowed |
| VPN protocol and encryption: | OpenVPN, IKEv2, WireGuard protocol / AES-256 cipher with SHA512 auth and a 4096-bit RSA key encryption |
| Headquarters: | Canada |
| Price: | From $4.08/month |
| Official Website: | https://windscribe.com |
Key Features:
Servers in 63 countries and 110 cities
Unlimited simultaneous connections
Unlimited bandwidth
DNS leak protection
Kill switch
Stealth mode
Adblocker
Pros
No leaks/safe to use
Ability to bypass Netflix restrictions
Torrents are allowed
Works on multiple devices and platforms
User-friendly app
Good privacy and encryption features
Cons
Support's first line of defense is a chatbot
No 24/7 live chat
Canadian VPN service
Should You Trust Windscribe VPN with Your Data?
---
We laud Windscribe VPN for writing its privacy policy in simple language that everyone can understand. They do a great job at dispelling any concerns a potential customer may have.
As we mentioned at the outset, Windscribe operates out of Canada.
As a result, they are subject to the Five Eyes online surveillance program. A number of reports have clearly shown that the CSIS (Canadian Security Intelligence Service) has been secretly collecting online information from its citizens.
However, ISPs (not VPNs) in Canada have little to no power keeping the logs on their users a secret. They must comply with anti-piracy legislation resulting from Bill C – 11.
Now, a VPN is not an ISP. If the government wanted information from a VPN company, they could not currently get it unless they passed a new law.
No Logging Policy
If a Canadian-based VPN keeps logs on their clients, then the Canadian authorities could conceivably try to get that data from the service.
To be fair, countries like China and Russia aren't part of the Five Eyes Alliance and would pose a much greater threat when it comes to stealing your information.
It's just good to have all of the facts. You should also know that Windscribe vehemently denies this being any sort of issue for their users. They don't care how many eyes you have!
Don't forget, Canada also has some strict copyright laws. This is something to consider if you are using a VPN for torrenting.
This is where you have to trust the company that you're receiving a service from. If a company doesn't have any logged data from its customers, the government can't take that data away from them.
Other companies such as PureVPN and IPVanish have both claimed to be VPN services that do not log. They both have given customer information up to their governments. You can't just see the words "no" and "logging" and immediately trust the company you're dealing with.
No Sharing Policy
Windscribe has an in-depth explanation as to how logging works and what they do behind the scenes. We applaud them for always being upfront about what they're doing.
One of the positive aspects of Windscribe is the fact that they allow users to use their service on an unlimited number of devices.
However, they reserve the right to look at each VPN subscription to make sure that there are not multiple people using one VPN subscription package.
The only way that Windscribe can accomplish this is by analyzing the number of devices you have connected.
Windscribe Quote About Account Sharing
"A single Windscribe account is meant to be used by a single person, and I don't mean your marital status either. It's quite uncommon for individuals to be connected on 50+ computers, and 100+ phones at the exact same time.
The bandwidth usage along with connection counts are used by our real-time monitoring system which looks at the "worst offenders" and makes a decision if this user is potentially abusive or not.
Then a human makes a decision to ban the account or whitelist the "abuse" in case of a false positive.
If you share the account with your wife or brother, it's likely fine, but that may set off a "sharing chain reaction" where they share it with someone, who in turn does the same. This is a sure way to get banned."
A fair policy.
We've found that Windscribe is not interested in keeping data that law enforcement could use at a later time.
You can trust Windscribe just as much as you can trust any other leading VPN provider on the market. The only thing that should give you pause is if you really don't trust the Canadian judicial system.
Windscribe Pricing and What's Covered
---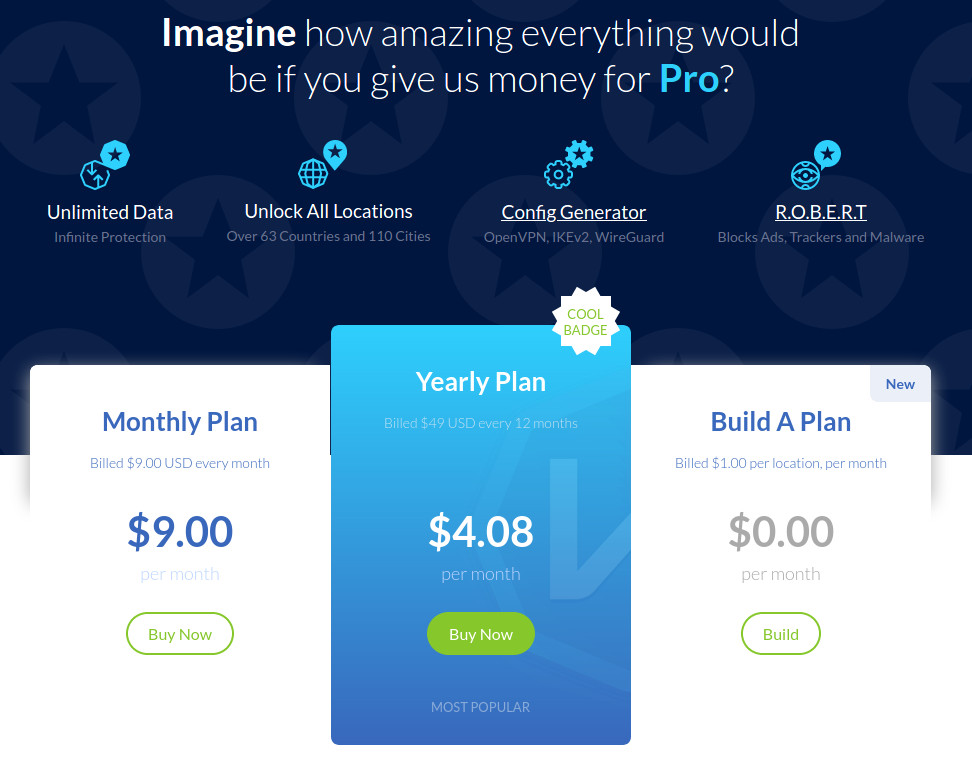 Pricing starts at $9 a month. This may make Windscribe seem expensive. However, if you get the annual plan, which is $49 a year, you will be paying $4.08 a month. That's a pretty good deal, and Windscribe clearly would prefer you sign up long term.
This puts the price on par with what you would pay for comparable VPN services. There is an awesome option available to get a discount on Windscribe.
Windscribe has a Build A Plan option where you can add one location for one dollar per month. If you know where you need to connect, this could be a nice cost-saver. All amounts are in USD.
There are four things that differentiate the free VPN offered by Windscribe from the paid service:
Bandwidth
When you use the free service, you are limited to 10 GB of bandwidth. With the paid service, you have unlimited bandwidth.
Server Locations
With the free service, you have access to 11 locations. The paid service gives you access to 110 locations.
Speed
We noticed that the paid VPN servers were faster than the free ones.
US-Based Streaming Services
You will not be able to connect to Netflix using the free service. It will only work with the paid one.
Outside of these differences, the software is identical. Once you upgrade, you will see that there are certain servers that are available for use and the bandwidth limit that appears in the application window disappears.
You can sign up for Windscribe in a completely anonymous way. You do not need to provide your name or even an email address.
The one downside to doing this is that if you lose your password, you will have no way to recover it. Payment options include credit cards, PayPal, Paymentwall, and Bitcoin.
You have the option to create a free account. The free account provides access to a limited number of servers. The free account is limited to 10 GB a month of use.
One annoying thing is that when you sign up for the free account, you're constantly being pressured to sign up for the Pro account.
That's pretty normal for any service that offers a free version. Stop complaining when someone gives you free stuff!
Windscribe VPN has a refund policy that you need to read carefully. There are a couple of points you should keep in mind before you purchase a subscription:
☑️ First, you only have three days to get a refund.
☑️ The refund policy only applies if you buy directly from Windscribe.
☑️ Finally, if you use more than 10 GB of data within those three days, your refund is void.

In part, we understand the short refund window. They encourage people to test out their product for free before getting a paid subscription.
Connecting Multiple Devices with One Account
---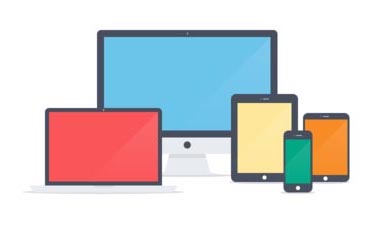 Whether you are using the free service or a paid service, you have the ability to connect an unlimited number of devices simultaneously to your VPN using a single account.
This is an amazing feature that is unique to Windscribe.
Most VPN services will only allow five or fewer simultaneous connections.
Windscribe is a great option if you have a large family or if you have a small business. With just one account, multiple individuals will be able to benefit from the service.
Disclaimer: Windscribe does not want you to share your VPN credentials with other people. They do investigate accounts that are connected to a ridiculous amount of devices at once. If you're trying to scam the system (we don't suggest that), look elsewhere.
It doesn't seem like Windscribe cares if you keep it within your family. We get the feeling that they just don't want to see 100 devices on one account.
Windscribe Pro allows you to set up a VPN on your router. This protects every device in your network using one external connection.
Windscribe Pro has a VPN infrastructure in 63 countries and approximately 110 cities. You can check out the status of their servers on their status page.
Installing Windscribe
---
Windscribe is easy to download and install.
Follow the simple prompts to install the program on your machine. Once the program is installed, you will be asked to input your account information or to create a new account.
Once your username and password are accepted, you will see the Windscribe heads up display. Windscribe will automatically connect you to the best server based on your current location.
You can change that server if you'd like at any time.
Customer Support
---
Windscribe has six options for customer support on their website.
These include:
☑️ Setup guides
☑️ FAQs
☑️ Knowledge bases
☑️ Subreddit
☑️ Talk to Gary
☑️ Submit a ticket
When we saw the Talk to Garry option, we were excited. We thought that Windscribe had a live chat with a man named Gary who just felt like adding an extra "r".
After asking a question or two, it was clear that we were talking to a program designed to give automated responses. When we typed to the obligatory question:
Are you a real person? We got the sarcastic response – "You found me out, you should be a detective. Moving on, what is your question?" That was frustrating and irritating at the same time.
Garry can answer simple questions for you. A lot of the time, that's enough. When you need to get through to a real person they do have live chat and a ticket system available. The live chat isn't 24/7 like some other VPN companies.
Garry does have his uses, he gave us some great information regarding which servers you can access Netflix from.
Does Windscribe Work with Netflix? (You'll Need Pro Version)
---
When a person asks if the service works with Netflix, what they want to know is if Windscribe can bypass Netflix Geo restriction of content that is streamed in the US.
Netflix and other streaming services have become very good at identifying VPNs and blocking VPN users.
When you visit the Windscribe homepage, it doesn't say anything about Netflix. This is surprising because most of the VPNs that are able to bypass Netflix or other streaming services Geo restriction of content plaster this all over their homepage.
Have no fear, there's more to the story.
We tried to connect to Netflix using Windscribe's free service.
And we were greeted with the frustrating streaming error message you get with many VPNs on the market today.
However, it is a different story when you use the Pro version of this service. Windscribe has a "WindFlix Location" option that allows you access to Netflix US content without any problems.
It should be noted that Windscribe is able to unlock your restricted content from the United States, the United Kingdom, Japan, and Canada.
Privacy and Encryption Features
---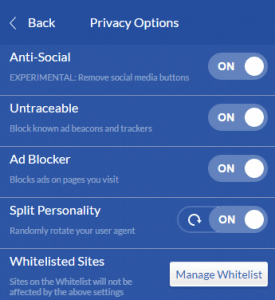 Windscribe has amazing VPN protocols. They include openVPN, SOCKS 5 protocol, and IKEv2. IKEv2 protocol is the default protocol.
However, openVPN is the standard in the industry. We mention this because you may want to switch over to open VPN when you start using the product.
With the Windscribe VPN, you have access to AES-256 ciphers with SHA512 auth and a 4096-bit RSA key encryption on desktops and AES-128 GCMcipher encryption with P-256 key exchange and TLS 1.2, ECDHE_RSA for their browsing extensions.
These are some very impressive technical details. There have never been hacks at either end of this encryption spectrum.
Torrenting Is Allowed
---
Many VPNs are banning torrenting. They are worried that they are going to have issues with DMCA complaints.
Others who allow torrenting will only offer it on a handful of servers.
Windscribe allows torrenting, technically.
They also provide tutorials that show you how to configure different torrent clients. However, they do not support torrents on all of their servers.
The reason for this is that in some of the countries where they have servers there are very strong digital copyright protection laws.
So, if you're thinking about using Windscribe for torrent sessions, you should first check their servers and make sure you can find one that is friendly with P2P and that is relatively close to you.
Server Speed
---
The goal of our speed test is to be as empirical as we can. To accomplish that task, we tested a server in Canada and connected to servers in the US, the United Kingdom, Germany, Australia, and Hong Kong.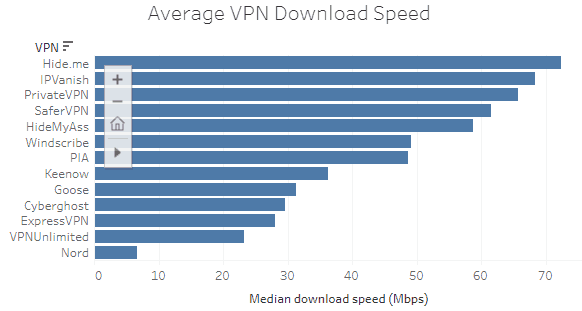 With each location, we used a test file a 50 MB and downloaded it from the server in the United States. This was done multiple times a day at six-hour intervals. We took the average download speed for each test and then collected the aggregate data.
The chart above gives an idea of how Windscribe performed when compared to other popular VPNs. As you can see, Windscribe was not the fastest, but it was still fast.
FAQ
---
How Good is Windscribe?
Windscribe is a solid VPN choice that offers fast speeds and a variety of tools. The best thing about Windscribe is their dedicated Netflix servers that allow you to watch US and British Netflix content.
Is the Free Version of Windscribe Good?
As far as free versions of Windscribe go, it's pretty great. As far as VPNs go, it's really just there to test out the service before paying for the premium version. With limited data, limited speeds, and limited servers, it serves as a good testing ground.
Is Windscribe Encrypted?
Yes, it is. As a VPN service, that is the main purpose of their offerings.
Is Windscribe a Safe VPN?
Yes, with their encryption options they are a safe VPN. The only disclaimer is that the company resides in Canada who has been known to snoop on its citizens. Windscribe does not keep logs so the Canadian government couldn't steal Windscribes client's information unless they pull off some shady stuff.
Does Windscribe Have a Kill Switch?
Yes. The app will disconnect you from the internet if your VPN connection drops out. This serves as a tool to protect your connection no matter what, even if a server goes down randomly.
Does Windscribe Support P2P?
Yes, for the most part. Torrents are allowed on most but not all servers. The service doesn't block, monitor, or throttle torrent downloads.
Conclusion
---
Windscribe is a VPN that offers a lot.
Who would not like a VPN service that allows them to connect an unlimited number of devices?
And a VPN that has a special server set aside to connect to US Netflix?
For those who live overseas, this seems to be a godsend. Windscribe VPN is a solid VPN. We suggest them to anyone looking to access Netflix with fast speeds.
The support page looks great. Having six options to resolve problems seems ideal. However, not having 24/7 live chat does give a slight ding to their support system.
Thinking that you're going to live chat with someone and then receiving automated responses is not a good feeling. Emailing a support team can feel frustrating when all you want to do is talk to a human being over chat.
Windscribe is a user-friendly VPN service that seems to keep improving. We've done our job of informing you of its advantages and disadvantages. It's all up to you now.
If you'd still like to learn more, read our guide to the best VPNs for Australians.
---
You Might Also Like:
Anonymous 5/10 Speed : Average Usability : Easy To Use
October 7, 2020
VPN
I wasn't happy with Windscribe. It's surely a decent VPN, but.. it's the 3rd time (I think), that I have to call my internet provider to fix my connection. If you are a gamer, definitely don't use this VPN. After using it, no matter if you uninstalled it or not, you can get short, but really, really annoying lags in short periods of time. Definitely don't buy. Not recommended. ( I even subscribed for a month to try out Czech republic VPN, but now I think that other VPNs are truly better than this. )
Kaycee 10/10 Speed : Fast Usability : Easy To Use
October 7, 2020
Very goo VPN
I think the thing I love the most about Windscribe is how easy it is to use. Very reliable platform that has an easy navigator when it comes to selecting different servers or features that you want to try out. Their new design has also brought a new modern and lively look to Windscribe something I appreciated and i'm sure others have too.
Solokin 7/10 Speed : Fast Usability : Slightly Complicated
October 7, 2020
A bit too expensive
I've only used windscribe for a month and thus far I was not that entertained tbh. I switched to atlas VPN for free and thus far I've had unlimited data to stream US Netflix with no issues, I'd say the line between paid and free VPNs is VERY thin
David 9/10 Speed : Average Usability : Easy To Use
April 25, 2020
Windscribe Bandwidth vs Data Volume
I have been using the free version for a while and comparing it to other VPN's. I agree with most things this review says. I DO get irritated when the writer continues to use "bandwidth" when he means "data volume." Bandwidth refers to a range of frequencies in a given "band." For example, the 20 meter amateur radio band has a bandwidth of 14Mhz to 14.350Mhz. Many 3g and 4g providers provided limited data volume per month. My provider allows me 2GB of data per month. Bandwidth and data volume are two completely different things.
Nemanja 10/10 Speed : Average Usability : Easy To Use
April 25, 2020
Likely the only VPN you'll ever need
Used Windscribe for almost a year now, only downside is that speeds can vary at peak times on free locations, though as far as a subscription goes, certainly immense value for money. Highly recommended.