Disclosure: Privacy Australia is community-supported. We may earn a commission when you buy a VPN through one of our links. Learn more.
Best Home Security Cameras in Australia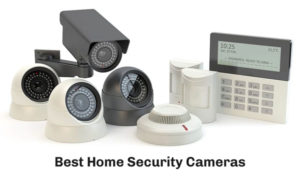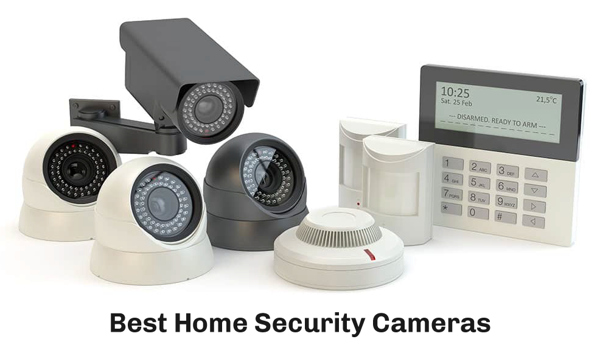 After more than a year inside the world is opening up again and the great outdoors is calling. When you take off on your next adventure, make sure your home is safe with help from a home security camera.
Below, we put together a list of the best home security cameras for both indoor and outdoor monitoring.
Choose one or choose both, scoring some advanced security features for iron-clad protection as you've never experienced before.
Table of Contents:
Our Best Home Security Cameras for 2023
---
Best Indoor Home Security Cameras
---
1. ADACS 2K+ Wireless Indoor Security Camera (Best Overall)
---
Specifications
2K+ Resolution
Up to 365 Days of Battery Life
Colour Night Vision
Smart Human Motion Detection
Active Defense
Customizable Voice Alerts
Two-Way Talk
Weatherproof Design
Base station supports MicroSD Card up to 265 GB
Smart Integration with Google Assistant & Amazon Alexa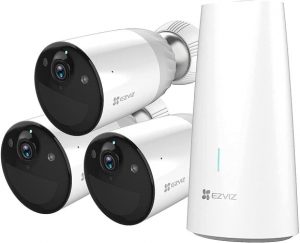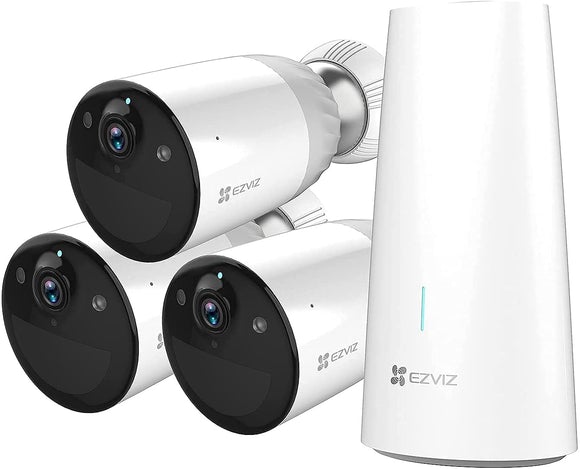 If you don't know about ADACS Security, it's one of the most trusted Australian security companies. Australian-owned and operated ADACS has maintained a strong reputation as an affordable home security provider and provides the best security cameras for Australian households.
While ADACS does make great cameras, they can also help if you need security alarms, sensors, smart automation, or general monitoring.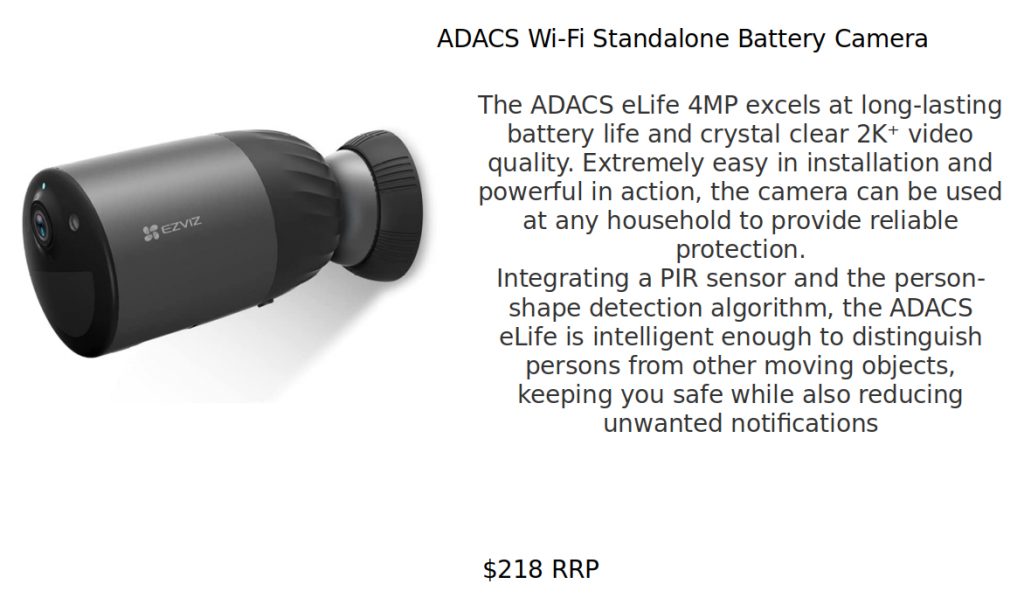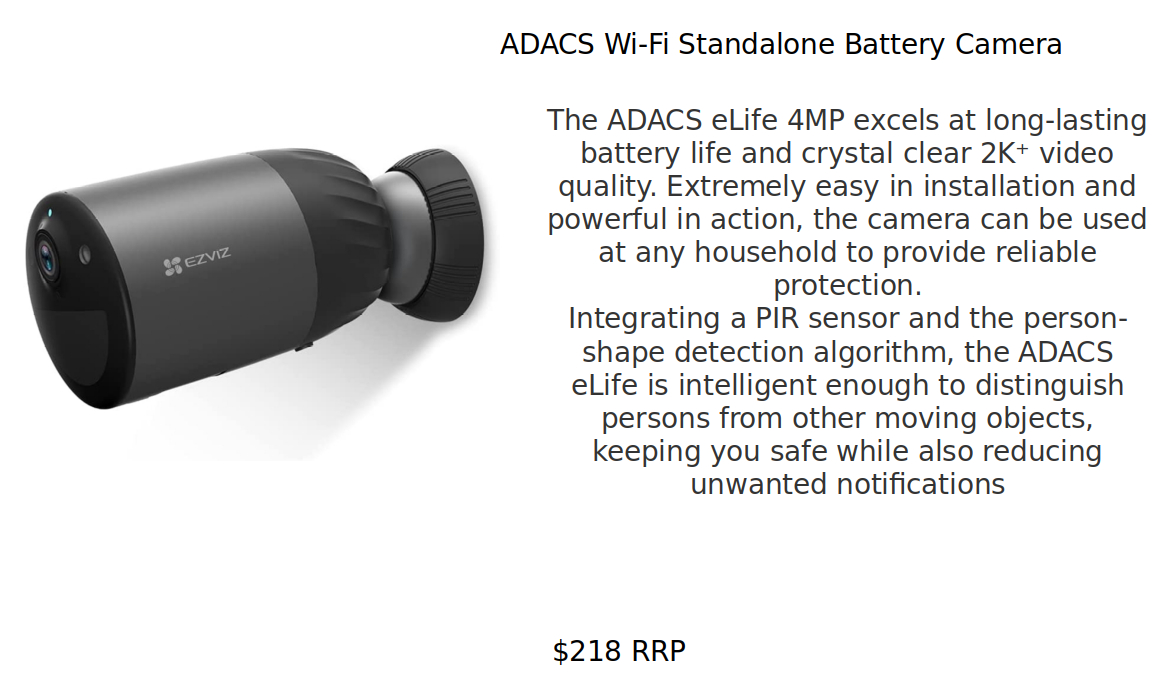 The great thing about the company is its support and monitoring team is available 24/7 and is always willing to talk to you about any concerns or issues that may arise.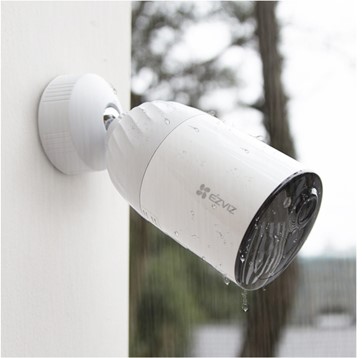 While all of that is well and good, we're here to talk about the best indoor camera on the Australian market. That honor would go to the ADACS Indoor Wireless 2K+ Camera and the fact that it can be integrated into the best Australian security system is an added bonus.
Stunning details for superior protection
A clear vision can be the deciding factor in home protection. This camera satisfies this fundamental demand with ultra-clear 2K+ video quality, and helps you see down to the tiny detail.
Vivid night vision
Thanks to two built-in spotlights, the BC1 2K+ camera can render vivid colour imaging even in pitch-black darkness. This allows you to see crucial details that would otherwise be lost.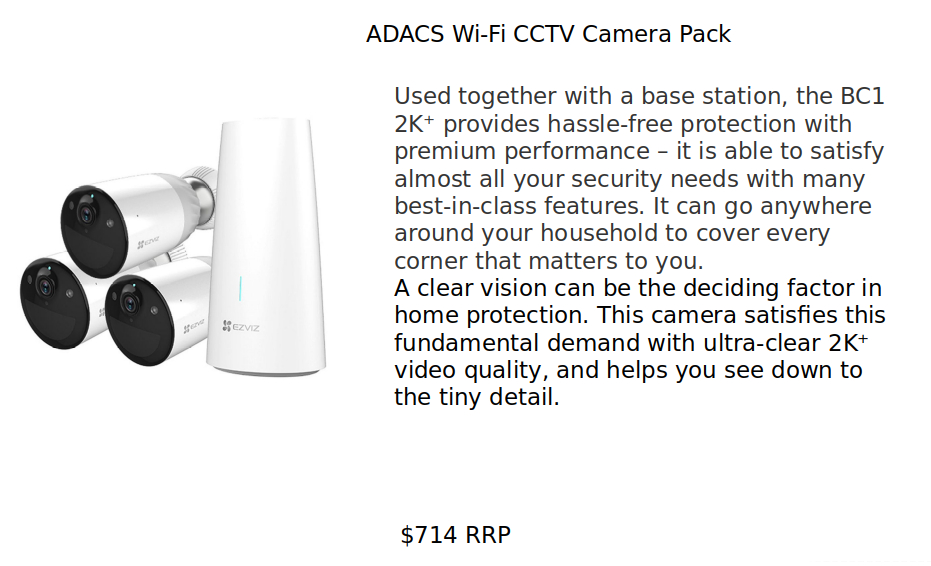 Recordings
The main reason we love the ADACS camera is the functionality and versatility of its recording features. Just like other cameras, you can playback all of your recordings with great quality but that's just the tip of the iceberg.
ADACS uses event recordings that are automatically and securely stored in the cloud. You can receive notifications if anything triggers these events so you can stay on top of your home's monitoring.
You can also trigger recordings with custom-built recipes. These recipes are created in the app and can set the cameras to record specific spots in your house at specific times.
Checking old recordings is easy with the calendar in the app. You can also download these recordings at any time.
Easy Setup
Setting up your camera is extremely easy as its wifi enabled and has a built-in microphone and speaker. After you set it up, you can use the 2-way audio to talk to your kids through the app to make sure it's working.
Why We Like It
The ADACS Indoor Wireless 2K+ Camera is the best indoor security camera available in Australia for a few reasons. For one, it's a high-quality camera that performs well in every category a consumer would care about.
As we mentioned previously, part of the reason is the functionality and how easy it is to manage your recordings. The other main reason besides the camera is the 365-day battery life or optional solar panel charging.
The third reason is that all ADACS cameras have the ability to be integrated
2. SimpliSafe Wireless Home Security System
---
Specifications
Dimensions: 30.8 x 31.4 x 11.2cm
Audio: Yes
Sensor: Yes
Angle: 90° field of vision
Wi-Fi: Yes
Night Vision: Yes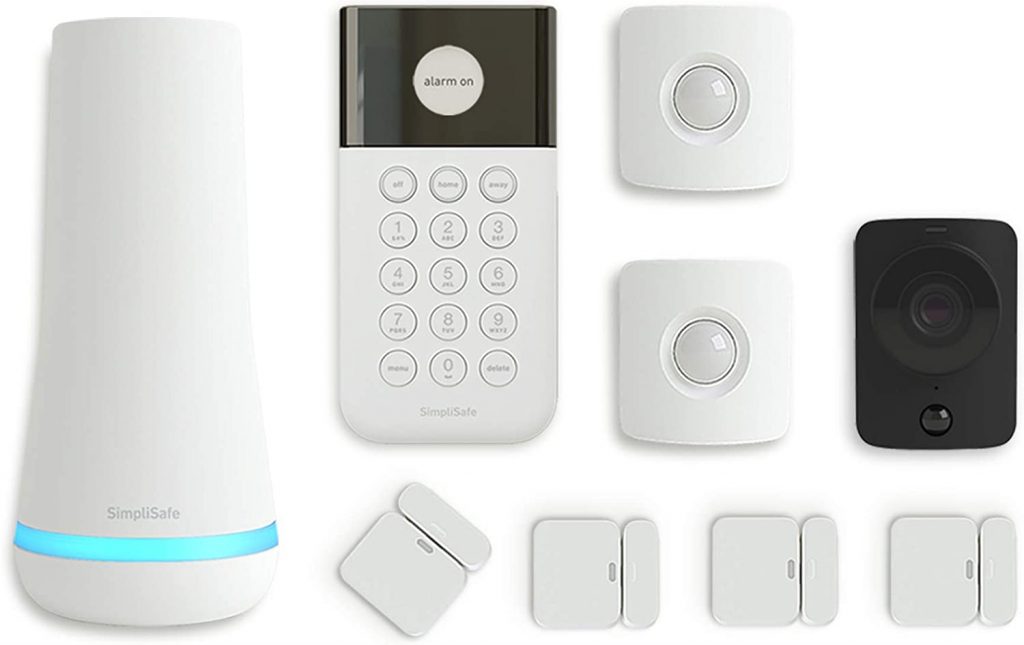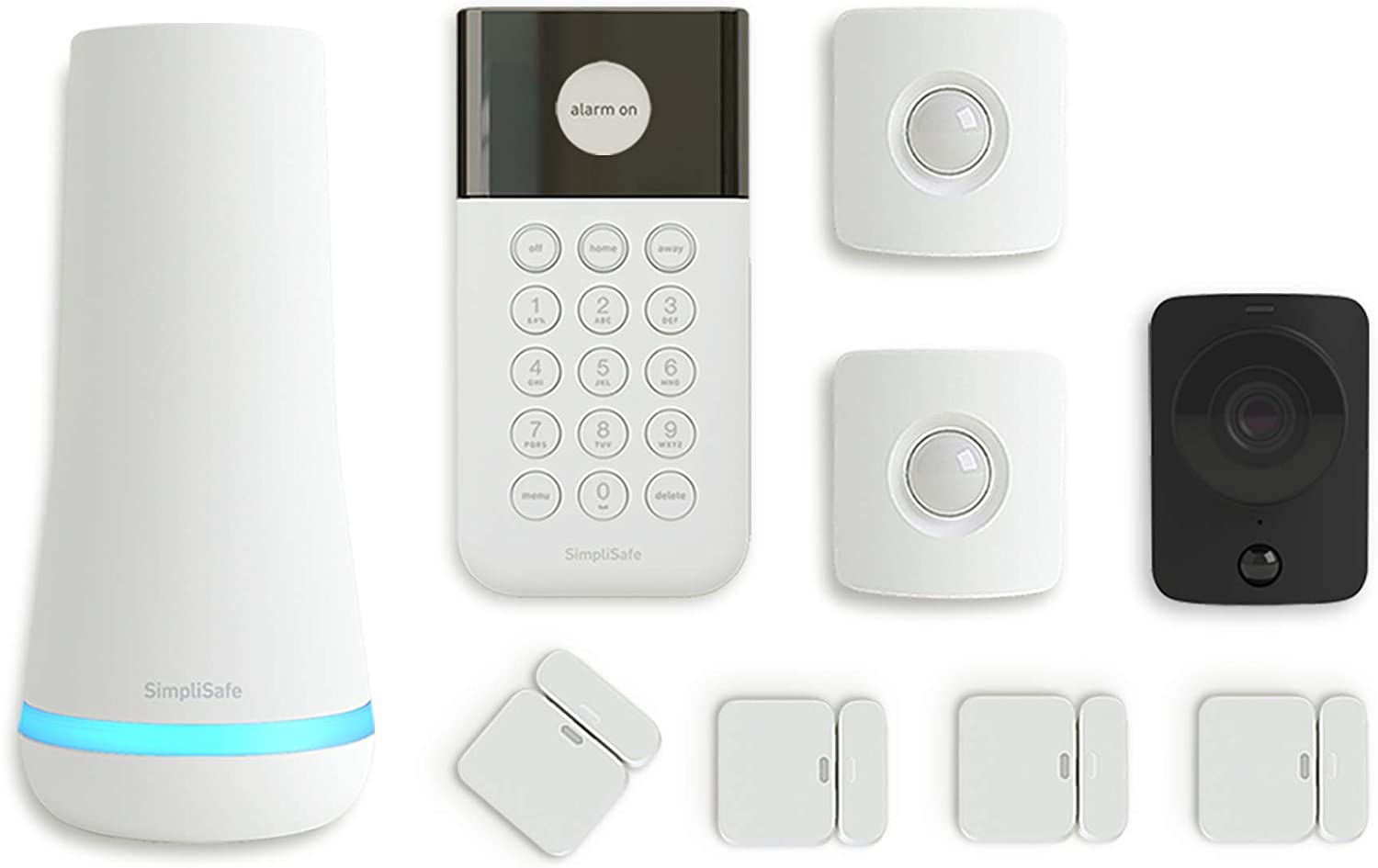 SimpliSafe offers customizable security systems that are made to fit into any home. All of the devices are discreet for protection that won't stand out and come with multiple pieces to create the monitoring you want.
Setup is simple and takes little to no time to start picking up video and audio. Enjoy features like alarm signals when motions are detected, wireless connections, and even long-range sensors that will only pick up on human movement.
Buildable Monitoring
This SimpliSafe system comes with four pieces that you can organize around your home the way you want to. Set up your monitoring and security any way that you want, enjoying the peace of mind that comes from customizing your monitoring.
Advanced Motion Detection
Motion detectors can be sensitive. SimpliSafe has a powerful motion detector that will only pick up on human movement. Let your pets roam free while you are gone and rest assured that you have a pair of eyes that will alert you if anything happens while you're away.
Backup Batteries
Even if something happens with the electricity in your home, you'll still have access to security footage. Take advantage of backup batteries that kick in when your security camera runs out of juice to feel protected and safe even if the unexpected happens.
Why We Like It
SimpliSafe is easy to set up and simple to use. It has a modern and chic look that you can place around your home without it cramping your style. Though it looks nice, it packs a powerful punch when motions are detected, sounding an alarm and notifying the police.
3. ZUMIMALL Home Security System
---
Specifications
Dimensions: 5.6 x 5.6 x 9.8cm
Resolution: 1080p HD
Audio: Two-way
Sensor: Yes
Angle: 130° Wide View
Wi-Fi: Yes
Night Vision: Yes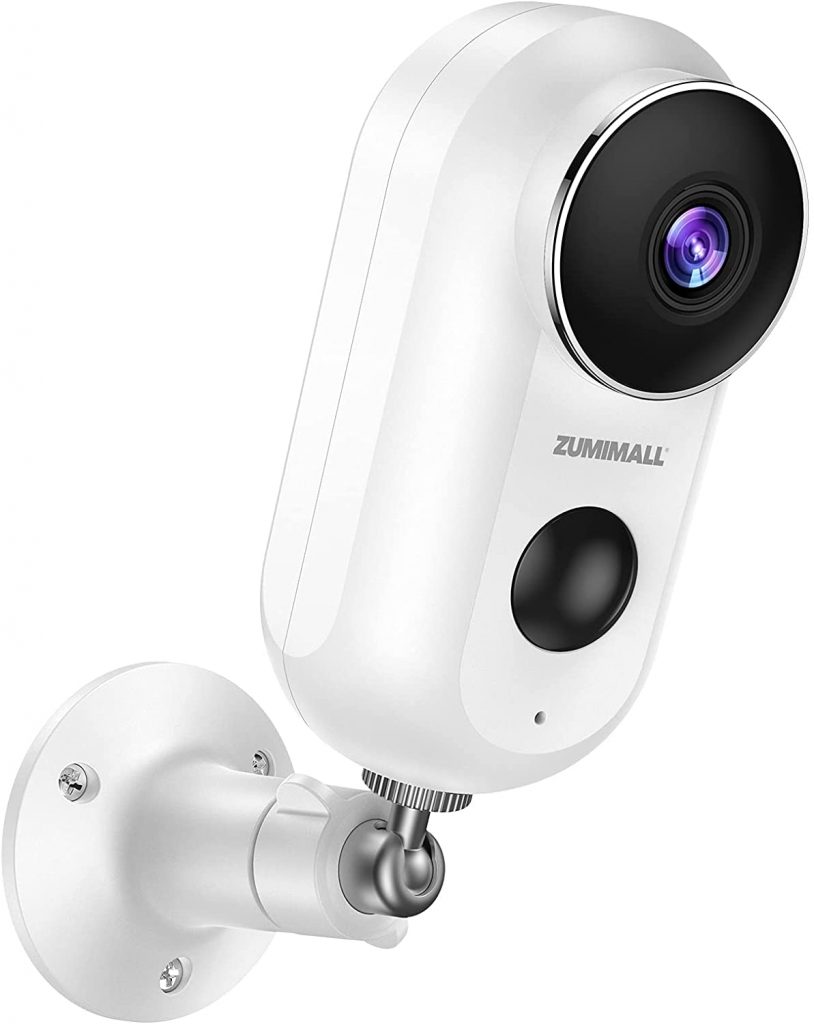 This security camera from ZUMIMALL is both wireless and rechargeable. It offers a stable Wi-Fi connection along with a solid motion detecting system with embedded infrared night vision. With a 130° wide view, you can get a glimpse of what's happening around your home and even get alerts through the app when motion sensors are triggered.
This camera is powered by a rechargeable battery that has a life of up to 2.5 months. After taking it out of the package, you'll have this handy camera set up in no time, enjoying the quick and easy setup that's guaranteed right out of the box.
Rechargeable
Instead of having to worry about buying batteries and constantly changing them out, this security device comes with a rechargeable battery that lasts for more than two months and recharges in no time.
Simple Setup
Right out of the box, you can set up your device how you like, configuring it the way you want to. It's completely wireless and won't have you confused with all of the connections as you find the perfect setup for your viewing needs.
Advanced Features
From enhanced night vision to intelligent motion detection, this little gadget comes packed with advanced features. It works day and night and will automatically store collected video onto the cloud or an SD card, whichever you choose.
Why We Like It
This little gadget is simple to use and doesn't come with the need to hook up tons of wires. Additionally, it comes with options to send video to the cloud or save it via an SD card to access video recording if you need to. For all the features without any of the hassles, this camera is the perfect addition to your home that will give you the protection you need to rest at ease.
4. Wyze Cam Wireless Smart Home Camera
---
Specifications
Dimensions: 5.59 x 5.08 x 5.08cm
Resolution: 1080p HD
Audio: Two-way
Sensor: Yes
Wi-Fi: Yes
Night Vision: Yes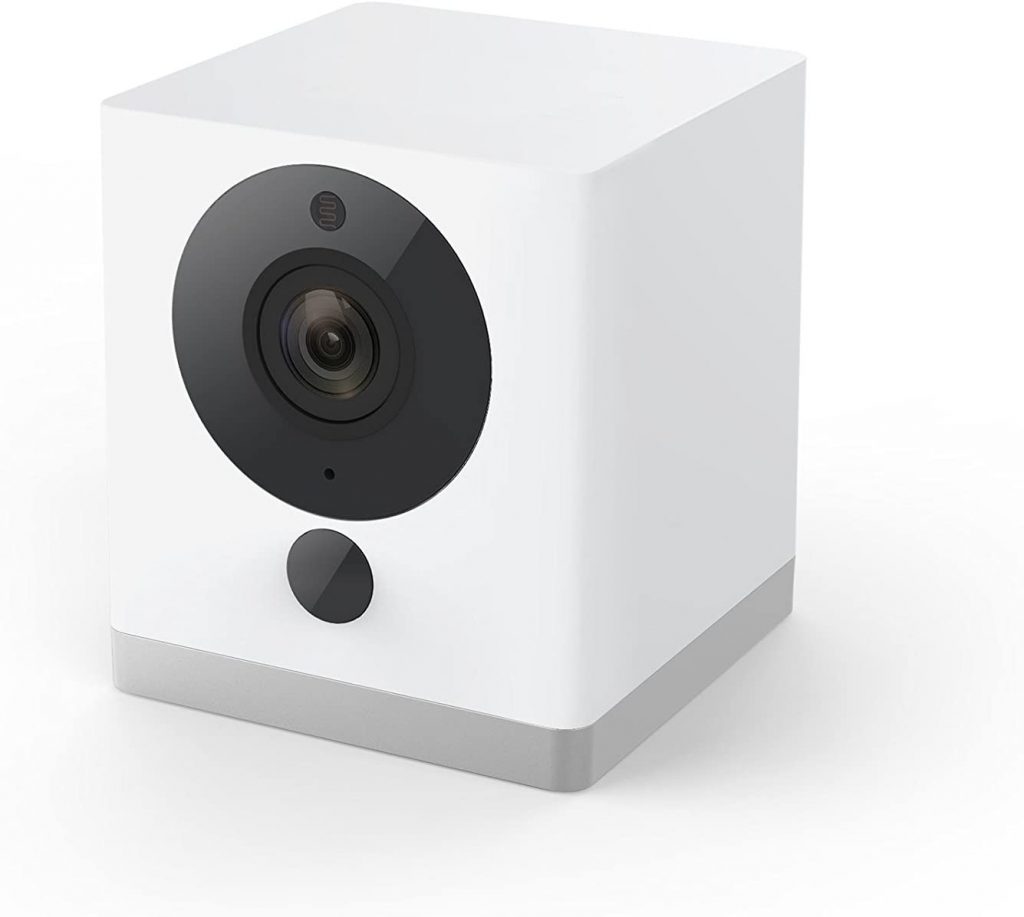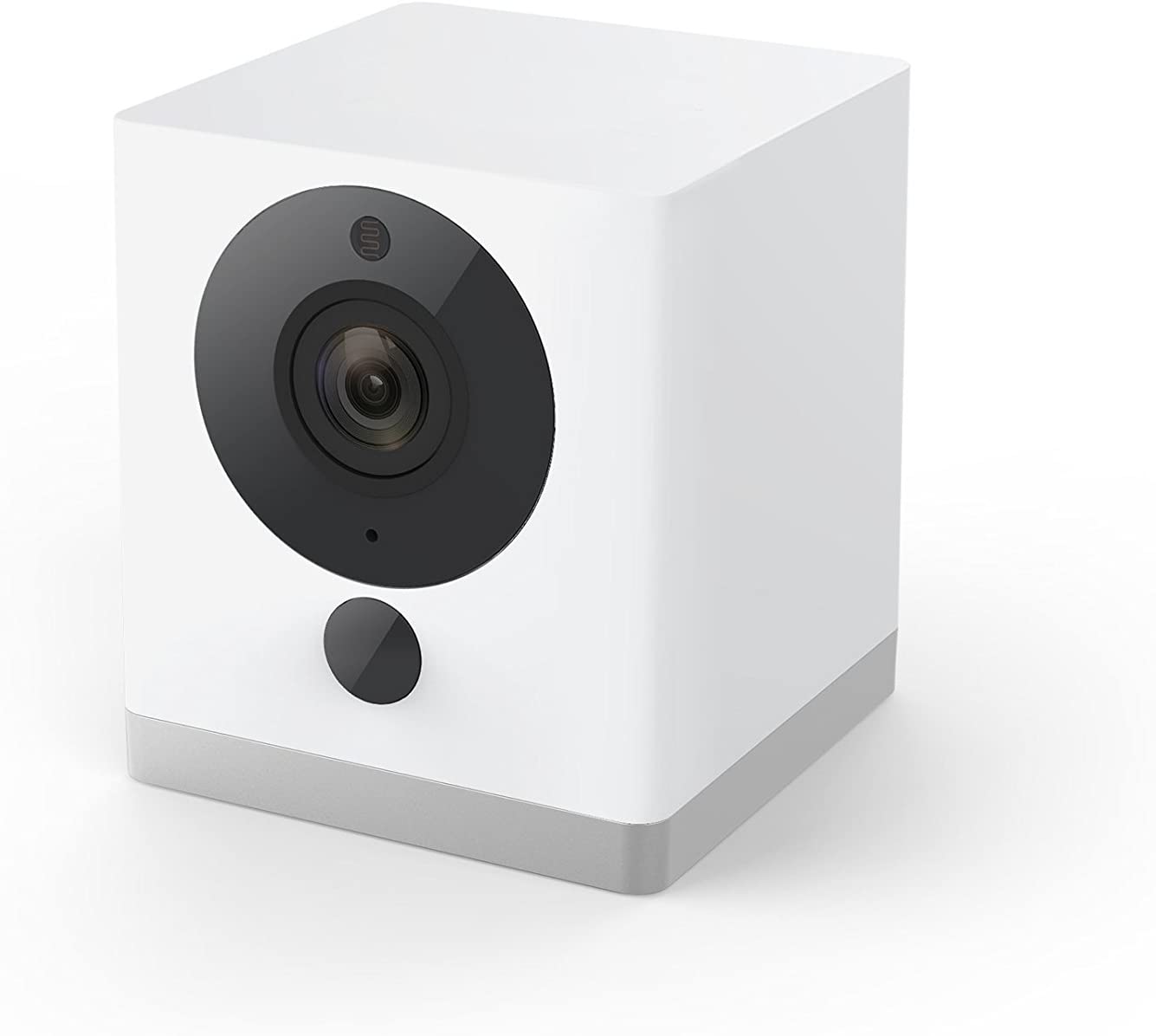 This wireless security camera from Wyze works with Alexa to bring you one of the smartest cameras on the market. Featuring 1080p HD video, you can get a glimpse of what's happening at your home throughout the day, asking to see different parts of your home or take a look around to see if everything's ok.
The magnetic base allows you to mount your cameras anywhere for the perfect setup and even comes with an extended power cable so that you can hook it up where you need to. When motions are detected, get an alert directly to your phone and find out what it is to take action promptly.
Compatibility with Alexa
This little device is powered by Alexa, connecting and optimizing your home security experience. Use voice-activated commands to take a look at your home while you're out for the day or just take a look at the app on your mobile phone to make sure everything is ok.
Cloud Storage
All collected video goes to the cloud and will stay there for up to 14 days. Cloud storage is endless and will collect video from your entire day that you can playback if you have any suspicions.
Magnetic
To set up these cameras around your home, you won't need to drill in screws or add holes to your wall. Instead, all you'll have to do is use the magnetic strips to connect your cameras anywhere you think you need them. Connect with an extended wire and create all the best angles around your home for all-around monitoring.
Why We Like It
The look is cool, the features are great, and the setup is easy. There is no need to screw things in and everything works with magnetic strips. All video collected goes to the cloud and will be there for up to two weeks so you can check back if you need to check out something. You can secure browsing with help from a secure browser, keeping both your home and connection safe.
5. Arlo Pro 3 Security Camera System
---
Specifications
Dimensions: 37.01 x 26.39 x 24.31cm
Resolution: 2K with HDR
Audio: two-way audio
Sensor: Yes
Angle: 160° diagonal
Wi-Fi: Yes
Night Vision: Yes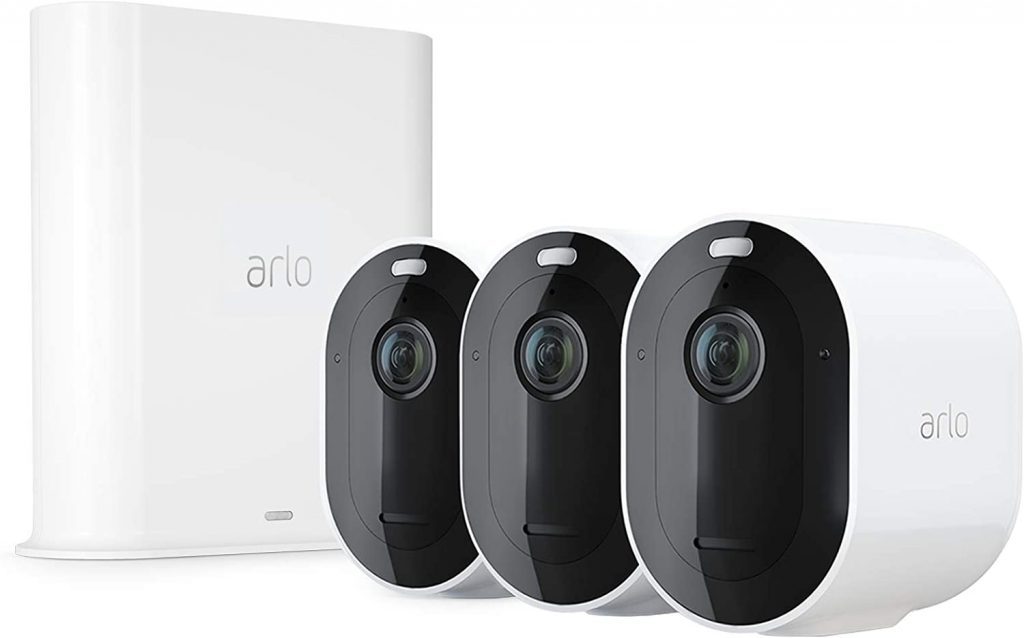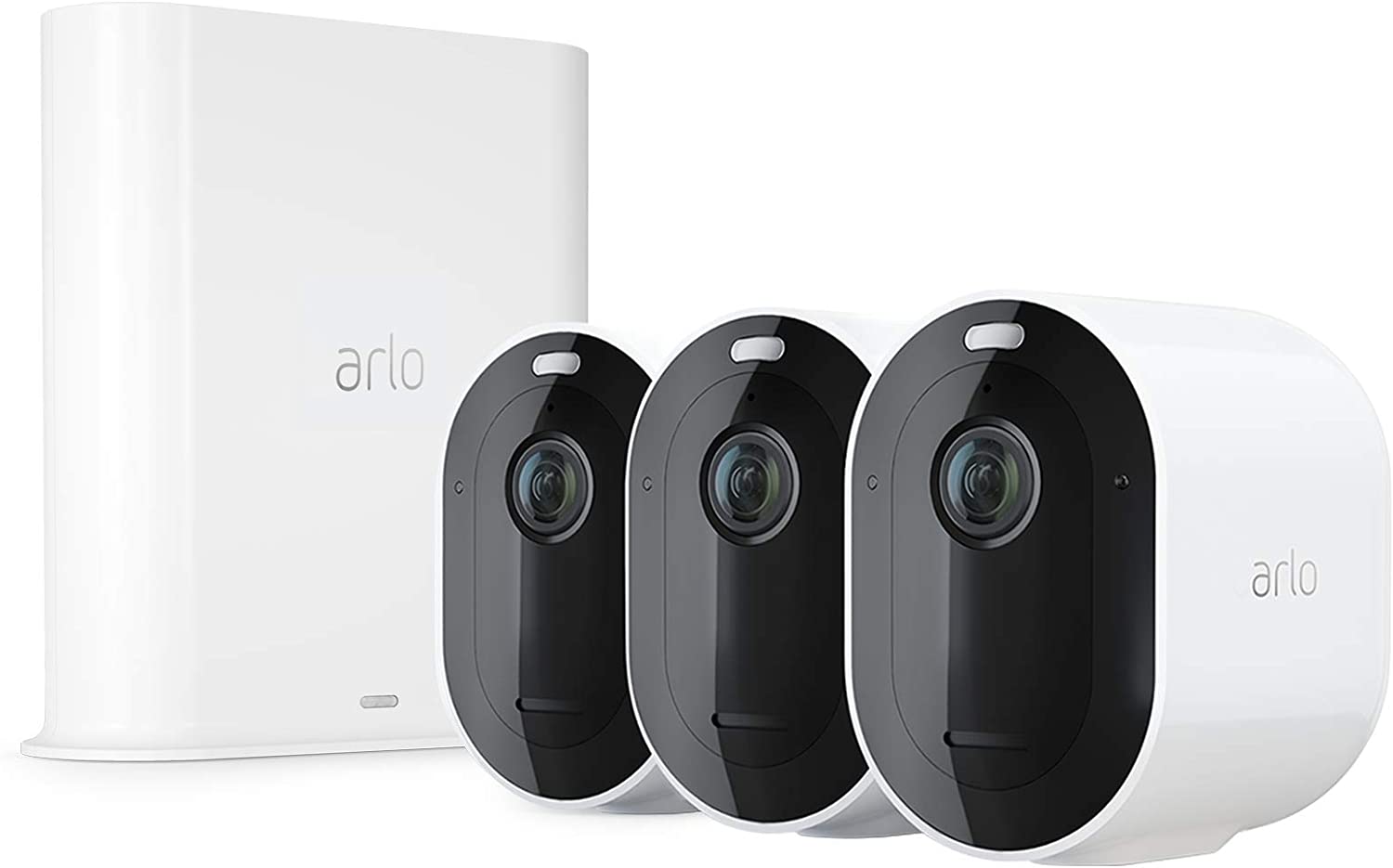 The Arlo Pro 3 system comes with three security cameras that you can set up around your home. With help from the 2K HDR resolution, you'll get a clear video with high resolution that's perfect for playback. The Arlo system is battery powered and each recharge will last you well over six months.
Whether day or night, this camera picks up video in color and provides a 160° diagonal view from the point in which you set it up. Set up automatic alerts and get notified if there is an intruder in your home no matter how far away you are.
Smart Alerts
The Arlo system will not just send you an alert and leave you to figure out the rest. Instead, they will send you what's going on, labeling it as vehicle, package, personal, and more. When activity is noticed, you'll get an alert immediately and you can decide what you'd like to do from there.
Night Vision
Enjoy colorful and crisp images, even at night, so that you can detect and identify what's going on.
Rechargeable Batteries
The rechargeable batteries will last you six months or more. That means you won't have to spend time recharging and waiting and can enjoy the safety in your home for an extended period of time.
Why We Like It
The Arlo Pro 3 system allows you to set up cameras anywhere in your home and monitor them any time you like. They are resistant to weather and come with night vision that is crisp, clear, and colored. When you choose Arlo, you'll get smarter alerts that will notify authorities if needed or alert you if your attention is needed at home.
6. TP-Link Tapo Smart Security Camera
---
Specifications
Dimensions: 8.64 x 8.7 x 11.77cm
Resolution: 1080p
Audio: Two-way audio
Sensor: Yes
Angle: 360° rotational, 114° vertical
Wi-Fi: Yes
Night Vision: Yes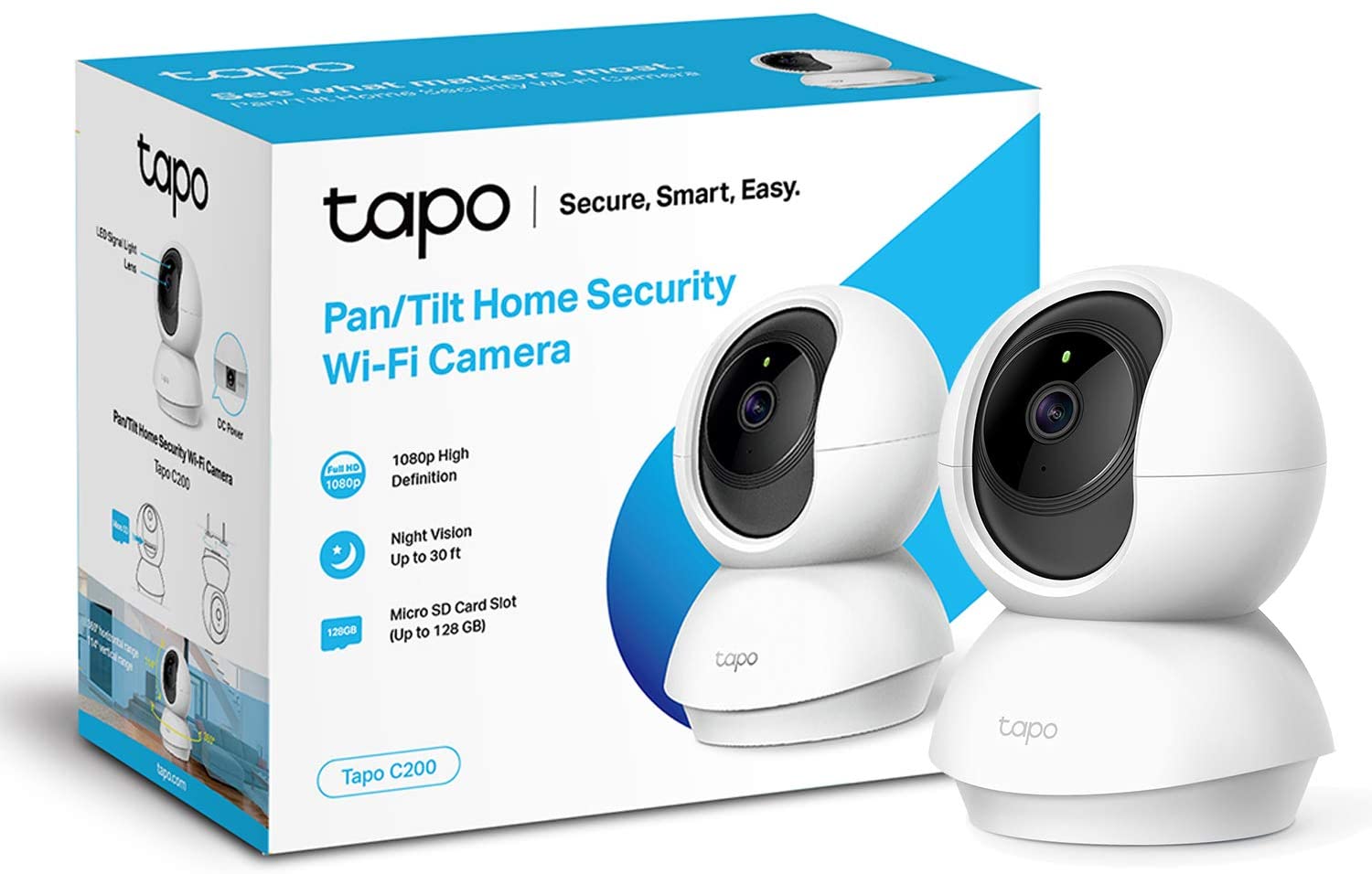 If you're looking for a customizable security camera with a clear picture, crisp audio, and a long list of advanced features, the TP-LINK Tapo Smart Security camera is the one for you. Featuring a wireless hub, you can access video and transmit audio any time from anywhere.
Set up activity zones that you want to keep an eye on and set up notifications to get alerts when suspicious activity is taking place in your home. Cover every angle with 360 ° rotational and 114° vertical views. All video gets saved to a micro-SD card for later access and the security camera pairs up with Amazon's Alexa and Google Home.
Crisp Recordings
All recordings are crisp and clear thanks to the 1080p resolution. No matter if it's day or night, you'll have access to useable images just in case you need them. Recordings are stored on a micro-SD card and can be accessed later if you suspect foul play.
Two-Way Audio
The Tapo Security Camera has an embedded microphone that works both ways. Use your mobile device to listen in when you need to or transmit audio to say hello to your pets or scare potential intruders away.
Customizable
Not everyone's home is built the same nor has the same activity zones. With the Tapo camera from TP-LINK, you can customize your activity zones, getting all-around visuals of your home at all times. If a motion is triggered in certain areas, receive an alert so that you can check in and see what's happening.
Why We Like It
While there are several reasons to like this security camera, one of our favorite things is the customizable features. Set it up how you want and get the angles you want to monitor your home like never before. Plus, get alerts to your phone if anything is suspicious, knowing when you need to take action. Install an antivirus to get the best protection for your devices.
Top Outdoor Cameras
---
1. ADACS 8MP Outdoor Security Camera (Best Australian Outdoor Security Camera)
Specifications
177.6 mm × 66.2 mm × 67.8 mm (7.0″×2.6″×2.7″)
High quality imaging with 8MP resolution
Efficient H.265+ compression technology
Clear imaging even with strong back lighting due to 120 dB WDR
Water and dust resistant (IP67)
v-UF: Built-in microphone for real-time audio security
EXIR 2.0: advanced infrared technology with long IR range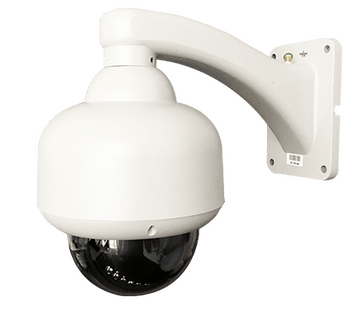 In our research we've found that indoor cameras are kind of behind outdoor cameras in terms of number of cameras that we truly love. This could be caused by a variety of external factors but the main point we want to get across is that there are a lot of great outdoor cameras available to Australians.
Our top three outdoor cameras were ridiculously hard to rank. All three offer extremely similar quality with features that rival each other. The edge went to the ADACS 8MP Outdoor.
The 8MP Outdoor is similar to it's brother camera, the 8MP Indoor and offers all of the same recording and app functionality. This is part of the reason that we ranked this camera as number one—it fits nicely into the ADACS repertoire of security tools.
Local Recording
All of ADACS cameras store recordings in the cloud. A few of their models, like the 8MP Outdoor, also supports local recording. We do this via a range of network video recorders that allow recording on average for 30-60 days.
Night Vision
The night vision on the 8MP Outdoor is definitely in the top-tier in terms of quality.
Why We Like It
In general, we try to stay away from recommending multiple products from the same company in different categories. The thing is, ADACS security products are made for Australians by Australians. They're full suite of services makes it a no-brainer if you're looking for high quality security equipment.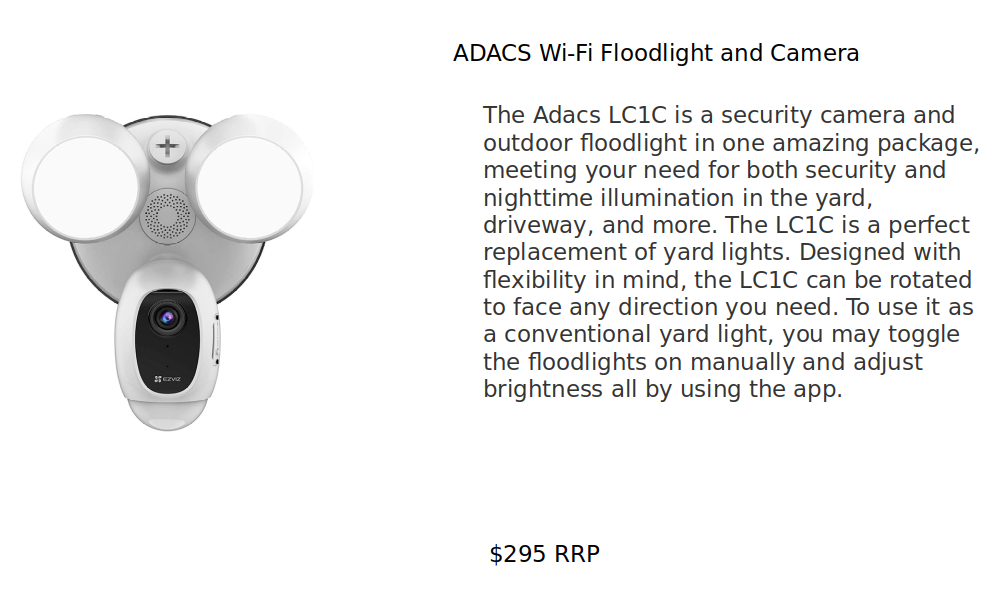 2. Nest Cam Outdoor
---
Specifications
Dimensions: 8.9 x 7.2 x 7.2cm
Resolution: 1080p HD
Audio: Two-way audio
Sensor: Yes
Angle: 130° Wide-angle
Wi-Fi: Yes
Night Vision: Yes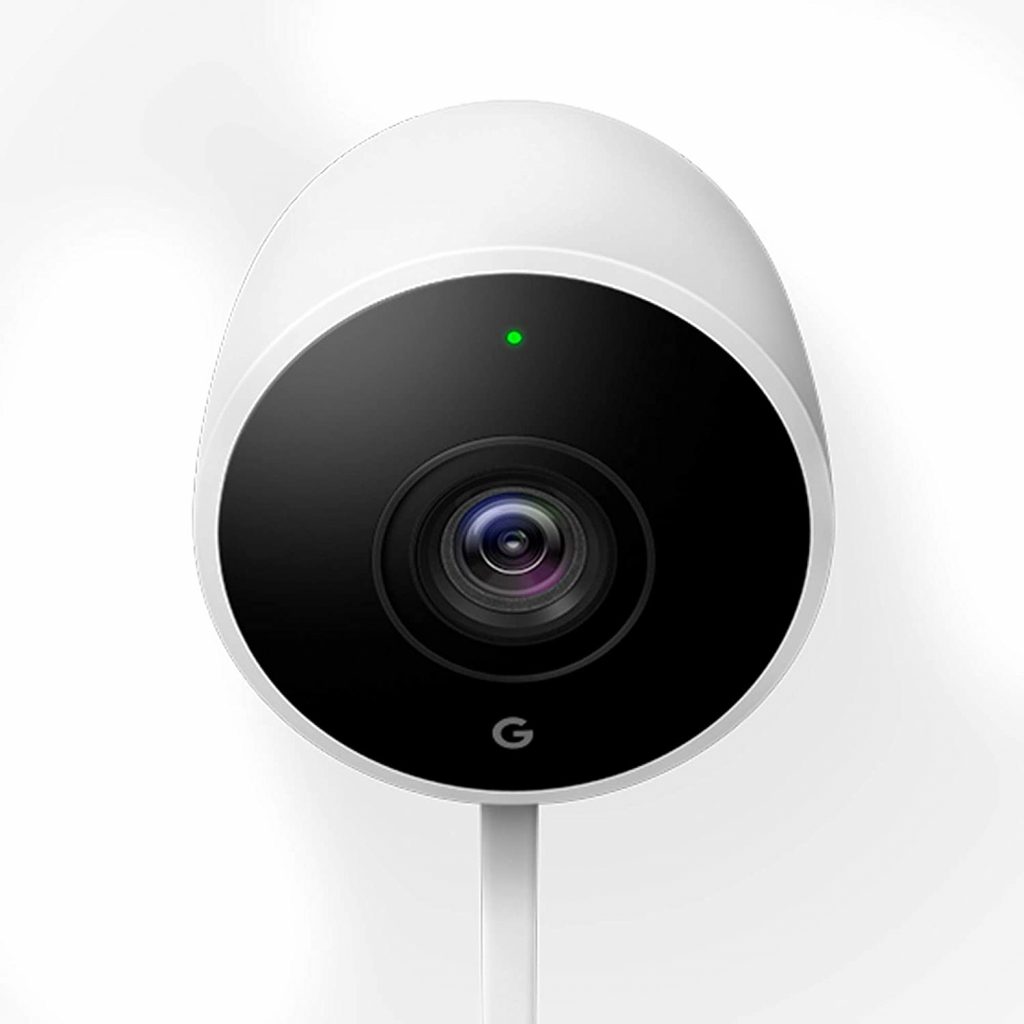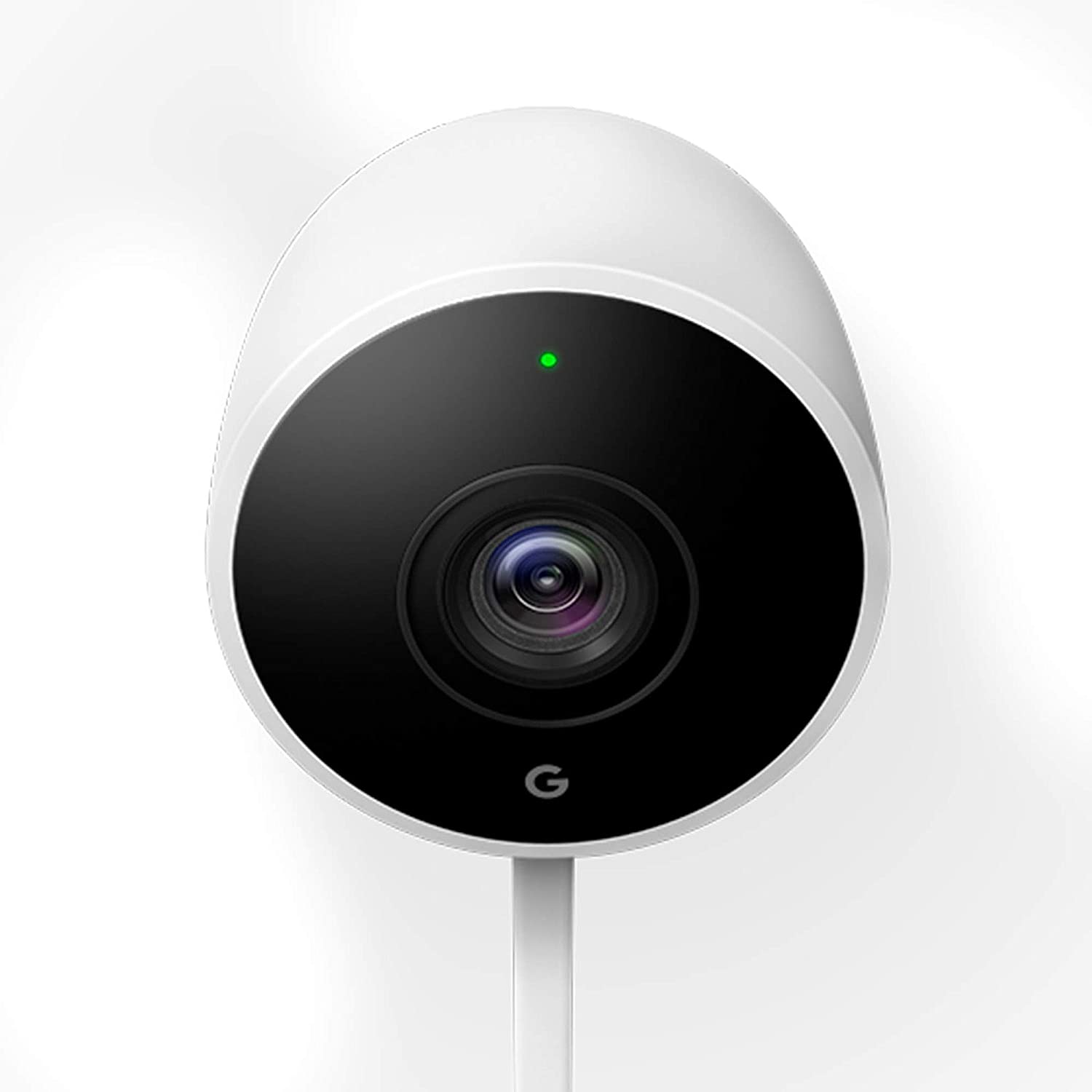 Rain or shine, the Nest outdoor security camera will keep working. It records 24/7 and offers users a way to peek in throughout the day and make sure that everything is ok. Additionally, for those that don't have time to check-in, Nest will send alerts if attention is needed, sending them directly to your phone so you can take action.
This camera is powered by Google and offers night vision and two-way audio to get a better monitoring experience that keeps your home safe.
Live Video
If you're ever curious about what's happening at your home, all you have to do is visit the app and see what's going on. Video is recorded day and night thanks to the eight infrared lights that surround the lens for a clear image even in the dark.
Alerts
When activity is detected and you're not around, Nest will send an alert to your phone or email. From there, you can decide whether you want to alert authorities or if it was just a false alarm.
All-Weather
When using an outdoor camera, you need one that can withstand all kinds of weather, including rain and sunshine. This camera will do just that, weathering the storm no matter how wet or hot it gets.
Why We Like It
Powered by Google, Nest is a great outdoor security camera that's easy to operate and simple to set up. Apart from the features, we really dig the alerts, the look, and even the fact that it can withstand all kinds of weather.
3. Netatmo Smart Outdoor Security Camera
---
Specifications
Dimensions: 5 x 11 x 20cm
Resolution: 1920×1080 Full HD
Audio: Two-way audio
Sensor: Yes
Angle: 100°
Wi-Fi: Yes
Night Vision: Yes
The Netatmo Smart camera is a powerful addition to your home. Streaming video and offering two-way audio, it's a system that helps you amp up your monitoring while keeping things simple and easy to manage. It comes with night vision, a motion-activated floodlight, and even access to live HD images.
All alerts that are triggered get sent straight to you, where you can decide which actions to take. Smart alerts help to filter out alerts, separating those that are serious from those that deal with everyday activity. Get alerts when there are vehicles, people, animals, packages, and more, knowing exactly what's going on in your home.
Smart Alerts
Don't bother with alerts that don't matter. Enjoy smart alerts to know exactly what's going on at your home so that you can make the best decisions even when you're not around.
Video Storage
Live video is useful but, in some cases, you need to reference videos from the day's past. All video collected from these cameras is collected to a micro-SD card where you can go back if you need to.
Floodlight
While night vision is great for picking up on intruders, it doesn't scare them away. The floodlight takes care of that part, shining a burst of bright light on them when motions are detected. It's a preventative measure that often stops intruders in their tracks.
Why We Like It
With the Netatmo smart system, you can enjoy the best of what technology has to offer. Receive automatic alerts when there is any activity in your home and detailed reports when packages or people arrive at your home. It's sophisticated, simple, and equipped with extra features that are there to keep you safe both day and night.
4. TP-Link Tapo Outdoor Security Camera
---
Specifications
Dimensions: 14.23 x 10.34 x 6.43cm
Resolution: 3MP HD
Audio: Two-way audio
Sensor: Yes
Wi-Fi: Yes
Night Vision: Yes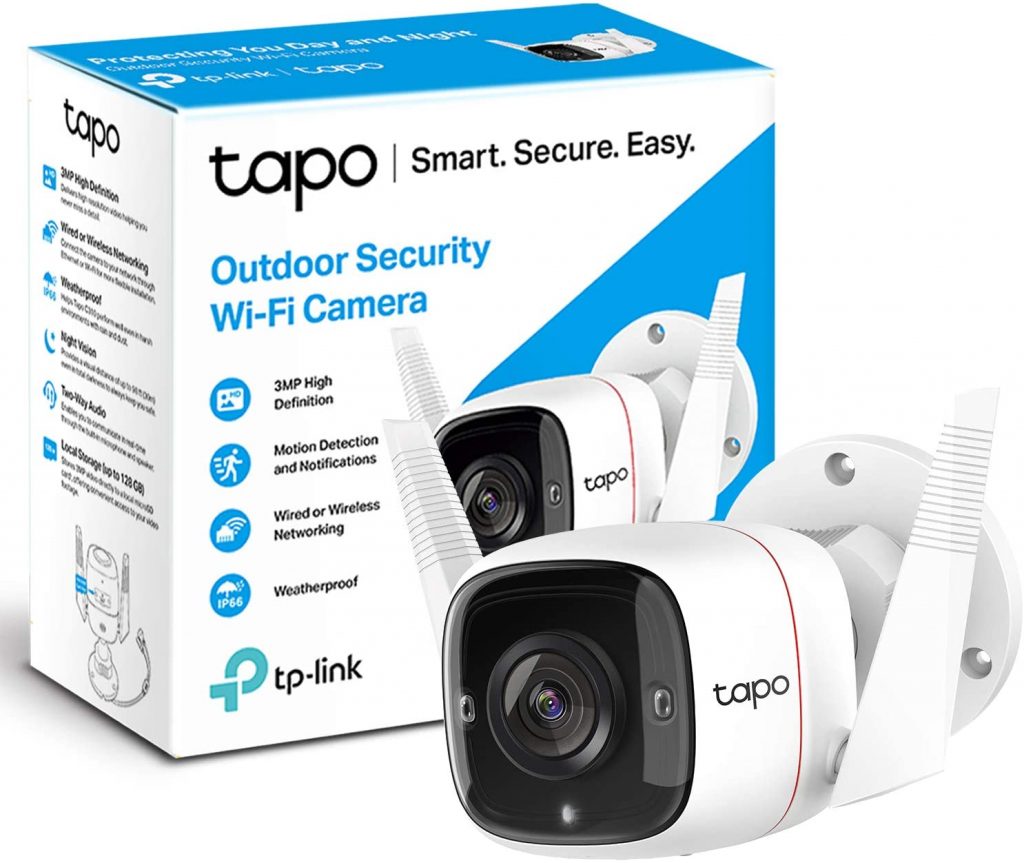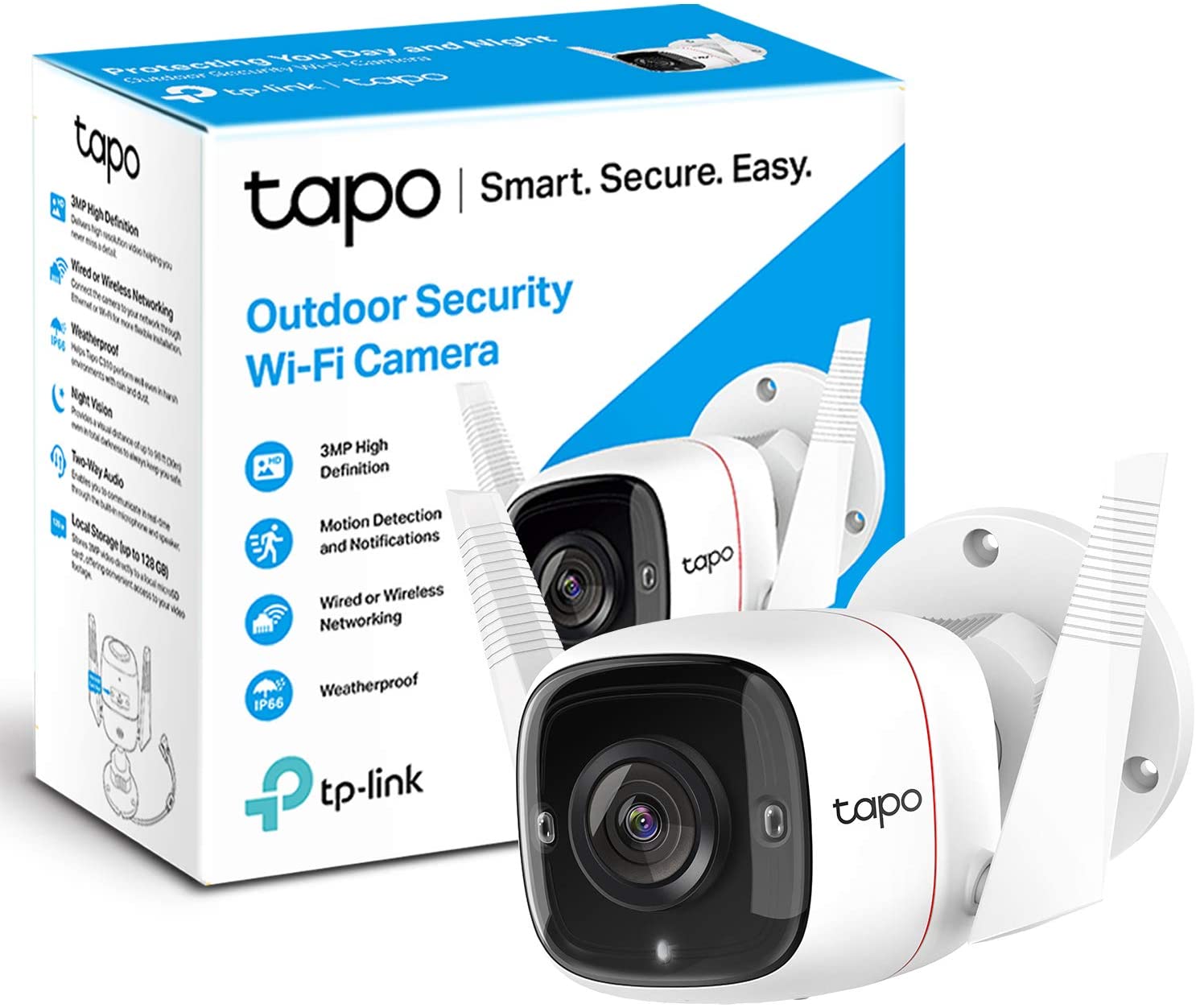 It's waterproof, it's windproof, and it's heatproof, making it the perfect security camera for outdoor use. It's got two-way audio with a built-in siren that will warn people when they need to stay away and enhanced night vision that stretches over 90ft.
Communicate with those at your home through your phone with two-way audio and enjoy alerts straight to your mobile when there is any activity detected while you're not around. This device is compatible with a ton of devices, including Google Home and Chromecast.
Built-In Siren
There is nothing that scares burglars away like the sound of a screeching siren. This outdoor system is packed with a siren that will sound when someone is attempting to break in, scaring them away and preventing a break-in.
Weatherproof
Whether it's rain, wind, or the sun, this device will keep on working, powering through it all. It's tough enough to endure whatever weather comes its way yet simple enough to set up all on your own.
Motion Detection
The embedded motion detectors will shoot you an alert when activity is detected, sending notifications directly to your phone. From there, you can decide what to do, alerting the authorities or making use of the siren.
Why We Like It
There are many reasons why we like this outdoor camera. First of all, we love the siren that sounds when intruders are nearby. Secondly, we like the smart alerts that are sent right to your phone. And last but not least, we love that this system is easy to set up and simple to operate.
5. Reolink Argus Pro Wireless Security Camera
---
Specifications
Dimensions: 9.65 x 5.84 x 5.84cm
Resolution: 1080p HD
Audio: Two-way audio
Sensor: Yes
Wi-Fi: Yes
Night Vision: Yes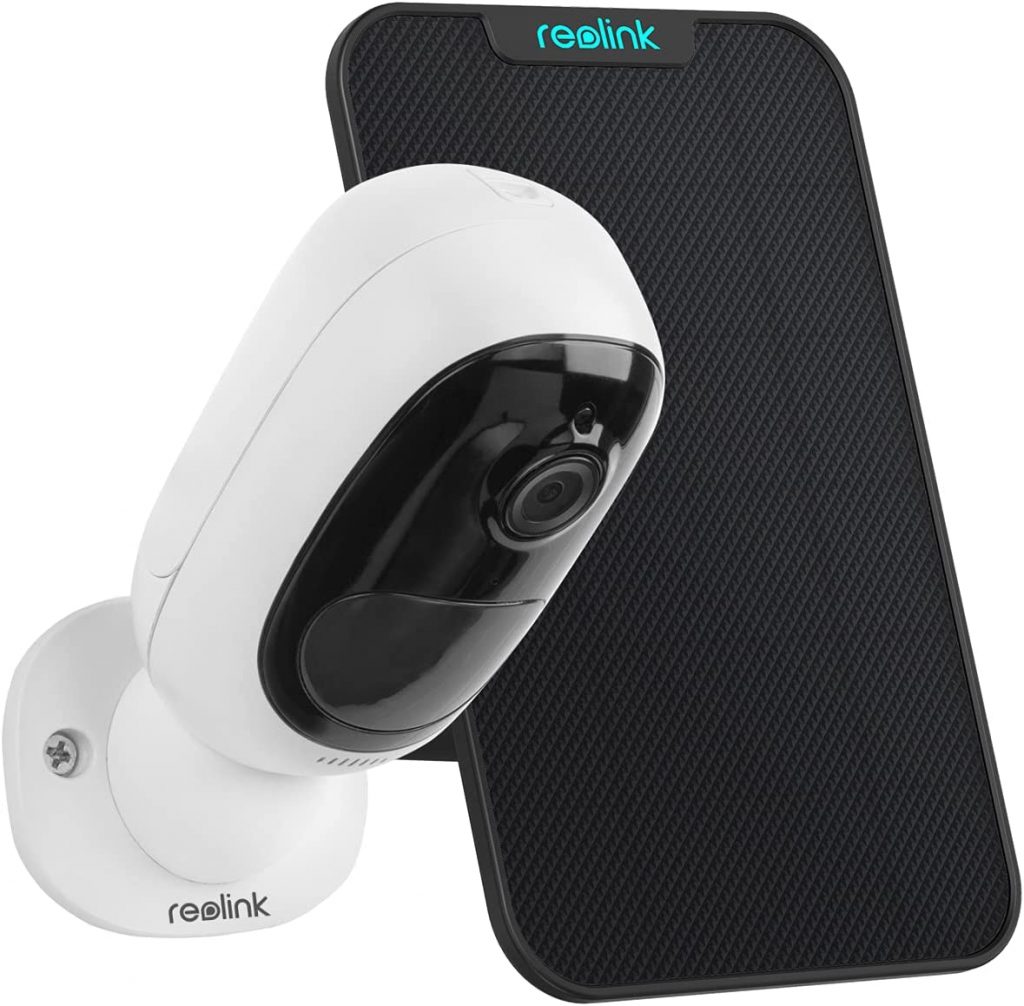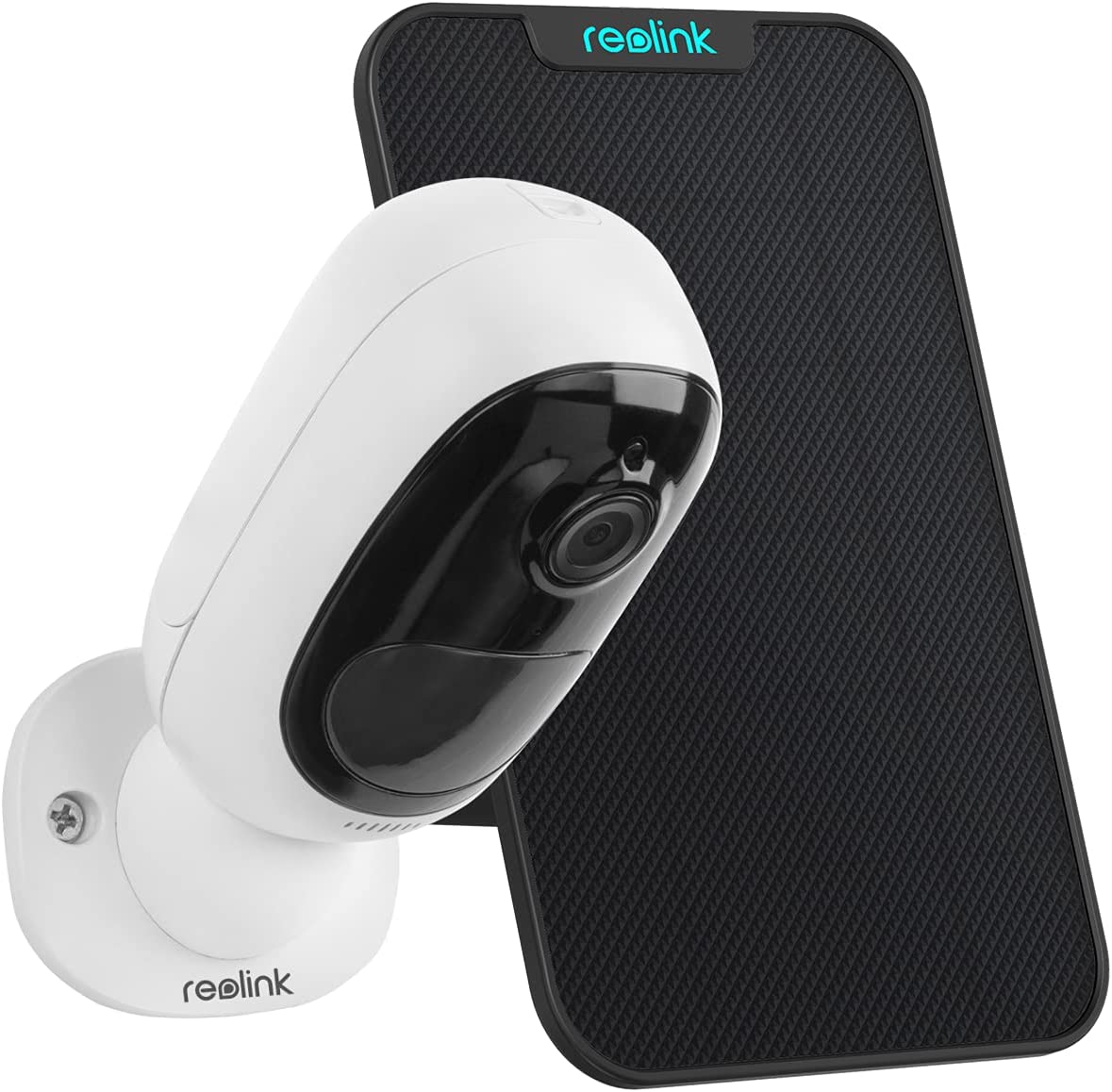 There is no need to add wires and no complicated connections involved with this security camera. Equipped with all the goodies, you can rest assured that your home will be in good hands while you're gone. Set it to sent alerts to your phone when activity is detected and get access to past videos with a micro-SD card.
The camera features night vision that captures video up to 36ft away and provides a clear picture. Download the free app for access to live streaming and more to get the most out of your app experience.
Playback
If you ever need to access videos, have no fear. All recorded videos go directly to a micro-SD, where you can take a look and access video from days before.
High Resolution
Whether it's day or night, this camera comes with sharp images. Night vision reaches up to 36ft and comes in high resolution for the best picture possible.
Solar Panel
While it does come with a rechargeable battery, you can also save on energy and enjoy less charging with the connected solar panel. Save money on the batteries and enjoy a security system that works without having to recharge all the time.
Why We Like It
It's easy to connect and comes with solar panels so that you can get the most out of your camera. It will work when you need it and provide you with all the details you need so that you can rest assured that your home is safe.
6. EZVIZ C3N Outdoor Security Camera
---
Specifications
Dimensions: 7.6 x 15.5 x 7.6cm
Resolution: 1080p
Audio: Two-way audio
Sensor: Yes
Angle: 360° swivel view
Wi-Fi: Yes
Night Vision: Yes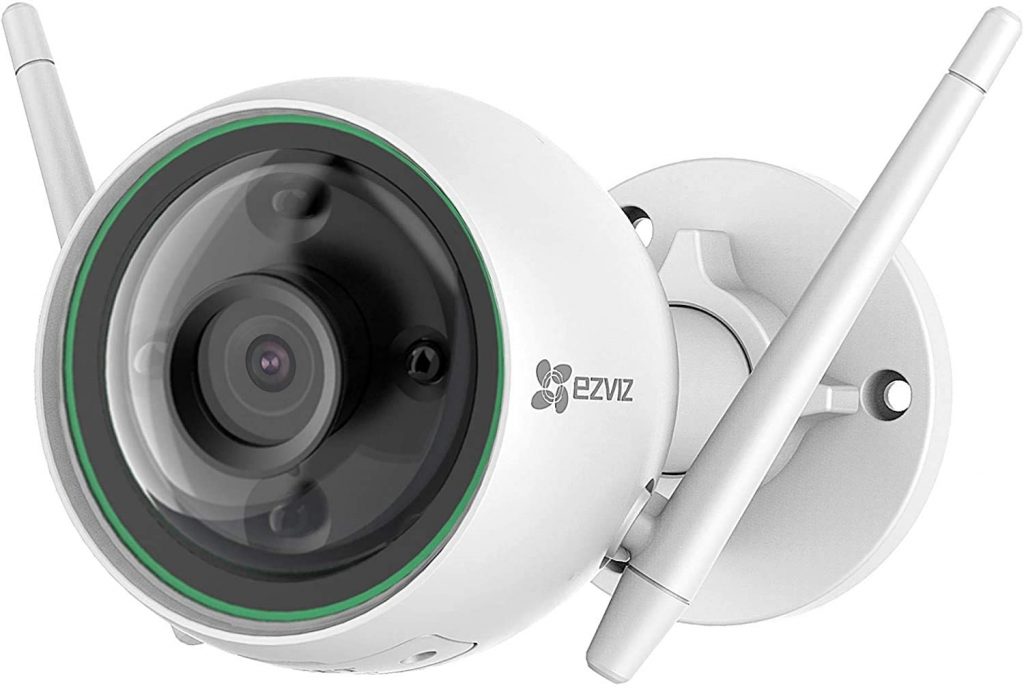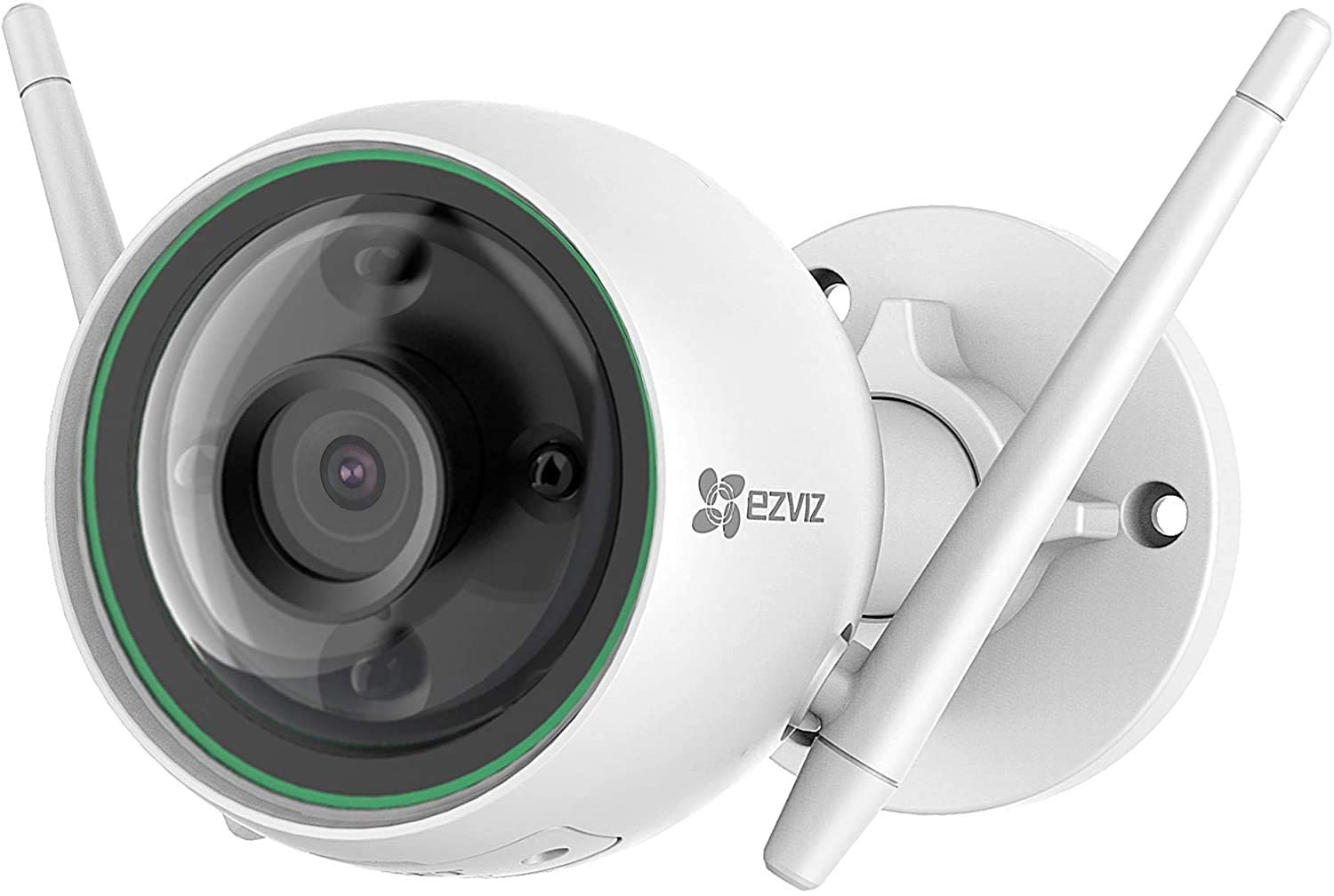 For the best night vision camera around, this EZVIZ camera takes the cake. With a field of vision of 100ft, you can spot anyone, making sure your home and all of your yard are safe and protected while you sleep. Featuring a sophisticated AI-powered algorithm for motion detection, you'll only get alerts when they matter, doing away with all false alarms.
When you purchase, score 1-month of cloud storage free and enjoy the perks of playback. Get a solid picture and a total of 360° of your surroundings captured on tape.
Swivel
This camera can swivel and turn and provide angles that not many cameras out there can. Get a view of all things that are happening in your home and never miss a thing.
Made for the Outdoors
It's resistant to water and protected from dust, dirt, and anything else that the universe could throw its way. Though it might be small, it's tough, and will surely weather the storm.
Night Vision
This camera is the best when it comes to night vision, featuring a 100ft view. Get clear HD video even in the dark to rest assured that you can get access to the video if something happens overnight.
Why We Like It
Using AI-powered technology, this camera will only pick up on human activity, saving you from other false alarms. Enjoy a 360° field of vision and 100ft of vision even when it's pitch-black outside. It's a small and compact camera that has what it takes to stand up to whatever kind of weather comes its way and comes with a free 1-month trial of cloud storage.
What You Should Want Out of a Home Security Camera
---
Of course, every security camera is different, but they share some key features in common. Depending on what you deem important and how your house is set up, one feature could be much more important than another. Most cameras have at least one feature that makes them special. These are the features you need to look for when picking one out.
Field of View
This refers to how wide an angle the camera can achieve without moving. Ordinarily, you'll be able to determine a camera's field of view by perusing its technical specs. There, you'll see the numerical degree of the "FOV (Field of view)." The wider the view, the better off you'll be.
Some setups need a wider FOV than others. If you're only looking for one camera to monitor your entire backyard, the widest FOV possible would be helpful. If you're trying to find a camera that only watches your front door, a large field of view isn't necessary.
Motion Detection
Motion detectors are important because they tell the camera to record activity whenever motion is detected. It also sends you a notification when something occurs within view of your camera. This is advantageous for indoor cameras since you'll be able to tell if your children enter an area where they're not supposed to be.
Other uses for motion detection are if someone enters your house when you weren't expecting it or even to ensure your kids have made it home from school.
The great thing about motion detection is you won't have hours of video to sort through if you want to review footage. The only footage on your camera will be if someone enters the frame.
Sound
Naturally, a home security camera doesn't have to have the ability to capture sound, but it's a valuable tool if you want to hear what's going on around your home. In the case of a "nanny cam," a two-way voice feature can be a helpful resource.
Sound is important because cameras might not always be able to pick everything up. A babysitter in another room might need to be overheard. A crashing noise down the hall might tell you that your kid broke the vase rather than your cat.
Wi-Fi Capability
You want a camera that can connect to your home network because it prevents an intruder from being able to cut your video feed by snipping the exterior wire. By connecting to Wi-Fi, you can view your feed remotely.
In 2023, there are zero reasons as to why you shouldn't have a camera with Wi-Fi capability. If you're interested in monitoring your home, you need to be able to access your feed remotely.
Wired vs. Wireless Home Security Cameras
---

The vast majority of contemporary security cameras utilize wireless technology. This is ideal for customers who don't want to run wires from their unit to a central station in their home just to access video.
With wireless home security cameras, you can typically view your security footage on a PC or smartphone using the security camera's app.
Wireless tech eliminates the arbitrary costs of professional installation and the unnecessary drilling of holes in your house walls. Although many large corporations use wired systems like some of the CCTV camera out there, most homeowners can successfully secure their homes with wireless cameras that connect to your Wi-Fi network.
There are pros and cons to each. For instance, a wired system does not permit signal interference from wireless devices nearby whereas a wireless system does. This leads to a conclusion that you are more vulnerable to hackers when using wireless technology.
Here is a thorough list of the benefits of each.
Wireless Security Camera Pros:
Quick and easy installation
Requires no drilling or wires
Easy to move and rearrange
User-friendly
Offers remote access
Wired Security Camera Pros:
Difficult to jam
Can't be hacked remotely
Relies on a battery backup in a power outage
Better choice for larger homes
Connectivity
As mentioned above, many security cameras rely on Wi-Fi, but not all of them depend on it exclusively. Some use Bluetooth for local control and simpler setup via your smartphone. Others incorporate independent home automation networking standards to communicate with other devices, such as Z-Wave.
Most likely, you'll be able to access your video feed through your iPhone, Android or tablet. Most modern security cameras offer mobile apps. Some are specifically made for mobile devices.
Who's That?
There is a new wave of smart home security cameras that offer facial recognition, so you'll know exactly who's there. These cameras are able to zoom in on people that enter its field of view and send the homeowner alerts if it recognizes the person's face.
Why is this important? Because it also alerts you when it is unable to recognize a face, thus ensuring that you'll be aware if a stranger is lurking outside your home.
Which Security Camera is Right for You?
No matter where you land on the subject — whether you decide to go with a wireless camera or a wired system — my goal is to give you as much helpful info as possible. I trust that this guide will assist you in making a careful, well-reasoned decision when selecting the security camera that suits your needs.
All of the home security cameras on this list are viable options for protecting your home. Each of them gives you a host of valuable features.
Things to Consider Before Buying a Home Security Camera
---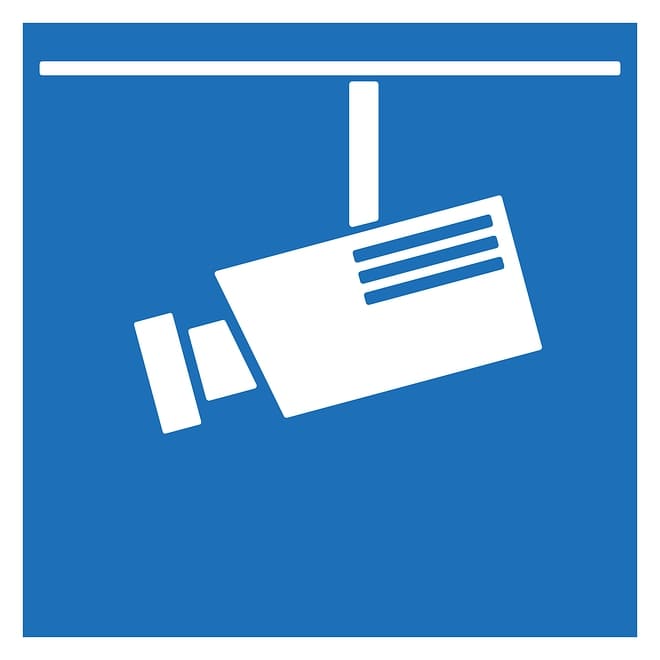 One should always think about why they need a home security camera. Are you getting one to deter burglars? Or are you purchasing one because you want to keep an eye on your kids? Before you start exploring features and specs, take the time to determine why you need a security camera.
This will help you make a sensible decision when you start shopping around.
If you're worried about break-ins, an outdoor security Motion Detector Vector camera with motion detectors may be the best choice for you. If you're looking to check in on your ankle biters while you're out and about, an indoor camera is the way to go.
Remember that indoor cameras don't have to be as tough or rugged as an outdoor camera because they won't be exposed to a harsh environment. But they should be inconspicuous.
Some folks are able to find an indoor camera that matches the décor of their house. This is not a bad idea as the more camouflaged it is, the less likely it is to be spotted by the keen eye.
No matter what kind of camera you settle on, be sure to find out how it is powered and take into consideration the proximity of a power source. Some cameras run on batteries, in which case this won't be a concern, but you want to think about all contingencies before selecting a security solution.
Remember, the last thing you want is a dead security camera. Not a lotta good that'll do ya in the event of a break-in.
Think about how much ground you need to cover. If your property is large, you'll probably want to install cameras in multiple locations around the home.
There's no reason you should simply see what's going on. You should also be able to hear what's going on. Many home security cameras have sound alerts as well as motion alerts.
Most of them do not provide two-way audio, so you won't be able to communicate with anyone via your camera, but you will be able to hear what's going on. This is a good way of telling if multiple parties are conspiring outside your home.
As we all know, an overwhelming number of home invasions occur in the dead of night. As such, you want a security camera that can give you clear images in all sorts of light conditions. Make sure you find one that features motion-activated floodlights and/or night vision.
Image resolution is another key factor to consider. Image quality will largely depend upon resolution. Look for a home security camera that yields high-resolution imagery.
In the age of the "Internet of Things," your smartphone doesn't have to be the only smart thing around. Some home security cameras can convert your house into a smart home. Some of the best security cameras are compatible with smart home hubs like Amazon Echo.
This gives you the edge of burglars because you can control everything remotely, whether it's locking your doors, turning on lights or setting off a siren to scare them away. Home automation is definitely the future of home security and it's right at your fingertips.
Another major consideration should be bandwidth. Modern cameras that send alerts to your phone and stream video can use a lot of data on your network. Make sure you have enough data to accommodate a smart home security camera before installing one.
FAQs
---
Q: What is the difference between HD and IP cameras?
A: HD cameras or high definition cameras are analog cameras that measure resolution in pixels. They're cheaper and easier to install just like any other CCTV camera. They also require a local recording device but usually give a clear and crisp picture.
IP cameras or internet protocol cameras are cameras that receive and control data via the internet. There is no need to have a local recording device and information can be accessed directly.
HD cameras usually come with lower costs and can be configured to work in a large network whereas IP cameras can be accessed remotely.
Q: Can wired security cameras be hacked?
A: The important thing to remember is that any camera can be hacked. Proper security precautions should always be taken no matter what.
Wired cameras can be hacked as the camera needs to be connected to a digital video recorder. This recorder gives DVR video and image outputs that can easily be hacked with simple security settings. Its possible even with advanced security.
Q: Can you use any DVR with security cameras?
A: Yes, but not all of them. DVR works with analog cameras such as HD cameras and other old-school technology that isn't used much anymore. IP cameras use NVR which is similar but is just software.
Final Thoughts
---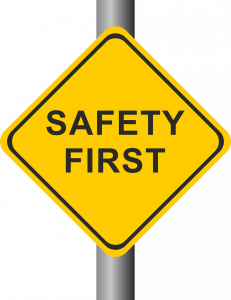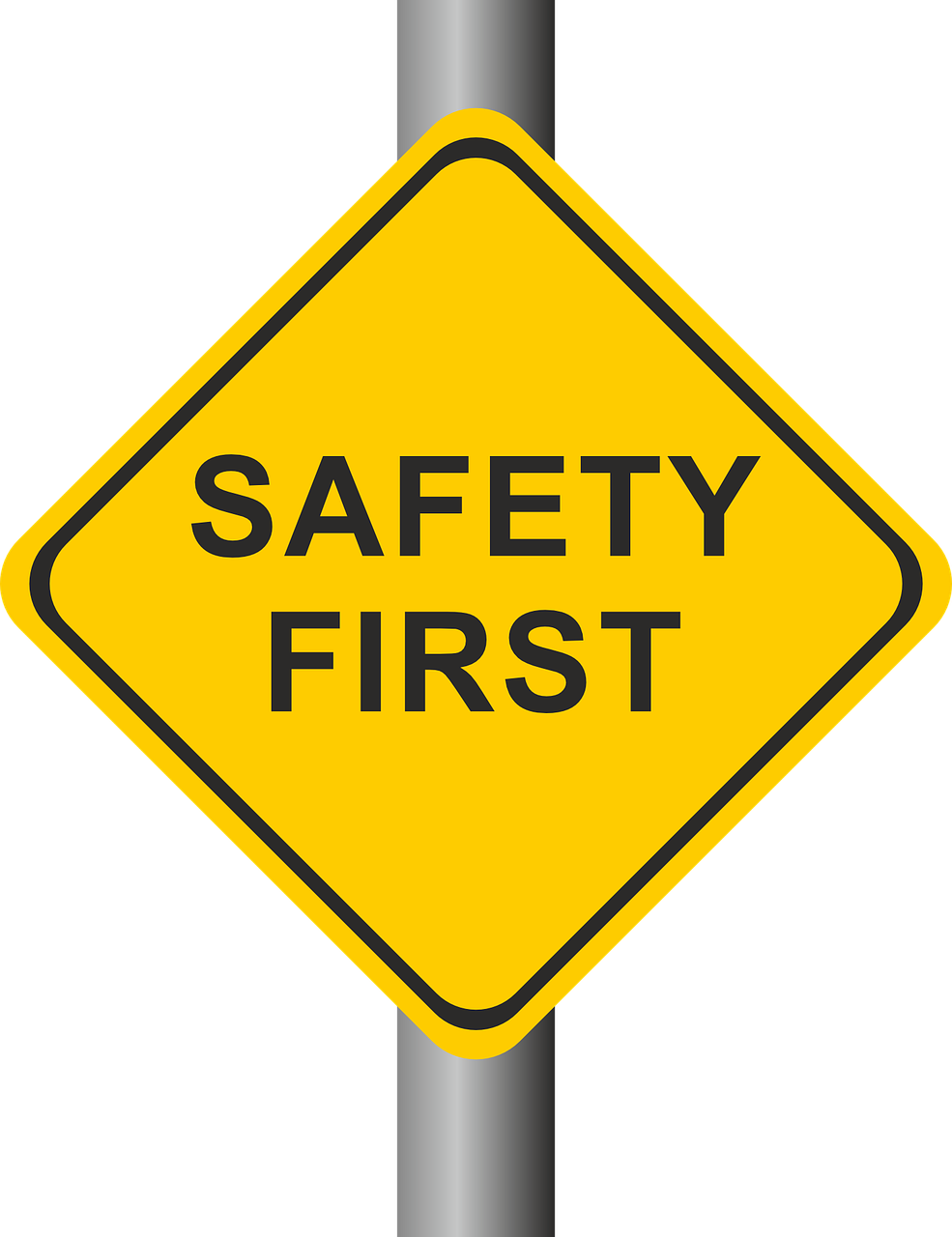 Being interested in an indoor or outdoor security camera may feel like overkill for some. At the end of the day, if something goes wrong, do you want to know what happened?
Most people will never need a security camera but if something does happen where you do need it, you're better off having it. Providing peace of mind is worth much more than whatever a specific security camera costs.
Just make sure to stay safe!
---
You Might Also Like: