Disclosure: Privacy Australia is community-supported. We may earn a commission when you buy a VPN through one of our links. Learn more.
Best VPN Routers for All Devices (Software/Hardware Based)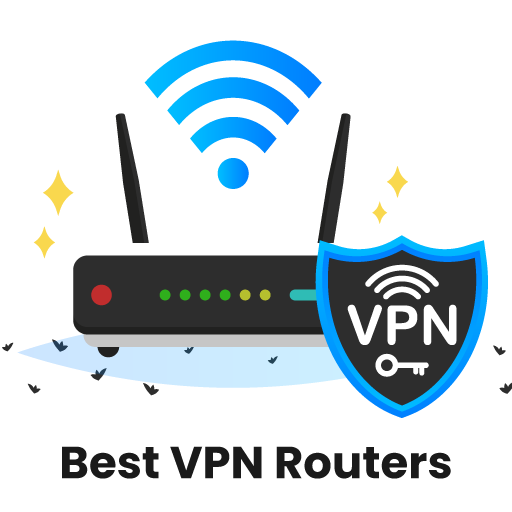 VPN routers offer a more robust, secure, and consistent experience compared to standard customer grade routers.
A VPN router appears almost identical to a normal router. The difference is that the VPN router has VPN client software installed. As a result, each device that connects to the VPN router is protected by the VPN.
Devices that have VPN software installed on them receive encryption protection only on that device. A VPN network router, on the other hand, is able to simultaneously protect multiple devices on the same network.
These could be tablets, smartphones, computers, or any computing device. With one connection, a VPN router is able to encrypt all of the devices on the network from one source with just one connection.
If you own a standard router and don't want to purchase a VPN router, you can check the best VPNs for your router below. On the other hand, if you want to get a VPN router right out of the box, jump straight to the best VPN routers.
VPN routers are specifically designed to allow network communications in a VPN environment. They enable communications and connections between several VPN end devices that are usually located in separate locations.
Similar to a standard router, a VPN router makes possible core packet routing and network communication services. The only difference is that this happens within the VPN environment. It makes it possible to share and provide connectivity of the virtual private network to several different end devices.
Best VPN Routers (Pre-Configured)
---
Portable VPN routers can be configured and installed at any place that has an Internet connection. Users can connect to the router via a wireless network, a wired LAN, or serial interfaces. A VPN router may use one or multiple network/tunneling protocols, which allow it to manage and create communication inside VPN tunnels.
1. Best Overall VPN Router: Linksys WRT 3200 ACM router
---
Key Specifications:
Wi-Fi Bands: Dual-Band 2.4 + 5 GHz
Processor: 1.8 GHz Dual-Core
Wireless Technology: 802.11ac
Ethernet Ports: 1x Gigabit WAN port + 4 x Gigabit LAN
Other Ports: 1 x USB 3.0 + 4 x Combo eSATA/USB 2.0
Wi-Fi Performance: AC3200 MU-MIMO Dual-band Gigabit, 600+2600 Mbps
Price: $425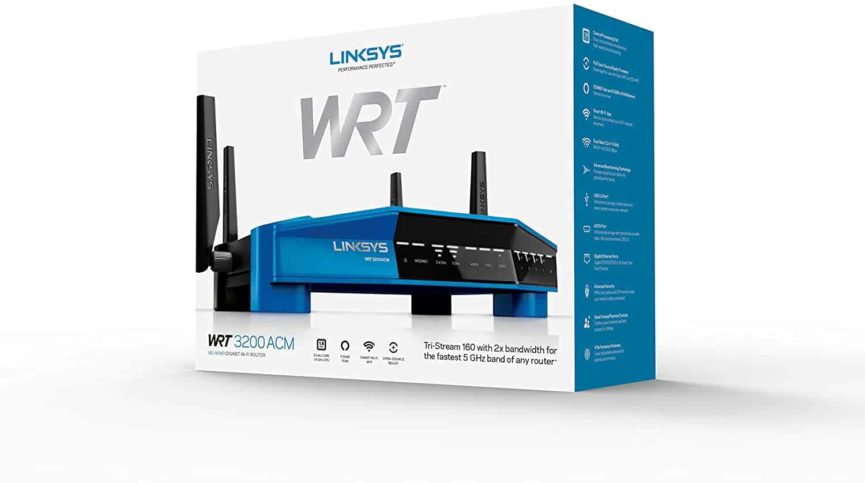 Pros
Equipped with Tri-Stream 160 technology
Open Source Firmware offers effortless customization
Cons
Mediocre 2.4 GHz throughput scores
The Linksys WRT3200ACM has to be one of the best VPN routers that you can buy. While it isn't the most attractive looking routers out there, it's practical design conceals a powerful VPN router suitable for at-home use.
Since the WRT3200ACM is fully open-source ready, you can modify the router to suit your personal requirements.
By simply installing either DD-WRT or OpenWRT, you can do anything from setting up a secure VPN to detecting any network intrusions to prevent unauthorized activity.
This gives you practically full control over the functions and features of the WRT3200ACM. Plus, at $249.99, it's a mid-range VPN router that boasts premium features at an affordable price.
When it comes to setting up the WRT3200ACM, like many other Linksys routers, it's quick and simple to install and configure. Turned on, it brags persistent results owing to the three bands that allow for speedy, broad-range network speeds.
Our only complaint is that the 2.4 GHZ throughput appears mediocre compared to some of the other VPN routers on the market.
Some users have even complained about performance drop-offs when using their computer in another room. So unless you have a small to medium-sized apartment, you're likely going to require a Wi-Fi extender.
Having said that, based on overall performance, the Linksys WRT3200ACM has to be one of the best VPN routers available.
2. Best VPN Router for Gaming: Asus RT-AC86U router
---
Key Specifications:
Wi-Fi Bands: Dual-band (2.4 + 5 GHz)
Wireless Technology: 802.11ac
Ethernet Ports: 4 x Gigabit LAN
Other Ports: 1 x USB 1.0 + 1 x USB 3.0
Processor: 1.8 GHz 64bit Dual-Core
Wi-Fi Performance: AC2900 MU-MIMO, 750+2167 Mbps
Price: $289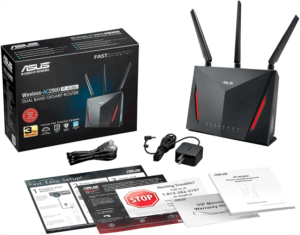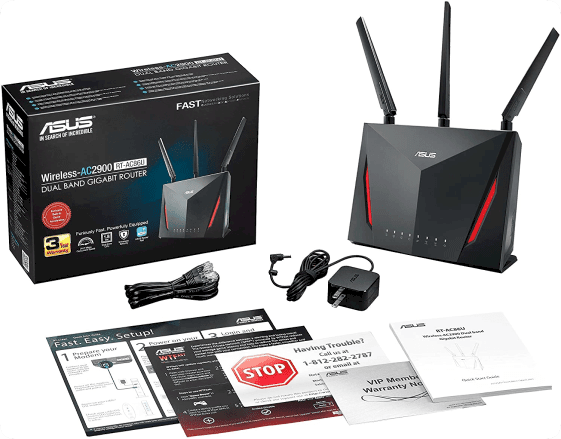 Pros
Built-in AiProtection for extra security
Fantastic long-distance performance
Cons
Limited mounting options (vertical only)
The Asus RT-AC86U is an affordable and almost fully-customizable VPN router fit for gamers and non-gamers alike. From security to fantastic coverage and speedy performance, there are many great features for everyone to enjoy.
Reasonably priced at $289, buyers can also appreciate how affordable this dual-band gigabit router is.
When it comes to aesthetics, the Asus RT-AC86U is a polished and minimalistic router that flaunts an all-black design with two red stripes along the front.
The silver lining is that there are limited mounting options since you can only display it vertically. While you can't mount it on a wall or lay it flat, it can be hidden owing to its sleek design.
In terms of hardware specifications, this dual-band VPN router provides 750 Mbps on the 2.4 GHz channel, while its 5 GHz channel can deliver up to 2,167 Mbps.
MU-MIMO technology enables you to connect multiple devices and simultaneously supply data streams to every single one at their top speed. Additionally, the Asus RT-AC86U router features a powerful, 1.8 GHz dual-core processor with the most recent 802.11AC MU-MIMO technology.
In terms of setup, while you can make changes and monitor the router through the Asus Router app, you will have to set it up via a connected browser. Be that as it may, the setup is quick and simple; you can go from opening the box to connecting your devices within minutes.
3. High-Powered VPN Router: Asus ROG Rapture GT-AC5300
---
Key Specifications:
Wi-Fi Bands: Tri-band (dual 5 GHz, single 2.4 GHz)
Wi-Fi Performance: AC5300 (up to 5334 Mbps)
Ethernet Ports: 8 x Gigabit LAN
Other Ports: 3 x ultra-fast USB 3.0
Wireless Technology: 802.11ac
Processor: 1.8 GHz quad-core
Price: $570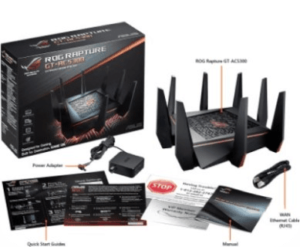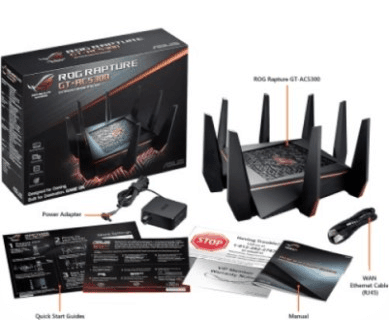 Pros
Very strong Wi-Fi coverage
Eight LAN ports
At 2.6 x 9.6 x 8.6 inches, the Asus ROG Rapture GT-AC5300 is a large router that weighs in at 4.14 lbs. Despite its large footprint, the Asus GT-AC5300 is a great option for gamers and those who want a powerful router suitable for VPN use.
With speeds of up to 5300 Mbps, the Asus RT-AC5300 offers excellent home Wi-Fi coverage, though it certainly comes at a cost.
It's one of the best Asus VPN routers on the market that features powerful specs and a bunch of features that gamers and non-gamers can benefit from. It is a tri-band VPN router with dual 5 GHz bands, each with speeds of up to 2.167 Mbps. The third 2.4 GHz band has a top speed of 1,000 Mbps.
Owing to MU-MIMO support, the Asus ROG Rapture GT-AC5300 supports multiple devices on several Wi-Fi tiers. It also supports the latest 802.11ac wireless technologies, including beamforming and MU-MIMO.
In terms of ports, this router is equipped with a whopping eight LAN ports, two of which automatically receive network priority.
4. Best VPN for Streaming: NETGEAR Nighthawk X4S Router
---
Key Specifications:
Wi-Fi Bands: Dual-band (2.4 + 5 GHz)
Wireless Technology: 802.11ac
Ethernet Ports: 4 x Gigabit
Other Ports: 2 x USB 3.0 + 1 x eSATA
Processor: 1.7 GHz dual-core
WiFi Performance: AC2600 MU-MIMO, 800 + 1733 Mbps
Price: $185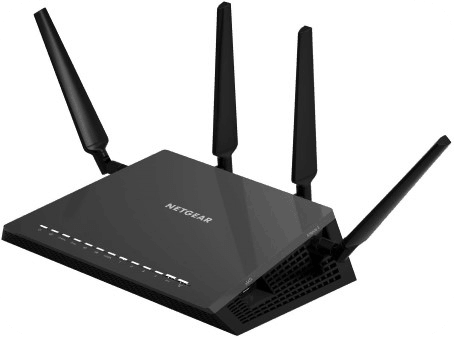 Pros
Great 5 GHz performance
Excellent wireless coverage
If you're a big streamer or you simply live in a home with multiple wireless devices, then it's time to consider purchasing a MU-MIMO router. The Netgear Nighthawk X4S is a fantastic VPN router that balances both speed and performance very well.
This router uses a powerful 1.7 GHz dual-core processor capable of high speeds up to 800 Mbps on the 2.4 GHz band and 1,733 Mbps on the 5 GHz band. The best part about it? It's easy to work with and will keep your devices protected in the longer run.
At the very front of the router, you'll notice ten LED indicators that show you the status of the WAN port, the four LAN ports, as well as radio-band (2.4 GHz, 5 GHz), eSATA and USB activity.
Apart from this, there is also a handy button used to disable one or both radio-bands. The main downside is that USB file-transfer performance is fairly mediocre compared with some of the other routers available.
Nevertheless, the Netgear Nighthawk X4S is one of the best VPN routers that balances cost and performance extremely well.
5. Sabai Technology VPN Router: Cutting-Edge Tech
---
Key Specifications:
User-friendly
Regular updates
No IP leaks

Sabai Technology VPN router is designed to be user-friendly and has the features you want from a VPN. Sabai bases its operating system firmware on Tomato. However, their operating system offers a lot more features and has regular updates.
Something we feel you are going to enjoy when using Sabai OS is the gateway feature. This feature makes it possible for you to selectively route all the devices that connect to your network.
This means that you can determine if you want the computer in your office to route through your VPN while keeping the iPad your children use connected via an unencrypted connection.
The kill switch feature is another plus. If a particular gateway drops, let's say the VPN connection on your router to the VPN server, all of the devices that are assigned to the VPN router will be blocked. This keeps you safe and prevents IP leaks.
Sabai VPN Accelerator can help speed up your VPN connection. This technology is a mini PC that connects to your router. It becomes responsible for all of the encryption for the VPN.
This means that you will not experience a drop in connection speed when you are using the VPN.
Sabai has done a great job of making it easy to configure their routers. If you have any questions, you can speak to their in-house technicians. This is nice because you're not communicating with third-party support but with individuals who work with this router daily.
As far as security is concerned, Sabai OS firmware is constantly being improved. There are regular security updates.
6. FlashRouters VPN Router – World-Class Support
---
Key Specifications:
Based in United States
Wide range of routers
90 days to 2 year warranty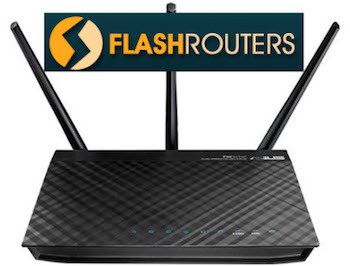 Flashrouters is a company that's based in the United States. They have created a unique niche in that they sell routers that are pre-flashed with DD – WRT or Tomato firmware.
FlashRouters work close with different VPN providers. This means that regardless of the VPN you have, it's likely that the routers they offer will work. FlashRouters offers plug-and-play routers that work straight out-of-the-box with VPNs.
FlashRouters sell between 15 and 20 different types of routers. They work with the leading manufacturers, including Netgear, Linksys, and Asus. They offer models that are on the low end, such as the Linksys WRT1200, as well as powerful routers, including the ASUS RT-AC5300.
The routers from FlashRouters are always pre-flashed. Since this voids the manufacturer's warranty, they replace the manufacturer's warranty with their own that has an initial duration of 90 days but can be extended up to two years.
All of their routers come with FlashRouters VPN app free of charge.
5 Best VPN Software Choices for Routers
---
Now that we've discussed a little bit about setting up your VPN router, we would like to dedicate a little bit of time to review what we feel are the best VPN services available. The ones that we will discuss have a paid subscription service.
You may find a free VPN service to install on a single device, but there are very few free VPNs that offer router services.
1. NordVPN – Excellent Balance of Privacy & Speed, Double Data Encryption
---
Key Features:
Military-grade encryption
Allows torrenting
Over 5,100 servers in 61 countries

Pros
Easy to use
Unlimited Bandwidth
Cons
Speed is mediocre on a few servers
NordVPN has been around for quite some time, and they're very popular for obvious reasons. With NordVPN, you get unlimited P2P sharing, DNS leak blocker, a kill switch, and a 30-day money-back guarantee.
What's more, they use military-grade encryption and provide their users with CyberSec, which automatically blocks things like malware so that you won't have to worry about cyber threats while torrenting or streaming blocked content.
CyberSec also protects against DDoS (Distributed Denial of Service) attacks. A DDoS attack is a kind of attack where multiple compromised systems are used to target one system in particular, your system. CyberSec shields you from such an attack.
Speed
Not so long ago, NordVPN had a reputation for providing excellent security but at fairly average transfer rates. While their speed does not yet match the industry leader for that metric, they have certainly improved their game.
Below are results from Europe with a benchmark download speed of 104 Mbps.
New York Server
UK Server
Users can have up to six connections going simultaneously, and they have apps for iOS, Mac, Windows and Android devices. Online tutorials are available.
These include instructions for using NordVPN with routers, RaspberryPi and a variety of mobile operating systems. NordVPN further is compatible with The Onion Router so that you can get even more identity protection for your browsing.
Privacy Policy
NordVPN excels is with its strict "no logging" policy. It states that from the moment a user signs on to the service, all of their web traffic is encrypted so that no one, not even their ISP, can spy on it.
The policy goes on to point out that Panama has no laws regarding the reporting or storage of data. If law enforcement officials or another third party comes knocking, NordVPN is in no way obligated to share anything.

NordVPN is one of the most advanced VPNs to offer a free trial. Their encryptions are concrete and their plans come without a data cap.
They may be a bit pricier than other paid VPNs when it comes to their monthly plans, but they have a lot of plans to choose from that puts that rate as far down as $2.99 a month if you decide to stay with them.
All these features, privacy, and speed coupled with 24/7 live chat support, you can practically guarantee getting an amazing experience from them.
2. Surfshark – Overall Most Affordable VPN Router App
---
Key Features:
Just surpassed 1000 server locations
For those on a tight budget
No log policy
Pros
The price
Connect to unlimited devices
Gets around Netflix geo restrictions(as well as DisneyPlus, Hulu, and others)
Cons
Speed has room for improvement
Low cost pricing is most realized only on the longer term plans
Here's an interesting fact about the VPN industry that most websites won't tell you: if you're comparing the top tier VPN services, they are all pretty darn good.
That is, so long as they have the major boxes ticked, like encrypting your traffic without leaving a digital paper trail, then it really boils down to two things: price and usability.
In that regard, Surfshark's VPN does indeed join other leaders of the pack as a reliable, no-logging VPN service but notably is a considerably lower price than big names like Nord and Express.
Though their app still feels a bit unpolished, it's come a long way and is perfectly usable on all major routes,
I personally use Surfshark on my desktop and router setup, and either Nord or Express on my mobile phone, depending on where I am. The fact is, they are all great services which do what a VPN is supposed to do: encrypt your traffic.
Speed
When it comes to a budget VPN with the features that Surfshark has, you might not be as worried about speed. While Surfshark isn't at the top of the speed hierarchy, it's certainly fast enough to use effectively.
Tested connected to a U.S server, before connection I was downloading at around 40 Mbps. After connecting to the Surfshark VPN, it was downloading at about 25 Mbps. Again, not bad for the price.
Privacy Policy
On top of the amazing price, Surfshark also has a strict "no-log" policy that doesn't keep track of things like IP addresses, browsing history, network traffic, or even connection timestamps.
On top of all this, they allow you to stay completely private from your internet service provider, so they won't be able to store any of your data either.
With a variety of good features, including solid privacy and security measures, Surfshark is an effective VPN choice at an extremely low price, (as low as $2.49 per month for long-term deals), especially compared with what you would get from a free VPN service.
3. ExpressVPN – Champion in Speed and Security
---
Key Features:
More than 3,000 servers
Easy to use
24/7 support team

Pros
Fast download speed
Allows torrenting
Bypasses Netflix geo restrictions
Cons
Expensive for month-to-month users
Only allows three simultaneous connections
When you look at reviews for VPN services, you will often find ExpressVPN at the top or near the top. One reason for this is because ExpressVPN has built a reputation for being a VPN service that takes the privacy of its users seriously.
They are committed to not keeping files like DNS queries, IP addresses, or metadata.
There have been a few high profile cases where government institutions tried to get a hold of information about ExpressVPN customers by scouring their servers. However, since ExpressVPN does not keep personal information about their clients, these governmental entities were not able to find anything.
Speed
One of the biggest selling points of ExpressVPN is its fast upload and download speeds. Starting from a base speed of 98 Mbps, we tested ExpressVPN's performance on a few servers, and this what we've found:
Base Speed
Frankfurt, Germany
When they connected to New York, they had download speeds of 60.04 Mbps and upload speeds of 30.41 Mbps.
These results make ExpressVPN one of the fastest VPN services on the market. While some things may impact your internet speed, including the router you purchase, your Internet connection, and your computer specs. Our test proves that ExpressVPN can always deliver fast connection speeds.
ExpressVPN offers more than 3,000 servers in 94 countries. Some of the privacy features they offer include:
Kill switch
P2P servers
Netflix compatibility
Anonymous IP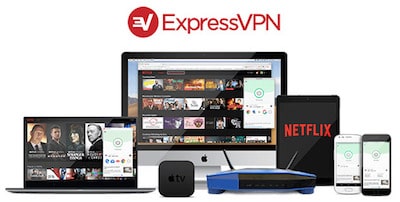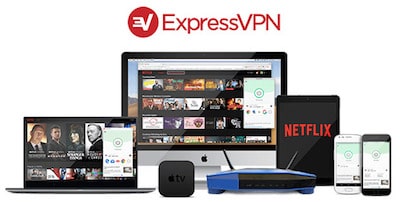 ExpressVPN supports several devices and operating systems, including Mac, Android, Windows, and iOS. There is a large and ever-growing number of routers that are supported by ExpressVPN.
A major selling point for ExpressVPN is the location of the company. It is based out of the British Virgin Islands. This means that they are not required by their local government to surrender their server's data. This adds an extra layer of protection for their clients.
Couple this with the fact that they offer strong AES 256 using an OpenVPN platform, and you can rest easy knowing that ExpressVPN will not be compromised anytime soon.
ExpressVPN offers unparalleled live 24/7 customer support making, it one of the best VPN services you can use.
4. VyprVPN – Impressive Speed and Security Features
---
Key Features:
Three-day free trial
Works with Netflix
Chameleon

Pros
No logs
No DNS leaks
Strong encryption
Cons
Anonymous payments are not allowed
Torrenting is not encouraged
The protection that VyprVPN offers go beyond their encryption and security. Authoritative regimes, like those found in North Korean and China, have employed "Deep Packet Inspection". This scans metadata looking for proof that a person is using a VPN.
Once these authoritative regimes suspect that an individual is using a VPN, they will throttle a person's Internet usage, making it impossible for them to use a VPN.
Seeing the need to do something about this, VyprVPN introduced Chameleon. This is a proprietary technology that will scramble your metadata and allow you to use a VPN without triggering DPI scans.
For individuals using VPNs in countries like Turkey, Russia, or China, this technology could literally mean the difference between life and death.

VyprVPN states its primary mission on their website. It is simply to "protect your online privacy, secure your Internet connection, and restore your freedom", and they do this by offering their service using OpenVPN protocol. All of your data is encrypted using AES 256 encryption key.
These are the same standards that government institutions use, ranging from the NSA to the CIA to the FBI.
Privacy Policies
In years past, people had issues with VyprVPN because of their logging policy. They would keep information about their clients for up to 30 days, including:
The VPN address used by the user

When they started and stopped their connection

Total bytes used
However, as of the time of this writing, VyprVPN has completely revamped its policies. Now, we can confirm that they really do not keep their client's logs.
Speed
VyprVPN is fast. You can see that when you look at this example that has a baseline 98 Mbps download speed and a 53 Mbps upload speed.
Base Speed
Frankfurt, Germany
The results were a little less impressive when connections are made to other servers in the United States and other locations around the globe:
US Server (New York)
Download: 51.09 Mbps
Upload: 3.17 Mbps
Asia Server (Hong Kong)
Download: 54.29 Mbps
Upload: 8.22 Mbps
VyprVPN's servers in the EU have been optimized to give users rapid download and rapid upload speeds. The same is not true of their servers in the United States or in other countries. Still, their commitment to security and privacy balance their less than stellar speeds.
Geo Restricted Material
VyprVPN is hit and miss in this area. Their servers in the United States work amazingly. You're able to stream without any problems. However, when you use their servers in the United Kingdom or Canada, you get blocked.
Still, from our standpoint, it is a win because it is difficult to find a VPN that will work with Netflix at all. VyprVPN is available on a number of devices, including your router.
5. Perfect Privacy
---
Key Features:
Switzerland jurisdiction
Works with Netflix
Torrenting is allowed
Pros
Unlimited devices
Kill switch
No logging
Cons
Mediocre speeds
Expensive
Difficult to use on Android/Mac/iOS
Perfect Privacy uses strong encryption protocols, including 256-bit encryption and OpenVPN protocols. This is the right option for you if you're the type of person who is concerned about solid password managers, government monitoring, and keeping your Internet browsing private.
Perfect Privacy is a software that's focused more on privacy than getting around geo-restrictions. We did find that depending on the server one connected to, they could get around Netflix's black screen of death.
However, a good number of the servers we tested were blocked by Netflix. If you're looking for a service purely to get around geo-restrictions, this may not be the service for you.
Privacy Policy
One of the things that we like about Perfect Privacy is that their privacy policy is clear and easy to understand.
Some VPN providers try to hide behind a lot of technical jargon, giving the impression that they are protecting their client's privacy when they are really selling their client's information.
Easy to Use Application
You would think that most VPN providers would create an easy to use application. We were surprised at how complicated some of the VPNs are to use. Perfect Privacy is just the opposite. They exemplify simplicity.
If you have any questions, you can contact their customer support via email, discuss issues on their forum, as well as a review of their FAQ section. One downside is that they do not have live chat available.
Speed
As you can see in the following NBN speed test, the benchmark speed was 98.71 Mbps for download and 53 Mbps upload speed.
Perfect Privacy offers several tutorials that you can use on how to set their service up with your router. They allow you to connect unlimited devices with just one subscription.
This is almost unheard of. Additionally, you can pay anonymously using cryptocurrencies. But this is what you would expect from a VPN that focuses on giving their users the most private experience possible.
Pre-Flash & VPN Compatible Routers
---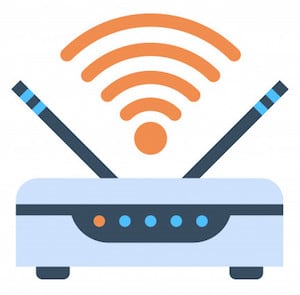 Before we go too much further, we need to clarify one point. There are VPN services that you can install on your regular router.
When installed, these services allow you to share your VPN with whatever devices are connected to it. On the other hand, some routers are specifically designed for VPNs.
Pre-Flash Routers
Whether you are a savvy VPN user or you are a novice, purchasing a pre-flashed VPN router could be beneficial for you.
If you do this, you will not have to go through the complicated process of flashing the correct firmware to your VPN. The firmware that you will need will vary based on the type of router you have and its specifications.
You should expect to pay a little bit more for a pre-installed VPN router. This is because the companies that sell pre-flashed routers will handle the installation for you. These routers usually come with the features you will need, like encrypted plug-and-play and other performance enhancements. Many feel that the extra price they pay for this is worth it.
Out-Of-The-Box VPN Compatible Routers
VPN compatible routers usually function using the OpenVPN protocol. As a result, you should be able to use just about any VPN provider you want with these. Since these routers have built-in VPN capabilities, it is not necessary to flash new firmware, nor is it necessary to connect this type of router to a secondary router.
VPN Router Speed and Performance
---
When people talk about VPN routers, they complain that they are slow when compared to regular routers. If this is the case, you should look at two factors that could influence the router's performance. They are:
The router's processor
The VPN service being used
For the sake of argument, we are going to assume that you are using the best VPN on the market. If that's the case, you need to look at your router's CPU and determine how it is affecting the router's speed.
A common complaint about consumer-grade processors and routers is that they don't have enough power to properly handle encryption with VPN.
Thankfully, as VPNs are becoming more common, newer routers on the market are addressing this issue. Sabai Technology, who offers routers that we're going to discuss a little bit later in this review, is addressing this power issue with their proprietary VPN accelerator.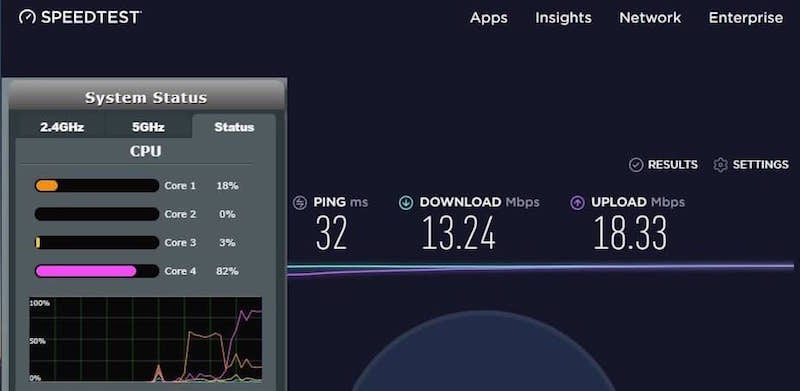 Some processors come equipped with AES – NI. This technology makes VPN encryption speeds faster. Many have noted that this makes a major difference in the performance of VPN routers.
Asus, a company with routers we will discuss later on in this review, has a couple of routers, the GT-AC5300, and the RT-AC86U, that benefit from this technology.
Here are some tips to help you maximize your VPN router speed:
Maintain your router's firmware up-to-date
Use a reputable VPN service
Your router should have a CPU with a minimum of 800 MHz. The more, the better. Do not confuse the wireless signal with the power of your CPU. Both of these are expressed in Hz.
Use a VPN server that is close to you and that has a sufficient amount of available bandwidth
Get the best NBN plan possible for better performance
How to Install a VPN Router for VPN Services
---
Once you have selected a router, you will need to find a VPN provider. A little bit further in this guide we will discuss some of our best picks. For the sake of this explanation, we are going to use ExpressVPN. The process is going to vary a little bit, depending on the VPN service that you use.
When you get to ExpressVPN's homepage, the first thing you want to do is download ExpressVPN firmware. To do that, you will need to:
Create an ExpressVPN account.
Go to the set up page and click "Router".
You will see an activation code. Copy the activation code, and store it in a different document. You are going to need this later.
Select the router model you have to download the appropriate firmware.
Once you have the firmware downloaded, it is time to connect your router. The set-up is going to be different, depending on the model router you are using. In the majority of cases, it's recommended that you have two routers and an Internet connection.
First, configure your primary router to allow VPN pass-through. When you do this, you're letting any device that you connect to your primary router to run your VPN client software.
Now, connect your primary router to your secondary router. You can do this using the following steps:
Connect an Ethernet cable to the LAN port of your primary router. Plug the other end of the Ethernet cable into the WAN port of your VPN router.
Connect another Ethernet cable to the LAN port of your VPN router to your computer's LAN port.
If you're using a wireless connection, then your VPN router will connect wirelessly to your end devices.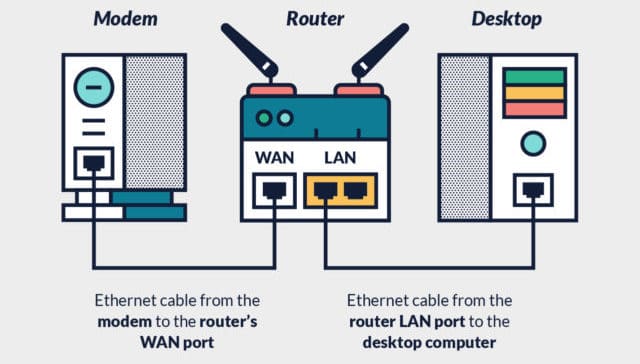 With both a wired and a wireless connection, your VPN router is using your primary router's Internet connection to connect to the Internet.
It's important to note that while in this example we are recommending the use of two routers, this is not always required. For example, there are Linksys routers that are designed to be the sole primary router.
Now that you have your routers connected, you may need to go through the process of flashing your router. The process is going to vary based on the model and brand of the router that you use.
Other steps will include:
Selecting a server location

Managing devices

Changing your default SS ID password
If you are accustomed to using a free browser VPN, making the leap to purchasing a VPN router might seem like a big step. However, for individuals who are serious about their privacy and who want a secure browsing experience, the extra cost and time to set up are worth it.
While the steps we've mentioned above were specific to using ExpressVPN on your router, the process is much the same regardless of the VPN service you use. The key is to be thorough, follow each step the VPN service provides closely, and your VPN should be up in no time.[/cs_text][cs_text]
FAQs
---
Q: HowDo I Put a VPN on My Router?
A: This question can be answered by a 4-Step Process:
Purchase a VPN router.
Open an account with the VPN provider.
Follow the provider's directions on preparing your router for the VPN.
Once the router has been prepared, follow the router's manufacturer's directions for connecting the router to your network.
Q: What is a VPN Router?
A: A VPN router is a router that has a VPN installed directly on it. All connections to VPN servers are handled by the router. This is different than VPN clients, which are installed on individual devices.
The router protects every device on the network, preventing the need to install client software on each device.
Q: Do I Need a Router For a VPN?
A: The answer that question depends on what you want from your Internet browsing. If you're concerned about privacy, if you would like to get around Geo restriction, and you have multiple devices you would like to connect to a VPN then a VPN router may be the right option for your needs.
Q: How Does a VPN Router Work?
A: A VPN connection is designed to encrypt an individual device. A VPN network router is designed to protect multiple devices at the same time. It offers the convenience of being able to encrypt a number of devices from one source and using just one connection.
Q: Do All Routers Support VPN?
A: No. VPNs can only be installed on routers that have a firmware capable of handling VPN connections. Not every router can be configured to be a VPN router.
Final Thoughts
---
We hope you have enjoyed our VPN router guide. VPN routers offer the benefit of protecting every device connected to the router. This includes devices that are unable to run VPNs on their own, including smart TVs and game consoles.
A VPN router is seen as just one connection by your provider. As a result, you're able to connect as many devices as you want to the VPN via the VPN router. Try creating your own VPN!
We would love to hear from you. Are you currently using a VPN router? Is there one you would recommend that we have not discussed? Let us know in the comments section below!
---
You Might Also Like: