Disclosure: Privacy Australia is community-supported. We may earn a commission when you buy a VPN through one of our links. Learn more.
7 "Best" VPNs for Kodi (Tried & Tested)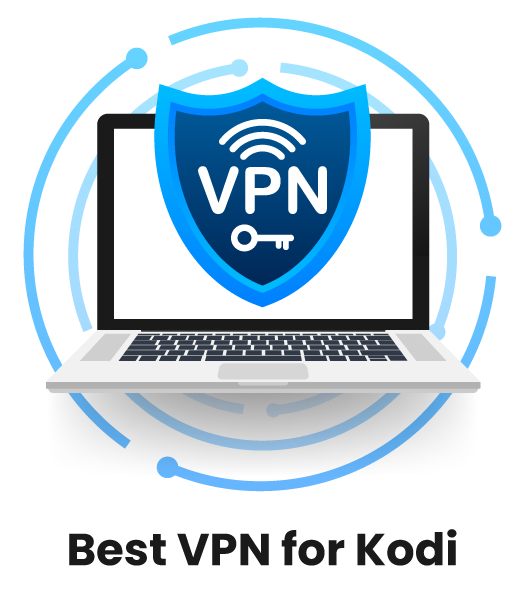 Kodi is enjoying increasing popularity around the world, but there are still many people who haven't heard of this innovative service. Of those who are using it, some have yet to discover that using a VPN is critical when streaming with Kodi.
This article serves as an introduction to Kodi. However, the main focus is to outline why using a VPN with Kodi is essential.
Perhaps just as vitally, we're also are including the results of our comprehensive testing to determine which VPN providers are the absolute best options for use with Kodi.
Hundreds of VPNs are out there, but not all of them are compatible with Kodi. The selections that we have listed here made the cut because they had little effect on data transfer rates and because they ensured a secure connection.
Why is that secure connection so crucial? It's the same reason why you would only buy the best home security system. Keeping your data and your property safe just gives you peace of mind.
Keep reading to learn all about the best VPNs for Kodi.
The Best VPNs for Kodi
---
If you're excited to explore all that Kodi has to offer, then you have to locate the top Kodi VPN first. With hundreds of VPN providers out there, it stands to reason that some of them are more reliable than others.
That's why we took the time to test many VPN services to identify the ones that will keep your system's performance optimal while also protecting your web traffic from prying eyes. After an exhaustive process, we identified seven providers that offer fast, reliable services. If you're looking for a VPN for Kodi, one of these may be the perfect option.
#1 NordVPN
---
Key Features:
30-day money-back guarantee
Does not keep logs
More than 5000 servers

Pros
Highly compatible with Kodi
Headquartered in Panama
Robust, geographically diverse server network
No IP leaks in testing
Cons
Doesn't have the most intuitive interface
No ability to choose individual servers, just locations
With a collection of more than 5,100 servers located in 60 countries, NordVPN has one of the most robust networks in the business. Their 30-day money-back guarantee gives you plenty of time to try the service before making up your mind.
Based in Panama, NordVPN is well beyond the jurisdiction of even 14 eyes countries. They use 256-bit double encryption, and they offer support for Kodi devices running all major operating systems.
NordVPN is widely recognized as one of the faster VPNs on the market, with only a few competitors able to best its data transfer rates.
Features
NordVPN has a robust menu of security features, including military-grade encryption and the option to use double VPN. The service also provides the exclusive CyberSec tool to keep ads and malware at bay.
OpenVPN protocol further ensures security as does DNS leak protection and an automatic kill switch. Up to six devices may be protected with a single account. Customer service is available 24/7. Getting yourself unbanned on Twitch is also a part of the deal.
Pricing
A three-year plan can be purchased for just $3.30 per month. The month-to-month plan costs $11.95 per month, but you can save money by signing up for one year at $4.92 per month. The two-year plan is affordable as well, costing $3.30 per month for a total payment of $89.00.
Logging
NordVPN adheres to a strict zero logging policy. With their headquarters being in Panama, you can trust that they aren't keeping records about you or your online activity.

Speed
NordVPN was not the fastest VPN we tested with Kodi. Before turning it on, our speed was 26 Mbps. With NordVPN running, our speed lowered to five Mbps. Nonetheless, it was a safe, reliable connection.
#2 Surfshark
---
Key Features:
Headquartered in the British Virgin Islands
Solid security
More than 1000 servers
Pros
Massive server count with wide location range
Good privacy commitments
Great price
Cons
Issues with customer care
Probably the number one reason people get Kodi is to cut costs, it's free, open-source, and with 3rd party software, can be pretty handy for downloading the latest blockbuster without *necessarily* paying for it.
My point being, you're probably getting Kodi to keep it cheap, so you'll probably want a VPN that fills that criteria. That VPN is Surfshark.
But you won't be sacrificing quality for low costs, Surfshark is still one of the top VPN's out there. With over 1,000 servers across 61 countries AND outstanding commitments to user privacy, Surfshark is the perfect compliment to Kodi.
Features
Surfshark comes with a pretty nifty set of features. It has an inbuilt killswitch, CleanWeb service (adblocker) and WhisteLister to name just a few. Features such as these combine to give the already solid service an extra edge, all with its bargain price tag.
Pricing
Their two-year contract comes out at a mere $3.41. For a product that can stand up to the industry premiums, the cost you get Surfshark for is impressive.
Logging
Surfshark doesn't log anything except some standard info that you'd have to disclose anywhere else, like your email address or billing information. They are remarkably open about this, and even use WarrantCanries to further illustrate their privacy commitments. Their British virgin island base is also free from the 14 eyes surveillance zone.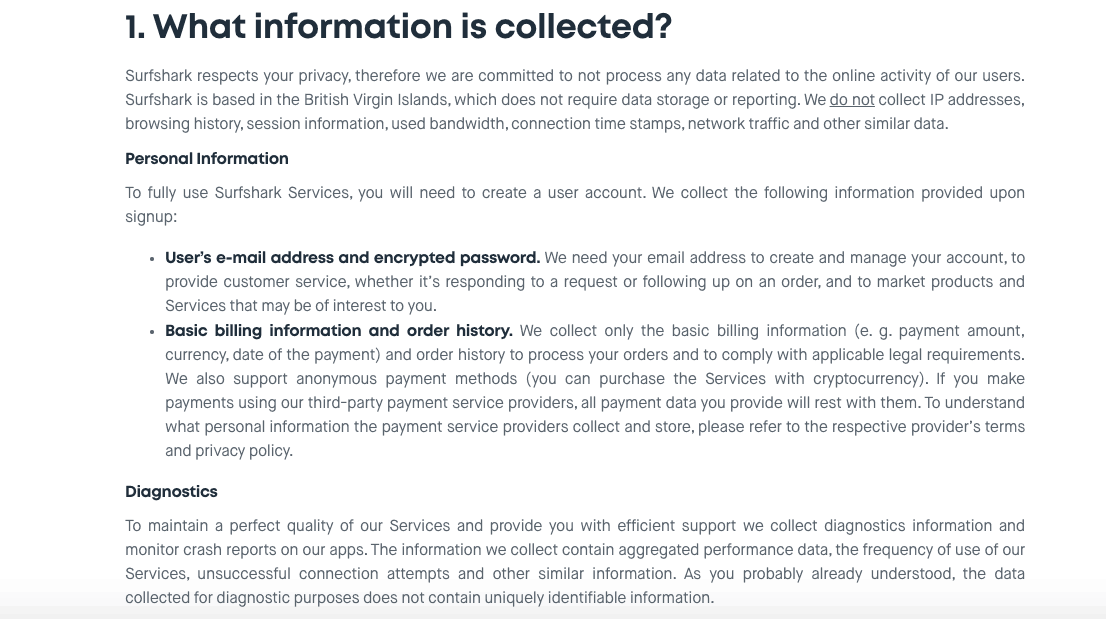 Speed
To be completely honest, speeds can be a little inconsistent, depending on what server you're using. Then again, most liely you won't have any issues with delay and lag. We tested at around 40 Mbps before the VPN, then about 25 Mbps once we turned it on.
#3 ExpressVPN
---
Key Features:
Good data transfer rates
Reliable features for privacy and security
More than 3000 servers

Pros
Supports all Kodi devices
Dedicated apps for Kodi use
24/7 support
Cons
More expensive than the competition
ExpressVPN bills itself as the #1 VPN for Kodi, and although we agree that it delivers some pretty solid performance, we prefer NordVPN's functionality and security overall.
Still, Express VPN is headquartered in the British Virgin Islands so it's well beyond the reach of the 14 eyes countries. It doesn't keep logs, and you can rely on military-grade encryption. All Kodi devices are supported. This is one of the best VPNs for Kodi thanks to its data transfer rates.
Features
ExpressVPN boasts more than 3,000 servers in 94 countries. OpenVPN protocol and AES 256-bit encryption ensure your anonymity and privacy. There's a kill switch, and you'll find apps for Mac, Windows, and Linux in addition to routers. ExpressVPN has a robust privacy policy to protect its customers.
Pricing
One month of ExpressVPN will cost you $12.95. Step up to six months of coverage for $9.99 per month or go with the 12-month option for $8.82 per month.
Logging
ExpressVPN sticks with a strict no logging policy that keeps your identity and activities a secret.

Speed
ExpressVPN didn't interfere too much with our data transfer rates. We tested at speeds of 26 Mbps before using a VPN. Turning on ExpressVPN changed our data transfer rate to 12 Mbps.
#4 VyprVPN
---
Key Features:
Support for a variety of Kodi devices
No logs
More than 700 servers

Pros
No IP leaks detected
Good security measures
Cons
Limited server network
Only a three-day free trial
Although VyprVPN used to keep logs, they now undergo third-party, independent auditing to prove that no records are retained. Their network boasts more than 700 servers in approximately 70 locations.
You may choose from a variety of VPN protocols, and VyprVPN's proprietary Chameleon technology is designed to help you get around any VPN blocking.
VyprVPN is based in Switzerland. While this nation is not a part of the 14 eyes network, it is important to understand that Switzerland frequently works closely with countries that are a part of these networks. Accordingly, another provider may offer better privacy and browsing anonymity.
Features
With VyprVPN, you get unlimited data transfers and zero-knowledge DNS. The NAT Firewall gives you extra security, and you'll have technical support on a 24/7 basis. Choose the best VPN protocol for you. VyprVPN is compatible with most devices and routers.
Pricing
Get VyprVPN on three devices for $5 per month. Upgrade to the Premium package to protect five devices, obtain the Chameleon Protocol and gain access to the VyprVPN Cloud for $6.67 per month.
Logging
VyprVPN used to maintain a fair amount of logs, but has quite recently changed their policies with customer's protection in mind. Since then, they have been following a zero-logging policy. In fact, they are so serious about their new image that they now undergo independent auditing regularly.
Speed
Speed testing with VyprVPN was just so-so. Our pre-VPN speed was 26 Mbps, but using VyprVPN slowed us down to 7.7 Mbps.
#5 CyberGhost
---
Key Features:
Headquartered in Romania
Highly customizable
More than 3600 servers

Pros
Compatible with many Kodi devices
No IP leaks
CyberGhost is another VPN provider that puts its Kodi compatibility front and center, with more than 3,600 servers located in 60 countries.
If you like to be able to enjoy a customized experience, CyberGhost accommodates you with all sorts of apps and the ability to choose which server you use.
The company guarantees your ability to stream, but it does keep records recording how long online sessions are and your DNS queries. Support for Kodi devices includes Windows, MacOS, Linux, Android, iOS, Amazon Fire TV or Stick and Android TV.
Features
CyberGhost provides strong encryption and can be used on virtually all devices. With a relatively robust server network and access to NoSpy servers, you can trust that you'll have an anonymous experience.
The Romanian headquarters are a plus, but this company does keep connection logs.
Pricing
CyberGhost is affordable with a three-year plan costing $2.75 per month. This comes with a 45-day money-back guarantee. One month will run you $12.99 while signing up for one year of service costs $5.99. Two years is a better deal at $3.69 per month.
Logging
This is a major stumbling block for CyberGhost. They claim not to keep logs, but they also say that they do keep a few records. For privacy advocates, that's not always good enough.

Speed
CyberGhost delivered average data transfer rates. Without it, our speed measured 26 Mbps. After turning on CyberGhost, our data transfer rates dropped to five Mbps.
#6 Private Internet Access
---
Key Features:
Headquartered in the U.S.
More than 3000 server
No leaks

Pros
Really affordable
Kodi support for Android and Linux devices
Cons
Uses proxy servers
Server network not as geographically diverse as the competition
This is a low-cost option that works on Kodi devices that are running Linux or Android. Apps from Private Internet Access are compatible with MacOS, iOS, Windows, Android and Linux.
It may be inexpensive and have fewer bells and whistles than the competition, but this company can still be named a top Kodi VPN thanks to its encryption and security features.
Private Internet Access uses a combination of VPN and proxy servers in more than 30 countries. Total server count currently is 3,307.
Features
A network of more than 3,000 servers is fairly competitive. Plus, torrenting is allowed and no leaks were detected during testing. At least some of the servers work with Netflix, and the encryption methods used are strong and reliable.
Being based in the U.S. can't be seen as anything other than a detriment.
Pricing
Paying for Private Internet Access on a month-to-month basis will run you $9.95 per month. Upgrade to a yearly plan for $5.99 per month or go with the best value two-year plan that costs just $3.49 per month.
Logging
Private Internet Access makes it clear that they don't keep any traffic logs. However, with headquarters in the U.S., they are subject to numerous data retention laws that may be considered to invade your privacy.

Speed
Private Internet Access' speed performance was just OK. From our baseline of 26 Mbps, Private Internet Access slowed things down to about four Mbps.
#7 PureVPN
---
Key Features:
Hong Kong jurisdiction
More than 2000 servers
256-bit encryption

Pros
Easy-to-use interface
Full support for Kodi
Inexpensive
Cons
DNS leaks detected
Keeps logs of bandwidth and connection
Unimpressive customer support
With a dedicated Kodi VPN plug-in, PureVPN works well with this open-source software. It's headquartered in Hong Kong and has a respectable network of just over 2,000 servers in 140 countries. The 256-bit encryption is an essential feature, but some DNS leaks were detected during testing.
Features
If you're looking for a top Kodi VPN, you'll be happy to see that PureVPN offers support for Kodi devices such as Raspberry Pi, Play Station, Amazon FireStick, Roku, Linux, iOS, Android, Mac, and Windows.
While PureVPN doesn't have as many servers as other options on this list, they do boast impressive geographic diversity. This is good news because it may mean faster data transfer rates regardless of where you are located in the world.
Although PureVPN advertises that they keep zero logs, a closer look at their policy reveals that this is not true. Nonetheless, you do get military-grade encryption, the option for split tunneling and unlimited bandwidth. If you would like to, you may add P2P protection to your package.
Pricing
All PureVPN plans come with a 31-day money-back guarantee. The service is available on a month-to-month basis for $10.95 per month while a one-year subscription runs $3.33 per month. The best deal is the two-year plan, which works out to a cost of $2.88 per month.
Logging
Like many VPN providers, PureVPN blatantly states that they do not keep any logs. However, if you read the fine print in their privacy policy, you will soon discover that this simply isn't true.

Records regarding connection and bandwidth are kept by PureVPN. They claim that these logs are kept simply to maintain the performance of the service. If this is true, why not be upfront about it instead of burying it in the privacy policy? True privacy advocates will want to look elsewhere.
Speed
Data transfer rate testing was pretty respectable. Our rate without using a VPN was 26 Mbps. With PureVPN, the data transfer rate dropped to 8.6 Mbps, which is within acceptable ranges.[/cs_text][/cs_column][/cs_row]
What Is Kodi?
---
Kodi was introduced back in 2002 as the Xbox Media Player. Shortly thereafter, it was renamed the Xbox Media Center, a name that it kept until 2014. The XBMC Foundation, which is responsible for Kodi, then gave the service its current name.
Under each of its names, Kodi has provided a means of accessing and storing content. This content may include videos and music, among many other media forms. It is compatible with an impressively wide variety of operating systems and devices. Windows, MacOS, Linux, Android, iOS and Raspberry Pi all work with the software.
If you're using Linux, ensure that you're using a graphics card that was manufactured at least within the last decade. AMD/ATI, NVIDIA or Intel cards that support at least OpenGL 2.0 should be sufficient.
Systems running Windows are advised to use GPU hardware that supports Direct3D. People frequently use Kodi in connection with their television, PC, laptop, tablet, smartphone, and Raspberry Pi.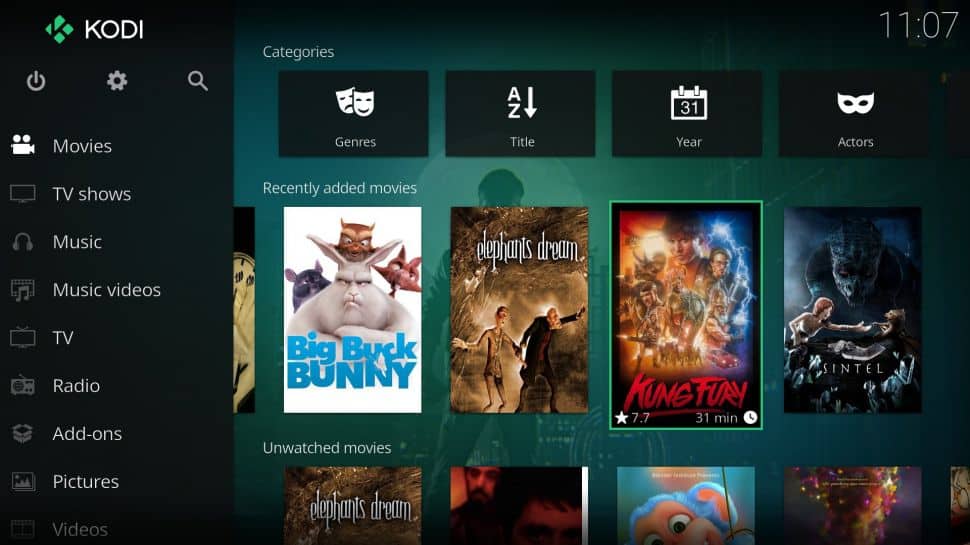 Kodi is open-source software, which means that it is freely available to everyone. Developers around the world can make changes or additions to it if they so choose. Many of these are made available to other Kodi users through add-ons.
Kodi does not come loaded with any content. Instead, each user must load their own content into the software using whatever local or network storage they currently have.
What Can You Do With Kodi?
Kodi is an incredibly versatile software that can be used for almost any type of entertainment. Listen to all of your favorite music. Kodi accepts it in file formats such as OGG, MP3, and AAC. With smart playlists and the capability for tagging tracks, your music collection has never been so organized.
Among the video formats that are compatible with Kodi are H.264, 3D and ISO. You can even use the Internet to stream content through Kodi. Import your favorite films, then ask the software to add the trailers, movie posters and more to enhance the experience.
If you love TV, Kodi will be a winner for you. It features the ability to store your favorite programs so that you can watch them whenever you want. Posters, tags, and descriptions help you to keep everything organized.
You can even stream and record live television as long as you add a backend service like NextPVR, TVheadend or MediaPortal.
Kodi even features functionality that lets you store and sort all of your photographs. It's the easiest way ever to share pictures across all of your devices.
Is Kodi Illegal?
Kodi is not illegal. In fact, it is open-source software that was created by the XBMC Foundation. To obtain Kodi, all you have to do is visit the official website at https://kodi.tv/download. While you're downloading it, feel free to additionally download any of the official add-ons.
Some devices now come with Kodi pre-installed. This also is a perfectly legal way to obtain the software. These versions of Kodi do not contain any third-party add-ons that may allow for illegal streaming.
Legal issues potentially are encountered when Kodi users opt to install and run third-party add-ons that do provide access to copyrighted content. Typically, this content includes current movies and television shows that are not available elsewhere. These add-ons frequently rely on torrenting to provide content.
You may be aware that torrenting opens you up to security vulnerabilities. Moreover, torrenting copyrighted materials may be illegal. If you will be using Kodi for torrenting or streaming copyrighted material, then you must choose one of the best VPNs for Kodi before doing so.
What About Third-Party Add-ons?
Over the years, third-party developers have created all sorts of add-ons that are designed to enhance the functionality and usability of Kodi. For instance, you might want to add a weather app or screens savers to the software.
If you're looking for television and movies, then you'll be pleased with add-ons from Bravo, the DIY Network, ABC Family and many others. Podcasts can be streamed via add-ons such as Apple iTunes Podcasts.
Or, you may want to add the ability to view lyrics for the songs that you play. A Twitter feed add-on helps you to stay on top of what's happening in social media.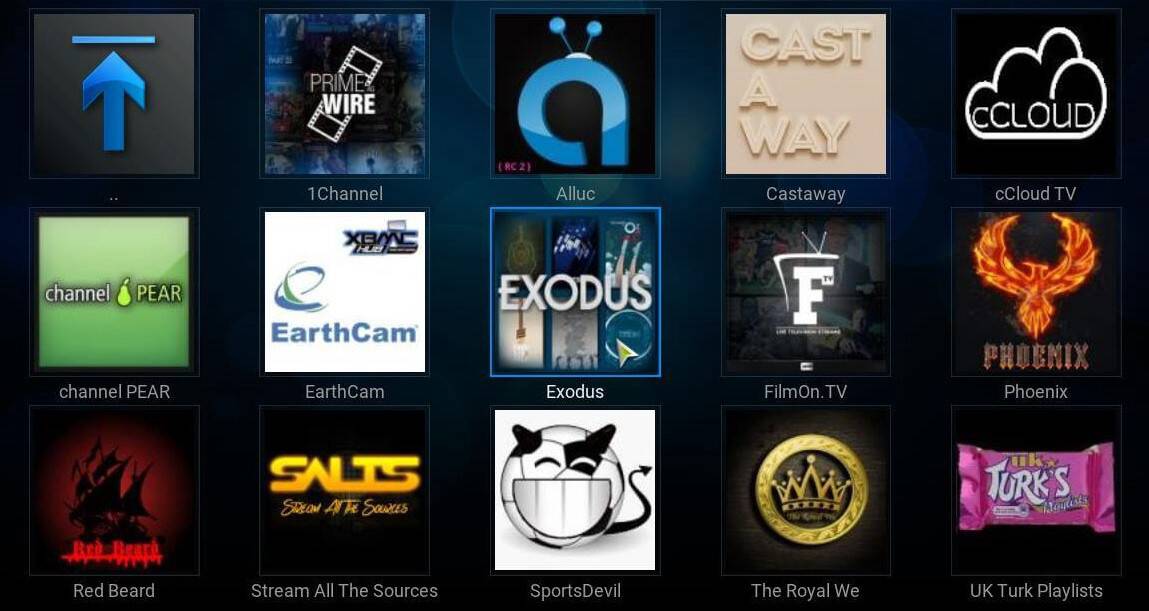 However, it is advisable to proceed with caution when choosing add-ons. All of these are developed independently without oversight by the folks behind Kodi. This means that some of these are more functional than others.
Also, keep in mind that some add-ons make it possible to download and store illegally obtained material that is under copyright. Possessing such media may mean that you're running afoul of the law.
Why Should I Use a VPN With Kodi?
The best VPNs protect you from spies of every variety. Did you know that unless you use a VPN, your Internet Service Provider can see absolutely everything that you do online?
Just as worrisome, the government can track your movements too. Ditto for hackers and other black-hat operators who are hoping to infect your system with malware, spyware, and ransomware.
They all want to know what you do online, including which websites you visit.
They wonder how you spend your time on social media, and all sorts of nefarious actors would like nothing better than to get their hands on your credit card and bank account numbers.
What does a VPN do for you? It disguises your IP address so that no one can spy on you. It ideally uses AES 256-bit encryption to protect all of your web traffic.
It can even make it look like you're sitting in Montreal when you're actually in Sydney. Essentially, a VPN gives you a perfectly private and anonymous online experience.
You might question whether that's necessary. After all, you think, I'm not doing anything online that I need to hide.
Is that really true? How excited are you about just anyone being able to see your banking transactions or track your online shopping habits? It doesn't sound so attractive, does it? A reliable VPN protects you from any and all spies and intruders.
This means that you can do your banking or watch your favorite television show on Kodi without worrying about anyone looking over your shoulder.
FAQs
---
Q: What is the Best VPN Overall for 2020?
A: NordVPN has an impressive server network, and you can have as many as six devices connected to the server at once. Moreover, they boast all sorts of top-of-the-line security features, and they are BitTorrent friendly.
With good customer service and a strict policy of not keeping logs, NordVPN is perhaps the best VPN in the marketplace for 2020.
Q: Does My ISP Know I'm Streaming on Kodi Using a VPN?
A: When you use a reliable VPN, your ISP has no way of knowing what you're streaming on Kodi. Moreover, they don't know any websites that you visit nor can they spy on your financial transactions.
Using a VPN means total online anonymity and privacy, especially when you carefully choose your VPN.
Q: What Are the Best Addons for Kodi?
A: Kodi boasts an endless list of addons. Deciding which are the best is up to you. Just remember that some function better than others.
Top choices include Exodus for watching movies and TV shows as well as Yoda, which also provides movies and television with a broad selection of genres and languages. KidsTube caters to little ones with cartoons while SportsDevil is there for anyone who can't get enough athletic action.
Q: Is it Legal to Use Kodi?
A: Kodi is legal. However, some addons may provide access to copyrighted content that technically is not legal for streaming. Proceed with caution if you want to be certain to keep on the right side of the law, and always use a VPN when using Kodi.
Final Thoughts
---
Any of the VPNs that are reviewed here promise reliable functioning while using Kodi software. Most of them also offer decent speeds and dependable connections.
However, we believe that NordVPN provides the best overall package for Kodi users.

NordVPN's combination of security, functionality, features, and reliability make this service our top choice.
Since you're already trying to improve your online security, you might want to give some thought to using a password manager as well. The best password manager ensures that you can keep track of strong, complex, unique passwords for all of your online accounts.
Like using a VPN, a password manager keeps your data private.