Disclosure: Privacy Australia is community-supported. We may earn a commission when you buy a VPN through one of our links. Learn more.
Best Webcam Covers in 2023 – Reviewed For Privacy Protection
With online privacy becoming a major topic in recent years, consumers are starting to worry more about how their devices function when connected to the internet.
It's been established that computers, tablets, and smartphones with microphones and cameras can record data even when their phones are sleeping or disabled.
Almost every modern laptop now ships with a webcam built into the top of the screen. This allows for easy video chatting through Skype, Facetime, or meeting conference applications.
However, if you truly care about privacy, and are worried about your computer, ISP, or government being able to remotely access information at will, you should probably get a webcam cover.
This article will run through some of the common questions that come up related to webcam covers and then offer recommendations for several popular brands.
Basics of Webcam Covers
---
Webcam covers don't involve a lot of fancy technology. They are designed to do one simple thing: block the camera from being able to capture any footage in front of your screen.
The easiest way to accomplish this is to put a physical barrier on top of the webcam that will hide it in darkness.
You will want to consider getting separate webcam covers for all of your devices, including computers, smartphones, and tablets.
The best approach is to keep the webcam covered at all times unless you are actively engaged in a video chat. Otherwise, you risk allowing intruders to remotely access the camera.
Safety Tip
As an extra safety measure, you can also manually disable the webcam functionality through your device's operating system.
For Windows users, right-click on the Start menu and choose "Device Manager." Then expand the "Imaging devices" category, right-click on "Integrated Camera," and choose the [Disable] option.
The Mac operating system does not have a system setting for disabling the embedded webcam across all applications, but you can open the Facetime application and use the "Preferences" menu to determine when the camera is enabled.
Settings
On smartphones and tablets, Apple's iOS system allows you to choose which applications have the ability to access the front and rear cameras.
Go to the Settings application and navigate to the "General" and "Restrictions" menus. From there, you will see a list of applications that have requested camera access with a toggle for each one.
For Android users, go to the Settings area and click on "Applications." Then find "Camera" in the list and tap the "Disable" button. If that is not available, use the "Permissions" option to disable the camera for certain applications.
Keep in mind that disabling a webcam through software and operating systems is not always enough to preserve your online privacy and anonymity. Hackers have developed malware that can hijack your computer's hardware and remotely control the webcam.
So, it's important to have a strong antivirus scanner on each device that you own, and regularly scan your computer for viruses and malware.
1. CloudValley
---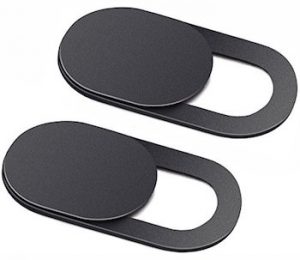 CloudValley is one of the leading retailers of webcam covers, and for good reason…
Their flagship product has the major benefit of being compatible with both PC and Mac laptops, as well as all recent iPhone and iPad models.
The CloudValley webcam cover is extremely small – only 0.6 millimeters thick – so you won't even notice it while using your device.
Another key advantage of the CloudValley webcam cover is the simple installation process. The cover is made up of a single piece of metal that forms a seal with the bezel or screen of your device.
All you need to do is press the cover against the camera for fifteen seconds to attach it. The cover can also be easily removed at any time without causing any damage to the screen or camera.
Once installed, you simply need to swipe the CloudValley cover to the right to block camera access. When you want to use the camera on your laptop or mobile device for video chatting, you reverse the swipe to unblock the camera. The cover does not affect the indicator light or any other part of your device.
Reviews
The CloudValley webcam cover has received hundreds of positive reviews from users around the world, with the only downside being cost.
Covers from CloudValley will cost more than other brands, due mainly to the materials used in the product. However, the added cost can be worthwhile if you want a webcam cover that complements the sleek design of your laptop, phone, or tablet.
Purchases from CloudValley come with a set of two webcam covers and an installation guide. In addition, CloudValley has an 18-month warranty that covers any accidental damage or defects, as well as other customer service inquiries.
2. MagiDeal
---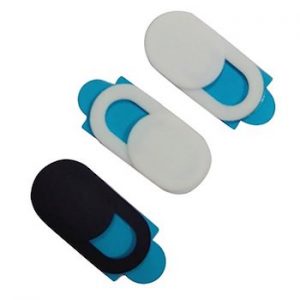 MagiDeal offers a low-cost solution for those who want an easy way to block their webcam without paying a lot of money.
The brand's basic product includes a set of three dark gray webcam covers that can be attached to a range of devices, including laptops, smartphones, and tablets.
The MagiDeal webcam cover is measured at 0.8 millimeters of thickness, which is slightly more than the CloudValley cover but should not affect how your laptop lid closes or how your smartphone fits in a pocket or bag.
The entire cover is only 18 millimeters measured from left to right.
MagiDeal manufactures its webcam covers with highly-durable plastic, which is why they are able to sell them at lower costs than some competitors. However, keep in mind that metal-based webcam covers typically last longer than those made of plastic or other materials.
Each MagiDeal webcam cover has pieces of double-sided adhesive attached to the back of the product, which means installation only requires a few seconds to align it to the camera and then firmly press down.
However, the adhesive material can lose its stickiness over time and the cover may lose its alignment as a result.
Reviews
MagiDeal webcam covers have mostly positive reviews, thanks to their simple design and operation. The camera opening is slightly larger than some competitor products, which can be helpful if you have a webcam that supports wide-angle picture.
The biggest downside with using MagiDeal webcam covers is with smartphone users. If you have a newer phone with a two-camera system on the back, the MagiDeal cover will not be able to block both cameras at the same time. ?
3. Forito
---
The Forito brand of webcam covers is another economical solution for adding protection against hackers and other threats of remote intrusion.
Like the MagiDeal product, Forito includes a set of three covers with each purchase that can be attached to all models of laptops, tablets, and smartphones.
The Forito webcam cover has a thickness of approximately 0.7 millimeters, which is good compared to some competitors but not the thinnest option on the market.
Like the MagiDeal cover, Forito's product is mostly made with plastic and is therefore considerably cheaper than other metal options like CloudValley.
Installation
On the back of a Forito webcam cover is a piece of tape manufactured by the 3M corporation. Once the back of the tape has been peeled off, you can press the cover to any device screen and attach it.
Removing the cover will not leave any scratches or residue, which means you can switch one cover between multiple devices if needed. ?‍? ?
To block a device's webcam with a Forito cover, you simply need to slide the plastic tab from the left to the right. Forito covers have an opening of only 5 millimeters, which is smaller than most competitors. This will only pose an issue if you have a special webcam with wide-angle abilities.
Before installing a Forito cover on any laptop, tablet, or smartphone, be sure to clean the screen area with a microfiber cloth. This is to ensure that the tape can be securely attached to the device.
Forito offers a full replacement program if any defects or issues are found with their webcam covers.
4. Niome
---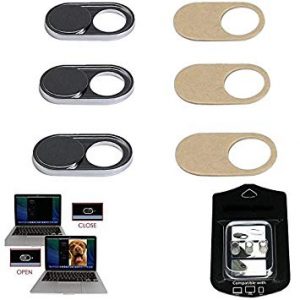 Niome is a small retailer of computer accessories, including a webcam cover that is primarily targeted at laptop owners.
The size and dimensions of the Niome cover will not align easily with most smartphone or tablet models.
The main reason to consider a Niome webcam cover is color.
Most competitors only offer black or dark gray solutions, which the Niome cover comes in a silver color that can complement certain laptop designs. Their covers are made with plastic but maintain a look of brushed metal.
Cons
Unfortunately, Niome webcam covers also have some deficiencies. Some consumers have reported issues with the plastic breaking while trying to attach it to a screen.
In addition, the adhesive strip used on the back of the Niome webcam cover is of lower build quality than competitors, which means it will likely not last as long and may come loose.
Most webcam covers come in packs of two or more, due to the fact that consumers often own multiple devices that have cameras. Niome only sells their model in single packs, which makes it a relatively expensive option, especially when factoring in additional shipping costs.
---