Disclosure: Privacy Australia is community-supported. We may earn a commission when you buy a VPN through one of our links. Learn more.
2023 "Best" Privacy Screens – We Tested Them All
When working in an office environment or anywhere surrounded by other people, you have a right to privacy on your computer. This is especially true if you commonly deal with sensitive corporate information that should not be seen by outsiders. So what exactly is the best solution?
If you don't have an office door to hide behind, then a privacy screen filter is the next best option. You won't need to worry about people eavesdropping behind you and reading off your screen.
These devices make it so that your laptop or desktop screen can only be viewed by you when you are seated in front of it. This article provides an overview of how privacy screen filters work and then offers recommendations for four products on the market today.
Basics of Privacy Screens
---
When you set up a privacy screen filter for the first time on your computer, it may feel like a magic trick. While seated in front of the screen and looking directly at it, you won't notice the protector at all.
However, if you stand up or move side to side, the screen will look like an ordinary black rectangle, with all text and images hidden.
The magic of privacy screen filters is all about angles and materials. They are made from a special plastic that can be polarized, just like sunglasses that are designed for UV radiation protection. As a result, the plastic only becomes see-through once it is viewed from a straight-on position.
An added bonus of privacy screen filters is that they reduce glare from the sun and other light sources. This makes it easier to work at all times of the day. You might also notice that your eyes feel less strained from long sessions at the computer screen after you have a filter installed.
That is because the privacy screen filter also minimizes the UV rays coming in the other direction. To help more with eye strain, consider investing in a pair of special computer glasses.
Sizing Your Filter
---
Computer screens are measured in inches on a diagonal angle. For example, a 15-inch laptop will have a screen that measures exactly 15 inches from the upper-left corner of the screen to the lower-right corner.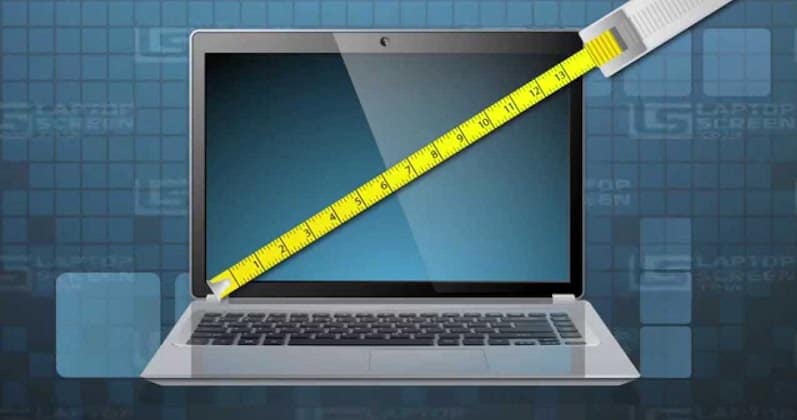 When measuring your laptop screen or desktop monitor to fit a privacy filter, make sure to only use the actual display area and not any borders or bezels that surround it.
1. SenseAGE
---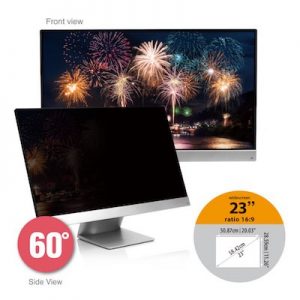 SenseAGE is a Taiwan-based manufacturer that produces a range of computer, smartphone, and tablet accessories, including privacy screen filters.
Their filters are designed primarily for monitor screens used with desktop computers, so laptop users may need to find an alternate solution.
Privacy screen filters from SenseAGE are available in either the 16:9 or 16:10 ratio, as well as in sizes ranging from 17 inches to 24 inches for PC users. Filters can also be purchased at half-inch intervals in between, which is helpful if you have a uniquely sized monitor.
Apple users with a large iMac desktop will be happy to know that SenseAGE offers privacy screen filters specifically designed for those displays. Note that these special filters will cost more than similarly sized ones for PC desktops.
Visibility
SenseAGE privacy screen filters offer visibility within the 30-degree angle range, which is the standard for such devices. The company emphasizes that their filters are specially designed for blocking the forms of blue light that are a common cause of eye strain among computer users.
SenseAGE also claims that their privacy screen filters will offer between 15 and 23 percent better clarity when compared to competitors' models. Screen clarity is critical for all computer users, as you don't want your filter to reduce the ability for you to see the content on your screen.
Reviews
Filters made by SenseAGE generally have positive reviews in terms of their image quality and blocking function. However, there have been issues reported with getting a SenseAGE filter to remain stuck to a computer monitor.
SenseAGE says that their products offer six different modes for installation, though most involve relying on adhesive strips to connect the filter to the bezel of your display.
These adhesive strips may lose their power over time due to dust and other factors, which will make it challenging to keep the filter in place.
Purchases of SenseAGE privacy screen filters come with a standard set of accessories, including one set of bezel tabs and one set of the adhesive strips. As a nice addition, the filter comes with a special microfiber cloth for clearing dust and other debris from the device.
2. BesLif
---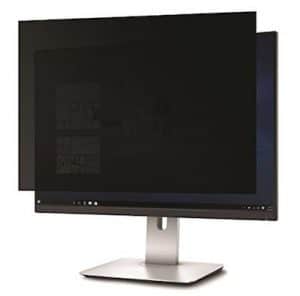 BesLif is a relatively new company that has entered the privacy screen filter market.
They offer a range of products designed to fit widescreen PC monitors as well as several filters specifically built for Mac displays.
Their filters will fit most common screen dimensions although they do not offer as many variations as competitors like SenseAGE.
Filters manufactured by BesLif will restrict viewing to the 30-degree angle that is standard in the industry. Their products also include anti-glare technology and have reversible sides: one for a glossy look and one for a matte look. Users have the ability to switch between the two with minimal interruption.
Cost
On average, the retail cost of BesLif privacy screen filters is higher than other competitors, especially when it comes to the Mac laptop and desktop versions. The price can be justified thanks to the high quality and sleek design of the filter, which BesLif says is 12 percent brighter than similar models.
Pros
One of the biggest advantages of the BesLif privacy screen filter is that it is scratch-resistant and minimizes the amount of dust collected. In addition, their filters offer easy installation with no adhesive strips or glue required.
The BesLif filters use special magnetic technology to safely and securely attach to monitor bezels. Some newer versions of BesLif filters offer a slide-on and slide-off option for installation.
Purchases of a BesLif privacy screen filter do not come with any cleaning cloths or extra accessories. However, the company does use simple packaging materials that are non-toxic and better for the environment, which may be important for shoppers looking to purchase a new filter.
3. Aiscpro
---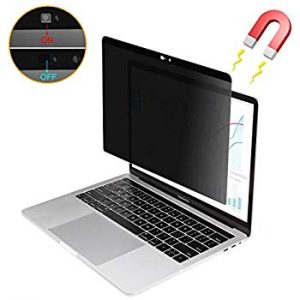 The Aiscpro company manufactures its line of privacy screen filters in Korea using local materials. Aiscpro's offering on the market includes fewer varieties than some competitors, though it helps to simplify their sales and marketing strategy.
Filters from Aiscpro are broken into two primary divisions: widescreen monitors and laptop monitors. The model for widescreen monitors can be customized in a range of sizes from 19 to 24 inches.
The laptop option only comes in a 15-inch model that fits most Mac or PC screens.
Cost
The retail price of Aiscpro privacy screen filters is on the higher end compared to similar devices, mainly due to the type and sourcing of materials.
According to the company, the result is that their filters create better clarity for the viewer and a darker experience for those viewing at a different angle.
Visibility
Like other brands of privacy screen filters, Aiscpro's models come with the added bonus of being good for your eyes. Their designs block out 97 percent of UV light and 70 percent of blue light, the two most common sources of eye strain with computers.
Reviews
Aiscpro's line of privacy screen filters has garnered positive reviews from users round the web, largely thanks to its thinness and easy installation.
Many other brands of filters are built with thick plastic that almost feels like you are putting a pane of glass in front of your screen. On the other hand, Aiscpro's models are film-like and average 0.4 millimeters of thickness, which makes them hardly noticeable when using the computer.
In terms of installation, Aiscpro offers two options. Their cheaper desktop filters come with plastic slider parts that you attach to the side of the monitor so that you can easily slide the film filter in front of the screen. It is easy to install or remove but can be challenging to keep centered.
The more expensive Aiscpro filters for laptops come with magnetic technology, similar to the BesLif models. The magnets within the screen filter will keep it perfectly centered and is not a risk to the internal parts of your computer.
In addition, the Aiscpro laptop screen filters include specially designed holes to allow for webcam access. This means you can participate in a video chat or meeting without having to remove the film filter.
With the purchase of an Aiscpro privacy screen filter, you receive a microfiber cleaning cloth and an instruction manual. For the desktop models that require part installation, two sets of the plastic sliders are included, in case one breaks or cannot be attached easily.
4. KAEMPFER
---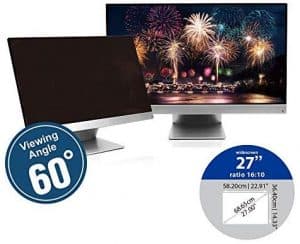 KAEMPFER is a popular global brand that specializes in the production of privacy screen filters.
Like many of their competitors, they split their product lines into two main categories: desktop filters and laptop filters, both with a range of supported sizes.
On the desktop side of things, KAEMPFER filters are available starting at 17 inches and going up to 27 inches, which is larger than many competing brands.
Within the desktop filter line, there are specific models designed to support the latest release of iMac computers featuring a high-resolution retina display.
For laptop screen filters, KAEMPFER does not differentiate between Mac and PC models. They offer five sizes, starting at 11.6 inches and going up to 15.6. This includes some laptop sizes that are less common and may be difficult to match up with other brands.
Visibility
KAEMPFER offers the industry standard 30-degree angle visibility and uses a polarized coating on their plastic to reduce harmful blue light and annoying glare.
They use high-density materials to prevent scratches or other damage. Most reviewers agree that KAEMPFER privacy screen filters are built to last a long time.
Cons
However, several users have reported installation issues with KAEMPFER desktop and laptop filters. Their models all require a complex system of tabs and adhesive strips to allow the filter to slide along the screen.
Unfortunately, the instructions for setup are unclear and the tabs and strips may not stay in place. Some users decided instead to attach the filter using plain tape.
On the bright side of things, KAEMPFER offers significantly lower prices on filters than compared to competitors, especially for large-sized desktop and laptop models.
---