Disclosure: Privacy Australia is community-supported. We may earn a commission when you buy a VPN through one of our links. Learn more.
Best Credit Cards Australia (2023)
Over the last 4 years, I've become a credit card collector of sorts. My wallet has gone from a regular size to one of those giant, oversized bricks that you can barely fit in your pocket.
Sorta like this… but with way less cash.
And though we Aussies may not be privy to the eye-popping sign-up bonuses enjoyed by our friends in the States, I've looked high and low to find some truly amazing offers.
Along the way, I've learned a heckuva lot about how to get the best rates, how to avoid fees, and also been lucky enough to travel mostly on points for the last four years.
I've been fortunate enough to start multiple web-based businesses in the security space and digital payments have been something I've learned a lot about.
How I Rated These Cards
With the exception of the WestPac Black, I've used all of the cards in this review. One would think that the fees, points, and kickbacks for most of these products would be fairly even but that just isn't the case.
Some of these cards vary widely in fees, cashback, and interest payments. I've done my best to sort through the data for everyone and help you understand the ridiculously long fine print on each card application.
This page is a work in progress but I'm open to any additional suggestions. Thanks, everyone!
Best Credit Cards Overall in Australia 🇦🇺️
---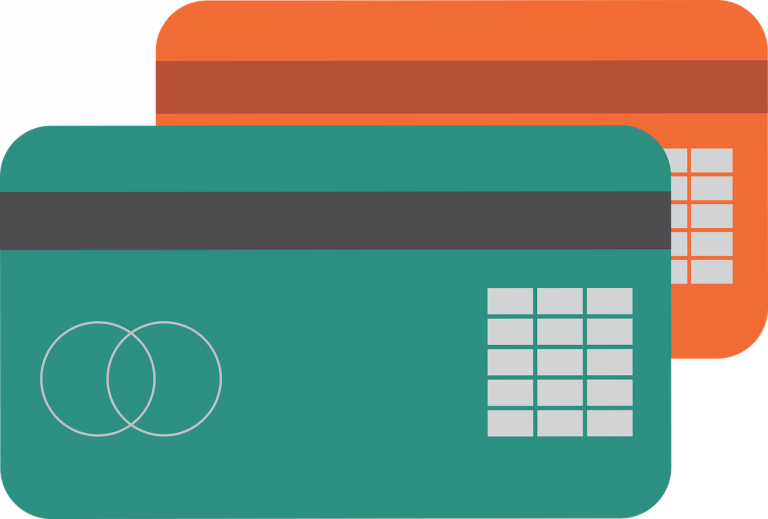 The cards that made it to this best overall category weren't necessarily selected because they were outstanding leaders in any single feature or characteristic (although almost all won awards from independent bodies).
They are here because they have the potent combination of a high-value benefit-cost ratio, along with a supporting cast of rewards and convenience that separate them from the herd.
#1. American Express Velocity Platinum Card – Best Choice in 2023
---
Purchase Rate: 20.74% p.a.
Interest Free Days: 55 days
Annual Fee: $375 p.a.
Late Payment Fee: $30
Balance Transfer Rate: 0% p.a. for the initial 12 months with 1% balance transfer fee.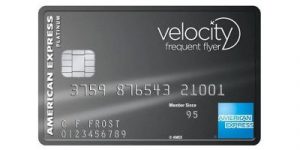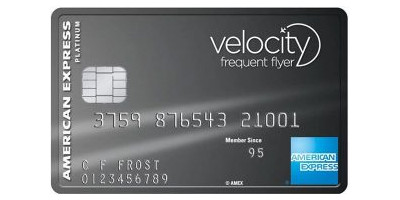 This is the card designed with the prototypical traveler in mind. If you have to frequently travel for business or pleasure, and have a fairly expendable income and earning ability, then you should jump at the opportunity to get this card.
Earning Velocity Points
It made this rarified list because apart from offering one of the highest-earning rates for Velocity Points, it still has a lot going for it.
The list of perks includes two complimentary return Economy domestic flights with Virgin Australia each year, in addition to lounge visitations to Virgin Australia. The American Express lounge is also included in the rewards package, with similar conditions applying.
For each dollar a cardholder spends, they earn 2.25 Velocity Points. This breaks down as follows: 1.25 Velocity Points are earned for each dollar spent. The only exception is with government agencies in Australia where the return rate is 0.5 points per $1.
If the purchases are made with Virgin Australia, then you'll earn 1 additional Velocity Point for each dollar spent. However, unlike most cards, there is no cap on the number of Velocity Points a cardholder can potentially earn, with their rate points immediately transferred to their account each month.
And we haven't even gotten to the best part yet. This card doles out 120,000 bonus Velocity Points if you apply, and are approved on or before 13 December 2021. You subsequently have to spend at least $3,000 on the card in the first three months of approval to accrue the benefit.
Its complimentary travel insurance covers domestic and international flights. Your travel inconvenience insurance covers missed connections, flight delays, and delayed luggage. Throughout your membership each year, if you spend $50,000, then you'll gain 100 Velocity Frequent Flyer Status Credits.
You can decide to boost your points earning rate by adding 4 additional cards for friends or family at no extra fee.
Annual Fees?
Some might cringe at the sticker shock of paying the $375 annual fee, but when you consider the range of benefits it offers, from generous reward points, free domestic flights, and lounge passes, you've more than made up for the supposedly exorbitant annual fee.
Bear in mind that some domestic return flights cost $375 and above, which means you can recover your annual fee in a single swoop.
#2. Bankwest More World Mastercard
---
Purchase Rate: 19.99% p.a.
Interest Free Days: 44 days
Annual Fee: $270 p.a.
Late Payment Fee: $25
Balance Transfer Rate: 0% p.a. for initial 6 months with 1% balance transfer fee, then it goes back to 19.99%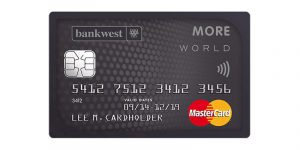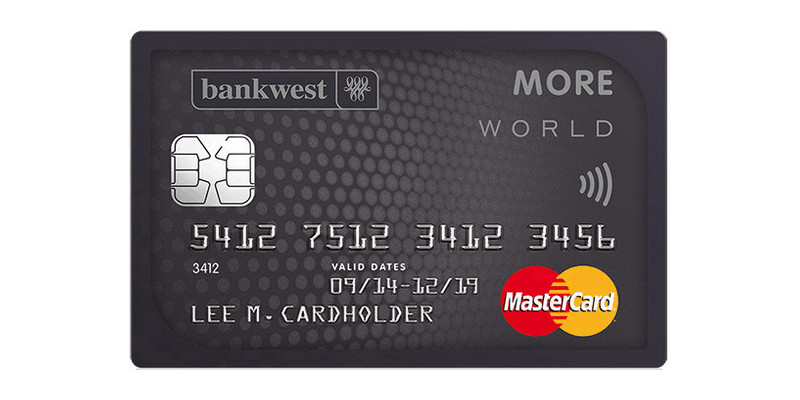 This card has found the special ability of combining great features that make both point collectors and travellers happy. This premium credit card is an excellent choice for frequent travelers who are also motivated by the idea of earning higher earn rates than the normal Platinum or Classic cards.
The Bankwest More World Mastercard swings for the fences, offering a remarkable 2.5 points for every dollar spent, with no caps whatsoever on spending limits. It is ideally suited for those that have the means to spend big, providing 115,000 annual bonus points when a minimum yearly expenditure has been met.
To put the bonus in perspective, it is equivalent to redeeming a Davis Jones gift card worth $300 with 100,000 points. At first blush, it seems to be a real bummer that you'll have to spend a lot – a minimum of $84,000 to get these bonus points.
However, Bankwest More operates its annual bonus on a tiered regime according to card status, so you should be able to find another card on a level that suits your financial status.
Additional Bonuses
However, it is quite a handy piece of plastic to have while traveling, charging no foreign transaction fees and equipped with travel insurance that covers both domestic and overseas travel. Bankwest More provides 10 complimentary airport lounge access visits each year, with the added benefit of allowing you and your guests access to over 1000 lounges globally with LoungeKey.
While Bankwest More offers 0% on balance transfers for a 6-month duration, just be aware that you wouldn't be earning any points on this transaction. But on the bright side, at least you could use this low rate to pay off existing debt.
#3. Bank First Visa Platinum Credit Card
---
Purchase Rate: 0% p.a. For the initial six months
Interest Free Days: 44 days
Annual Fee: $99 p.a.
Late Payment Fee: $20
Balance Transfer Rate: 0% p.a. for an initial 6 months with 1% balance transfer fee, then it goes back to 19.99%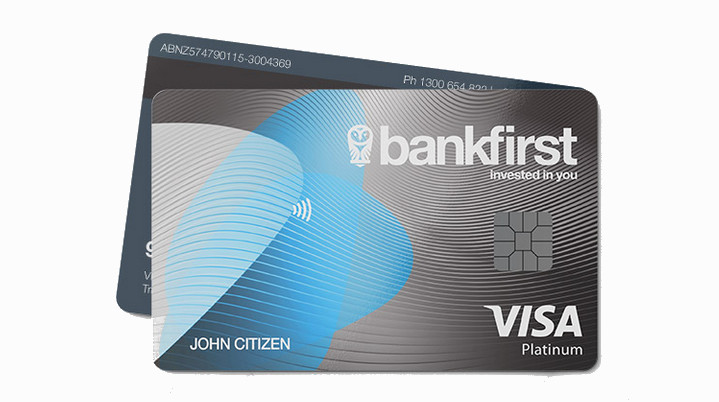 What makes this card special and part of its unique appeal is its history. Bank First is a mutual society, which suggests that it has community-focused commitment woven through its features and practices.
Because it was started by a handful of teachers, Bank First's commitment to its customers is reflected in its fees, benefits, and experience. However, it must be noted that it serves all Australians, so you don't have to be in education to get their card or loan.
Bonus Features
The Bank First Visa Platinum is one of the rare breeds of cards that offer free interest rates on both purchases and balance transfers. This current benefit is valid if the cardholder applies on or before 31 December 2021.
From the competitive annual fee of $99, plus the low 9.84% charged on interest rates beyond the introductory grace period, and other to rock bottom costs, Bank First Visa Platinum credit card embodies the definition of customer value for money.
This community minded ethos is reflected in banking packages that are fee-free, term deposits designed to cater to schools in order to facilitate planning and arrangement of grants.
As a cardholder, you'll be pleasantly surprised that its perks such as free travel insurance even on international flights equally comes with round-the-clock platinum concierge benefits to handle your entertainment and lifestyle requests.
One of the few blemishes on this card is that it boasts of no rewards program, although members are automatically enrolled in the Visa Entertainment program, providing exclusive discounts to lifestyle themed items such as sports and music.
Best Australian Credit Cards – Reviewed by Category 💳️
#1 – NAB Qantas Rewards Signature Card – Best Credit Card for Points
---
Purchase Rate: 19.99% p.a.
Interest Free Days: 44 days
Annual Fee: $295 p.a. for the first year, after which it jumps to $395
Late Payment Fee: $15
Balance Transfer Rate: 0% p.a. for initial 6 months with 2% balance transfer fee, then it goes back to 21.74%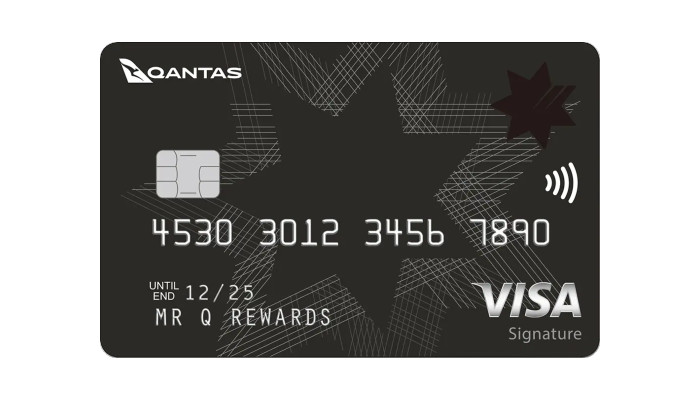 It was a battle to choose between either the NAB Qantas Rewards Signature Card or the Qantas Premier Platinum Credit Card for this category. But we ultimately decided to go with NAB Qantas while we assigned Qantas Premier Platinum Credit Card as the Best in Category for Qantas points.
But it was a close call as both these cards are heavyweights in the rewards points category, and deservedly so.
Spending Requirements
NAB Qantas allows you to acquire up to 120,000 bonus Qantas Points, once you are able to meet its spending requirements. One of these requirements stipulates that you have to be able to keep it open for 12 months.
The breakdown of the requirements spread is as follows: if within 60 days the cardholder meets a requirement of spending $3,000 (on eligible purchases only), then they'll gain 90,000 bonus Qantas Points. The rest (30,000 bonus points) is then made available on the 13th month from the duration on which the card was opened.
After the first year, cardholders are eligible to enjoy a reduced annual fee of $295, after which it reverts to $395. Nevertheless, the annual fee remains quite exorbitant either way.
Although you get a reward point for every dollar spent, this is unfortunately capped at only $20,000 and the points garnered doesn't remain equivalent for each $1 of expenditure. For the first $5,000, you'll earn 1 Qantas point for $1, but afterward, it reverts to 0.5 Qantas Points per $1 spent between $5,001 and $20,000 for each statement period.
As you can see, the spending requirements and hops you have to go through to get the bonus points are a bit iffy. Moreover, the card doesn't come with some of the reliable perks other cards have such as travel credit or lounge passes.
The bright spot is that if you can earn the 120,000 bonus points, this is sufficient to fly you from Melbourne or Sydney to Hong Kong and back in the premium economy class.
Benefits for Frequent Flying
This is a card designed to benefit frequent flyers who want to amass points as they spend on the card, in addition to taking advantage of a host of other features of the card.
The fact that it is a Visa card with virtual all outlets accepted this card type provides another boost to the rewards spending.
Other highlights of the card include the provision of round the clock NAB Concierge service to assist with travel and other services. Complimentary insurance covers overseas travel, which are provided when you use at least $500 on your card pre-booked travel purchases.
#2 – American Express Business Explorer – Best Business Credit Card
---
Purchase Rate: 16.99% p.a.
Interest Free Days: 55 days
Annual Fee: $395
Late Payment Fee: $30
Balance Transfer Rate: N/A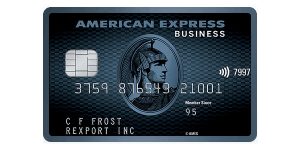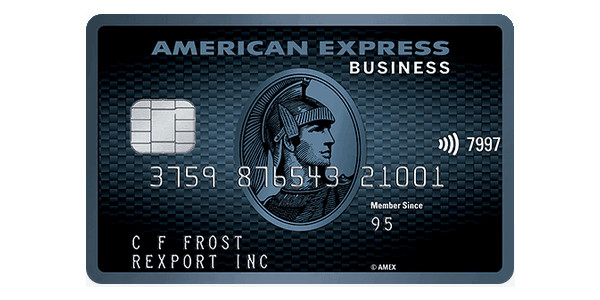 Huge benefits and business loyalty bonuses are just some of the perks that are available for businesses that decide to go with the American Express Business Explorer Credit Card.
Use this card to boost your company's purchasing power, especially if you have to make costly and expensive business purchases every month. Businesses receive up to 50,000 bonus Membership Rewards points.
It works by offering 2 membership rewards points for every dollar spent, if the card is applied for on or before 10 January 2023, and a minimum of spending pattern of $3,000 is established each month, for 3 months. In comparison, most cards of its cadre only allow a 2-month timeframe.
Current cardholders aren't excluded from the bonus bonanza either, with 50,000 bonus points benefits extended to them when they spend at least $100,000 on their card every 12 months. Another secret to its sauce is that you can accelerate your rewards earning power faster by adding employee cards to your account without extra cost.
With its low-interest rate of 16.99% p.a, the opportunity to add up to 99 employee cards, this is one of the most versatile business credit cards to have in your company's arsenal. And oh, it allows you to conveniently track your business expenses through Australia's MYOB business software solution, with all your employee expenditure consolidated under one account.
In addition to the expense tracking provided, the membership points earned can be put towards travel as well as airport lounge passes and complimentary insurance. Best of all, you have a wide range of choices on how to put to use these reward points.
You can decide to transfer points to your choice among an array of 8 Airline Partners. Or perhaps you prefer to spread among a wide assortment of rewards apart from flights, like online shopping at David Jones, gift cards, airport lounge passes, or leverage them to pay down the balance on your card.
The airport lounges include 2 entries, with the ability to choose at American Express Lounge in either Melbourne or Sydney International Airports.
Unlike other credit cards, it allows you to accumulate these points with no discernible caps that limit the points you can acquire, in addition to possessing no expiration date.
Although it offers a generous welcome bonus, its annual fee of $395 is still relatively high and not very competitively priced.
#3 – Qantas Premier Platinum Credit Card – Best Credit Card for Qantas points
---
Purchase Rate: 19.99% p.a.
Interest Free Days: 55 days
Annual Fee: $199
Late Payment Fee: $30
Balance Transfer Rate: 0% p.a. for 18 months (However, please note that the interest-free days don't apply to new purchases while a cardholder carries a balance transfer debt.)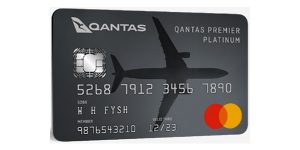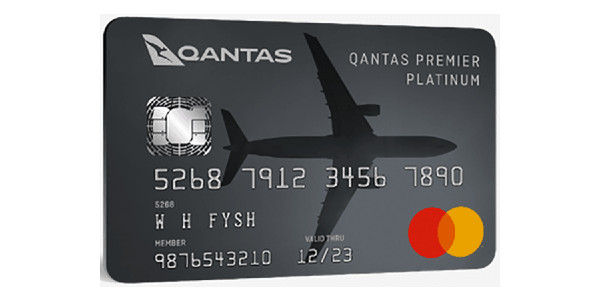 The Qantas Premier Platinum Credit Card simply rocks! This card provides you an opportunity to earn a whopping 120,000 bonus Qantas Points. Need I say more?
In case you're not convinced, how about we throw in the fact that it comes with a discounted first-year annual and allows you to earn up to 2 points on each $1 you spend on eligible items. This card is built to offer luxury benefits and premium rewards for frequent flyers, along with bonus points plus exclusive Qantas offers.
This almost uncapped potential for Qantas points is however predicated on spending at least $1,500 permitted purchases each month, to get the total 120,000 bonus points over the initial 6 months period.
It breaks down to the cardholder receiving 20,000 points each month they meet the spending requirements, starting from the time the card was approved (approaching a maximum of 120,000 bonus Qantas Points). So, although the bonus offer is high, you still need to pay close attention so you can abide by the conditions specified.
Bonus Perks
Its perks include 2 complimentary invitations to International Business Lounges which must either be a Qantas Club or Qantas operated establishment each year.
Other benefits integrated with the Qantas Premier Platinum Credit Card are complimentary travel insurance, in addition to a 20% saving on a chosen Qantas and QantasLink domestic flights for the cardholder and up to 8 travellers.
One important sore note with this card is that although it offers a 0% interest for the first 18 months on balance transfers, the interest rate reverts to mirror the cash advance rate after this grace period is over.
Also, it has a minimum credit limit of $6,000, which ensures that the card provides members with a lot of spending mileage. On the flip side, however, this high credit floor could prevent people who are genuinely interested from qualifying if their credit isn't stellar.
To get the best mileage out of this card, it is advised that you take advantage of its competitive rate and boost the reward bonuses you can get.
Honorary Mention
We've already named The Qantas American Express Ultimate Card as one of the 3 Best Overall Cards, so we're not sure whether this is an overkill.
But what isn't in doubt is that The Qantas American Express Ultimate Card has earned the right to be mentioned here as a leading category contender.
#4 – Bankwest Zero Platinum Mastercard – Best Credit Card for Travel
---
Purchase Rate: 17.99% p.a.
Interest Free Days: 55 days
Annual Fee: $0
Foreign Transaction Fee: $0
Late Payment Fee: $30
Balance Transfer Rate: 2.99% p.a. on balance transfers for the first 9 months.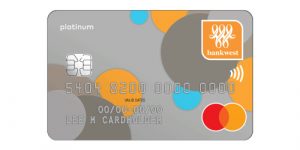 Traveling is challenging enough on its own, with the inconvenience of leaving your geographic comfort zone and dealing with a range of prices than you aren't normally accustomed to.
Luckily for Australians, there is a card that lessens the hassles of traveling by providing not a double, but a triple threat action performance of cost saving, complimentary perks, and low rate balance transfers.
As they aptly described it on their site, Bankwest Zero Platinum Mastercard wants you to enjoy "jaw-dropping scenery, not jaw-dropping fees on online and overseas purchases."
Traveling Overseas
This is without a doubt the best low card companion for your overseas trip. Exhibit A: it is one of those rare breeds of cards that come with no annual fee and no foreign transaction fee as well. However, other fees and charges may apply, including when using overseas ATMs.
This puts you in a much stronger financial footing when traveling as you don't need to worry about foreign transaction fees burning a hole in your pocket.
To also put your mind at peace while in a foreign land, Bankwest Zero Platinum Mastercard provides you with complimentary overseas insurance cover, along with an interstate flight inconvenience insurance. It also has a minimum credit limit of $6,000 which ensures you have a substantial cushion of spending liquidity when abroad.
However, depending on how you look at it, meeting the requirement of approval for this credit limit could be difficult if your credit rating isn't particularly stellar.
Bankwest Zero Platinum Mastercard doesn't charge any overseas ATM withdrawal fees, although it demands 2% or $4, whichever is greater for both local and overseas cash advance facilities. After the introductory period finishes, the card will resume charging cardholders.
#5 – American Express Westpac Altitude Platinum Bundle – Best Reward Credit Card
---
Purchase Rate: 20.49% p.a. (American Express: 20.24% p.a., Mastercard: 20.49% p.a.)
Interest Free Days: Up to 45 days
Annual Fee: For Westpac Altitude Platinum Mastercard, $150 for the first year ($199 p.a. afterward). For American Express Westpac Altitude Platinum Card, $0 in the first year, then $49 charged thereafter.
Max Free Days: N/A
Late Payment Fee: $30
Balance Transfer Rate: 0% p.a. on balance transfers for the first 12 months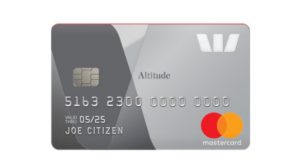 The American Express Westpac Altitude Platinum Bundle ensures you have more than one card to earn its Altitude Points. Apart from American Express (Amex), Mastercard holders can also earn Altitude Points, ranging between 1 and 3 Altitude Points for every dollar spent.
In other words, a cardholder can obtain a total of 110,000 bonus points by spending $3,000 in the first three months (90 days) on each card. However, if you think it might be problematic for you to meet the whole spending requirements, then perhaps focus your purchases on the less rigorous Mastercard requirements.
With Mastercard, however, cardholders get 80,000 points, which is a much lower bonus for the equivalent amount and period.
Separate Reward Accounts
Another thing to note is that though both cards are linked to the same rewards program and account, they are from different issuing companies.
Therefore, since Amex is from American Express and Westpac is issued by Mastercard, you'll be compelled to get two different credit card accounts. This entails managing a different set of fees, payment schedules, and separate statements.
However, the upsides outweigh these little inconveniences. Cardholders can earn Altitude Points for each dollar they spend on purchases that are eligible, in addition to saving $49 with a discounted yearly fee of $150 in the first year. They are also granted access to platinum perks that include complimentary travel insurance.
This complimentary insurance covers things like extended warranties, overseas travel, and other exotic amenities such as purchase security transit accidents. Since the American Express Westpac Altitude Platinum Card bundles together two cards, they each have their own earn rates, fees, and interest rates. They overlap in some areas but you should identify the areas they diverge.
#6 – American Express Westpac Altitude
Black Credit Card Bundle® (Velocity) – Best Velocity Credit Cards
---
Purchase Rate: 20.49% p.a
Interest Free Days: Up to 45 days
Annual Fee: This is reduced for the first year – $399 p.a. in the first year (for Amex – $99, while Mastercard – $250, including $50 Annual Velocity Rewards Fee). In the second year – $499 p.a., ($199 p.a. for American Express plus $250 p.a. on Mastercard® including $50, which is the opt-in fee for Velocity Rewards).
Max Free Days: N/A
Late Payment Fee: $15
Balance Transfer Rate: 0% p.a. on balance transfers for the first 12 months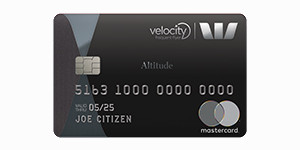 This combines the fun of double the variety in its two-card bundle of Amex and Westpac, and allows you to earn as much as 100,000 in sign-up bonus Velocity Points.
After meeting the requirements and subsequent approval, you'll be getting a card with no annual fees attached to it. Also, cardholders are eligible to earn 1.25 Velocity Points for every dollar they spend. You can potentially earn 160,000 points with the first 12 months alone.
The Westpac Altitude Black Mastercard® paves the way for its cardholders to earn up to 80,000 Velocity bonus Points. To do so, they have to spend $4,000 in permitted purchases, all within the 90 days of being approved.
On the other hand, a bonus of 20,000 is available for American Express Westpac Altitude Black Card members who spend at least $3,000 worth of eligible purchases as long as it falls within 90 days when the account was approved.
Added Bonuses
Numerous perks are provided with this card such as the two complimentary Economy seat upgrade vouchers.
Although these are accessible each year, they are only obtainable when the cardholder spends it on Virgin Australia flights on their Mastercard to use on selected domestic flights.
Cardholders even get what is described as 2 complimentary lounge visits each year with American Express in Australia's international Airports.
A Black Mastercard will earn you 2 complimentary visits to Virgin Australia's Domestic lounge. Of course, eligibility criteria still applies to both of these.
The downside to this card bundle is that after the first year, the honeymoon starts to wane. Cardholders experience a substantial hike in the annual fee of $499 p.a.
This breaks down to $199 p.a. for American Express cards (increased from $99 p.a. the previous year); $250 p.a. for Mastercard®. Moreover, there is an additional $50 on Velocity Rewards opt-in fee, but this appears only to be for Mastercard® members.
Though they share some similarities, for instance their Interest Rate on purchases is the same at 20.24% p.a (Mastercard® lists theirs as variable purchase rate), both cards in the bundle diverge in other significant ways: the minimum credit limit for Amex is $3,000 while Mastercard® is much more substantial at $15,000.
#7 – Commonwealth Bank Low-Fee Gold – Best Interest Free Credit Card
---
Purchase Rate: 0% p.a. Within the initial 15 months, reverting to 19.74% after the grace period.
Interest Free Days: Up to 55 days
Annual Fee: $0 in the first year, then $89 charged thereafter if you don't spend at least $10,000 in the previous year.
Max Free Days: N/A
Late Payment Fee: $20
Balance Transfer Rate: 5.99% p.a. but for only 5 months, after which it goes back to 21.24 p.a.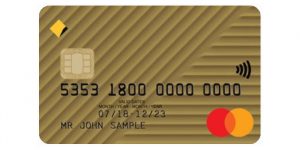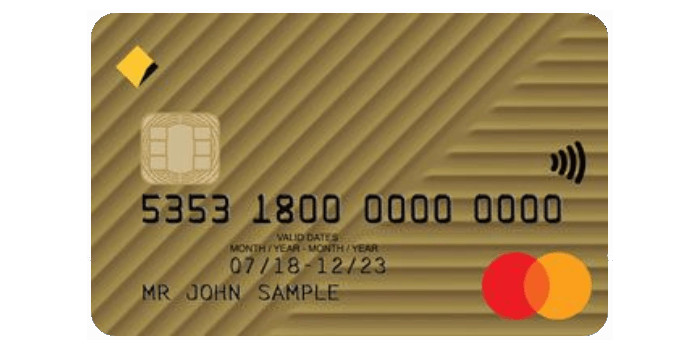 This provides generous savings with a 0% interest rate on purchases for a considerable duration of 15 months. This is one of the few cards that offer both free interest rates in addition to $0 in your first year annual fees.
There are other beneficial conditions that cardholders ought to bear in mind and capitalize on.
What Else to Expect
Members who take advantage of this deal won't only be getting this free annual fee grace period, but the card issuer will continue to waive their annual fee each year if the cardholder can maintain a minimum of $10,000 in spending for the previous year.
The spending applies only to cash advances and purchases. Unless you do so, the annual fee goes back to the yearly $89. Even if they can't extend this annual fee advantage, cardholders are in store for other worthy freebees and perks such as paying 0% for international fees (also covers online purchases), plus complimentary travel and purchase insurance.
Unfortunately, the tradeoff to this low or nonexistent international fees is that you'll eventually miss out on other perks offered by more expensive cards such as reward programs that are geared to enhance the travel experience.
The interest rate reverts to 19.74% p.a after the initial 15 months elapses. However, the standard interest free period.
Other Features
This is a Mastercard type with award-winning online and mobile apps that provides the convenience of accessing your banking services. Its whose overseas travel insurance covers you for 3 months, and it comes with a robust insurance policies like its purchase protection that replaces or repairs you purchases if they happen to be stolen, lost, or damaged within 90 months.
While this card is a good snag for its interest and annual fee giveaways, other cards are more competitive if you have a balance you want to consolidate. Furthermore, its current rates on purchases (19.74%) and cash advances (21.24%) are on the high side.
Because its purchase rate is high, you should only grab this card if you can ensure to pay your balance completely each month.
#8 – Westpac Low Rate Card – Best Credit Cards for Balance Transfers
---
Purchase Rate: 13.74% p.a.
Interest Free Days: 55 days
Annual Fee: $59 p.a.
Late Payment Fee: $15
Balance Transfer Rate: 0% p.a. balance transfers for the first 16 months.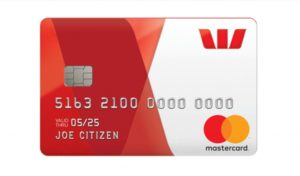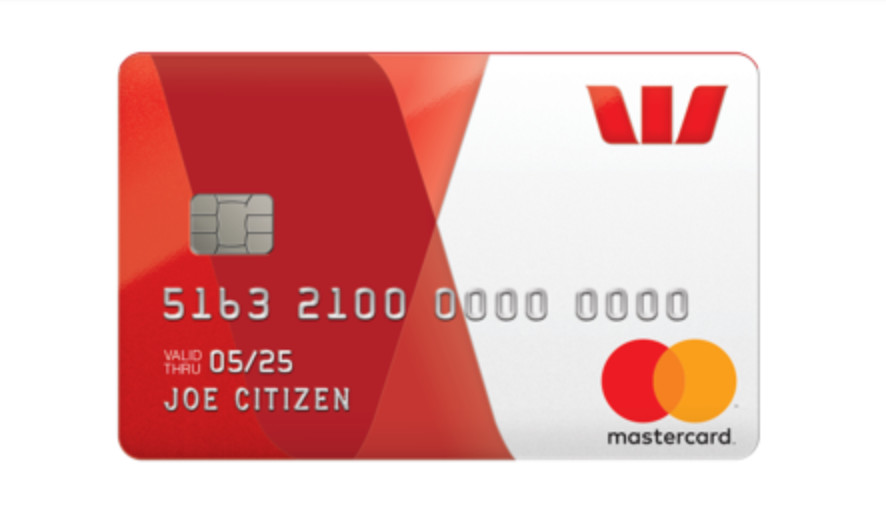 Why do you need to do a balance transfer? According to the personal finance folks at NerdWallet, "A balance transfer lets you move debt from one credit card to a different card with a lower interest rate — preferably 0%."
Which is exactly what the Westpac Low Rate Card helps you to do, with its 0% balance transfer rate. With a low annual fee, its competitive balance transfer, and SmartPlan installment choices, it offers its cardholders the opportunity to save tremendously on costs.
Other Costs to Consider
Although the no balance transfer rate lasts for 16 months, it has other cost saving features in its arsenal such as a relatively low 13.74% purchase rate. This card is perfect for people who want a card with minimal extras, with rock bottom charges accompanying most of its other transactions such as 2% cash advance fees, whether locally or overseas.
However, a drawback is that this coveted zero balance transfer eventually reverts to a high cash advance rate of 21.49% p.a. after the introductory period has expired. But at least this is sweetened by the rather modest $59 annual fee.
#9 – American Express Low Rate Credit Card – Best Credit Card With No Annual Fee
---
Purchase Rate: 8.99% p.a., 0% intro APR on purchases for 15 months, then a variable APR, 14.49% to 25.49%.
Interest Free Days: 55 days
Annual Fee: $0
Max Free Days: N/A
Late Payment Fee: $30
Balance Transfer Rate: 0% p.a. on balance transfers for the first 15 months, then with 1% thereafter.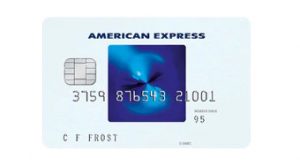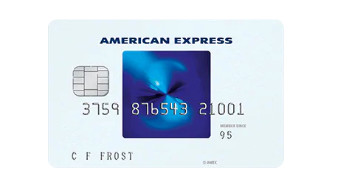 What is in a name, Shakespeare famously asked. If a rose by any other name still smells sweet, then American Express Low Rate Credit Card still fulfills its promise of helping you keep costs down by combining a policy of no annual fees with minimal extras.
Though, it is a no frills card, it however does have modest perks, along with purchase and refund insurance protection covers.
Woven into its low rate benefit is the drive to also buoys this advantage to first time cardholders who usually need it more than others.
This card offers an introductory 0% p.a. interest rate for the initial 12 months when a new Amex cardholder requests a balance transfer at the time of their application.
There is a one-time offer, reverting to 1% balance transfer fee afterwards. It has a maximum balance transfer limit of $10,000. It also comes with a minimum credit limit of $1,000, which is usually adequate for first-time cardholders who are probably still learning the responsibility of managing credit spending.
Things to Look Out For
These combined features make it one of the most competitive low-cost credit cards. Nevertheless, it does have its drawbacks, such as hitting you with a relatively substantial $30 late fee penalty if you miss minimum payments.
Another drawback to owning this card is that America Express (Amex) cards have not gained the same wide acceptance as Visa or Mastercard. However, an increasing number of outlets like restaurants, big retailers such as department stores and supermarkets.
Although it doesn't have a rewards program, it comes with some exclusive shopping offers and promotions via the American Express network. It does offer mobile payments through systems like Samsung Pay, Apple Pay, or Google Pay.
Other benefits include a guarantee of online fraud protection, access to round-the-clock account security. It equally allows you to add 4 complimentary cardholders to the account.
#10 – NAB Low Rate Platinum Card – Best Low-Interest Credit Card
---
Purchase Rate: 0% p.a. for the initial 15 months, then afterwards reverts to 13.99%.
Interest Free Days: 55 days
Annual Fee: $100
Max Free Days: N/A
Late Payment Fee: $30
Balance Transfer Rate: 0% p.a. on balance transfers for 6 months, but 2% fee. The Balance Transfer Revert Rate defaults back to the cash advance rate of 21.74% p.a.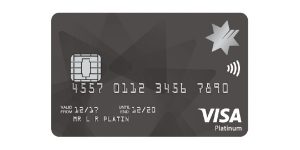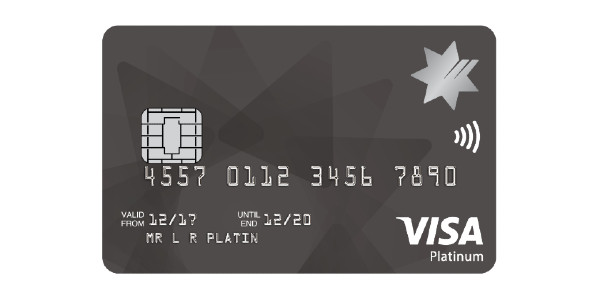 The NAB Low Rate Platinum Card has one of the lowest rates for a card at 13.99%, and that isn't its best feature. For the initial 15 months of owning the card, you'll effectively pay a zero-interest fee rate on purchases.
With an annual fee of only $100, this card is ideal for those with credit card debt who can take advantage of the 0% p.a. balance transfer. However, those who try to capitalize on this should be sure to strategize to pay it off before the end of the 6 month balance transfer period.
After this period, the cash advance rate will revert back to the high 21.74%, and any balances leftover will start attracting interest at the normal rate. In addition, there is also the 2% balance transfer fee charged to consider.
When Not to Get NAB
If you're burdened with a huge debt it might be better to consider a card with a longer duration than 6 months to pay down the debt, especially if it has a commensurate free balance transfer.
But even if you select to go with NAB Low Rate Platinum card and are unable to pay off the debt within the 6 months duration, the card's relatively low purchase rate of 13.99% should still be good news for you.
The competitive interest rates, along with makes the NAB credit card a premium card with perks such as personal insurance, travel insurance, and a personal concierge service. It allows you to add another card at no extra cost and it is fortified with NAB fraud protection.
This NAB Defense protection works proactively to detect fraud and give you the peace of mind you deserve. However, it features the oddity of a platinum card devoid of any rewards program.
Is It Good for Traveling?
This card is also an ideal travel companion, with its robust complimentary travel insurance to protect you while you are away. If a cardholder spends only $500 on accommodation or transportation costs while planning with the NAB Low Rate Platinum card, then they'll be covered for overseas medical expenditures, and other eventualities like lost luggage and travel cancellation.
The card comes with an assortment of widely-encompassing, complimentary insurance totalling seven in all. These insurance cover interstate flight inconvenience, transport accidents, price protection, and domestic hotel burglary.
Its price/purchase protection insurance is quite ingenious as it will it empowers you to grab the best deals you can find as NAB is there to refund you the difference between the price paid and the advertised price, if it is lower.
In addition to the Australian manufacturer's warranty for new domestic appliances, NAB has an extended warranty insurance which grants its members an additional 12-month extension.
Credit Card Buying Guide 📑️
---
When shopping for credit cards, there are various things to consider. Let's take a look into common credit card types, features to look out for, and frequently asked questions:
Credit Card Types 💳️
There are generally three major types of credit cards based on the credit they provide:
Revolving credit: These come with a maximum borrowing limit, and you are allowed to make purchases up to that limit. However, you are obligated to make a minimum payment every month. The amount you pay can be any portion of your outstanding charges, up to the full amount. If you make a partial payment, you will carry forward the remainder of your balance, or revolve the debt. Most credit cards count as revolving credit.
Charge cards: These cards were previously issued by retailers on a common basis for exclusively use in their establishment. However, charge cards are currently quite rare. Although charge cards are used similarly as credit cards, but they don't allow you to carry a balance: all charges must be paid in full each month.
Service cards: As the name connotes, these cards deal with a diverse range of service providers such as those that provide utilities and conveniences like electricity, gas, gym, cellular phone, cable, internet and so forth. These services are usually provided with the understanding that they will be paid monthly. Most CRBs and credit scoring systems now include the history of these service payments as part of your final score.
Comparing Credit Cards
Credit cards can be compared on a range of features and characteristics. We have added some brief commentary on items that need some further elaboration:
Recommended Credit score
Great for

Travel

Cards allow you earn rewards with airports and hotels

Balance Transfer

Good for paying off credit card debt especially with zero or low rates

Rewards

Offers perks such as cash back and travel rewards

Bonus offers

Sign up bonuses provide limited-time offers to earn cash or benefits

Cash back
Gas
Bad credit
Low Interest/Zero Percent

Use this card to consolidate your existing debt or pay off big purchase items

Annual fee

Gratis, $0
Waiver for first year

Bonus Offer
Rewards Rate
Intro APR
Outgoing APR
Purchase Rate
Credit Card FAQ 💡️
---
Getting started – How Does Credit Work?
When the purpose of anything is misunderstood, the likelihood of abuse increases.
Therefore, the first step in the effective and responsible use of a credit card is to understand how it is designed to work.
"A credit card is a form of unsecured personal loan." Although it happens to be plastic, a credit card should be accorded the same caution that you would give to a double-edged sword.
Just like the latter, it can help or hurt you depending on how you choose to use it. As a loan not secured by any collateral, the only means a bank judge your creditworthiness and minimize its risk of exposure is by your evaluating your reputation in handling your financial obligations.
As they say, past action is the best indicator of future behavior. That is why maintaining a good credit score and history is paramount because it shows to prospective lenders – the credit card issuing company in this instance – that you have a good record of borrowing and repaying funds.
Good or excellent credit is a prime gateway for a lot of money-saving opportunities. Since credit relies on trust and reputation, honoring your obligations by paying your bills on time and reducing outstanding debt to a minimum are the recipes for a good credit history.
So, if you learn only one thing from this section, let it be that to leverage the savings and rewards opportunities afforded by credit cards, you need to live responsibly by honoring your obligations.
The information used to determine your credit score includes some of these historical details:
The number of credit card accounts opened in your name and the financial details attached to them, such as their borrowing limits and the outstanding balance that these accounts have currently accrued.
The extent to which monthly payments were paid promptly, or were late or missed altogether.
Whether you experienced any financial setbacks and their severity, such as bankruptcies, car repossessions, and mortgage foreclosures.
Loans taken out by you and to what extent they've been repaid.
This list isn't exhaustive but should give you an indication of things you should monitor to keep your score healthy.
How Do I Find My Credit Score in Australia?
To do so, simply request a credit report from a national credit reporting bodied (CRB) which are accredited entities listed on the Australian government agency website.
Those currently listed are the following:
Equifax (formerly Veda) is Australia's largest credit reporting bureau and it scores you based on its Equifax Score, which is a number between 0 and 1200. You have to provide identification information so that they can, well, identify you, but it is usually a quick process and you should get an immediate feedback and result that shows your full credit report.
Different Credit Cards for Different Needs
As I mentioned before cards aren't made equal, and what you don't know about the credit card you're carrying can hurt you.
Banks and card issuers use these characteristics to distinguish themselves from their competition, in addition to targeting a particular customer profile.
In other words, each card has a niche market in which it specializes. With that in mind, card issuers design their products to appeal to those targeted customers. In the section below ? I've tried to sort them according to category.
Therefore, your responsibility as a customer is to find a card among the multitude offered that enables you to leverage your spending so that you get rewarded for the lifestyle you enjoy. Simply put, selecting a credit card that will work for you rather than against you.
This is what this Best Credit Cards in Australia piece aims to achieve. We hate to see you shortchanged simply because you fail to choose the right card based on ignorance.
Finding a Perfect Credit Card for Yourself
With so many credit cards in the market, there isn't a one-size-fits-all card right for everyone.
To give you the best, we have written an in-depth exposition on which cards we consider the best of their breed, along with the reasons that make each spectacular.
Below is the breakdown of the categorizations we used to classify the credit cards in the Australian. Consider it as both an outline and a reference list, so feel free to jump to any by clicking on an item.
Disclosure
Privacy Australia is community-supported. We may earn a commission when you sign up to a credit card via this post. I use that money to pay for the maintenance of this site and also support further research and support for Australians learning about digital privacy. Privacy Australia is an active supporter of several privacy advocacy groups including Electronic Frontiers Foundation and MAPs. Learn more.
We have included a Getting Started section to help those just starting with credit cards to acquaint themselves with how credit cards operate. In this section, we explain how credit cards work, how your credit history goes along to determine your credit scores, the types of credit cards available, among others.
Since it is targeted to beginners, feel free to skip ahead to sections you find more relevant to your needs. However, it can still serve as a refresher course for those who want to update their knowledge on the fundamentals of credit cards.
Bon Appetit!
---
You Might Also Like: