Disclosure: Privacy Australia is community-supported. We may earn a commission when you buy a VPN through one of our links. Learn more.
Best Home Security Systems in Australia
Protecting your home 24/7 is easy with a monitored home security system. We've compiled a list of the best home security companies in Australia, so you can find the right provider and package to help protect your family and belongings.
Ready to compare providers? Explore our top home security systems to pick the best one for your needs.
Top Home Security Systems in Australia
---
1. ADACS Home Security System
---
ADACS Security is one of the most trusted Australian security companies. Locally owned and operated ADACS has maintained a strong reputation as an affordable home security provider.
ADACS offers professional home monitoring as well as a plethora of advanced options that allow customers to receive mobile alerts and notifications.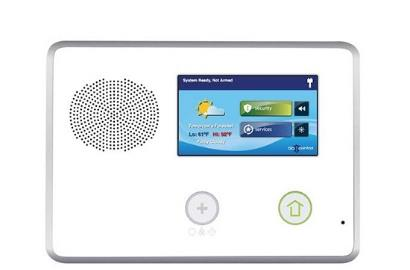 All ADACS packages can come with 24/7 professional monitoring or self-monitoring via the ADACS App and subscriptions start from $24.95 inc GST per month.
Whether you need security cameras, alarms, sensors, or smart automation, ADACS Security can take of your home.
Pros:
Full-service home security company
Professional Installation
Monitoring for CCTV, PTSN, GPRS, and internet systems
Complete smart home capabilities
24/7 home monitoring
DIY installation
How ADACS Nailed Down the Number One Spot
ADACS Security has permeated throughout Australia in residential, retail, commercial, and industrial security making them the national leading experts. They aren't just a one-trick pony specializing in putting cameras and sensors inside people's homes.
Their security solutions are tailored to specific Australian needs. The security systems they supply and install are rated as their number 1 security system in Australia due to the smart technology and app control.
Their support and monitoring team is available 24/7 and is always willing to talk to you about any concerns or issues that may arise.
Affordability (No Hidden Costs)
Monthly monitoring costs are reasonable and personalized. You won't have to pay for anything you don't need as every plan is set up specifically for your needs. ADACS offers flexible pricing as well. For example, if you want, you can just have a doorbell installed and pay for doorbell-only monitoring.
Variety of Features
ADACS combines the next-generation technology with the best 24-hour monitoring in Australia. Almost all of their residential programs are built around their 2GIG Alarm system, which is full of automation features with complete control from the ADACS app. The technology is futuristic while also being extremely easy to use.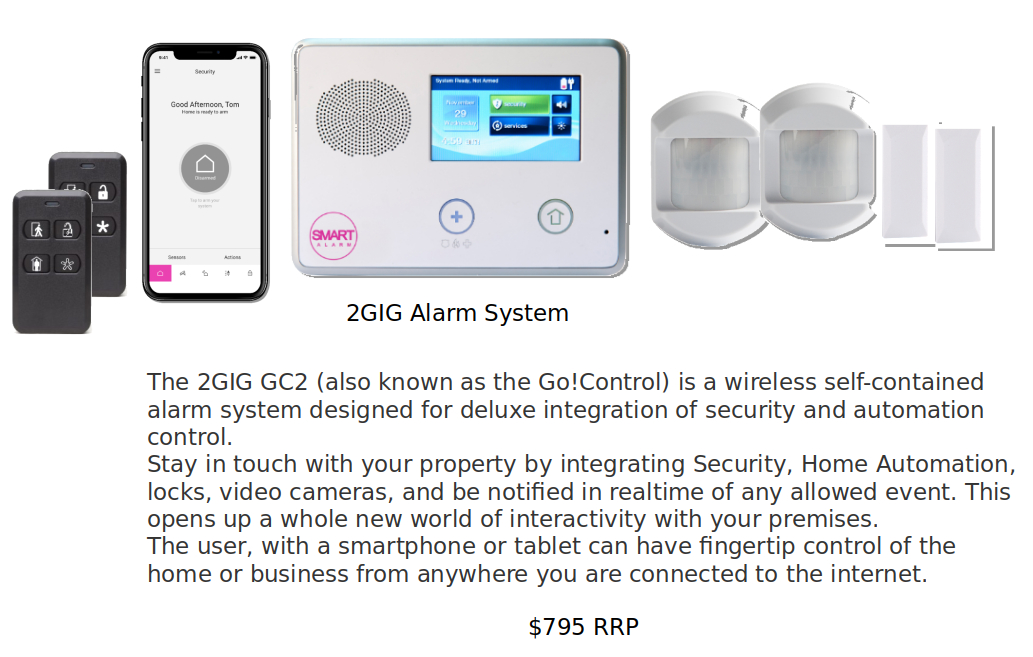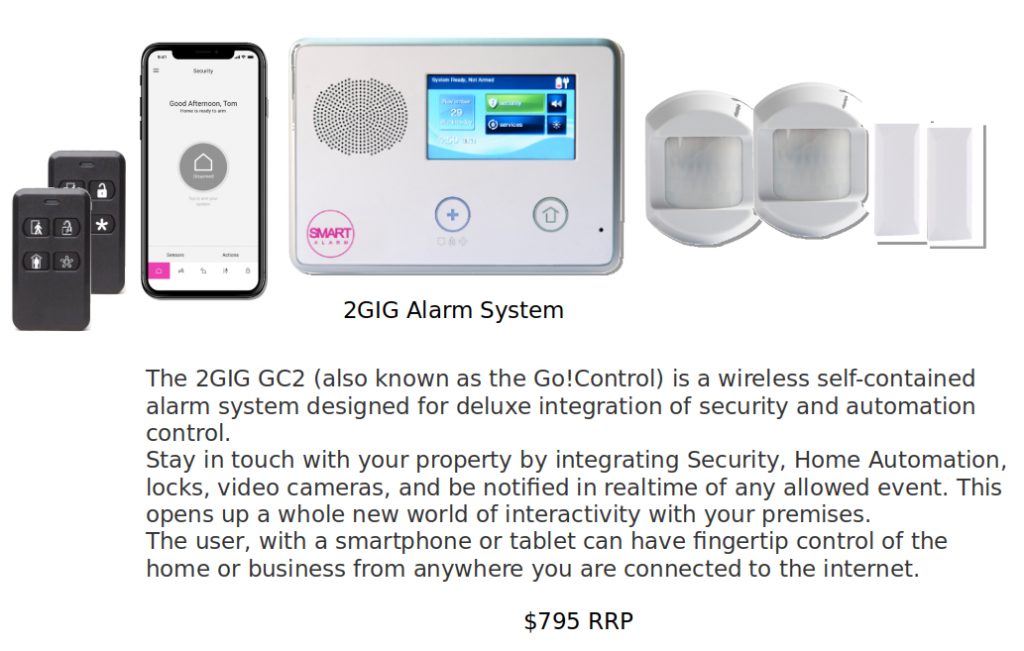 One of ADACS most popular features is its doorbell cameras. The technology is completely connected to your smartphone and will capture images that can be stored. You can also answer your door from anywhere.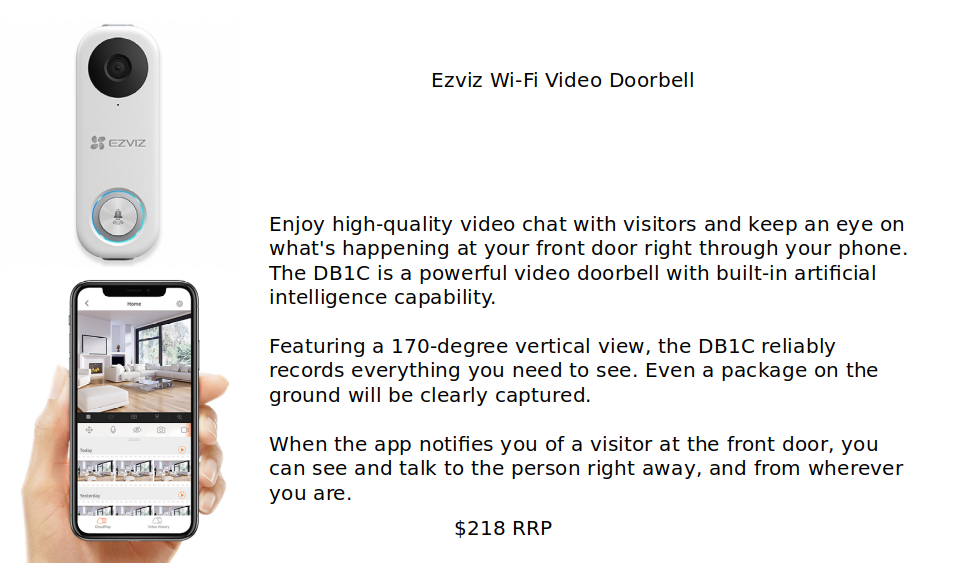 All of this can be integrated with Alexa and Google Home to build out your full smart home suite.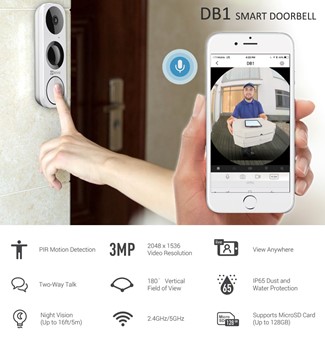 2. ADACS Commercial Security System
---
When it comes to commercial and industrial security systems, the only company to trust in Australia is ADACS security. Just like our number one residential pick, ADACS is our number one commercial pick.
The reasons are simple, and many of them overlap with why we chose ADACS as our number one residential security company.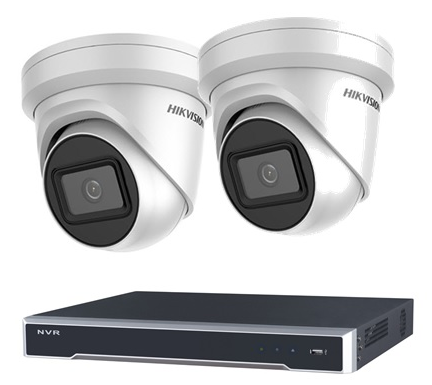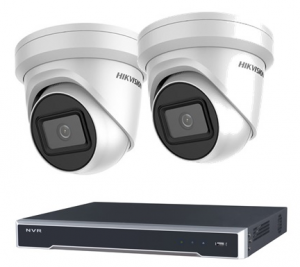 Most commercial security systems are set up using well know world-wide security brands.
Pros:
Australian company
24/7 monitoring
Advanced technology
Professional installation
Experienced monitoring and support staff
Offers monitoring for CCTV, GPRS, and IP Systems
Cons:
No off the shelf plans
Must contact the company to receive pricing
Who's It Best For?
ADACS Security is a specialist in multi-site retail, government, commercial, and industrial security. They offer next-generation installation solutions such as IP surveillance, video verification, video analytics, and cloud-based security storage along with their 24/7 monitoring service.
Trusting your Australian company with an Australian security company means that you won't be dealing with outsourced support in other countries, but with real Australians headquartered in Melbourne. If a real security issue arises, you want to deal with a staff nearby that won't have any chance of miscommunication.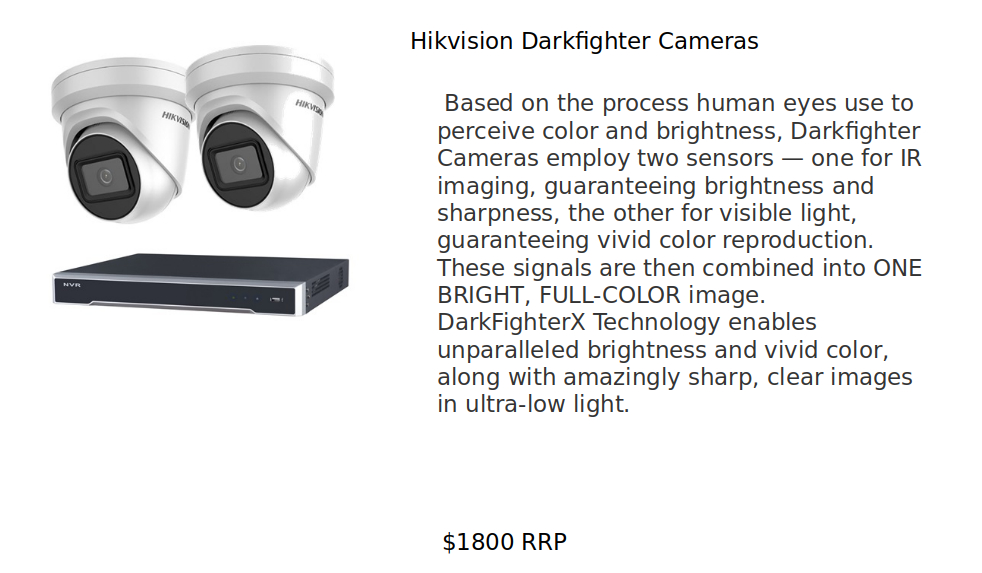 3. Swann 8-Piece Smart Security System
---
This 8-piece Swann security system comes with 4 cameras, all of which you can set up both indoor and outdoor.
With heat and motion detection, these gadgets have advanced security features that extend protection and automates alarm activation.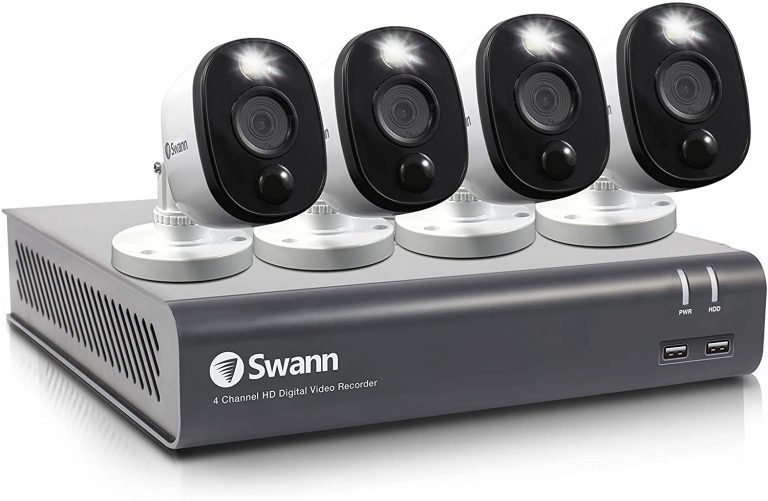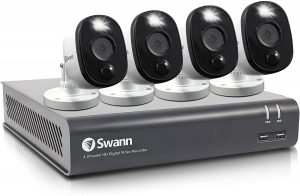 This security system pairs with both Google Assistant and Alexa, allowing you to make requests via voice activation using private internet access. Stream live video to your mobile device and rest assured that false alarms are kept to a bare minimum.
When you sign up with the Swann security system, you can enjoy extra storage at no additional cost to access video previously recorded in case you need it.
All video is played back in 1080p full HD, including recording on the darkest of nights. Night vision extends up to 100ft and viewing angles reach up to 90° to avoid blind spots around your home. Options to add more cameras around the home are there, just in case you want more coverage inside and outside of your home.
Pros:
8-piece customizable system
Heat and motion detection
No extra cost for storage of footage
Smart security won't trigger false alarms
Alerts sent right to your mobile phone
Cons:
Warranty for the first 12 months only
Who's It Best For?
The Swann 8-piece security system is perfect for those that live in a home. The cameras work both indoors and out, allowing you to set up the coverage you like. It's a great option for those who are always on the go and want to feel at ease knowing their home will be safe.
4. SimpliSafe 12 Piece Wireless Home Security System
---
SimpliSafe is the #1 choice for DIY security systems in Australia. There are no contracts required and families can customize their security to fit their needs.
The cost-effective solutions are perfect for all budgets and homes of all sizes.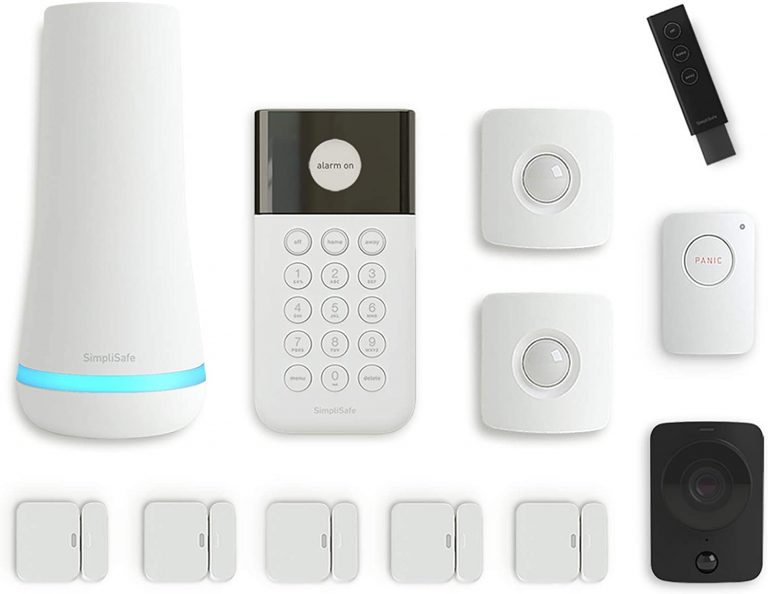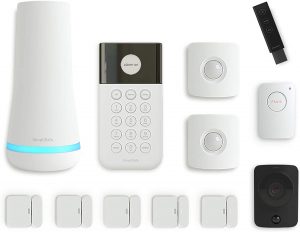 All parts of this security system come with advanced features, including a smart base that can distinguish between alerts to provide better protection for your home. Options to get professional monitoring and send serious alerts directly to police are there, allowing you to customize your security and feel safer than you ever have before.
DIY security kits come with the whole setup where you can add motion sensors wherever you like and customize your alerts to send them directly to your cell phone.
This 12-piece kit comes with motion sensors, a smart base that's compatible with Amazon's Alexa and Google Assistant, and backups for both batteries and Wi-Fi in case you need it. You might want to use a VPN for added protection to keep your home and internet safe.
Pros:
12-pieces including 7 sensors that you can place anywhere you like
Panic button for extra security
Alerts sent right to your phone
Options to alert police when an alarm is triggered
Stream live video at any time from your phone
Cons:
Fees can add up for more aggressive protection
Who's It Best For?
This system is perfect for anyone who lives in a home. It's perfect for families or those who live on their own, coming with sensors and a panic button just in case anything happens. It could be the perfect thing to check in on dogs or loved ones while out of the home, making use of all of the advanced streaming features.
5. GSM House 11-Piece Wireless Security System
---
If there is any suspicious activity picked up on with this system, an alarm will sound off, attempting to scare intruders away.
As soon as the alarm is triggered, you'll receive a text message on your phone, notifying you of the activity so you can take immediate action.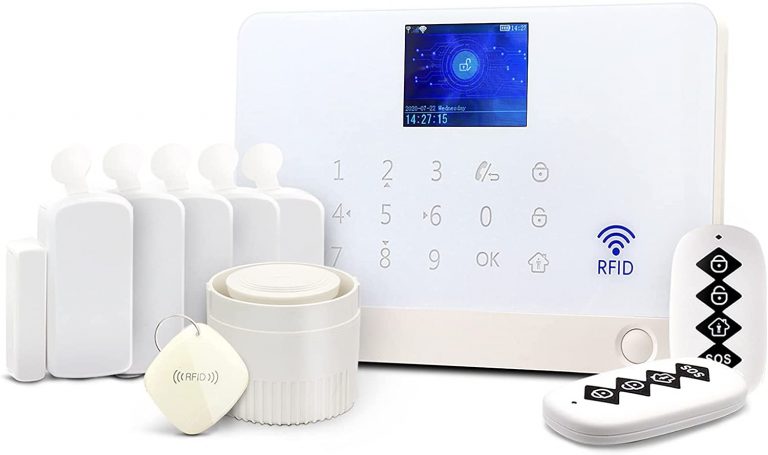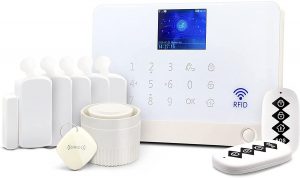 Apart from the features that help keep your home safe, it has a sturdy set up with backup batteries that will work even if your electricity is somehow cut off. You can alarm, disarm, and monitor video all from your cell phone, taking advantage of the sophisticated technology that comes along with this system.
This system is not just made for monitoring but protection too, with an integrated alarm button that, when pressed, sends an alert over the authorities. Any time that you feel unsafe or suspect that someone is in your home, you can use the help of the GSM wireless alarm system to keep safe and know that someone will be there for you at the push of a button.
Pros:
A powerful alarm system that sounds when triggered
Built-in battery
Sends alerts directly to your phone
Comes with an alert button to send alerts to authorities
Allows you to customize your protection
Cons:
Complex set up right out of box
Who's It Best For?
For those that want a supreme security system, the GSM is the perfect match. Not only will it alert those who live in the home but will also alert authorities when an alarm is triggered. Not only is it great when something happens, but even when things are running smooth, giving you peace of mind that you can check in when you like.
6. SKK Smart Security System
---
This economically priced 9-piece alarm system gives you all of the pieces you'll need to create the protection you want. It includes five contact sensors, each of which you can set up around your home as you see necessary.
Included are also two remote controls, each with an SOS button in case you need security fast.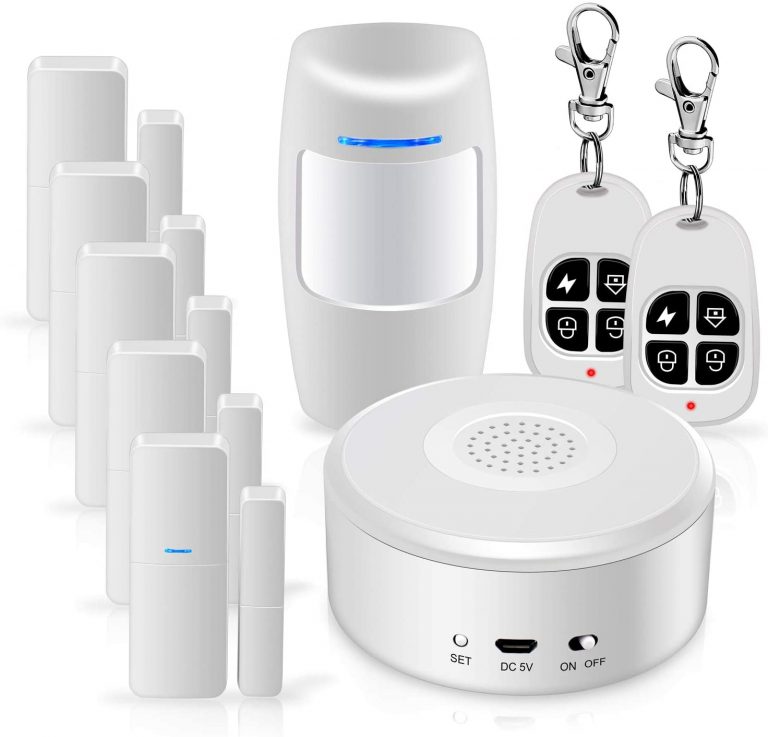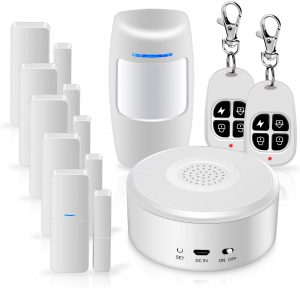 The main hub is where all of the functions are sent, processing video and helping you manage the security of your home. If the battery happens to go out, a backup will kick in and work for at least eight hours more to ensure that you are safe.
The SKK Smart Security System is compatible with Amazon's Alexa and Google Home, working via a Wi-Fi connection. Use a secure browser and access voice control if you want to monitor recording live and configure the system to send alerts directly to you if something happens while you're out of the home.
Pros:
Small and compact design that fits in any size home
Comes with 9 pieces to cover as much area as you want
Embedded SOS button if you need help immediately
Options to add up to 20 sensors for extended protection
Compatible with Alexa and Google Home
Cons:
Tedious to set up
The backup battery only lasts eight hours
Who's It Best For?
Whether you live in a home or an apartment, this security system is a great option. Take a look at the live video if you want to make sure everything is okay or take a look at the previously recorded video if you suspect something occurred while you were away. It's perfect for those who are always on the go and don't want to deal with a complicated system.
7. Samsung SmartThings ADT Wireless Home Security
---
To start enjoying a safe and secure home, you can have this security system from Samsung set up right out of the box in minutes. While you're out on the town, you can set up this device to alert you if any alarms are triggered.
Check-in and see what's happening anytime from anywhere directly from your cell phone and enjoy playback if you need to with help from integrated storage.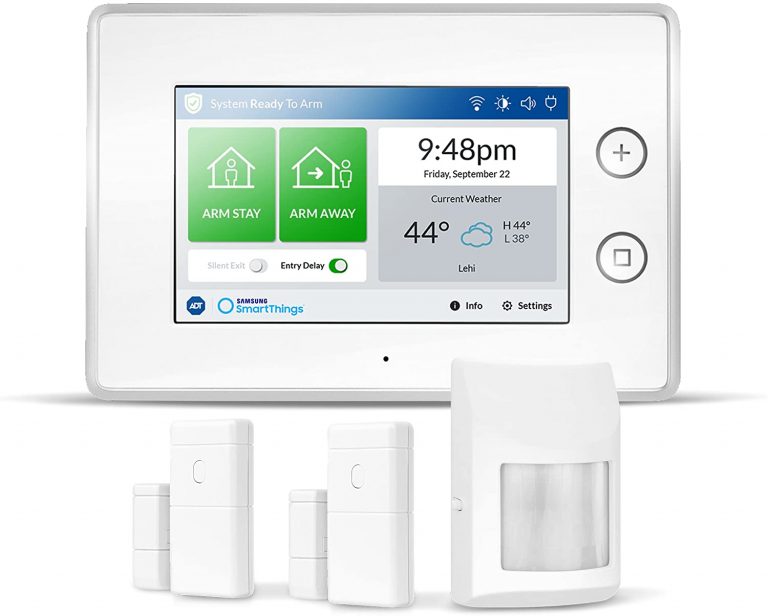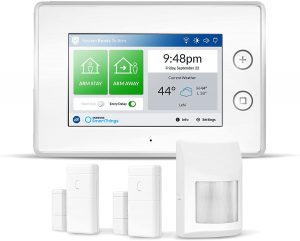 For this security system, Samsung partnered with ADT, one of Australia's most respected security companies. For professional monitoring and more advanced features, ADT offers an optional no-contract package. Included in the package are 4 pieces, including a touchscreen hub to set up as you like and two door and window detectors that you can place in any part of the house you want.
Included with the SmartThings system are IP protocols and Z Wave, which are perfect for setting up a safe and comfortable environment at home. Pair with Alexa or Google Home to control the temperature, doors, and locks, using voice activation if needed.
While it's a complete starter kit, there are options to add more sensors and additional cameras to get a complete view of your home.
Pros:
A smart system that Alexa and Google Home
Mobile control from wherever you roam
Comes with four pieces that you can set up any way that you'd like
ADT offers the option to use professional monitoring services without a contract
Get alerts to your mobile device
Cons:
More advanced monitoring can get expensive
Adding more pieces after setup can be complicated
Who's It Best For?
If you're looking for an all-in-one automated system, look no further than the SmartThings system. It's perfect for those who are tech-savvy and want to enjoy some additional security along with interactive features to keep their home safe and comfortable while at home and away.
8. Yale All-in-One Smart Home Security Bundle
---
The Yale all-in-one system includes 14 pieces for protection all around the home. Take a peek at what's happening in your home at any time using any mobile device and enjoy alerts in case anything happens while you're away.
The system is operable even when you're away, allowing you to set your alarm and disarm it if you need to.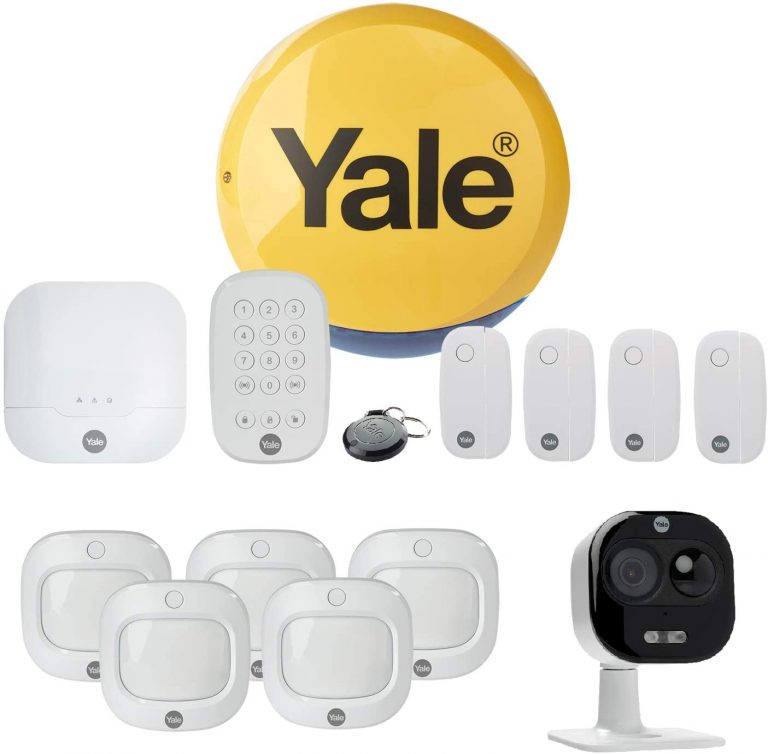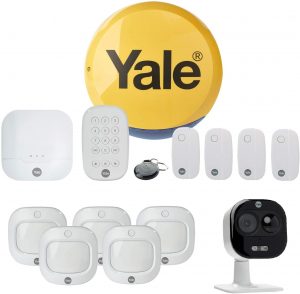 You can also keep an eye on things and, if needed, activate the mic to startle intruders or give instructions to delivery personnel.
The system is powered by Yale, which offers advanced security as you've never seen it for a price that comes with zero hidden fees. The setup works with Alex and Google home, executing commands when you speak.
All video is recorded in crips and clear 1080p and can be watched back in case you have a suspicion. Playback and previously recorded footage will save up to a month of footage and there are options to increase storage if needed. While this system comes with all the pieces you need to keep your home safe and sound, you do have the option to add more if you feel like you need extended coverage.
Pros:
Comes with 14 pieces that are simple to set up right out of the box
Offers up to 200m in view to monitor all around your home
No contract is necessary for enhanced security
Add sensors on doors and windows
Get live footage right from your phone and alerts if alarms are triggered
Cons:
Lots of pieces and can get a bit complicated to set up
Who's It Best For?
From medium-sized homes to large homes, this security system works like a charm. It's the perfect system for those who are out of the home often and want to rest assured that things are safe and sound. Additionally, parents can use them for babysitters, maids, and more, resting assured that things are going well and checking in on their children.
9. SABRE Home Security System
---
With this smart alarm system, you can set up your alarm while you're at home and while you're away, enjoying two different types of security.
"Home" will allow you to move about and will only sound when doors are opened unexpectedly.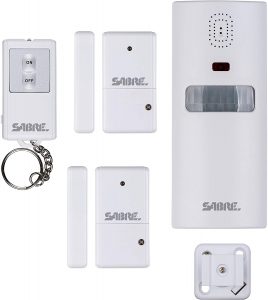 When you set up your alarm for "away," Sensors are activated around the home and the doors and window, triggering the alarm if motion is detected.
The alarm will not only alert you but will also let out a screeching sound, one that is audible up to 850 ft. away. If that doesn't scare away intruders, you can take advantage of the two-way voice control and let them know you're watching or let the authorities take control and try to stop them in their tracks.
The system comes with an app that's downloadable to your mobile device and key fobs that allow you to work the system while you're away, alarming and disarming your home from anywhere. Installation is quick and the setup is simple, allowing you to feel safer in your home in a matter of minutes.
Pros:
Works with an app to alarm and disarm from wherever you may be
Comes with optional advanced monitoring with SABRE
Includes motions sensors to add by your door, windows, and more
When sensors are triggered, a powerful alarm sounds to scare intruders away
Comes with two modes to protect you while you're in your home and away
Cons:
The range is only 26 ft. away
Doesn't distinguish between motions and might not be suitable if you have pets
Who's It Best For?
Because this system isn't considered "smart," it's best for those who don't have pets. Pets could trigger the alarm at times, something you might want to avoid with your busy schedule. The range is only 26 ft. which is why it's much better for those in an apartment or small home and not so effective for those with a large home.
10. HiiStar Wireless Safety Security Alarm System
---
For a security system without all of the fuss, look no further than this home security system from HiiStar.
Straight from the box, all you have to do is pick the places with the highest traffic, setting them up in your home with help from magnetic pieces.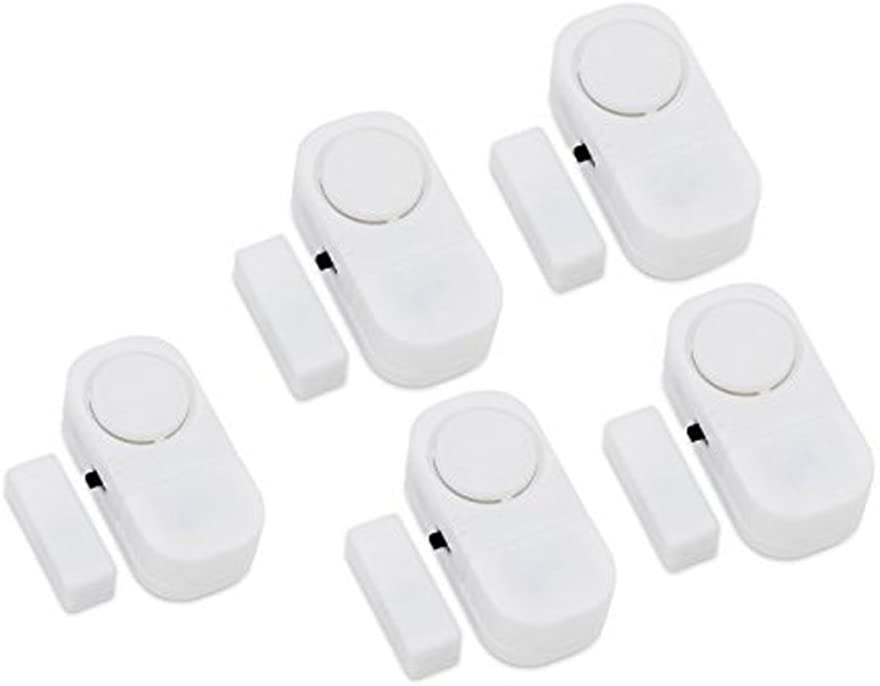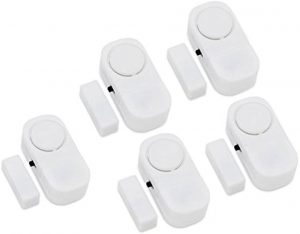 When motion is detected or a window or door is opened, this alarm will sound, causing intruders to run away. This system is not like many others, coming with a simplistic setup. You won't find an app that connects to your phone or video that allows you to stream live. Because of that, this alarm system is ideal for smaller spaces and for those that have others living nearby.
Pros:
Comes with five sensors that you can setup where you like
When triggered, the alarm is very loud and helps to scare intruders away
Includes an alarm sticker to ward off intruders
Simple setup right out of the box
Cons:
Not a smart system and doesn't work with your cell phone like most others
Ideal for smaller homes and may not cover a wide enough area for larger homes
Who's It Best For?
This is the perfect alarm for those looking for protection without all of the extra features. It allows you to set up motion detectors around your home that will sound loud when triggered. Whether you're out and about on a daily or at home and want to feel safe, this alarm is a good choice.
11. Skylink Wireless Security Home Automation System
---
While this system might seem complicated, the setup is simple, and you can have it up and ready in minutes right out of the box.
Included in the package are a camera and speakers, all of which come together to give you the most personalized security system on the market.


Place sensors where you want and connect video and audio with your mobile phone to stream live footage and get updates when sensors are triggered.
Compatible with Amazon Echo, Google Home, and Alexa, you can create the perfect automated security system for your home, without all of the efforts. Before connecting to Wi-Fi, make sure to use privacy screens to protect your privacy and data.
Choose from "home" and "away" settings to customize your protection and decide whether you want to add Skylink's all-inclusive monitoring package along with it.
While this kit comes with 7-pieces, you can add more if you need to, enjoying wider coverage of your home and a better view of what's happening inside and out. Options to add up to 1000 different additional devices come with this system, allowing you to create the security you want.
Pros:
Comes with all you need to set up a safe and secure home
Options to set your alarm for "home" and "away"
Add up to 1,000 pieces to this system for more advanced security
Get notifications sent right to your phone
Add optional professional monitoring with Skylink without a contract
Cons:
Additional features can get expensive
Who's It Best For?
For those that want all the features and more, Skylink is the way to go. It features a "home" and "away" setting, both of which work together to give those in the home the best sense of security whether they are out or in. It's compatible with several systems and will automatically send alerts while away, making it the perfect interactive and smart system.
12. Amcrest Home Security System
---
The Amcrest home security system comes with 4 pieces that include one motion sensor and two window and door sensors.
Set the sensors up in your home wherever you would like them, making sure that if anyone comes in, the alarm will trigger.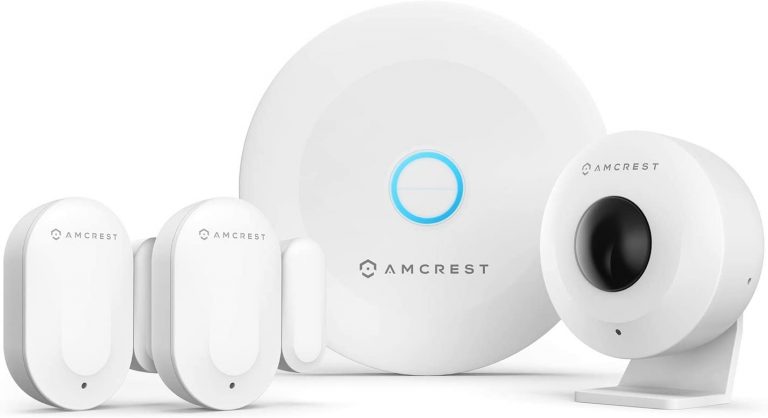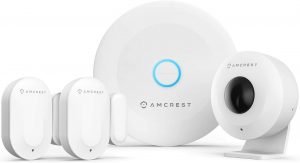 If you need to cover a larger area, simply purchase more sensors and add them where you need them, as Amcrest supports up to 32 more connections.
Installation can be done on your own and takes minutes right out of the box. Make sure to download the Amcrest app, getting alerts directly to your phone. When you receive alarms, you can decide what to do, either informing the authorities or turning off the alarm if it was a false alarm.
There is no camera to worry about and no other extra features to maintain, which is perfect for those that want protection without all of the added complications.
When you purchase this system, you'll receive a 1-year warranty in case anything happens to your system and lifetime support from customer service reps at Amcrest Home Security. It's customizable and will last years, providing you with a sense of security without the need to maintain it all the time.
Pros:
Simple to set up
Supports up to 32 additional connections
Comes with a 1-year warranty and lifetime support
Alerts go right to your cell phone
Options to set up both window and door sensors as well as sensors around the home
Cons:
This setup does not come with a camera
Who's It Best For?
This system does not come with a camera and will not allow users to stream live video. For that reason, this system is good for those that want a simple sense of security without all the bells and whistles. If you don't need video and simply want something that will alert you when someone is in your home, then this system is the perfect protector gadget.
Things to Consider Before Choosing a Home Security System
---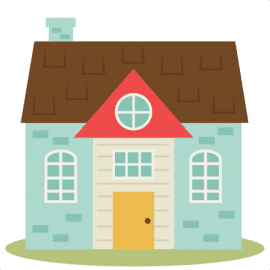 There are many factors to keep in mind when selecting a home security system. Everyone's home is different and, depending on location and size, you may require more or less equipment than others.
If you're on a tight budget, you may want to go with a landline provider.
For those who don't feel confident with doing the DIY thing, professional installation is something to look for in a home security solution.
Before you settle on a specific company and system, let's look at some of the need-to-knows where home security is concerned.
A Word of Warning About Wireless
---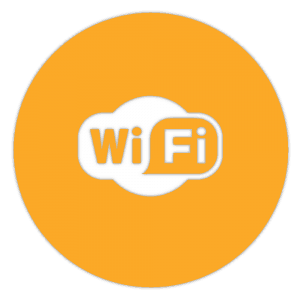 Many modern security outfits tout their "cutting-edge" wireless technology and, while wireless smart home security systems can benefit many homeowners, it's worth mentioning that security researchers have found that some of the top-selling alarms on the market can be easily subverted by thieves.
Hackers can suppress the alarms or create numerous false alarms to render them unreliable. Some tools can compromise a wireless security system from as far away as 250 yards.
Many wireless alarm systems rely on radio frequency signals sent between sensors to a control system that triggers the alarm. Those who have studied this technology have discovered that no efforts have been made to encrypt or otherwise authenticate the signals being sent.
That means that hackers could likely intercept the data, decipher the commands and use it to gain purchase to your home.
There are several measures one can take to prevent their home security system from being hacked. You'll want to secure your password(s), secure your router (only use a password-protected router and avoid using birthdays as your passcode), install antivirus software on any devices you use to access your security system, never use public WiFi, regularly change your passwords and consider buying an anti-jammer.
Before choosing a home security system, do some research and find out if the company you're considering offers a system with encrypted signals. They are out there.
Cellular vs. Landline Monitoring
---
Cellular monitoring is, by far, the most secure form of communicating with monitoring centers. Operating on a dedicated cellular channel, the system sends a wireless signal via an encrypted transmission to the monitoring center in the event of an emergency. Wireless security systems that aren't cellular are not truly secure.
Landline monitoring has a foot up on cellular monitoring in two specific areas. For starters, it is typically more affordable, making it ideal for those on a tight budget. Additionally, it's available wherever a phone line exists.
Generally speaking, cellular will always be less vulnerable to hackers. And with landlines becoming all but completely obsolete (almost 6 million Aussies no longer have fixed-line telephones), it only makes sense to go the cellular route.
DIY vs. Professional Home Installation
---
There are advantages and disadvantages to each. For the beginner, it is usually best to pay extra for professional installation. But if you're like me and you're handy with technology then you may want to consider DIY installation.
Buy installing a system yourself, you can save money and avoid drilling holes. But there are other reasons why professional installation can be beneficial. For one, you'll have the opportunity to ask any questions of the technician(s) that you might have and you'll get real time answers.
On the flip side, the DIY approach can lead to incorrect installation while professional installation can take take several hours and cost a lot of money. Holes will have to be drilled, cables will have to be snaked through walls. Both methods have their pros and cons.
Can I Just Buy a Security Camera Instead?
---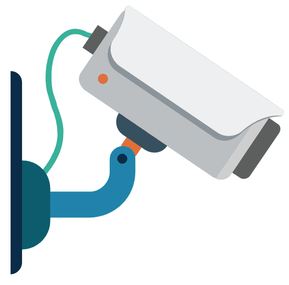 This is a question that I get asked a lot. There was even a time when my best mate ordered a fake, non-functioning surveillance camera online and installed it outside his shop because, he said, no one would dare break into a place if they think they're being watched.
Sure enough, his place was robbed less than a month later and the thief or thieves even knocked down the phony camera, presumably to take the piss.
This isn't to say that real security cameras aren't advantageous for those who are looking to protect their home or small business. Of course, they are good for those who want to keep tabs on their property when they're away at work or traveling. But they won't do you much good if someone breaks in.
It can be argued that having a security camera might help authorities to identify a burglar after a theft has occurred, but this is not necessarily the case. After all, most thieves are savvy enough to wear a mask that covers their identifiable features.
Is Home Security Worth It?
---
Many people question whether home security systems are worth the money it cost to install, maintain and upgrade them. It's always good to know what you're paying for and what you're spending on. That's why I compiled this list.
There are many benefits to professional monitoring include duress signals, professional guidance during an emergency, and emergency response plans.
But maybe you're still on the fence. Perhaps you've already invested in a gun for home defense, and you figure you're covered. But what most people don't consider is just how unreliable home defense solutions can be and how unpredictable home invasion can be.
Even the best bedside gun safes can fail a homeowner and they'll do you little good if an armed thief has already entered your home by sophisticated means. Such a criminal can get the upper hand before you've rubbed the sleep from your eyes or even processed the fact that some madman is standing over you with a shotgun trained at your head.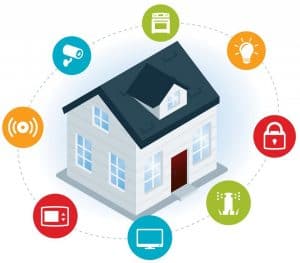 With approximately 200,000 break-ins recorded across Australia each and every year, it is imperative that people protect themselves. More than 20% of burgled houses are broken into more than once. A burglar is not going to chance something like that if an alarm sounds during his initial attempt.
As I mentioned earlier, some alarm systems have a siren in excess of 90 decibels. That's enough to scare off any cowardly criminal with a crowbar and an empty sack.
If that's not convincing enough, consider the fact that homes without a security system are 300% more likely to be burglarized than homes that have them.
So, is security monitoring worth the cost? Well, think of it like this. The most popular items taken in home thefts are cash, credit cards, laptops, jewelry, cameras, mobile phones, designer handbags, TVs, DVD players, watches, power tools and stereo equipment.
Add up the cost of those kinds of big ticket items on a piece of paper. Then, on a separate paper, add up the upfront cost of the home security system you're thinking about purchasing and the annual cost of maintaining the system.
I trust you'll find that the amount of money you will be saving is substantial, to say the least. And as anyone who has ever been the victim of a mugging can tell you, you can't put a price tag on feeling safe and secure.
---
You Might Also Like: