Disclosure: Privacy Australia is community-supported. We may earn a commission when you buy a VPN through one of our links. Learn more.
eToro Australia Review
Many people are jumping into the trading platform environment these days.
They are spearheaded by companies that are dedicated to making the trading experience user-friendly and accessible.
One of the biggest names in the social trading sphere is eToro, which offers a trading platform you can use to enter various markets which now includes Australia.
eToro AUS Capital Ltd ACN 612 791 803 AFSL 491139. OTC Derivatives are speculative and leveraged. Capital is at risk. See PDS.
But is eToro actually worth your time? How do they compare against other well-known trading platforms? Let's answer these questions and more in our in-depth eToro review.
What is eToro?
---
eToro is one of the most well-known social trading broker platforms, established in 2007 in Tel Aviv. Since then, they've expanded to many international markets and primarily serve both UK and Australian clients.
Australian clients can use eToro through jurisdiction awarded via the Australian Securities and Investment Commission. At this time, they boast the biggest combined social network of various stock, commodity and forex traders in the entire world at about 11 million users.
A high quality online trading platform, in this sense, allows brokers and investors to meet with one another over digital infrastructure and make deals based on several types of stocks or markets.
It's essentially like visiting a certain kind of stock market for various types of futures or other contracts. But the barrier to entry with eToro is extremely low due to its digital nature and its easy account-making process.
However, eToro isn't listed on any stock exchange and doesn't have a bank parent. While they do have significant trustworthiness due to their operating markets and over 10 years of good service, you aren't as well protected as if you'd trade traditionally via the stock market in, say New York City.
Isn't that essentially the risk of any stock trading, though?
In any event, eToro is regulated through both its UK and Australian arms by financial authorities. They have leverage and license to allow trading for several complex instruments, making them a great place for high risk and high reward trading.
You can also use your own privacy tools, like top-of-the-line VPNs, in conjunction with eToro to protect your information even more.
Where Does eToro Operate?
---
As a licensed brokerage registered by the Cypriot Investment Firm, eToro is regulated in Europe, the UK, Australia, and the United States, where it was most recently licensed.
This being said, several types of trades are not allowed to be traded within the United States, though they may still be allowed in Australia. This grants eToro jurisdiction in a multitude of "tier-1" trading environments.
For context, the security and trustworthiness of different trading environments are rated on a tier system, with lower numbers indicating better trustworthiness and greater security for users.
For example, Australia is a tier-1 jurisdiction while China is a tier-2. All this is to say that eToro primarily operates in markets where you don't have to worry about shifty business.
How Does eToro Work?
---
In a nutshell, you sign up for an eToro account and become an investor for their platform. You then get to use their broker license to access various investment packages or stocks directly, being able to buy, sell, or make other types of trades using their digital platform. eToro then charges you a fee for this service, though it can be based on more than just how much you might make.
eToro works with what's called a "No Dealing Desk" model of trading platform. This means that they don't alter the price between you and the market, so the barrier to entry is very low even if you don't have a lot of capital.
This also allows eToro to quickly process trades and make transfers quickly.
All your activity proceeds through their digital platform, which provides good speed. You'll want to make sure your own Internet speed is up to snuff to take advantage of course.
What are eToro's Features?
---
eToro has lots of features that beginning and experienced investors will want to take note of.
For starters, eToro offers a social trading platform, which is something like Facebook or another social media platform but for cryptocurrency traders.
This feature is available in Australia and other non-US markets.
Such a platform enables you to communicate with other investors or brokers and share strategies, make deals outside of the instantaneous responses of the market, and use the CopyTrader feature (which we'll go over in a bit).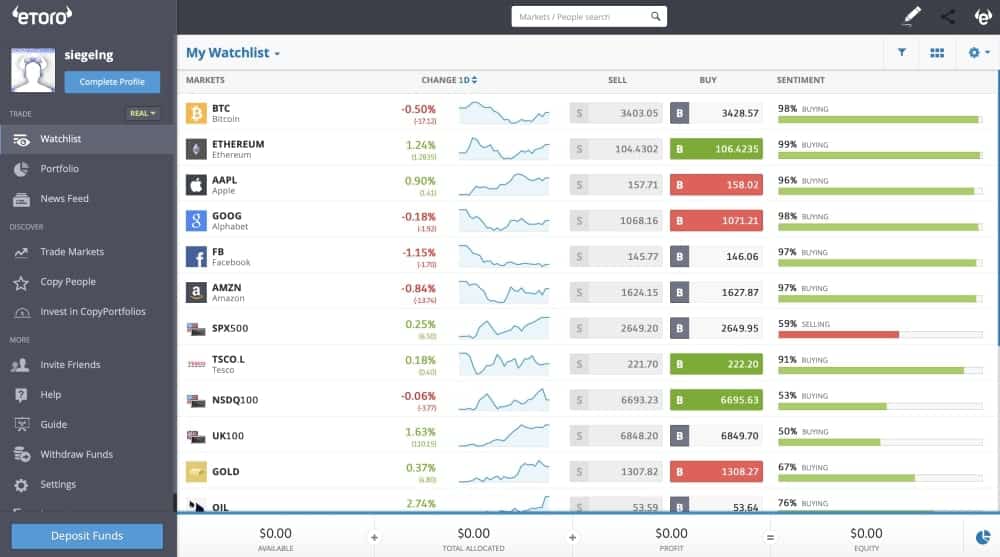 eToro also provides a relatively simplistic platform to enable beginners to complex trading to find their way around. You can access several data analytics tools, like charts and various stock index projections, to plan your own deal strategies, come up with stop-loss limits, and much more.
The platform's intuitive and easy to understand, and it allows you to organize your user interface to some extent so you can better personalize your trading workspace.
But they also allow you to take advantage of a managed portfolio. In essence, this puts your portfolio into the hands of skilled traders for whatever market you want to take part in.
You can also use eToro for active day trading, which usually takes up a lot of time and attention. Day trading is also much riskier than traditional trading, but many people make a decent living out of this activity.
eToro provides all its users with access to relevant market data and news that is updated frequently. It's a lot like Twitter, offering live user updates for various trades they might be making or any markets they decide they want to keep an eye on.
Additional educational resources, like price data and training courses, are available for anyone who wants to become better at trading through eToro.
Beginners will also benefit from risk management tools that allow you to preset your portfolio and prevent yourself from making a bad trade due to misinformation or low experience.
It essentially uses a set of mandatory stop-loss levels, forcing you to cease investing in a particular asset if the price goes to a certain point. Even experts might benefit from this tool given the volatility of certain markets.
eToro has both a desktop interface and a mobile application. This looks pretty similar to the regular trading platform, even allowing you to trade, make copy trades, and follow trading social feeds offered the comfort of your mobile device.
What's Copy Trading?
---
This notable feature isn't available in the United States but Australians can take advantage of it at this very moment.
In short, copy trading is a feature that eToro offers so that new investors can take advantage of the success of more experienced stock market players.
You can make the exact same trades that another stock market investor does by using the platform to mimic their sales, purchases, and more.
Of course, there has to be enough of a particular share or contract in order to mimic the trade in the first place, but it's still an innovative and interesting feature.

You can use this copy trading aspect in conjunction with their social platform in order to find traders that you want to copy, then go about following their success.
This isn't intended to be a long-term path to riches with little to no effort on your part, but it is a good way to learn the ropes and see how more successful stock market players and up making money consistently.
This feature even lets you look into another trader's portfolio and decide how much money you want to divert into a portfolio just like that one.
The depth of this innovation is actually pretty cool.
Furthermore, you can customize this for your copy trading aspect, so you stop if the copied portfolio turns out to be a bad investment and begins losing money. In this way, you don't have to hitch your proverbial horse to a bad wagon for too long.
The social aspect comes into play even deeper since you can see how experienced various investors are before you decide to mimic their trades.
How Easy is it to Open an eToro Account?
---
Opening an account with eToro is fairly easy, though there are a few scoops you need to jump through before you can begin.
You first sign up with the usual identification information, which can be obtained from regular documents or IDs. You can verify your account with a phone number, proof of address, and so on.
After being verified, you can immediately start trading using eToro.
eToro AUS Capital Ltd ACN 612 791 803 AFSL 491139. OTC Derivatives are speculative and leveraged. Capital is at risk. See PDS
Depositing funds to begin trading with your eToro takes place using electronic transfer methods. Most people end up making a bank account to their online eToro profile, but you can also use a domestic wire transfer instead. eToro may expand to additional funding options in the future.
Linking your bank account takes place through a third-party provider called Plaid. This is fairly secure so you should need to worry about your personal information or funds being hijacked by another person.
The minimum account investment for online banking is $50 for the first deposit and any additional deposits in the future. Wire transfer minimums are $500. Finally, you should also be aware that you can add up to $10,000 maximum to your eToro in a single day.
When it comes to withdrawing, you can immediately withdraw whatever is in your account to your linked bank account. This may only take a couple of business days, and you can withdraw any amount of $50 or more so long as you have the funds available.
What Markets are Available with eToro?
---
eToro is definitely a great trading platform because of the plethora of available markets you can choose from.
In total, eToro provides access to:
Stock market
Forex
Indices
Commodities
Cryptocurrencies
As you can see, a big strength of eToro is certainly its market availability and variety. Many other subpar trading platforms only give you access to the typical stock market selections. eToro is likely only going to get better as they've recently been allowed into the United States markets, so their selection should increase over the next 5 years or so.
Related: Best Forex Trading Platforms
What are the Spreads and Fees of eToro?
---
While many trading platforms automatically charge commissions or broker fees, eToro does not under any circumstance regardless of the asset you decide to trade. They have a different payment method, charging holy on foreign-exchange spreads.
Spreads, in this sense, are differences in price at the time of the trade taking place. So they make a small fee for profit every time you make a trade regardless of the details. However, this does mean that eToro doesn't have particularly low spreads compared to other trading platforms that follow this payment method.
Foreign-exchange spreads can easily be 1 pip or point for AUD to US dollars, for instance. But they can also be as high as 50 points for various exotic currency pairings or spreads.
Furthermore, eToro requires its users to trade in USDs. This means that the Australians will need to convert their currency before they can fund their trading decisions or withdraw from their account. This is a bit of a downer for any Australian customers, as it's another step before they can get their money and jump into the action.
They also have to suffer through the conversion rate for AUD to USD withdrawals, which is about 100 pips. Then there's a US $5 fee on top of all that.
Finally, eToro does charge and inactivity fee if you don't log into your account within 12 months. This is pretty standard across the trading platform industry, but eToro only charges US$10 per month until you don't have any remaining funds in your account. So their fee is expected, but a bit lower than average.
All in all, eToro can be affordable but we would hesitate to call them affordable for everyone right off the bat. It all depends on the types of trade you make and how often you make withdrawals from your account. You can theoretically circumvent a lot of the fees from converting your Australian dollars to US dollars if you only withdraw from your account seldomly.
At the same time, eToro isn't super expensive, particularly since they don't charge commission. This point, in particular, is likely to make them popular among beginners who don't have big lump sums with which to trade.
Customer Support
---
eToro has a dedicated help section on its website that you can peruse if you need any help understanding the technical parts of your profile.
Furthermore, they offer live chat services 24/5 due to their international availability. Their customer service specialists are generally kind and knowledgeable and may be able to help you learn the ropes of your trading portfolio, though of course, they can't advise you on any trades.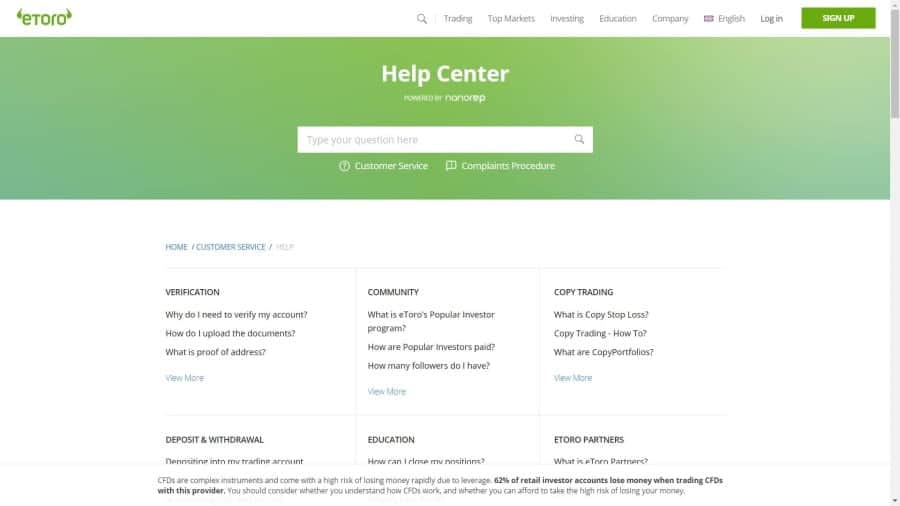 We mentioned before that eToro provides lots of educational materials. These are primarily found through the eToro Trading Academy, which does come with lots of resources you can use the better your trading expertise.
E-courses, webinars, and trading tips are among the things offered here.
Notably, eToro doesn't offer any phone service for its customers. This may be because of the difficulty in handling vocal conversations with a variety of customers across multiple different languages. In any event, a live chat service proved to be more than enough for more of our needs.
eToro Summary
---
All in all, eToro is an innovative and effective trading platform. They don't charge a lot of fees upfront, which means you can get started without having to deal with tons of ongoing costs.
But their value lies in their excellent desktop and mobile applications and special features, like the mirror trading feature.
eToro AUS Capital Ltd ACN 612 791 803 AFSL 491139. OTC Derivatives are speculative and leveraged. Capital is at risk. See PDS
Disclaimer: eToro AUS Capital Ltd ACN 612 791 803 AFSL 491139. eToro offers both real crypto assets as well as crypto assets as OTC Derivatives.
Real crypto assets are unregulated & highly speculative. Being unregulated, there is no consumer
protection. Your capital is at risk.
Leveraged positions and short positions are OTC Derivatives, which are regulated financial products. OTC Derivatives are considered risky financial products, speculative and include leverage. Not suitable for all investors. Capital at risk. See PDS and TMD.
---
You Might Also Like: