Disclosure: Privacy Australia is community-supported. We may earn a commission when you buy a VPN through one of our links. Learn more.
Hotspot Shield Review: A Fast VPN With Security & Privacy Issues
This company suffers from an embarrassing amount of leakage. DNS leakage that is. If online privacy is low on your priority list, this might not be a problem.
If the thought of your online private data – including financial transactions, internet search history, emails, and more.
Being stolen makes your stomach queasy, it might be time for a virtual private network (VPN).

There are about a hundred trillion services to choose from and we're reviewing them all, one at a time.
Our Hotspot Shield review will show you whether or not this virtual private network, used by more than 600 million people around the globe, can help you take control of your privacy and protect your identity.
Overview
---
AnchorFree's Hotspot Shield is a widely used VPN service that offers a free account as well as a paid service.

| Features | Information |
| --- | --- |
| Usability: | Easy to use |
| Logging Policy: | No logging policy |
| Server Size: | 3200+ servers |
| Server Distribution: | 80+ countries |
| Support: | 24/7 Live Chat and Emails |
| Torrenting: | Allowed |
| Streaming: | Very limited |
| VPN protocol and encryption: | Catapult Hydra protocol / AES 128-bit and AES 256-bit encryption |
| Headquarters: | USA |
| Price: | From $2.99/month |
| Official Website: | https://hotspotshield.com |
Features Available with Premium Subscription:
Servers in 80+ countries
45-day money-back guarantee
Kill switch
Wi-Fi protection auto connect
IPv6 and web real-time communication
Connect five devices simultaneously
Ad Blocker, cookie blocker, tracker blocker
Split tunneling
Enhanced transport protocol technology
Peer-to-peer connections permitted
Unlimited data and unlimited bandwidth with a Premium subscription
Multiple languages available
Pros of Hotspot Shield:
Fast download speeds
Low price
Seven day free trial
Cons of Hotspot Shield:
Limited server locations
Limited configuration options
Inability to connect to streaming services like Netflix and Hulu from outside of the United States
Can Hotspot Shield Be Trusted?
---
HotSpot Shield prides itself on offering users privacy, anonymity, and trust. However, there are a number of areas of concern that may cause an individual who is sincere about security to think twice before using this service.
When signing up for the service, Hotspot Shield requests an email address and a password. This is standard fare for the majority of VPN services. Hotspot Shield allows users to input weak passwords and does not prompt users to use more secure passwords.
A verification is sent to your email address to confirm that you are the owner of the email address prior to granting you access to the Hotspot Shield dashboard.
Hotspot Shield accepts payment by credit card as well as PayPal. There is no ability to make anonymous payments or semi-anonymous payments using cash or cryptocurrencies like Bitcoin.

Hotspot Shield's privacy policy says that they will not store your IP address long-term. However, they do collect data about the websites you visit and the apps you use. AnchorFree, the parent company behind Hotspot Shield, says that this information is collected only for analytic and troubleshooting purposes.
They state that the information they collect is not used to identify you. This may be good enough for some users. However, if you are privacy-conscious, Hotspot Shield may not be the right option for you.
Hotspot Shield will gather information such as the OS version you are using, the browser you are using, information on your mobile network, as well as the hardware that you are using. Hotspot Shield says that this information is never associated with you and is only used for analytic purposes.
Individuals who use the free version run the risk of their personal information being leaked to advertisers. The Premium version of Hotspot Shield does not run this risk. However, it's good to keep this in mind, especially if you're using the ad supported service and want to maintain your privacy.
The Center for Democracy and Technology filed a complaint with the FTC, stating that Hotspot Shield, contrary to their promises, collects user data. They do this by actively injecting JavaScript code for advertising. They then intercept traffic and redirect users to specific e-commerce sites.
After reviewing Hotspot Shield's privacy policy and looking at their history, you will have to determine if the level of security they offer is enough for you to trust them. If your primary concern is encrypting your browsing so that you can surf safely regardless of where you are, then Hotspot Shield is the right answer for you.
Where Are Hotspot Shield Servers Located?
---
Hotspot Shield has more than 3,200+ servers in 80+ countries in Americas, Europe, Asia Pacific, Middle East and Africa. The availability of VPN server locations may vary depending on the device (platform) you are using.
The Hotspot Shield Premium service is a reliable and fast service. It gives users the ability to access a number of well encrypted IP addresses. The service does a good job at hiding the data that's being transmitted.
Hotspot Shield has multiple servers in the United States. However, the location of the servers and the IP address are not provided by the service.
Hotspot Shield Premium members are promised unlimited bandwidth, however, they may experience limitations because of the rules of their ISP.
You should remember that the speed of your Internet service when using Hotspot Shield is determined in part by the actual location of your Internet service.
Is Hotspot Shield Easy to Use?
---
Hotspot Shield has designed their services to be straightforward and easy to use. You can change your location with just a click of a button, and you can connect to the system and change your location as needed. The system clearly shows when you are protected and when you are not.

Once you connect, you will see a screen that shows your time, bandwidth, virtual IP address, and current location. which you can change.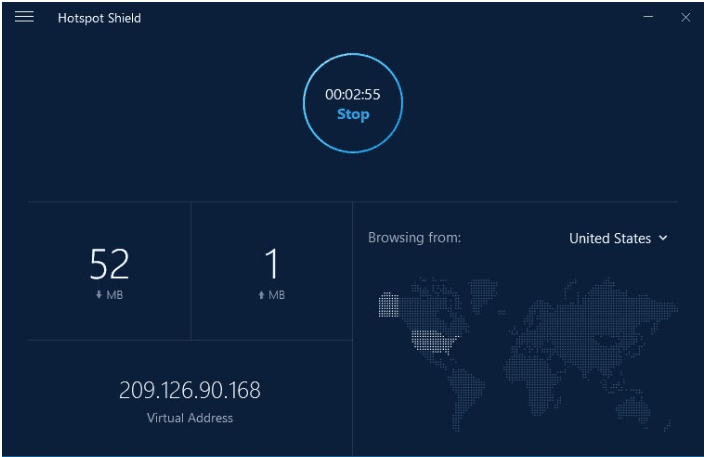 When you look in the top left corner, you will see the collapsible menu. When you click on this menu, there are just a few items to select. You can tweak how the application works.
For example, you can select whether you want the application to launch automatically when you start your OS, if you wish to enable a kill switch, or if you want to enable or disable IP leak.
Hotspot Shield Deployees:
128-bit AES encryption
256-bit AES encryption
Catapult Hydra proprietary protocol for data compression
How Fast Is Hotspot Shield?
---
AV – Test conducted an independent study where it evaluated the security, speed, and performance of the VPN and compared Hotspot Shield Premium to the competition.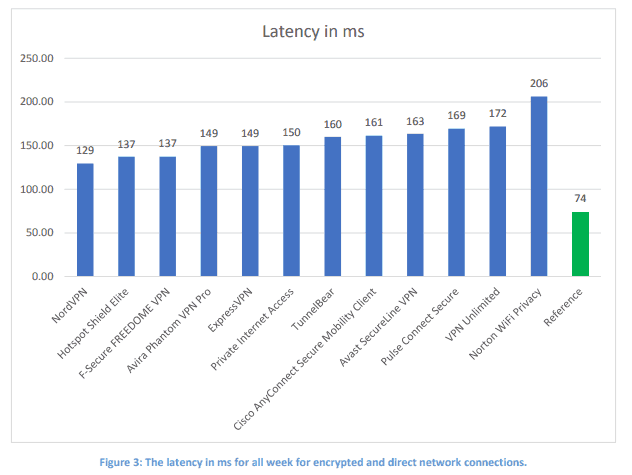 The test examined the latency of different VPN services. Latency is the amount of time it takes a data package to reach the server. Obviously, the farther away the user and the server are from each other, the higher the latency. The lower the latency, the faster the connection and the faster the perceived connection.
The above graph lays out the average latency per week for the different VPNs. Since SSL encrypted and non-SSL encrypted connections did not show a big difference in latency, the averages were combined, providing the overall result.
To create equal test cases for all the products, the VPN servers were manually chosen to be the same in all products. The West Coast was selected for VPNs in the United States, and the UK was selected for VPNs in the EU. Different factors were considered in this test.
For example, they would have an EU user connect to another EU user via a US based VPN server. This meant that the connection would have to cross the Atlantic twice.
As you can see, it took the fastest VPN almost twice as long to reach the designated server as the reference, which was not connected to a VPN. Hotspot Shield Premium came in at a close second, making it one of the fastest VPN services available.
Stream Speed
The same study showed that Hotspot Shield Premium has a good transfer rate. This makes it a good option for individuals looking to enjoy clear, fluid streaming. When you look at the stream speed in kilobytes per second, you will notice that Hotspot Shield Premium is only slightly slower than the reference speed, which was not connected to a VPN.
Torrent Speed
A popular use of VPNs is hiding one's identity when using peer-to-peer services. There are a number reasons for doing this. Some Internet service providers will limit the torrent protocol or block it altogether.
Others may worry that they will get notices because of violating intellectual property right holder laws. It can be challenging to torrent and have a decent download speed. Read our VPNs for torrenting.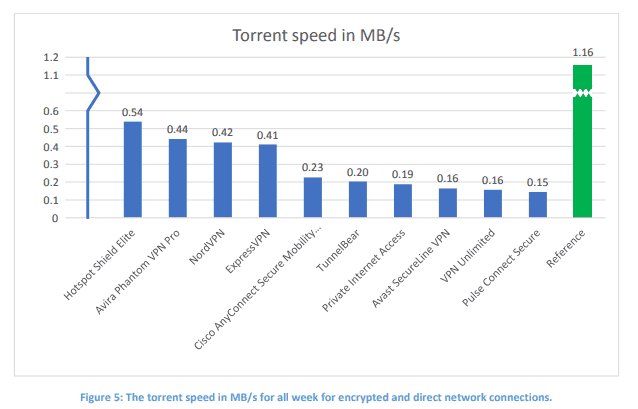 As the above graph shows, Hotspot Shield Premium is approximately 20 percent faster than the next group of products.
Downlink
The download speed has a direct impact on how fast content goes from the Internet to your device. This is the most important factor when determining how well a VPN performs. It directly influences how fast you will be able to open webpages, download content, etc.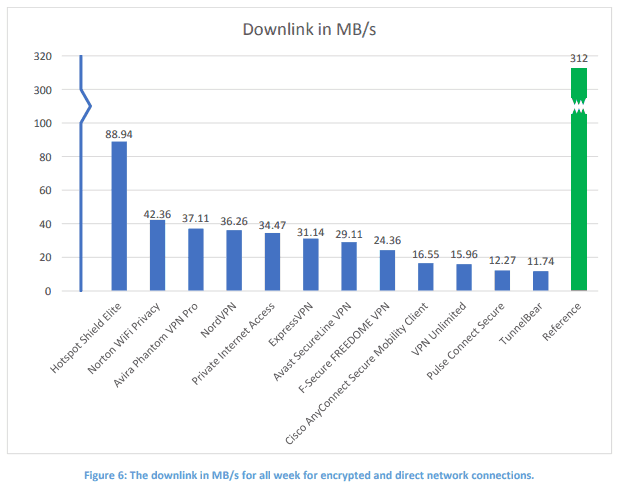 As you can clearly see in the graph, the connection tests that were run with Hotspot Shield Premium ranked as the best VPN with a speed that was approximately one third slower than the reference, which did not have a VPN attached to it.
Uplink
Uplink speed is the speed that data is sent from the user to the servers to be placed on the Internet. This speed will determine how fast you can access cloud services, upload backups or host servers, or share the information you want post on social media.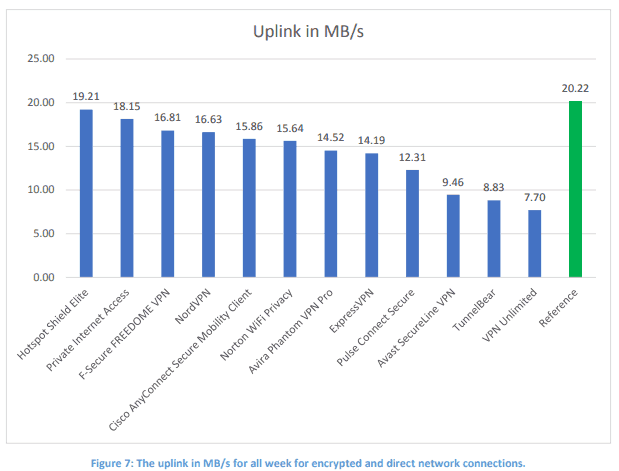 Does Hotspot Shield Work with Netflix?
---
One of the primary reasons why people look for VPNs, especially if they live outside of the United States or Great Britain, is to get access to premium streaming like Netflix. learn more about the best VPNs for Netflix.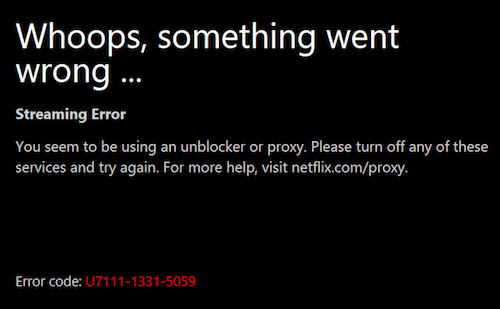 We tested Hotspot Shield and were unable to connect to Netflix. We got the dreaded Netflix proxy error screen multiple times.
This means that Netflix was able to detect our VPN and prevented us from accessing their service.
Pricing
---
Hotspot Shield offers a number of pricing options, starting with their month by month plan that costs $12.99 per month, going all the way up to their three-year plan that costs $2.99 per month. This makes Hotspot Shield one of the more expensive VPNs on the market.
The only difference between what you get for each plan is the length of time you can use Hotspot Shield's VPN. Below is the most recent breakdown of their pricing.
Their pricing is pretty straightforward. There are no hidden fees, you are able to access the VPN moments after paying for it, and there is no attempt to upsell you.
Additionally, if you're not satisfied with the service during the first seven days, you can easily cancel for free. If before 45 days you are not satisfied with the service, they will fully refund your money. There's no questions asked. They make getting a refund for their customers easy.
Customer Service
---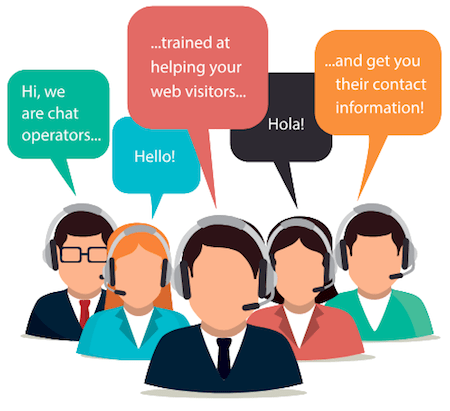 For us, this is one area where Hotspot Shield has definitely improved with time. Not too long ago, the only option available for placing a complaint was via a support ticket.
Hotspot Shield had a questionable reputation when it came to the speed and efficiency with which they responded to the support tickets.
Now, they have a live chat. We used it multiple times to ask a variety of questions, and we received an answer to our questions within a few seconds of placing the questions. The answers were honest, direct, and to the point.
In addition to their live chat, Hotspot Shield has a host of informative blogs, articles, and FAQs designed to instruct users on the best use of their product.
Is Hotspot Shield Worth the Money?
---
Possibly. As you see in our reviews, they offer extremely fast speeds, a streamlined and clear-cut user experience, and a number of features. That being said, if your primary reason for purchasing a VPN is to protect your privacy while navigating the web, this company may not be the right option for you.
There have been a number of questionable activities involving this company and their ability or desire to protect the privacy of their clients.
They are logging information, and their privacy policy is left intentionally ambiguous, which makes us further question their commitment to their client's privacy.

Hotspot Shield will hide your IP address. However, it does suffer from DNS leaks, which could potentially put your privacy at risk. It is a decent option with tons of potential. However, there are other options that are the same price or cheaper (think NordVPN) that we feel better fit the bill.
We rate Hotspot Shield three out of five stars.
---
You May Also Like: