Disclosure: Privacy Australia is community-supported. We may earn a commission when you buy a VPN through one of our links. Learn more.
Best Wireless Doorbell Cameras in Australia (2023)
Video doorbells are one of the many technologies that have been evolving year after year. Incorporating some of today's most advanced technologies, some companies have released smart video doorbells with features that you have to see to believe.
Because companies all around are following trends and releasing their own versions, we decided to round up our picks and show you what they're all about. Below, you'll find details about our best video doorbells for 2023 and some guidance on picking the perfect doorbell for you.
Table of Contents:
Top 10 Smart Wireless Doorbell Cameras
---
1. GEREE Smart Video Doorbell (Best Choice)
---
Notable Features
166° wide view
Memory card and cloud storage
Upgraded 1080p real-time view
Smart motion detection
Weatherproof
Enhanced IR sensor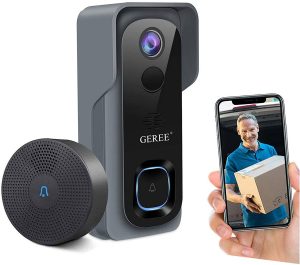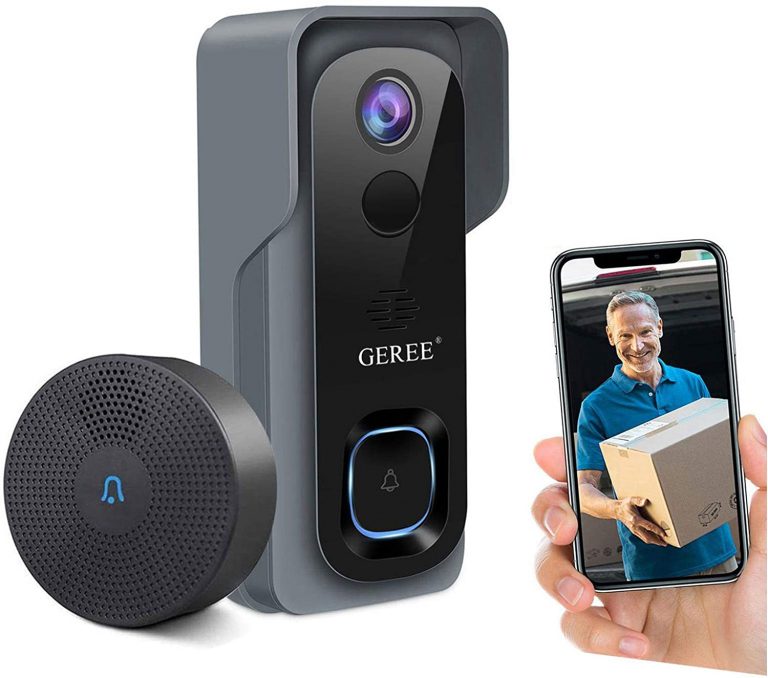 Why We Picked It
You won't have to worry about powering up this gadget day after day. The rechargeable battery keeps it working for months plus, there are two, so you don't have any lapse in your protection. Apart from a solid battery life, this video doorbell from GEREE comes with a set of amazing, advanced features, most of which help to set it apart from all the others.
From innovative IR sensors and smart motion detection, you'll have a convenient tool that will keep your home safe and give you the technology you need to check in any time day or night.
Pros:
Smart motion sensors to void false alerts
Automatic alerts are sent to your phone when motion is detected
Two rechargeable batteries
A clear picture at all times with IR sensors that detect light
Storage options include micro-SD card and the cloud
Simple installation with tools included
App compatible with both iOS and Android devices
Cons:
Cloud storage is only free for 7-days and comes with a fee thereafter
2. ZUMIMALL Wi-Fi Video Doorbell
---
Notable Features
Built-in rechargeable battery
Secure Wi-Fi
Two-way audio with high-quality sound
Full HD 1080p
166° wide view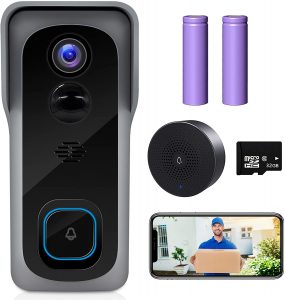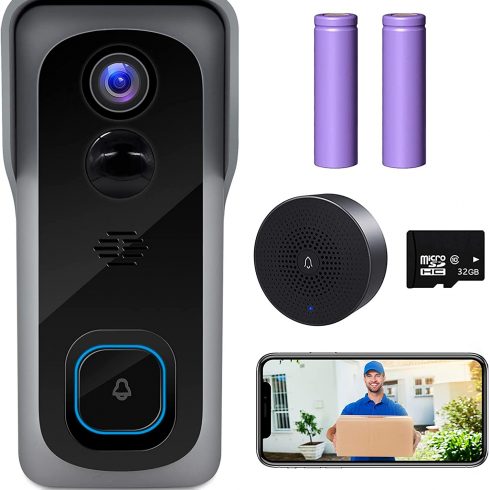 Why We Picked It
The battery life on this thing will last at least 90-days, giving you the security, you need without all the maintenance. Video streams in crisp and clean, and alerts come right to your phone. Once alerted, you can speak to anyone who is at your door, greeting them if you know them or attempting to scare them off if you don't.
It comes with a secure connection that keeps all info encrypted while connected to Wi-Fi. Though it's got an extra layer of protection, make sure that you secure your passwords.
Pros:
Clear video with night vision
Encrypted storage to keep your data safe
Super simple installation
It's weather-resistant
No monthly service fees
Cons:
The motion detector is really sensitive, which could trigger false alarms that get sent to you throughout the day
3. Wyze Video Doorbell
---
Notable Features
Full 1080p HD video with 3:4 aspect ratio
Motion-activated light
Cloud storage of recorded video
Real-time alerts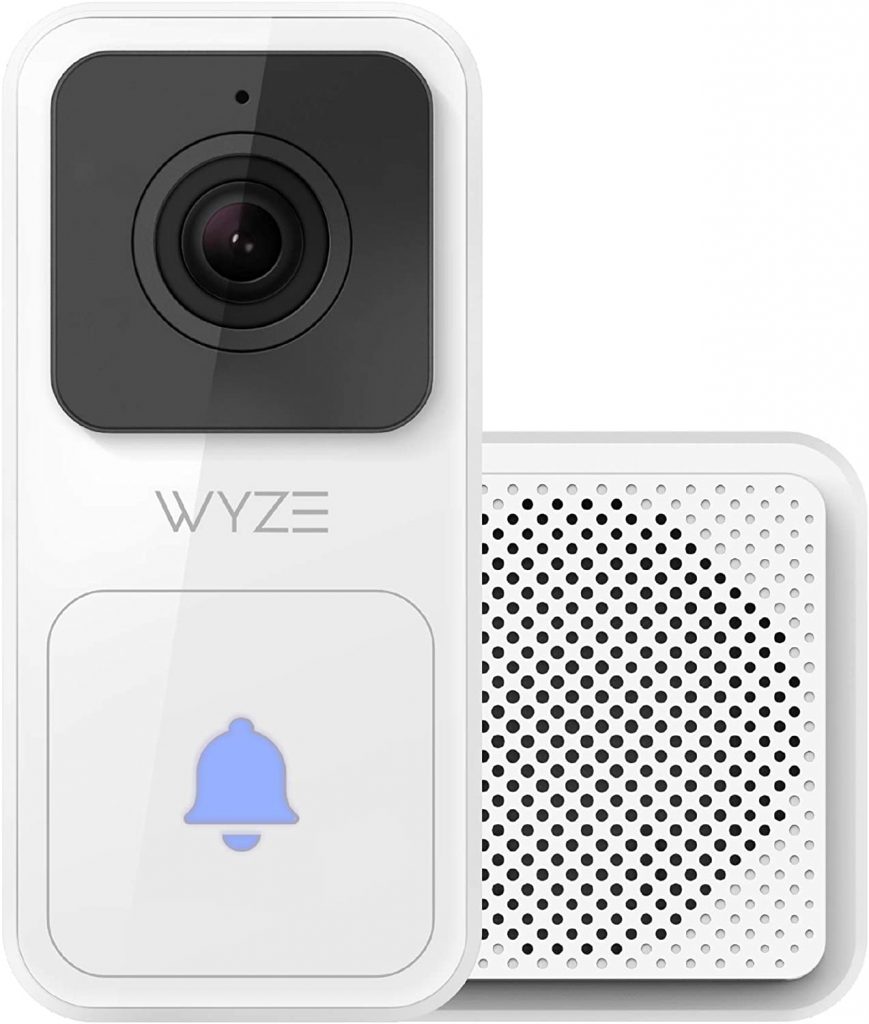 Why We Picked It
Wyze is known for its quality, creating some of today's most innovative home security devices. With this video doorbell, they did it again, creating a gadget that's perfect for protecting the home.
While it isn't equipped as heavily as other video doorbells on the market, it still comes with just enough to give you a heads-up when someone is at your door and comes with optional upgrades to get more protection if you feel like you need it.
Pros:
Live stream video when the doorbell is pressed
Motion-activated light to prevent unknown visitors
Incorporated chime to act as a traditional doorbell
Resistant to all weather including heat and cold
Cons:
Additional features are only part of the upgrade, which comes with a monthly fee
Lacking a few features like a two-way microphone
4. SSYING Video Doorbell
---
Notable Features
Two-way audio
IR sensor and LED for night vision
1-year warranty
2.4GHz of Wi-Fi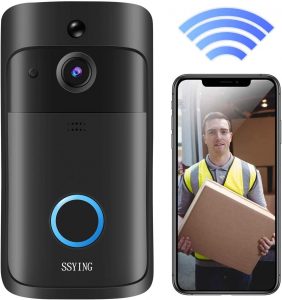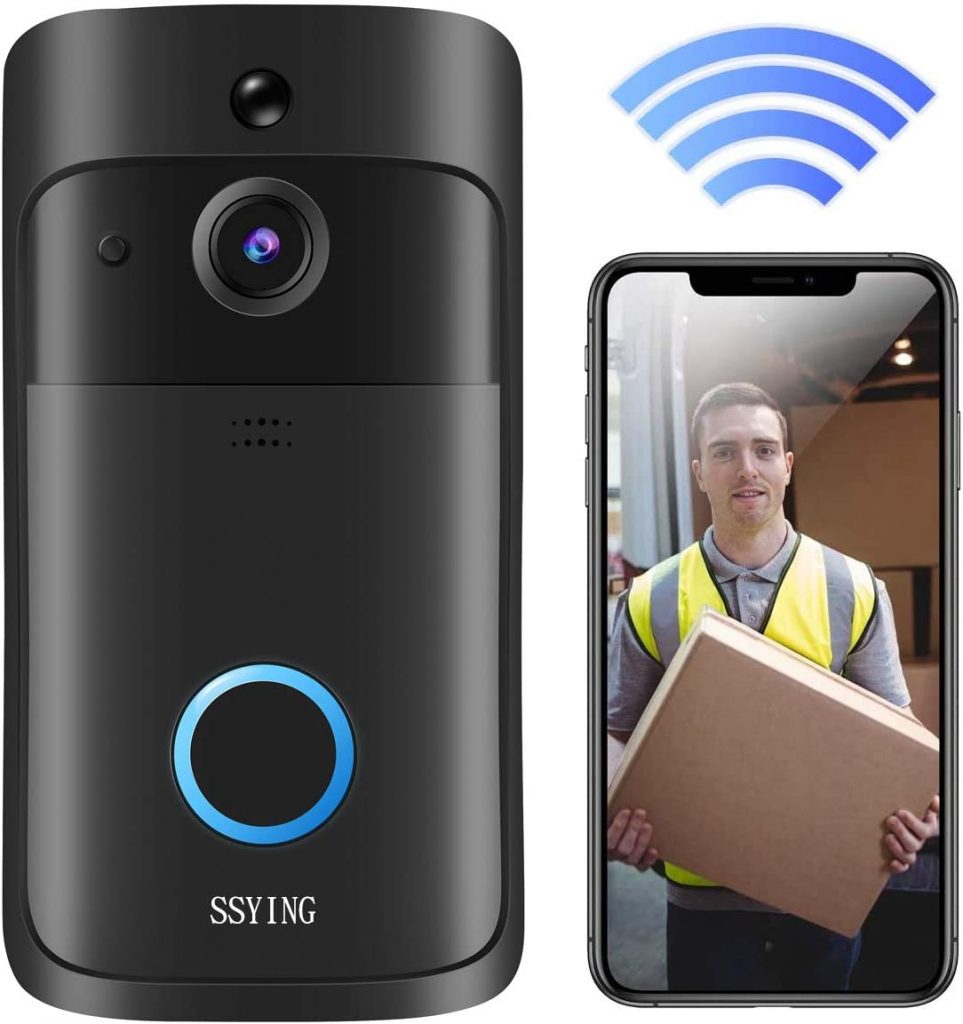 Why We Picked It
The second that someone steps up to your door, you'll get a notification. From there, you can say hello or warn someone if they don't belong there. Enjoy a clear video day and night, and playback previously recorded videos if you need to check up on activity while you were away.
It comes equipped with a Wi-Fi connection, though you should try and connect with a secure VPN to keep your information safe. When you purchase this video doorbell from SSYING, you'll get a 1-year warranty and access to customer care as long as you need it.
Pros:
Automatic SD storage
Motion detection that sends notifications to your phone
Two-way audio to relay messages or ward off intruders
Wi-Fi with a strong signal
Cons:
Battery operated and it's not rechargeable
5. Amcrest SmartHome Video Doorbell
---
Notable Features
140° wide view
Two-way audio with high-quality sound
Compatible with 16V to 24V doorbell wiring
Full 1920x1080p HD resolution
2.4GHz Wi-Fi connection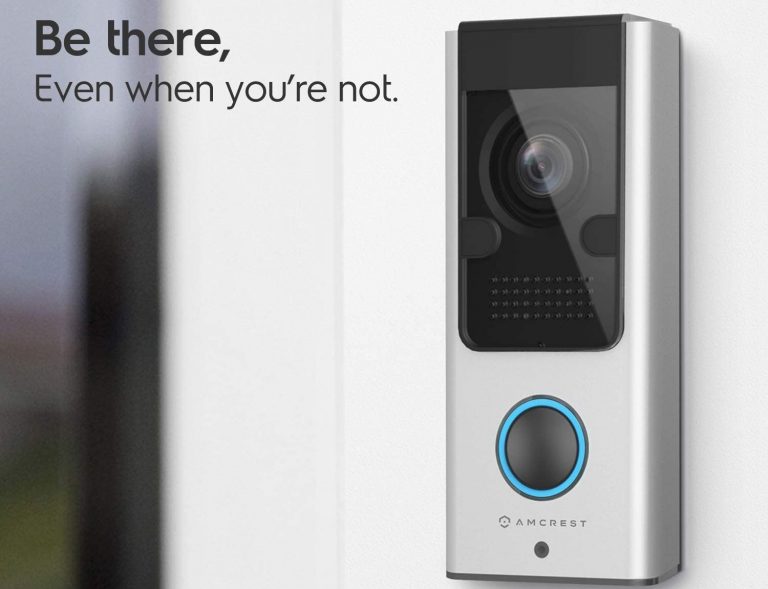 Why We Picked It
This powerhouse of a doorbell is not battery powered and features a ton of advanced features without the high-tech price. It works with 2.4GHz for Wi-Fi connection, sending you notifications when motion is detected. Notifications are sent to phone and/or email, so make sure you secure your email before using your security system.
Enjoy clear visibility in all recorded videos both day and night and storage of previously recorded videos for reference when you need it.
Pros:
Night vision offers 16ft of visibility in the dark
Amcrest home app makes life easy
Get alerts to your phone when motion is detected
Access all previously recorded video from the SD card
High-quality audio makes communicating with visitors simple
Cons:
Wi-Fi is not supported by 5GHz networks
Limited compatibility with other devices
6. Arlo Essential Video Doorbell
---
Notable Features
180° viewing angle
Clear two-way audio
HD with HDR video
Optional pre-recorded messages
Hardwire option for doorbell compatibility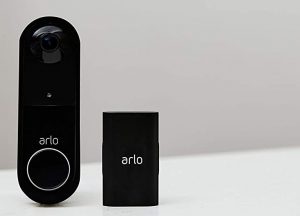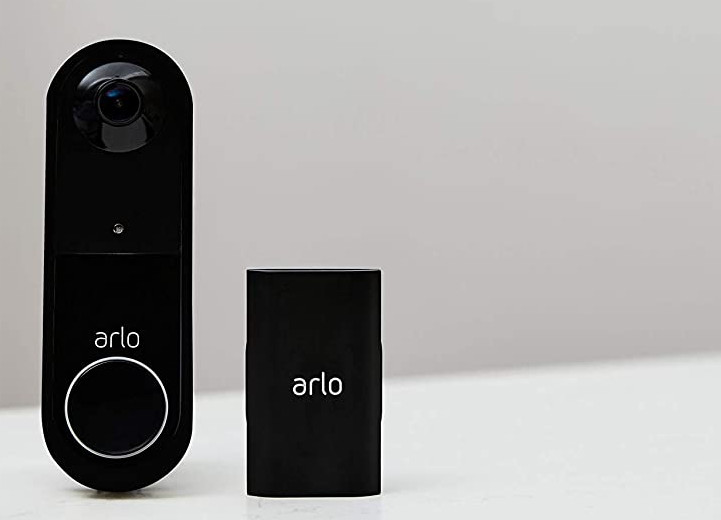 Why We Picked It
When motion is detected, you'll get a notification right to your phone, so you can take action. Speak to visitors through the two-way audio system, or notify authorities if you suspect someone is attempting to break in.
Enjoy a built-in siren to ward off intruders and enhanced night vision to see details even when it's pitch black. Attach the Arlo video doorbell to your home and keep the chime, using it when you're home and on the go-to know when someone is on your doorstep.
Pros:
HD with HDR picture shows all of the smallest details
Get automatic real-time alerts when motion is detected
Enjoy enhanced night vision
Enjoy connection with Wi-Fi and skip all the complicated setup
Cons:
Doesn't record events to view at a later time
7. Morecam Wireless Video Doorbell
---
Notable Features
Full HD 1080p video
Two-way audio
Night vision with 32ft visibility
166° wide view
128G micro-SD
High-quality two-way audio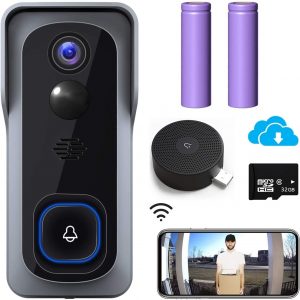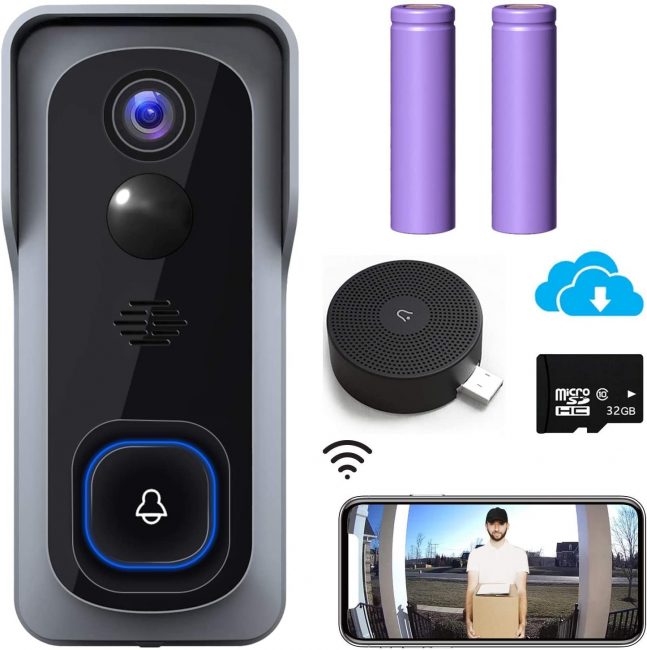 Why We Picked It
In just 5 minutes, you can have the Morecam wireless video doorbell out of the box and connected to your home. There are no wires involved, and you can enjoy a stable 2.4GHz Wi-Fi connection to use some of the more advanced features.
Stream live video anytime you want to see what's going on in your home and get notifications if motion is detected. The video is clear and the audio too, allowing you to talk to visitors or warn those who don't belong on your property. All previously recorded video is stored on a micro-SD card or, if you choose, goes directly to the cloud.
Pros:
Zero monthly fees for advanced protection
Built-in IR lights for more intense night vision
Push notifications when motion is detected
100% wireless with built-in rechargeable battery
Store to micro-SD or the cloud for access to previously recorded video
Cons:
Doesn't support 5GHz Wi-Fi
8. MYPIN Wi-Fi Video Doorbell
---
Notable Features
720p HD video
166° wide view
1.7 mm lens
Visibility up to 66ft
Two-way audio
Smart motion detection
1-year warranty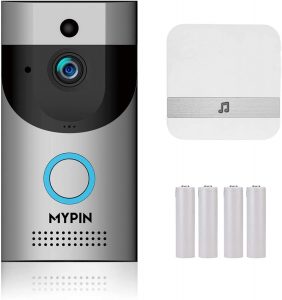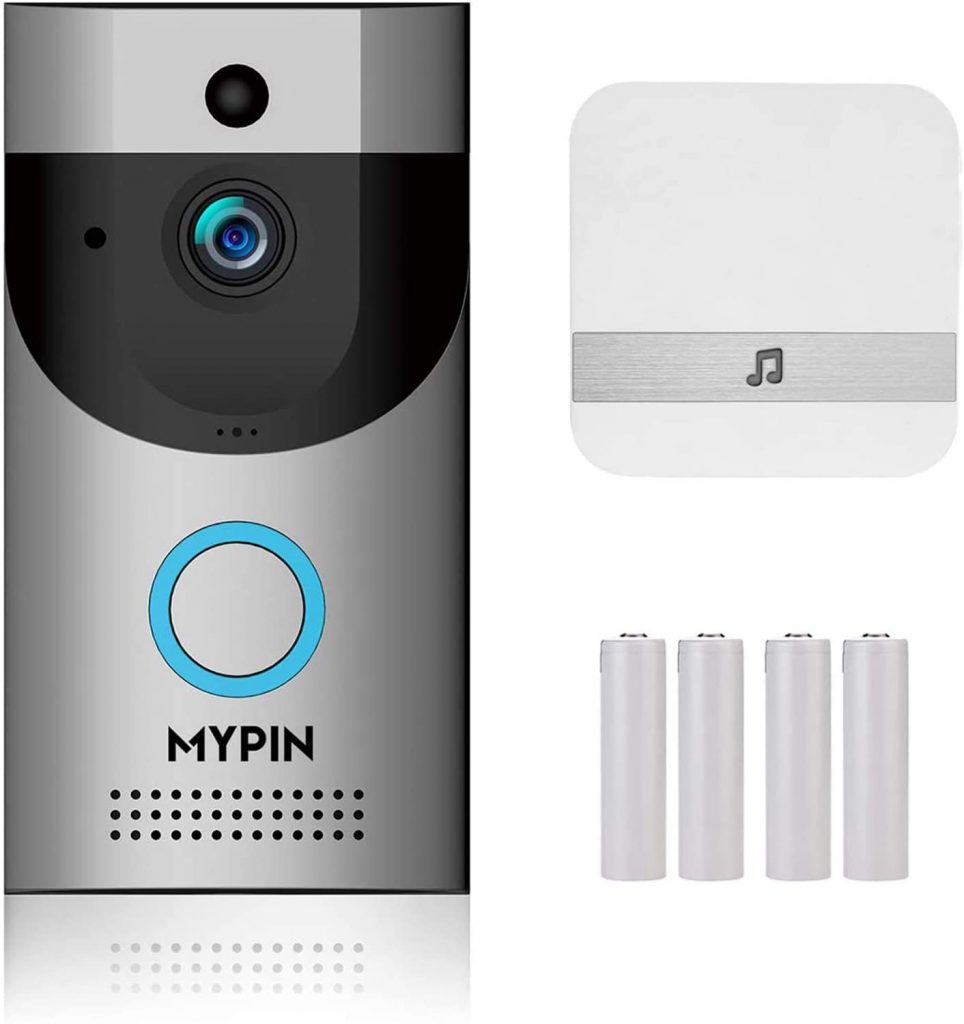 Why We Picked It
The audio on the MYPIN video doorbell is only one of the many advanced features, with noise-canceling speakers that make transmission loud and clear. Video records in full 720p HD and reaches up to 66ft. Setup is simple and pairing your alarm with the app on your mobile device is a piece of cake.
The video doorbell features a waterproof design that can withstand sunshine and heat, or whatever the day decides to throw its way. The smart design will alert you when activity is picked up around your home, and previously recorded video will save to a micro-SD card.
Pros:
Water and weatherproof design that's perfect for outdoor use
720p HD picture with 1.7 mm lens
Wide view to catch your front door and beyond
Smart detection that eliminates false alarms
Infrared night vision to record, even in the dark
Cons:
Wi-Fi not compatible with 5GHz
Compatible with Android devices
9. WUUK Doorbell
---
Notable Features
1080p high-quality video
162° wide view
2.4 GHz Wi-Fi
Lifetime tech support
4:3 aspect ratio
AI facial recognition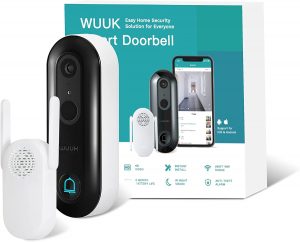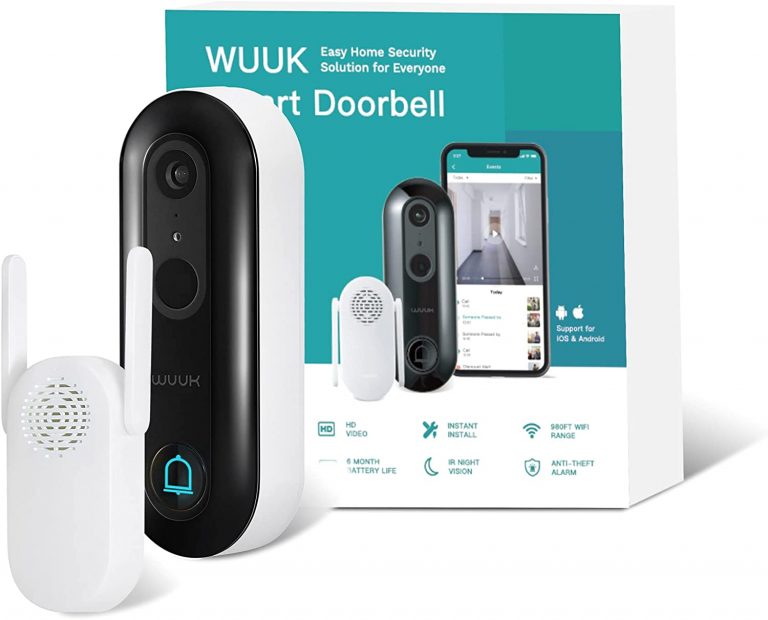 Why We Picked It
The 4:3 aspect ratio provides a full top to bottom view of anyone who steps up to your door. The doorbell video from WUUK features advanced facial recognition and IR night vision that's great for low to no light. Choose your setup, with options to use the 3M tape, screws, or connect it with wires of your doorbell.
It's compatible with both iOS and Android, both platforms coming with an app that will allow you to stream live video or use two-way audio to communicate with whoever is at your door. When you purchase this video doorbell, you'll get tech support, a 30-day money-back guarantee, and even a one-year warranty just in case anything happens.
Pros:
Pick your installation
Compatible with Alexa, iOS, and Android
Enjoy a wide view that captures video from head to toe
Save video to micro-SD card
Simple installation that sets up in minutes right out of the box
All of the advanced features without the advanced price
Cons:
Battery life is not the longest, though you can opt to add wires to do away with frequent charging
10. Netatmo Smart Video Doorbell
---
Notable Features
Full HD 1080p video
140° diagonal view
Two-way audio with high-quality sound
Infrared LED night vision
Real-time alerts when motion is detected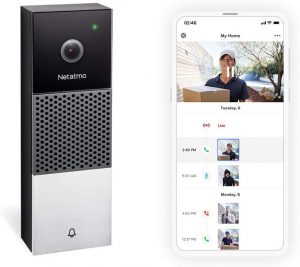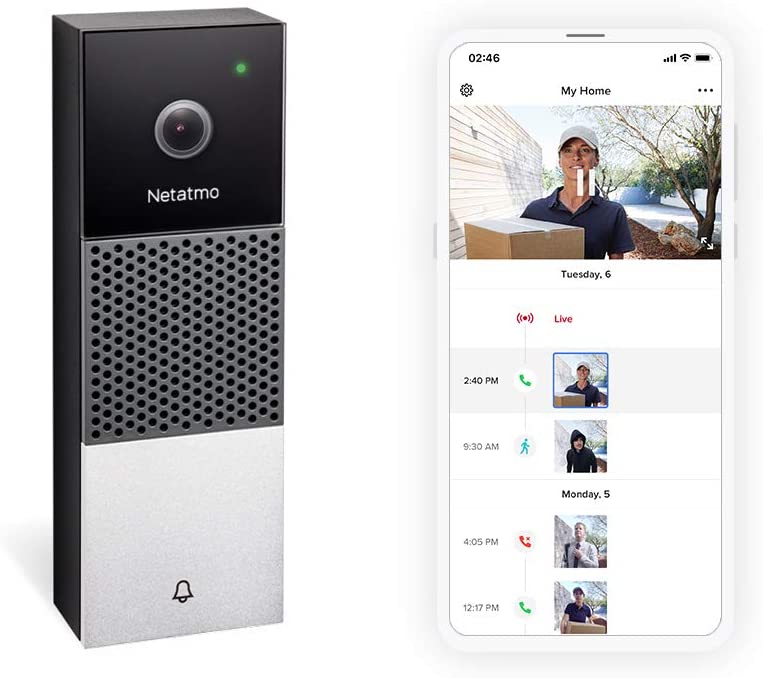 Why We Picked It
Even when you're not at home, you'll never miss a thing with this video doorbell from Netatmo. It provides a clear picture and comes with a 5X zoom in case you need to move in closer. Get alerts straight to your phone when someone is at the door and, if necessary, speak to them over the two-way speakers.
Even with all of the advanced features, you won't have to pay a subscription fee, and you can score free video storage that's secured locally.
Pros:
Easy installation
Zero subscription fees
Real-time alerts directly to your phone
Compatible with Apple Home kit
Cons:
Connecting to mobile devices is a bit of a hassle
Key Features You Don't Want to Miss Out on
---
When selecting a video doorbell, there are some features that you don't want to do without. Advanced features are the reason why one doorbell is better than the other, which is why, before you buy, you should check for these top innovative features.
High-Def Resolution
The 21st century is going on 22, which leaves no excuse for bland video. Today's hottest video doorbells come with high resolution, providing a crisp picture that mimics real life. When on the hunt for your perfect video doorbell, don't settle for anything less than 1080p, the highest resolution for doorbell videos on the market.
Killer Night Vision
A lot of criminals target homes at night when it's more difficult for them to be seen. When you have a smart video doorbell, your camera can pick up on everything, even if it's pitch-black outside. The most advanced video doorbells these days come with IR sensors that capture a clear picture, allowing you to identify features of anyone lurking closely.
Field of View
Doorbell cameras have limits to what they can record, some of them covering less area than others. That's why when searching for your perfect security camera, you should look for one with a wide view. A field of view of 90° will only provide video of what's right in front of the camera, leaving a few blind spots along the way. Go for one that has an extended, wide view, capturing more of what's happening around your home for extended protection.
Smart Motion Detection
The last thing you want during a busy day is a bunch of alerts that turn out to be false alarms. With smart motion detection, you can enjoy security without dealing with all the other things that could happen like pets, wind-blown objects, and passing vehicles. The smart motion detection picks up on movements that mimic human activity, alerting you when someone is at your door, not just something. This could save you from tons of false alarms disturbing your busy day.
Power
Instead of having wires going here and there, the newest and most innovative video doorbells out there have wireless options. Some operate with batteries while others are hardwired right into your existing doorbell. The best option for you depends on a few things, including whether or not you're okay with charging up your battery when it dies. Try and go for a video doorbell with rechargeable batteries that last, made with high-quality materials like lithium-ion.
Communication
Old doorbells that just chime when someone is there are so outdated and don't do much to secure your home. That's why new and improve smart video doorbells provide a way to communicate where you can leave further instructions for deliveries or attempt to ward off trespassers by letting them know that you are watching.
Storage
Video footage has no place in this century for a cassette tape or hard disk. The most advanced options of today are micro-SD cards and the infamous cloud, both of them offering tons of space and safe storage. While the cloud usually has more space and can keep more video, it typically comes with a cost, something more to consider. Whichever you choose, secure your passwords to keep your connection safe.
An App
Apps make life easier. When you find a video doorbell with an app, that's a sign that you're on the right track. With apps, you can stream live video, communicate, and even execute many other features, like sounding alarms and switching on lights.
Smart Camera Doorbell Guide: The Dos and Don'ts
---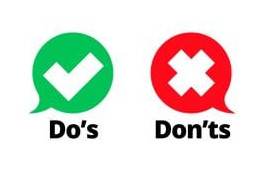 Video doorbells are one of the newest and hottest accessories on the market when it comes to protection for the home. While it might seem like something that you could make use out of, there are a few things to consider before adding it to your home security setup. We dug deep to create this guide, putting together a list of all the things you need to know before you buy one for your home.
Do: Consider Ownership Status
Owning and renting are two different ballgames. Still, when it comes to protecting the place you live, one thing is certain; it has to be done. Before you purchase a video doorbell for your home, make sure that you consider your ownership, taking a few key things into account.
For Owners:
If you own your home, you have it easy when it comes to choosing a video doorbell. You can add the security of any kind to your home, including those that require drilling, rewiring, and more.
For Renters:
As a renter, you have to be careful what you do. Not only could it damage property, but it could void your deposit, both of which will not make you or your landlord happy. Consider having a convo with your landlord, making sure that you know what's okay and what's not.
Do: Consider Compatibility
The number one mistake that people make when it comes to purchasing video doorbells is buying too quickly. They read all of the features without reading the fine print, only to find out that their video doorbell is not compatible with their home or their mobile device. To get a better grip on what you can expect, take a look at the two types of video doorbells.
Wireless
Wireless video doorbells typically come with Wi-Fi and are battery-powered. These are the easiest to install and come ready to set up right out of the box, taking minutes to start streaming live video. Wireless doorbells also tend to be the most compatible, pairing with all kinds of mobile devices. Be sure to use safe browsers when connecting too, which will keep your info safe.
Hardwired
Hardwired is a solid option if you have a doorbell, though installation will take you a bit longer than you anticipate. When it comes to time to connect everything, you not only have to check compatibility with your mobile phone, but also with your current doorbell wiring.
Do: Automate
Automation makes life a breeze, letting technology take a load off of our shoulders and getting tasks done for us. One of the perks about video doorbells is that they tend to come with options to sync with your favorite automated technologies, including Alexa, Google Home, and more.
While it's cool to automate, before you do, check that the video doorbell you buy supports your home system. Also, see what options your video doorbell has on its own, using a mix of features from each to get the most out of your home security system.
Don't: Forget About Cost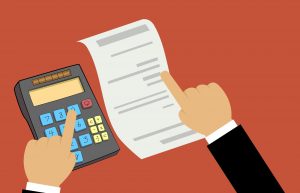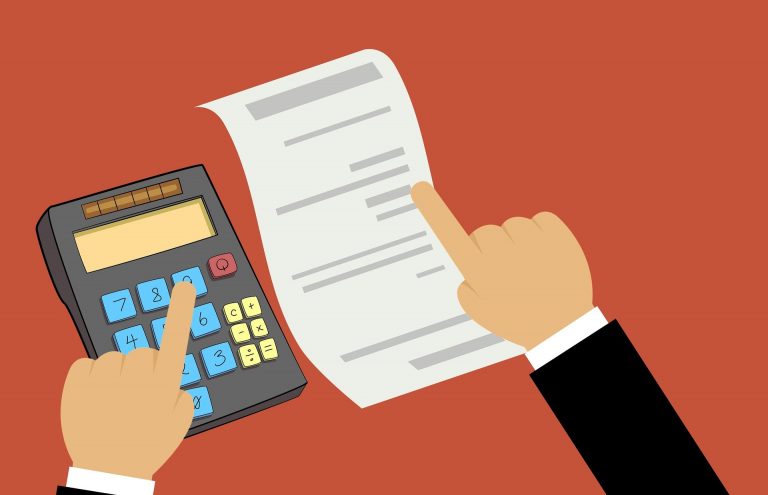 The cost of a video doorbell varies. It will depend on the features, the connections, the brand, and much more. While you might have a hefty budget set aside for your home's security, it's a good idea to set a budget and check prices before purchasing, just to be on the safe side.
Don't: Miss Out on Advanced Features
Doorbells of the past could not do what video doorbells can. Video doorbells of today are far more advanced, with advanced options that you might not want to miss out on. To get the most out of your doorbell, pick and choose from the most common features that you want to get the most out of your experience. A few features to dig into include:
Resolution (go for 1080p)
Mobile alerts
A solid warranty
Night vision
Motion detection
Weather resistance
Two-way audio
Storage
Don't: Void the Warranty with Installation
There are options out there for a video doorbell that comes ready for use right out of the box. These kinds of video doorbells will not take much to set up and will start working straight out of the box. On the other hand, there are video doorbells that require installation, most of them functioning as a traditional doorbell with video and advanced features. Before you buy, consider the installation.
DIY
DIY is all the craze these days. By following a YouTube video or a step-by-step instructional article, you can usually get the job done on your own, saving a few bucks. Most video doorbells that you can set up yourself come ready to go out of the box, leaving you to find the spot you want it and place the batteries in.
DIY is a good option for video doorbells that come ready to set up right out of the box and don't require any work with your current doorbell wiring. If the installation is more complicated, it's likely not worth it to install on your own, especially if you're a renter (you don't want to damage anything!).
Calling the Pros
A lot of people hesitate to call the pros because of the cost. However, doorbell installation won't cost you an arm and a leg and it could save you money in the long run. Consider professional installation if setup requires any work with wiring.
Keep in mind that there are some video doorbells that offer free installation with purchase, something that you should take advantage of if you have the chance. It could help you keep your warranty and guarantees that you won't mess anything up doing it on your own.
Pros and Cons of Camera Doorbells: Is it for You?
---
Advanced technologies that come with video and audio options sound like a win. While they are useful for many things, they have their drawbacks. Before going out and buying a video doorbell, it's good to weigh the good and the not so good. Below, we'll take a look at some key pros and cons to help you decide if a video doorbell is what you need.
The Pros
You might have come here on the hunt for the best video doorbell because you've seen what they can do. There are a lot of pros to video doorbells, and here are a few that you should consider.
Around the Clock Surveillance
If there is one reason why you should invest in a video doorbell, it's the ability to see what's happening at your home at all times. Most smart video doorbells come with access to live video that you can stream straight from your phone. On top of that, most of them will send an alert to your phone automatically when motion is detected so that you can make the best decision on how to make your next move. If you're frequently out of the home and would like to check on things while you're away, a video doorbell could be just the thing to help you achieve that.
Easy Installation
If you're not into the chime, installation of a video doorbell is simple. It's simple and quick and takes little to no time at all. If you want your video doorbell to function as a traditional doorbell, you'll have some hardwiring to do, though it's nothing that will take you too much time. Do it yourself or call someone to install it for you, getting the same joy of a doorbell with all the perks of a solid security system.
Customizable View
Most suspicious activity doesn't happen right in front of a door, which is why a customizable view is a powerful option to have. With a video doorbell, you can set up your view to get areas that could lead to break-ins or someone lurking around your property. Apart from video, some video doorbells come with the option to set up motion zones, which saves you from getting false alarms and only focuses on the things that you want to know about while you're away.
Two-Way Communication
One cool perk is that you can use your voice to say hello or scare off someone who isn't supposed to be there. With two-way communication, you can relay delivery instructions to deliverers, say hello to friends or neighbors, or even alert people that you will call the police if they don't leave your property. This works when you're at home and away, allowing you to relay messages without having to open your door.
The Cons
Just like there are pros that you should be aware of, there are cons too. Consider all of the following before purchasing a video doorbell to make sure that it's the right choice for you and your home protection.
TMI
The opportunity to look in and see what's happening at all times seems great but, it's not always the best thing for your mental health. You might find yourself constantly checking in on your home or getting even more worried than you ever have, thinking of what could possibly go wrong.
Alerts will pop up on your phone and unless it's glued to your hand, you will miss them. Still, that shouldn't lead to more panic and worry while you're away. Before you add a video doorbell to your front step, consider what you'll use it for and make sure that you don't turn it into a negative unbreakable habit.
Limited Range
Even though you can set certain zones of motion, there is a limited range that doesn't give you a glimpse of your home overall. Your home likely has multiple doors and windows that could create an entrance for anyone to pass right through.
Plus, if someone does make it into your home, your video doorbell will not send an alert to you or local authorities. Because of this, it's best to use a video doorbell in combination with other home security, as it will help you keep your home safe from the inside out.
False Alarms
One of the worst things that can happen to you in the middle of your busy day is a ton of false alarms. Even though some video doorbells allow you to customize zones and features, it's not a perfect technology. A neighbor could go jogging by, a dog could come up to your front door, or the wind could blow just right, triggering the alarm and sending you an alert.
Because it's not a perfect system, you should prepare yourself for false alerts.
Wi-Fi
One of the main issues with Wi-Fi is that, if your power goes out, your video doorbell won't work. If you're dealing with someone that wants to get into your home, they may cut the electricity, leaving your Wi-Fi out. Some video doorbells will still work when the power is cut, working with a battery instead.
If you're concerned about your home and the possibility of power outages, then it might be worth it to go with a video doorbell that has a rechargeable battery that will kick in when you're done. This will prevent unwanted lags in video and keep your video doorbell working even when the unexpected happens.
Tips to Getting the Most Out of Your Camera Doorbell
---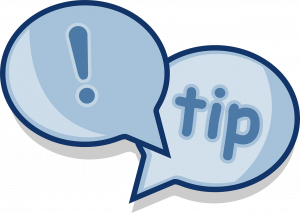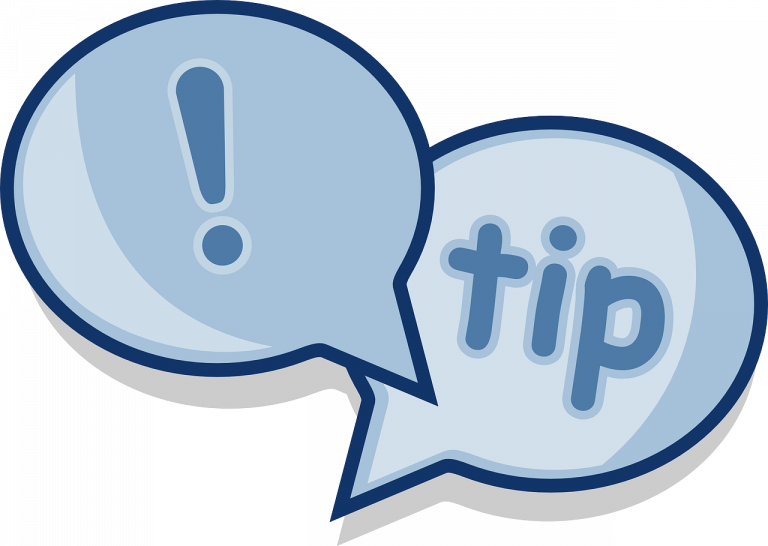 Once you've considered the good, the bad, and everything in between and are on board for a video doorbell, then it's time to start the hunt for the perfect one. Before taking it out of the box and setting it up in front of your home, read over these tips to get the most out of your video doorbell.
Tip #1. Weatherproof your Doorbell
Because your video doorbell is outside, it needs to be able to withstand whatever the weather decides to throw its way. Whether it's rain, shine, wind, or snow, you want your doorbell to function, which is why you should weatherproof it. Some doorbells are weatherproof but, if you live in extreme conditions, consider purchasing an extra protectant to keep it safe.
Tip #2. Make sure it's Charged
Unless you have your video doorbell hooked up to a power source, it's probably not going to last forever. Battery-powered video doorbells have to be charged up here and there, something you should consider so that you've not left without video. It might be a good idea to invest in an additional battery if one is not included so that you can change it and keep from a lapse in your doorstep surveillance.
Tip #3. Keep Storage in Mind
Keep previously recorded video comes in handy if you need to check up on something that happened. However, to get the most out of your storage, choose one that has room for lots of data and that is secure. Consider moving to the cloud and try to keep your devices connected via a VPN to keep your home and other connected items safe from cybercriminals.
Tip #4. Consider your Angles
Blind spots are a criminal's best friend, there to help them sneak past your area of surveillance. When setting up your video doorbell and all of the motion sensors, be sure that you consider all the blind spots and work with your angles.
If you're considering more coverage, it may be worth it to invest in other types of security systems like security cameras and more. You can build the surveillance you want; it just might take some planning to get it all done.
Tip #5. Get the App
To get the most out of the advanced features that come along with a video doorbell, it helps to get the app. When you have the app on your mobile device, you can check in on video throughout the day, get a heads-up if there is any suspicious activity, and even talk to those who show up on your doorstep. To access all of the best features and use your video doorbell to the max, download the app onto your mobile device.
Is a Camera Doorbell Worth it?
---
Making the decision to add a video doorbell to your home comes with a lot of things to think about. First, you'll need to consider the status of your homeownership and the cost. Then, it comes time to choose a video doorbell that's good for you and your home.
Taking advantage of all of the advanced features available, you could have a safe setup for your home in no time. While video doorbells are a great way to secure your front door and surrounding area, you may want to think about a total security system to add more coverage around your entire home.
Before you take off and browse all of the options on the web, be sure to read over our guide and check out the features you should look for. Then, look at the pros and cons of your personal situation, deciding which option is right for you. Taking a look at our top 10 video doorbells is a great place to start to see what's on the market and get a good idea of what to look for.
---
You Might Also Like: