Disclosure: Privacy Australia is community-supported. We may earn a commission when you buy a VPN through one of our links. Learn more.
Another Record Year for DuckDuckGo.
Privacy-centric search engine DuckDuckGo records another record year for 2021. Now it's expanding from just being a search engine, to a browser.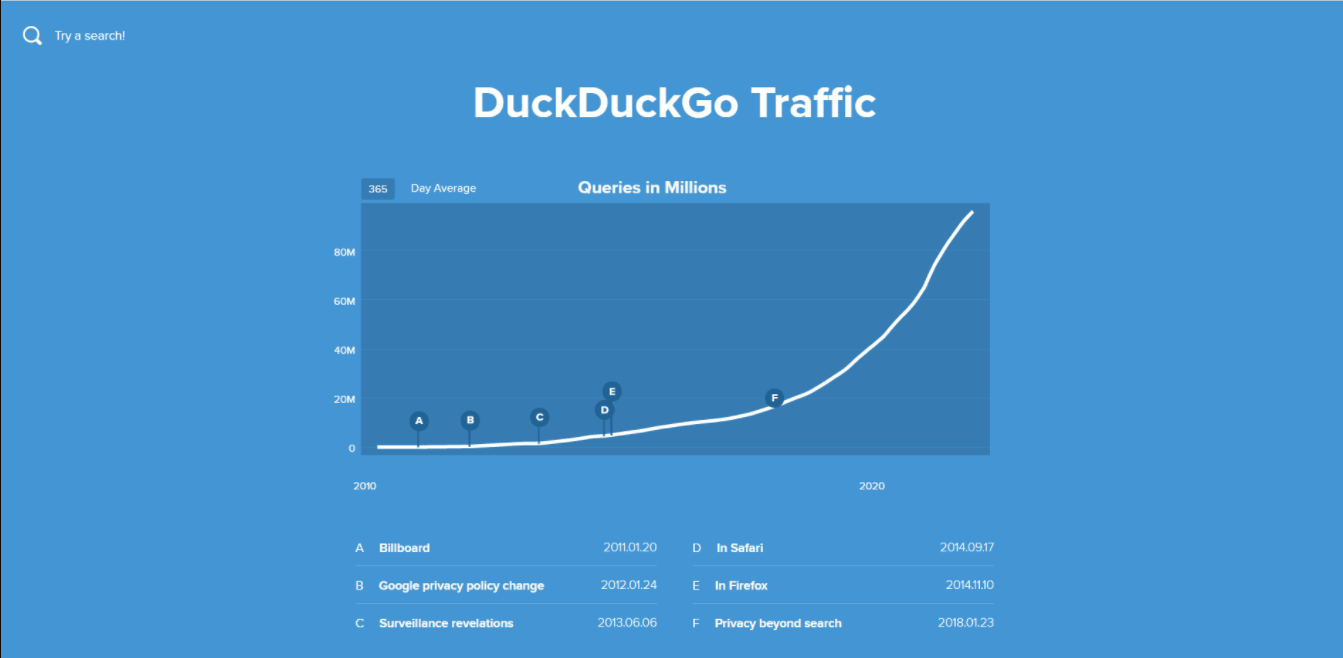 Over 34.5 billion search queries in 2021 were logged by DuckDuckGo – this is the large-scale rise from 2019 of more than double, which saw 15 billion queries. And about a 50% increase from 2020, which stood at a little over 23 billion queries.
DuckDuckGo versus Google: Search traffic ➡️
---
Google still overwhelmingly leads search traffic around the world; the next up is Bing, then Baido, Yahoo, Yandex, and then DuckDuckGo.
According to statcounter, DuckDuckGo holds sixth-place, with a market share of 0.66% globally – by comparison to Google, who still captures an enormous 91.4% of the market. (Bing comes in second place at 3.14%; Yahoo at 1.53%.)


DuckDuckGo market share
---
Yearly, DuckDuckGo is steadily rising in its market share. Which indicates there is only a matter of time before it overtakes Yahoo and Yandex.
While Yahoo search has been underdeveloped for some time now, Yandex and Baido are unavailable in most regions around the world. So it is anticipated that DuckDuckGo could reach position number 3, in the global market for search traffic, if the trend continues.
DuckDuckGo: Year-by-year rundown
---
Before the year is up, DuckDuckGo could hit 35 billion (as the results above were recorded up to Christmas Eve, 2021). Let's look over the numbers over a half-decade, from 2016 to 2021, in billions.
2016 — 4
2017 — 5.9
2018 — 9.2
2019 — 15
2020 — 23
2021 — 34.6
DuckDuckGo expanding range of offerings
---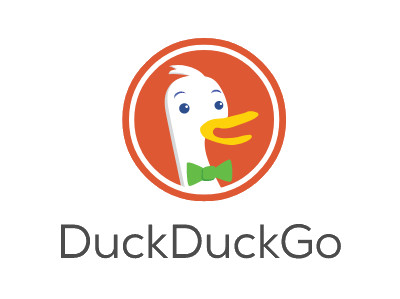 DuckDuckGo expanded search offerings to also encompass new mobile apps, extensions for protecting user privacy, a full web browser, and email protection platform, and a way to block cookie trackers for Android.
The browser will be available for Windows and Mac, using native APIs already offered by both operating systems. But there's yet to be a timeline given for its launch.
Background to new browser 🆕️
---
DuckDuckGo may be best known for offering privacy-centric search engine services.
But after noteworthy successes from its extensions and privacy apps, the company decided to develop its own browser. Since the initial decision In 2018, to expand beyond private searching, there have been over 150 million downloaded the extensions and privacy apps.
The app project was perhaps one something of a test to see whether a private browser would be marketable. DuckDuckGo's mobile app already allows you to browse online privately.
DuckDuckGo's CEO Gabriel Weinberg, announced in a new blog post that the company is working on a desktop browser, which will increase the benchmark for common standards of online privacy for everyday users.
Perks of the new browser
---
Most browsers have advanced complicated settings that hide or mystify how to tweak your privacy protections. Instead of this, right out-of-the-box, DuckDuckGo claims this browser will offer robust privacy safeguards that will protect you across all aspects of surfing; from browsing to searches, email, and more.
Also, most popular browsers such as Microsoft Edge, Google Chrome, and Brave use Chromium. But DuckDuckGo aims to declutter this foundation – via its own desktop app that works through OS-provisioned rendering engines.
The new release may also have the added effect of boosting DuckDuckGo's search engine, cross-promotionally, setting the ground-work for more records.
Closing thoughts 💡️
---
DuckDuckGo doesn't have all the bells and whistles of Google. Some of its search algorithms are far less developed. But where it lacks in intelligence, it surpasses Google as a private browser.
---
You Might Also Like: