Disclosure: Privacy Australia is community-supported. We may earn a commission when you buy a VPN through one of our links. Learn more.
How To Get Unbanned On Omegle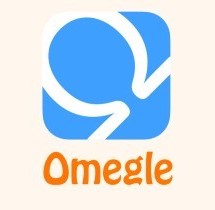 Human beings are social animals, and so it's no surprise that we enjoy chatting and interacting with each other, even with a stranger.
Therefore, sites like Omegle work pretty well within our social structure, allowing us to get online and talk with pretty much anybody online, whether with text with audio and video.
Of course, these places tend to be moderated.
That also means that you can fall foul to admins who think you've stepped over the line and therefore ban your account.
Thankfully, there is a way to get around this issue if you're willing to put in a little elbow grease (and spend a little bit of cash).
Why Does Omegle Ban Users?
---
It can be really annoying to log on to Omegle only to find yourself unable to use your account. While Omegle claims that they don't monitor chats, these bans do happen often, and don't come with any kind of reasoning. There are a few reasons though, and you can usually figure out which one it is by your usage.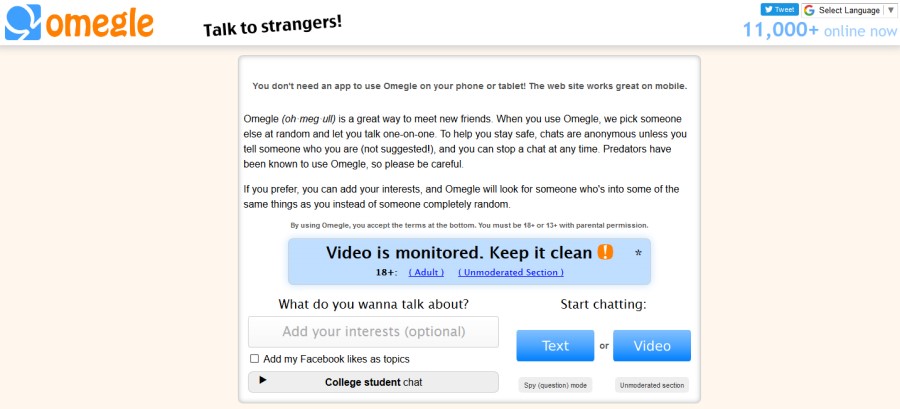 As for the bans themselves, they can often last anywhere between a few days to a few months to being completely permanent. That's why you should check back the first few days just to make sure it's not just a short ban and therefore you don't need to unban yourself. Otherwise, these are the main three reasons people get banned.
Violating the Terms and Conditions
Violating Omegle's T&C is sadly very easy, and the truth is, most sites write them in a way that basically allows them to ban you for anything. I mean this literally, since you can get banned for playing copyrighted music, or even having a show or film running in the background. If an admin is watching and they see it, they can easily ban you for that alone.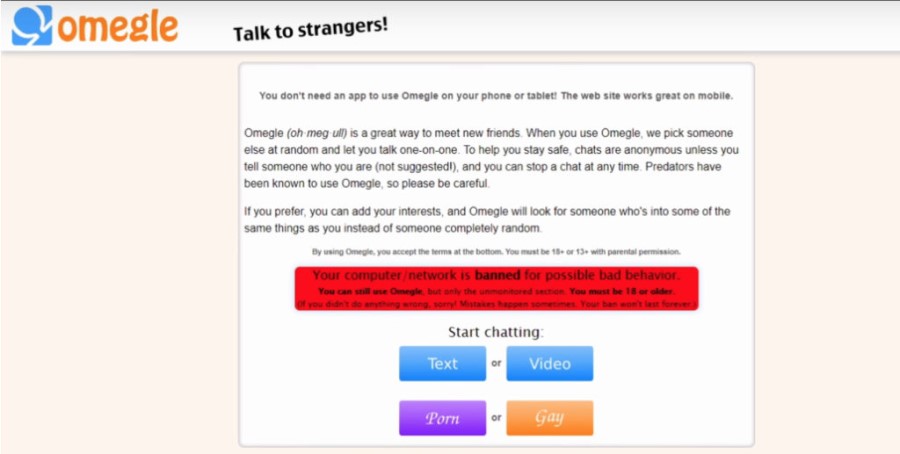 You can also violate the T&C by having 18+ convos in non 18+ areas of the site, and also for showing any form of NSFW nudity.
So yeah, it's a pretty big minefield.
Other Users Drop you
This one is annoying and might not always be up to you. If your chats get dropped often, either from other users or just a bad connection, the system will notice that and ban you.
If you have a bad internet connection, well . . . there's not much you can do about that except try and get it fixed by your ISP or else the issue will keep occurring.
On the other hand, if people are dropping you because you're a troll or just generally a pain, then maybe it's time to look inward and reevaluate your life.
Just sayin'
You've Been Reported
This is related to the previous two and is basically the main way that the admins investigate you for banning. On top of those reasons, you can also get reported for generally harassing or bullying people, using insults, or if you've just rubbed people the wrong way.
Unfortunately that means that you can also be falsely accused there's nothing much you can do about that. Being reported is also exacerbated by the fact that Omegle admins don't really look deep when it comes to reports and doing investigations, and you don't really have any recourse to defend yourself.
How to Get Unbanned on Omegle
---
So the first thing we need to cover is how exactly Omegle bans you. Afterall, even if you create a new account with a new email, you still won't be able to login and use the new account.
Well, when you connect to Omegle, it tracks your IP, which is essentially a number that identifies your specific internet connection. This IP doesn't ever change normally, and getting it to change naturally could include a lot of rebooting your router, or calling your IP and begging them to do it for you (which they won't unless you pay them money).
So really, think of IP as your home address; while you can change your name, if your address remains the same, people can still find you.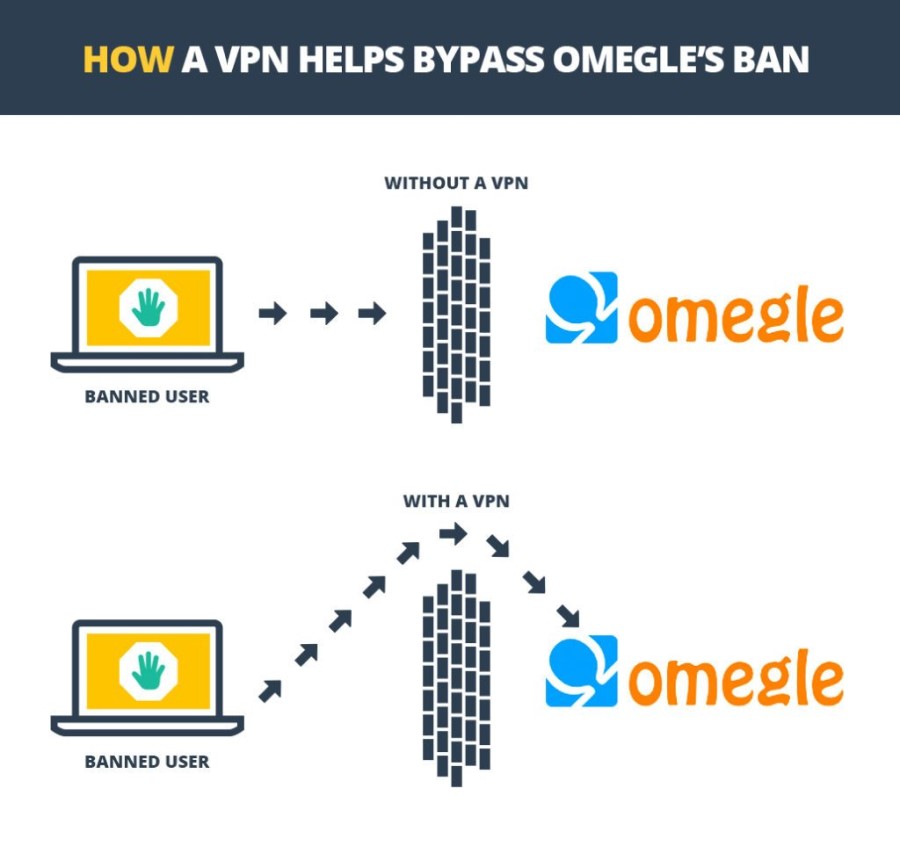 Therefore, the only real way to get unbanned from Omegle is to change that address, and you can do that by using something called a Virtual Private Network, or VPN for short.
So how does a VPN work? Well, essentially what a VPN does is it reroutes your internet traffic through an intermediary computer, known as a server. This server usually has its own IP, and that's what any website sees when you connect to it. So think of a VPN server as a P.O. Box where somebody can send something, but doesn't directly link to your actual location.
You can find more info on how IPs work on our article 'How to hide your IP address'
A big positive of this is that most VPNs also include a ton of encryption, which makes your line safer from outside or man-in-the-middle attacks. Not only that, but it can also allow you to watch Netflix or access websites or content that isn't available in your home country.
Since you're getting a new IP address, and those are geographically locked, you can appear as if you're from the US or the UK or wherever the VPN provider has a server.
Of course, the more features a VPN has, the more expensive it can be, so you do have to make a value judgment on which one you want to use.
Here are some of the best VPNs we've looked at.
?? Best VPNs to Unblock Omegle ??
ExpressVPN
---
ExpressVPN is easily one of the best VPNs around, offering a massive amount of features if you're looking for a VPN with a full package. It is Incredibly fast compared to other VPNs.

So if you enjoy video chatting, you won't feel an impact on your video streams. This is especially the case if you have a slightly slower internet connection, since VPNs slow down any line because of the routing.
On top of that, ExpressVPN probably has the largest selection of servers from you to choose from, in pretty much every single country. Not only that, but they also generally have several servers in certain countries like the US or the UK, so you can hop around as much as you want. This means that you can unban yourself over and over and over again to your heart's content.
You also get super-high end encryption to keep you safe, a split tunneling feature which allows you to specify specific apps or sites to use the VPN on, and support for OpenVPN if you want to use it with a supported, flashed router.
The best feature though is that you can use ExpressVPN with up to 5 different devices simultaneously. That's great because all these awesome features are expensive, and it might be a good idea to find somebody to share the cost of the subscription.
Pricing can vary from $12/month if you're buying individually per month, or as low as $8.32/month if you're subscribing for a full year. Admittedly, it is expensive, but if you want the full experience when it comes to VPNs, this is the one to pick.
NordVPN
---
Another great option is NordVPN, which offers the majority of the same features that ExpressVPN does but at a bit of a lower price.
Much like ExpressVPN, NordVPN has a pretty huge covering of servers, with 63 different countries represented in their server lists, of which there are 52,000.

On top of that, they absolutely allow both streaming and P2P torrenting if that's your thing and with a zero-logging policy, you should be secure from any cease and desist letters. Of course, it also supports OpenVPN protocol, so you can get put on your router or server if you so wish.
In terms of speeds, it's pretty good, not as good as ExpressVPN, but if you aren't that bothered with how fast your internet is (say it's already pretty fast and the small hit won't make a difference), then NordVPN is a good alternative.
You also get to use NordVPN with up to 6 devices, which is one more than ExpressVPN, and with the slightly cheaper price, you might not really have to find others to share with.
As for the price, it's $6.99/month if you buy the 1-year bundle and $3.5/month if you get the 2-year bundle. Pretty good prices is all in all.
All in all, NordVPN is a great alternative to ExpressVPN if speed and country selection is not a super-top priority.
SurfShark
---
SurfShark is a new up and comer in the VPN world, with some great features and equally great pricing.
For starters, they have servers in 63 countries, just like NordVPN, although they only have 1,700 servers in total, which is quite a lot fewer than the previous providers.
That being said, they have reasonably good speed so you don't have to worry about that. Interestingly, they have a service called 'multi-hop' which essentially adds another layer of obfuscation to your browsing, if security is a high priority to you.
One pretty cool thing is that you actually get an unlimited number of devices to use, which is pretty cool. While we haven't tested it out, we're pretty sure the limit is quite high, and more than you'll ever need for yourself and your family.
Even more so, SurfShark supports the latest encryption protocols, including OpenVPN, so you can throw SurfShark on the family router and be sure that everybody is browsing safely.
The biggest perk though is the pricing, which is pretty good at $4.98/month on the 1-year bundle and an astonishing $2.49/month if you get the 2-year bundle. That's a great price for what you're getting, especially the unlimited devices part.
For Omegle, security might not be the most important, and it's true there's less servers, but the heavy emphasis on general browsing and security is great.
So if you're living in a country that has privacy issues, this is a great option if you don't want to pay the heavier price of the previous two VPNs.
VyprVPN
---
VyprVPN is an interesting provider, for the fact that they have one of the best vpn security networks out there, which they manage by owning every single server they use.

That might not mean much to you from the get-go, but you have to realize that having full control over a server means that they can be really good about security and securing your connection.
Of course, that does come at a price, and the service is a bit more expensive. On top of that, you only really get to connect to 5 devices compared to the 6 of NordVPN or the unlimited of SurfShark. That being said, they do have a really strong service that helps defeat VPN blocking (which some ISPs do, annoyingly).
In terms of speeds, they're pretty good, so no worries there. They also cover 70+ countries, which is a great offering, although they only have 700 servers, which again, is because they own every single one. So it's an interesting bag in terms of offerings to say the least.
As for price, it's $3.75/month for a 12-month bundle and $2.5/month on the 2-year bundle.
Overall, SurfShark is for those who want an enhanced security level as compared to SurfShark and don't mind paying a little bit extra. It will also serve you well not only for Omegle, but also unblocking streaming services like Netflix. Most importantly, it will allow you to use a VPN in countries where VPNs have been blocked.
Private Internet Access
---
Private Internet Access is an interesting little entry, since their main focus is unblocking services like Omegle and Netflix, and don't put as much priority on security as others.

With 3,300+ in over 48 countries, they have a reasonably good spread for those who want to access streaming libraries in other countries. Speeds are not too bad, and you are allowed to torrent, which is pretty great. You also get to connect with up to 10 different devices, which is a pretty sweet deal.
In terms of pricing, it's $2.99/month if you go with a 12-month bundle, which isn't too bad considering what you're getting, although it is more expensive than SurfShark. That being said, they do offer a 6-month plan as well, which most other providers do not, and if you go monthly, they're actually cheaper than the other VPNs on this list.
While PIA is not necessarily as big or well known on the market, it has good pricing, good features, and a good selection of servers and server locations. More importantly, it's great for those who want to unblock Omegle and other services.
Conclusion
---
As you can see, getting around an Omegle ban isn't too difficult, although it will cost you some money. That being said, a VPN offers a ton of extra value beyond just unbanning yourself, whether it's extra layers of privacy or unlocking libraries from different countries.
Not to mention that fact that most services allow you to use up to 5 devices simultaneously, so you can absolutely share with family, or have yourself and a group of friends pitch in for the cost.
---
You Might Also Like: