Disclosure: Privacy Australia is community-supported. We may earn a commission when you buy a VPN through one of our links. Learn more.
Password Safe Review – One of the Best Open Source Password Management Tools
I work in technology but resisted password management tools for a long time. Until recently actually.
It seemed like an unnecessary extra step to take when my important passwords were stored on a Post-It in my wallet.
Before you cringe too deeply, know that they were really stored in my head, because I have a great memory (or so I thought), and the wallet was just backup in case I got concussion from rugby.
Then along came the day that one of the WordPress websites I had just taken online got hacked.
A work buddy pointed out that I should take my own advice and toughen up my passwords to the usual recommended standard: at least eight characters consisting of upper and lowercase letters, numbers, special characters, blah blah.
Grudgingly, I realized that my passwords WERE crap against brute force attacks. To improve them would require something better than my brainpower.
"Get a password manager," my buddy said. I was so mad at the hack that I decided it wouldn't hurt to research a few.
What I found is there are about a billion and one options, but so many lack necessary features or require you to subscribe to get full access to the features you really need, and then you end up paying for stuff you don't want or will never use.
Long story short. I settled on Password Safe and here's why.
Password Safe Overview
---
While Password Safe's interface is easy to use, don't let that fool you into thinking it's a joke of program because it's not.
The active builder/developer community is there to help when things go wrong.
As of now, there are even unofficial apps for Android and iOS, which seems like a very cool thing to me.
Pros
Intuitive and easy to use
Supported by a vibrant open source community
Absolutely free of charge
Can handle multiple vaults
Local data encryption
Cons
Only a handful of import options
Is limited to only storing passwords
Is Password Safe Secure?
---
Yes. The program has been designed with lots of features that make it transparent and secure.
It is Open Source. This means that you do not have to take the designer's word as gospel that the program is safe.
You can easily download the source code, review it for yourself, or have someone with more expertise in the area review it.
If you have the technical chops, you can even put the program together using the downloaded source files instead of the files Password Safe offers.
Also, Password Safe does not have a recovery mechanism nor is there a backdoor—which is good. This means that unless a person has the master key, it is impossible for them to access your passwords. This includes developers and users.
File integrity checks mean that an attacker cannot modify any protected files without knowing the master passphrase. Backups of previous databases are made automatically.
Users have complete control over the number of backups as well as where they are stored.
How to Use Password Safe
---
Password Safe lets you store all of your passwords in a single password database, or you can create different databases for different purposes if you like. I can see where it might be handy to have a database for work and another for personal use.
Databases can be moved between systems as long as each system uses the same version of Password Safe. Let's take a quick walk-through setting the software up.
When using password safe for the first time, you will select the new database button.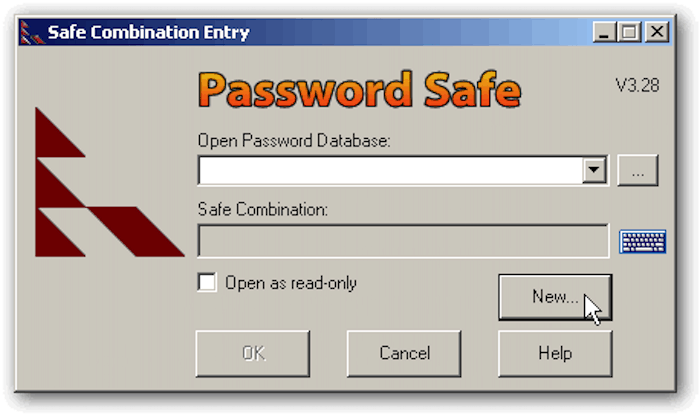 Next, you will be asked to select the location where you want to save your new database as well as the name you want to assign to the database.
You will be asked to enter a master password. This is what you will use to encrypt and lock all of the contents inside of your new safe.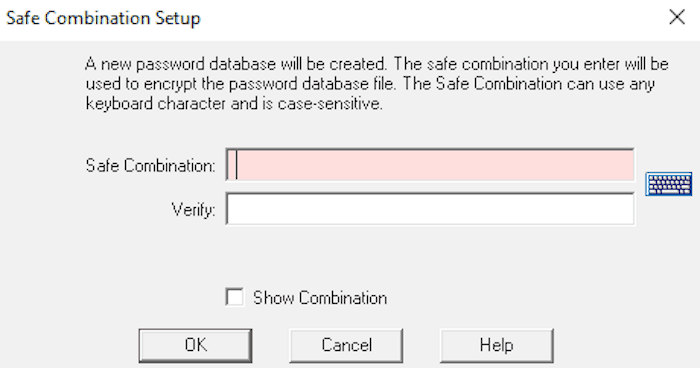 When it comes to using your stored password, there are a number of tools that are available. Many of these require pasting information to your clipboard and others allow an auto type function that automates the transfer of your passwords into web forms.
To use your stored passwords, you can open Password Safe. Next, choose the username and password you wish to use.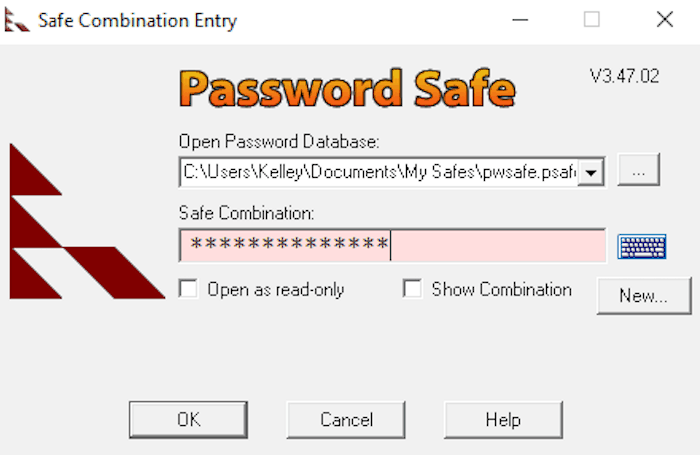 Select the username icon for the toolbar. Conversely, you can right-click on the screen and select "copy username to clipboard." Another option is to use the shortcut Control + U and then paste the username into the desired field.
To select the appropriate password, click on the password icon from the toolbar or right-click and then select "copy password to clipboard." Another option is to use Control + C to paste the password into the desired field.

Additional Features
---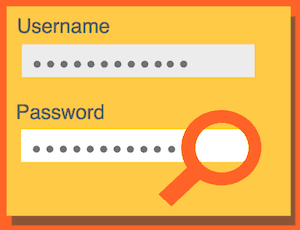 Password Safe makes it easy to create and edit logins since all you need is a username, a password, and the location where the new group of information should be stored.
You can set expiration dates for your passwords, which provides an additional layer of security by making you change them frequently.
A hassle, maybe, but a great idea.
There are customizable password policies that allow you to regularly change your passwords at a frequency of your choosing.
The auto fill and auto login features make it convenient to use your passwords. The password generator creates complex and strong passwords automatically based on the criteria you set.
SO strong and SO complex I don't even bother trying to remember them. It's not worth the effort.
A few other features that merit mentioning include the option to install your software on a USB drive and the backup function that allows you to backup the entire database and have it saved in a secure location should something go wrong.
Related Read: Are You Reusing Passwords?
Limitations
---
Password Safe is great tool that costs nothing and can take only a few seconds to download and set it up. The only downside is it's currently only available for Windows systems.
Also, don't waste your time looking for upgrades because there aren't any.
Normally, this would concern me but the thing is so dead simple and easy to use that the current version should work just fine for a long, long time.
This is where the limitations end for all practical purposes. A word about customer service; since it is an open source solution, the main method of support is in forums, which ain't a bad thing.
I, for one, would rather pick the brains of people actually using the product than those hired by a company to talk about it. Just my preference.
After installing the software and test driving it for a few days, I'm here to say that I can't find a single reason to keep looking. Password Safe is the password manager I never thought I'd want but have become strangely attached to.
After extensive personal testing, I can say that Password Safe is an excellent password manager that even rivals the performance of our curated list of best password managers.
For the needs of the vast majority of users, I can't imagine you would need to look elsewhere.
---
You May Also Like: