Disclosure: Privacy Australia is community-supported. We may earn a commission when you buy a VPN through one of our links. Learn more.
Best Internet Service Providers Australia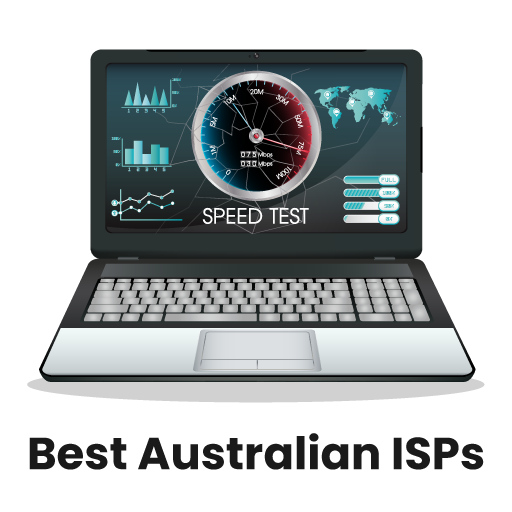 Like most fellow Aussies I've struggled with my home-based Internet connection.
While building this blog and a few other online businesses there have been periods of time when my slow Internet connection has caused me some serious frustrations.
We're talking banging my keyboard on the desk kind of frustrations. Sort of like this?
In the process of researching and trying to optimize my home office speed, I've done a heck of a lot of research about Australian ISPs and best NBN plans.
We are going to present the top Internet service providers in Australia, starting with some of the larger, well-known names and then talking about some of the less popular options.
1. Tangerine (Best Overall Australian ISP of 2023)
---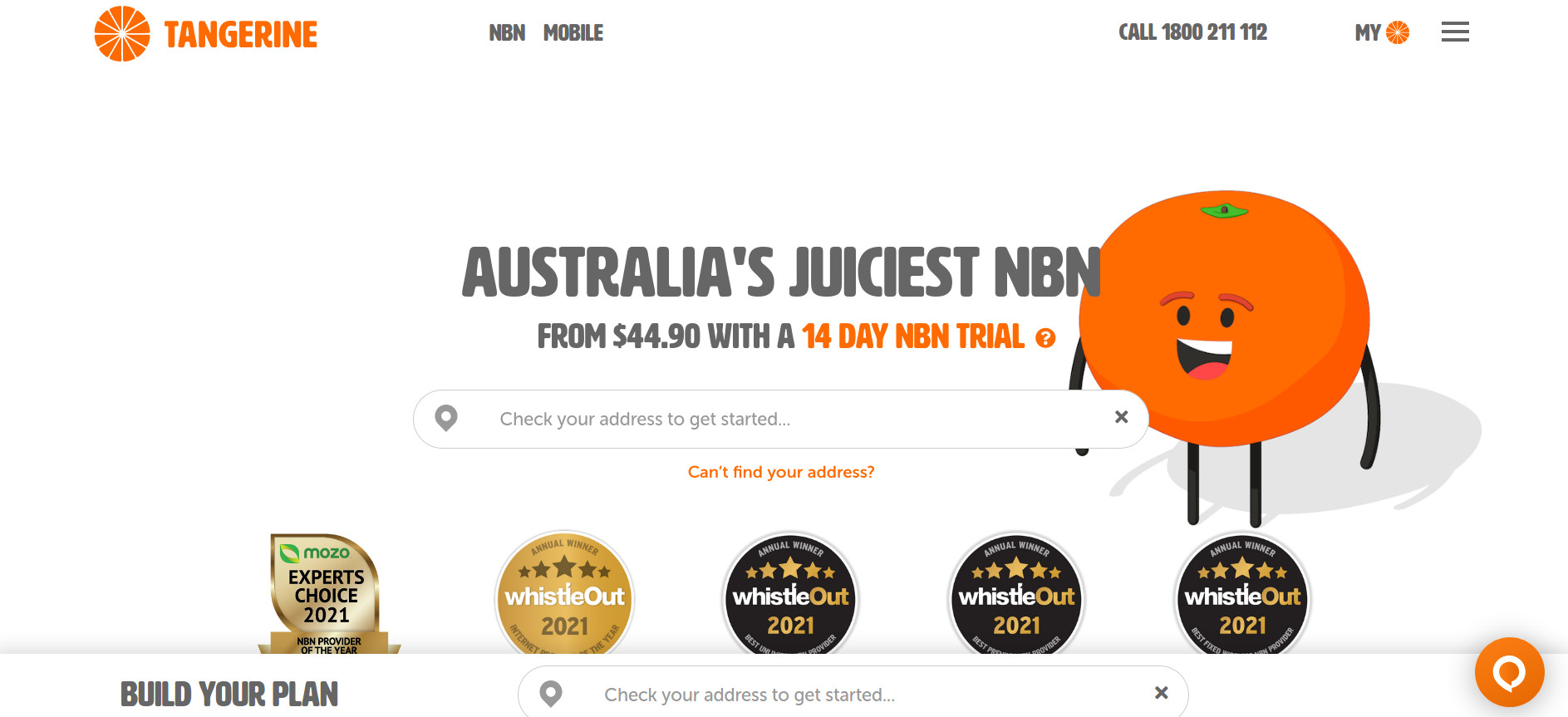 With Tangerine, you can try it before you buy. That's one of our favorite things about this platform, besides the fact that there are so many options to choose from.
Give the service a try free of charge and see how it works for you before you take off and decide whether or not it's the option for you.

The highest speed plan is the XXXL Speed Boost Plan, which comes with NBN 250 and normally hits 205Mbps in the evenings. This plan comes to just $94.90 for the first six months and then switches thereafter to just $109.90. That's by far one of the best prices out there for a speed that fast.
For those that pop over and choose to sign up, there is a six-month discount for all new users, which helps to reduce the bill and enjoy the services to the max. There are even options to bundle in a phone line, refer friends for extra perks.
You can also bring your own and set it up within your plan if you need to, which will knock off the upfront costs so that all you have to pay is the setup and start enjoying your six-month discount.
All of this and more is what you'll find with Tangerine, along with one of the highest-rated customer care teams on the web. If you're looking for an all-in-one provider, give Tangerine a try and see what they can bundle up for you.
2. Activ8me – Best for Customer Service
---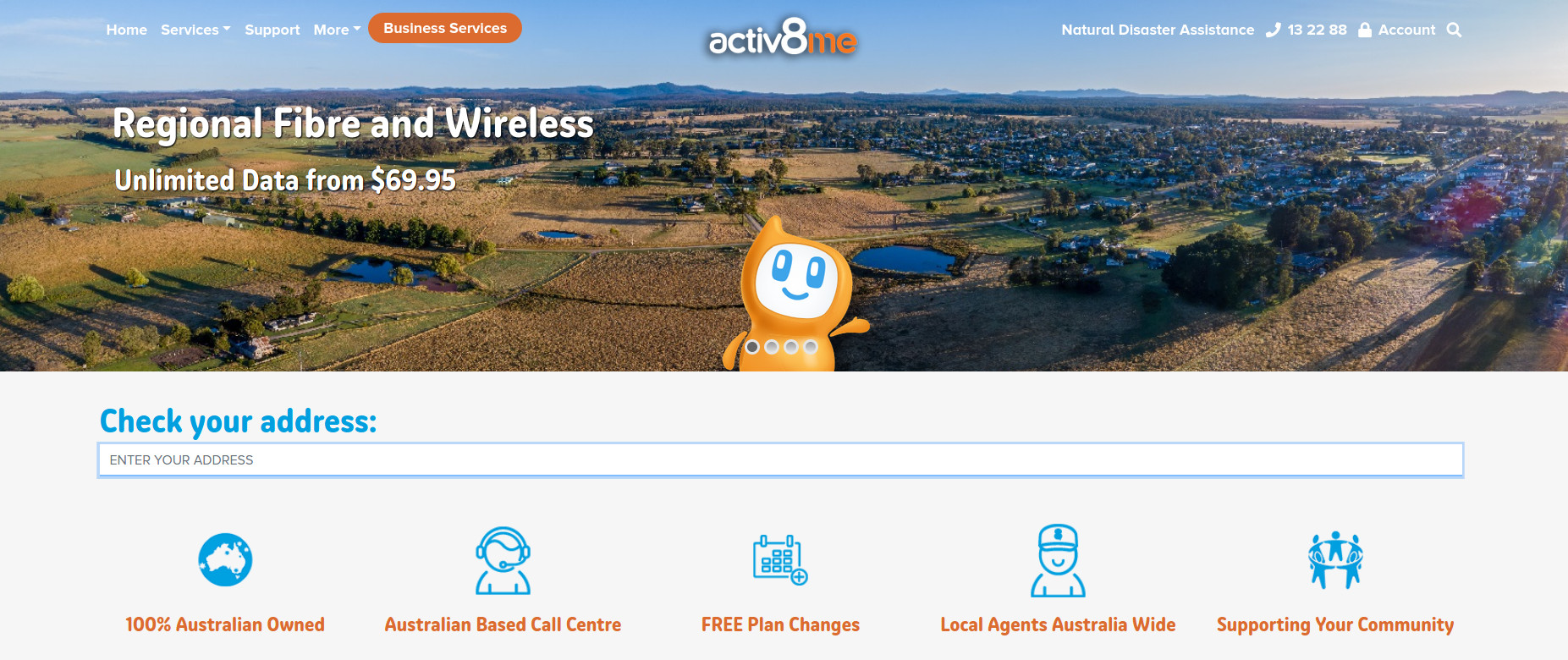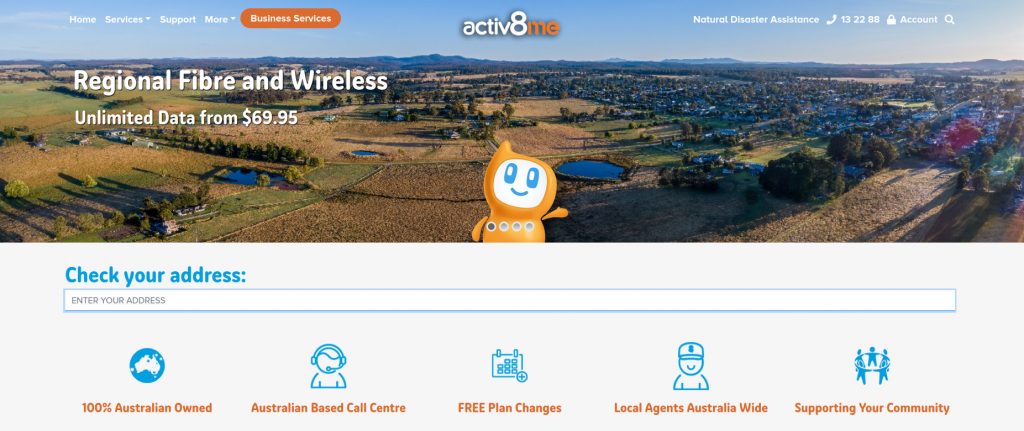 With a long list of plans and customer care that's based out of Australia, Activ8me is a top choice for all Aussies that are looking to speed up their internet coverage. Basic plans start at just $39.95 and come with 150GB of data along with 25Mbps. Choose from more than 10 different plans, scaling all the way up to 300GB of data for $199.95 per month.
When you choose Activa8me, you'll find options to bundle that start off at just $10 and include faster speeds, a modem, a landline, and a mobile phone. Add in things you need and take out those you don't, finding the plan that works best for you.
Take advantage of Activ8me's account management, which users can do all online. Change your plan, review your account balance, pay your bill, and more, all from the site's homepage. Customer care is there and always on, operating from 8 am to 8 pm throughout the week and until 5 pm on the weekends.
Activ8me is one of Australia's top-ranked NBN providers, with all Australian-based customer care and services that are always there and always one. They have technical support if needed and can direct customers to the right place if they're having issues with their services or products. There's no need to pay different bills for different services, especially when you can find them all in one place and save.
3. Mate. – Best for Reliability
---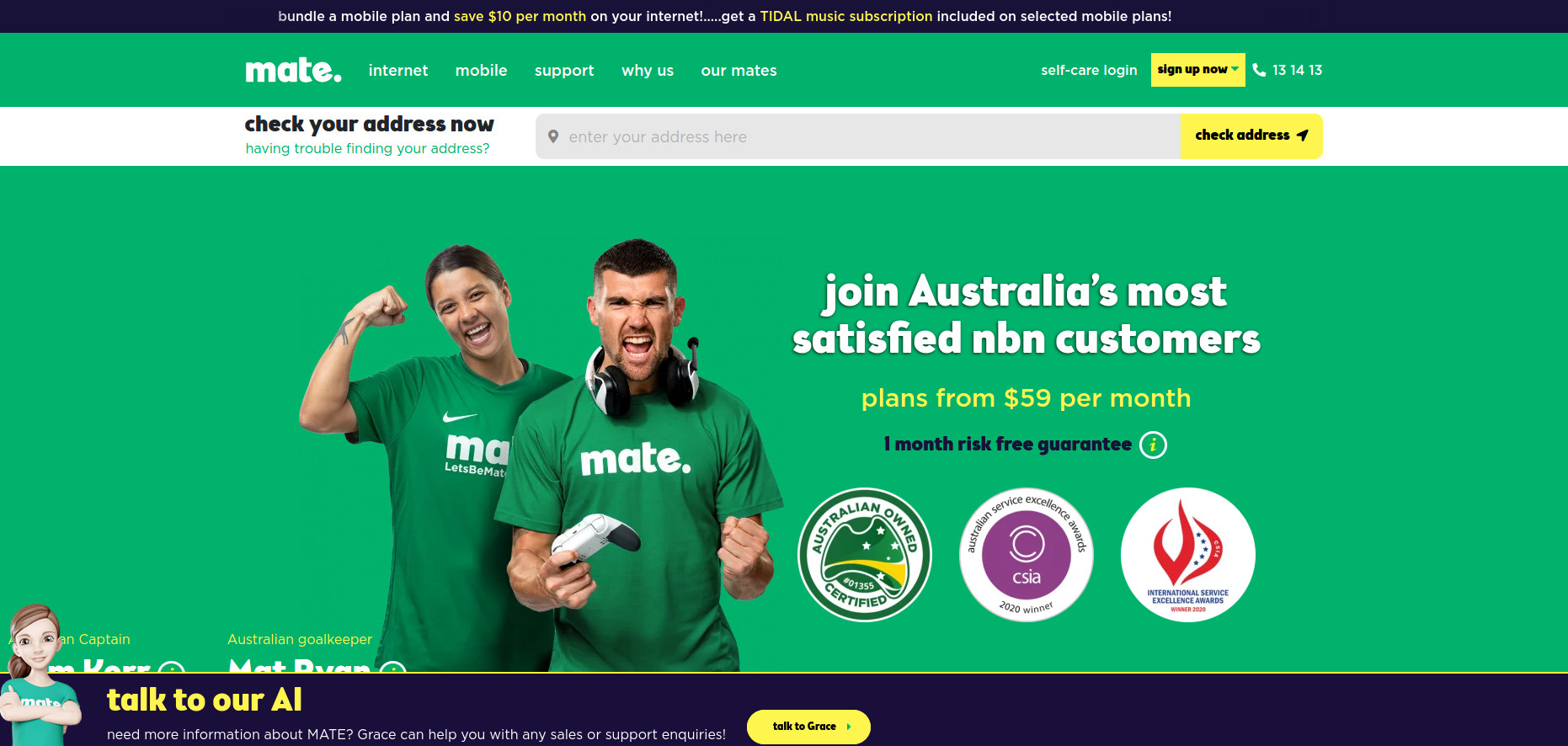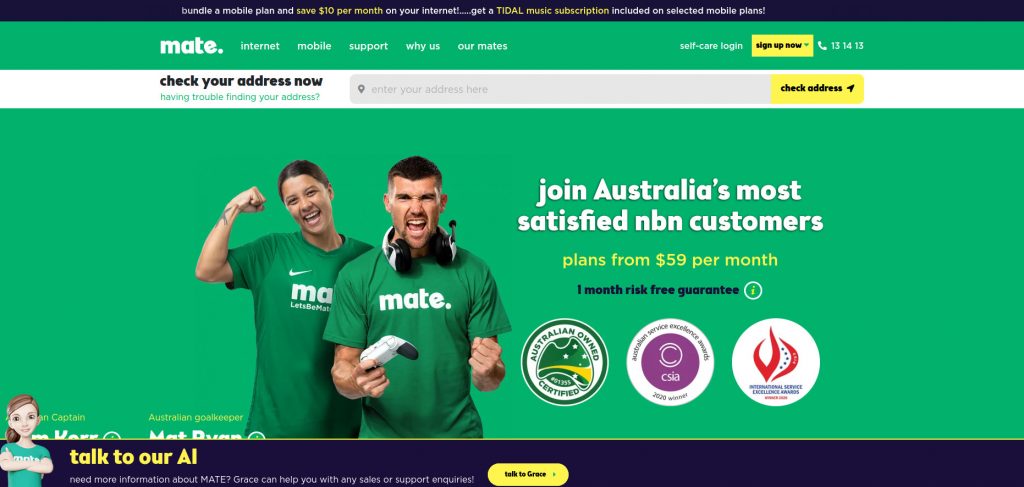 Mate is one of the most sought-after providers in Australia. Not only do they offer some of the best deals at the best prices but they also have a ton of packages to offer all kinds of customers. Whether you're looking for a quick connection or want to add in a phone line or mobile, there is an option for you.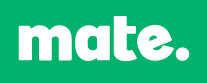 All of the plans come with cheap access to NBN 100 and most bundles start off at just $10. There are no caps on contracts and all bundle deals come without the need to sign a contract and without any signup fees. Altogether, this is a solid service that has so much to offer customers in Australia.
Plus, if that's not enough, they also go out of their way when it comes to caring for customers, ranking as one of the best when it comes to customer care. If you're on the hunt for a great high-speed deal, Mate has what you're looking for and can provide it for you for much less than you might be thinking.
Plans start at just %59 per month and can go up to just $99 for unlimited data and access to 208Mbps. Combine the Elite packages with a modem and a landline for just a little more, enjoying the perks of bundling without a contract.
4. Telstra – Best for Connection/Speed
---
When Australians think about the Internet, we think of Telstra. In fact, more than 40 percent of the Internet connections in Australia are with Telstra.
Telstra offers some of the most expensive Internet options. Pricing starts at around $70 a month for a 100 GB plan that comes with ADSL 2+, NBN or cable.
This is considerably more expensive than what some of the other companies we will review offer.
Telstra is a good choice if you are looking for a legacy company that has a reputation for quality and consistent service. Telstra offers good NBN evening speeds. They advertise 80 percent of the maximum connection speed during peak hours.
Telstra mobile plans offer access to a fast 4GX network. Some have opted to use mobile broadband as a replacement for their home.
Some of the extra perks their clients get include cheap movie tickets, presell concert tickets, and discounted tickets to some sporting events.
5. Optus – Great Service/Speeds
---
If Telstra is king of telecommunications in Australia, then Optus is the crown prince. It is the second best-known Internet provider in the country.
Its reputation was something that took years to build. It was originally founded in 1981 under the name AUSSAT. In 2001 it took on the moniker Optus.

Optus offers clients the complete gamut of services, including NBN and ADSL plans. There are mobile plans and mobile broadband plans available. Optus has built a reputation for providing high quality customer service. They are eager to chat with their clients via phone, social media, chat programs, and at their stores.
Optus is primarily known as a provider of traditional fixed line Internet plans and mobile phones. However, they are branching out and offering more home wireless products. Their plans are competitively priced, and many have seen their wireless options as an attractive alternative to ADSL, NBN, or cable Internet.
6. TPG – Solid NBN Bundle Choice
---
When Australians think of TPG, one of the first words that comes to mind is cheap. TPG has some of the cheapest NBN plans available.
TPG boasts more than two million customers across its service plans. The plans have grown in popularity because of their low starting price points and no added extras.
In addition to being inexpensive, TPG NBN service is fast. Performance tests performed in 2020 showed that TPG services on the NBN provided customers with download speeds of around 86 percent of their advertised maximum. This is as good as, if not better, than their competitors. Of course, these numbers can fluctuate regularly.
TPG offers clients three NBN speed tiers:
Basic NBN 12
Standard Plus NBN 50
Premium NBN 100
These plans come with unlimited data. For a reasonable fee, users can add landlines and mobile.
7. iiNet
---
iiNet is a good option for you if you want an entertainment plan along with your Internet.
When you purchase a limitless data iiNet plan, you have access to a Fetch TV set-top box.
One of the most attractive features of this company is that they offer Naked DSL services. This means that you can get DSL Internet without paying for extra telephone line rental.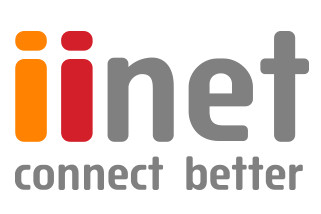 Many Australians love this because most people are abandoning their landlines and only use mobile phones.
8. Dodo
---
While not capturing the same market as some of its larger competitors, Dodo has built a sizable customer base.
As a subsidiary of Vocus Communications, it is owned by the same company that manages iPrimus and other communication companies.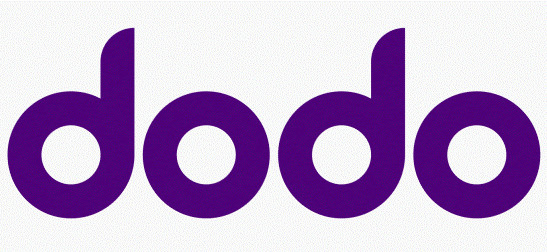 Dodo offers home Internet, mobile phone plans, and home energy and insurance products. In addition to the Internet service they offer, what attracts people to Dodo is that they can provide a household with the majority of their key services on one bill.
The heart of what Dodo offers is broadband Internet. They have a complete range of products, including NBN, ADSL 2+, and mobile Internet services. There are multiple top Internet bundles available and Internet only plans. Dodo boasts some of the cheapest broadband options on the island.
9. Vodafone
---
Most people do not think about Internet service when they think about Vodafone. This company has built its name as a mobile company.
However, in recent years Vodafone began offering NBN plans, throwing its hat into the Internet business game.

Vodafone has a straightforward pricing model. All their plans have unlimited data. All you have to do is determine the speed and the price you want to pay. Options range from NBN 25 up to NBN 100. If you do a little digging, you will see that Vodafone does have a cheap NBN 12 plan. This is a good option if you are looking for Internet on a budget.
10. Belong
---
With a name that makes everyone feel welcome, Belong is one of the newer ISPs in Australia. It launched in 2013, offering to ADSL 2+ plans for either $50 a month or $65 a month. These plans offered 70 GB and 250 GB respectively.
Unfortunately, at launch only those living in the Sydney metropolitan area could benefit from this service.

However, as NBN coverage started to expand, Belong began offering NBN plans and ADSL plans throughout the greater Australia area. As of 2020, Belong has stuck to its straightforward simple offering. There is one unlimited data plan option, three options for NBN service, two ADSL 2+ plans, and three SIM-only mobile plans.
Australia has more broadband providers than ever before, so newer providers like Belong have had to find ways to break into the market. Belong's claim to fame is that it offers an effective way to stream Netflix on a budget. A household with two or three people can easily stream using the Standard Plus 40 Mbps service. Larger homes that are looking for uninterrupted 4K/UHD's streaming would benefit from the Premium plan 80 Mbps.
While the basic plans offered by Belong are attractive, they are coming up short in customer service. There are a number of complaints about poor communication and slow response times.
11. Aussie Broadband
---
Aussie Broadband is another newcomer for Internet providers in Australia. What they lack in name recognition, they are quickly building in reputation.
Aussie Broadband customers frequently comment how this ISP is concerned about the performance of its service.

It is actively engaged with its customers as can be seen from their communication with customers on forums.
12. Exetel
---
Founded in 2001, Exetel has grown to having more than 300,000 business and residential customers here in Australia.
This is a company that has done the hard yards and has been around for a number of years.
Like their competitors, they offer multiple tiers of NBN plans, starting with their NBN 50 plan on up to their NBN 100 plan. They do not offer NBN 25 or NBN 12 plans but have opted to capture budget customers with their wireless broadband service. With a 12 month contract, you get a modem and won't have to pay a set-up fee. For around $40 a month, you get 250 GB of data.
Users who are shy about committing can get the same broadband service without a contract, but you will have to pay around $100 for the modem. When you use these options, you need to monitor your data allotment. If you go over your allotment, you will be charged $10 for 10 GB. And your speed will plummet from 12 Mbps to 256 kbps.
Exetel is also offering clients ADSL plans, fiber plans, and mobile broadband plans. As with many of the ISPs we have reviewed, Exetel offers a home VoIP pack, mobile plans, and a home line plan as a packaged bundle.
13. SpinTel
---
SpinTel is one of the best ISPs in Australia that you have probably never heard of. Renowned financial magazines, such as
Money Magazine, have awarded SpinTel multiple times for offering low cost quality Internet options.
Similar to many of its competitors, SpinTel offers a variety of services, including NBN, mobile broadband plans, and ADSL 2+. Their home wireless broadband services give you the power of broadband via a modem. This allows you to share Internet throughout the entire house. Since SpinTel sells phone plans, you are able to bundle a BYO phone plan as you shop for Internet.
What Do Different Internet Service Types Mean?
---
In our review of the best ISPs in Australia, we have talked about:
ADSL Internet
Cable Internet
NBN
Home wireless broadband
Fixed wireless
Satellite NBN
All of these terms can be confusing. Let's take a few minutes to break down what each of these terms actually mean and see how they affect the Internet service you receive.
What Is ADSL Internet?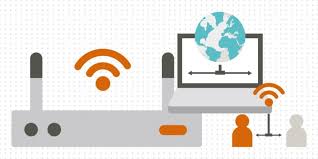 ADSL Internet, also known as Asymmetric Digital Subscriber Line, is a technology that was created to provide fast connection speeds using traditional phone lines. This allowed for speeds that were many times faster than those provided by dial-up Internet.
ADSL technology is what made broadband speed possible. It is the force behind the Web 2.0.
In some parts of the world, ADSL Internet has been replaced by fiber Internet connections. Still, in many places in Australia, ADSL is the technology of the day. Understanding what it is and how it works can help you when selecting a connection for your home or business.
What Is an ADSL Line?
Fiber optic technologies require fiber-optic cables. By comparison, ADSL is a flexible technology. It uses the copper telephone lines that have been used in landlines for decades. Information is sent over the copper lines at high speeds, allowing users to watch Netflix, send emails, and work online.
The technology was first introduced in 1988, but it took years before the technology took root because it is expensive to deploy. Intuitive signal processing was needed, which required the development and production of specialized equipment. By the early 2000s, most areas had upgraded to ADSL technology.
How Does ADSL Work?

ADSL is a complicated system that requires multiple technologies to function harmoniously. In your home, you will need to have an ADSL modem.
The modem from your home is connected via a twisted pair of copper telephone wires, usually category five or category six cables, which are connected to the local telephone exchange. From there, the copper wire from your home and the copper wires from the homes and businesses in your area are connected to a DSLAM, or a digital subscriber line access multiplexer.
The modem that you have in your home is sending and receiving data to and from the DSLAM. The signals that are being sent back-and-forth use a different frequency than those used for voice phone communication. This is why phone calls and Internet signals can be sent simultaneously over the same line. When the signals reach the exchange, they are split and handled by different network technologies. This allows you to communicate over the phone or communicate with a web server on the other end.
What Impacts ADSL Internet Speed?
ADSL Internet speeds cannot exceed 50 Mbps because of limitations by the copper wires used for the connection. There are other factors that can impact ADSL connections, much of which are outside of the control of the consumer.
If your connection is "uncapped," it will max out at around 10 Mbps. In a populated area multiple local connections pull from the same bandwidth. This means that there are more people trying to use a limited amount of bandwidth.
A capped ADSL connection, on the other hand, has limits on the number of simultaneous connections in an area. These can reach speeds up to 40 Mbps because there are not as many users vying for the same line.
ADSL speed is impacted by distance between your home and the telephone exchange. The farther the distance, the slower the connection and the less reliable the connection can be. Loop extenders can be used to boost signal strength on longer lines. However, shorter lines are always better.
Improvements in ADSL lines have made delivering high-speed Internet across longer distances more reliable. Still, connections that are separated by 10 miles or more are going to suffer degradation and speed loss due to distance.
What Is Cable Internet?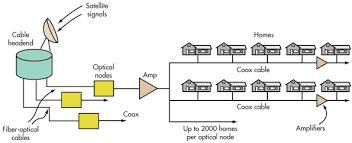 Cable Internet uses the same coaxial cable and network used to provide cable to your home to give you Internet. Your Internet service provider will send a data signal through the coaxial cable. The signal is transmitted to your modem.
From your modem, an ethernet cable is connected to your computer or router. This is where you get your high-speed Internet. Your router will broadcast your Wi-Fi signal throughout the home.
Cable TV service only uses a small portion of the coaxial cable's bandwidth. This is why the Internet service can function using the same network. Cable networks are spread across the country and are used to connect Australia with the rest of the world. Cable Internet allows for an even distribution of signal among individual users. It also allows users who pay more to receive higher bandwidth, which means faster speeds.
How Is Cable Internet Different from Other Forms of Internet?
Satellite, fiber-optic, cable, and ADSL share a number of similarities. Cable Internet may be preferable over satellite Internet because satellite Internet offers a non-direct signal, meaning that there could be interference during transmission. Cable Internet has a direct connection, meaning a reliable signal at high speeds.
Fiber-optic Internet cables can reach upload speeds that range from 50 Mbps all the way up to 2,000 Mbps. This is drastically faster than what you will get from cable Internet. The downside is that fiber networks are still expanding and are not as accessible throughout Australia, especially in rural areas.
Who Is Cable Internet Good for?
Cable Internet offers a fast broadband connection. It can be up to 10 times as fast as DSL services. Cable Internet is great for those looking to have uninterrupted services while playing video games and using live video technology online. There are a number of telephone services that are currently being offered via cable Internet, providing clear communication at a fraction of the cost of traditional phone lines.
What Is the NBN?
Time would fail us if we tried to describe in depth what the NBN is. Here is the Reader's Digest version. The National Broadband Network is a network that has been progressively rolled out by the government in Australia. The purpose of the NBN is to give high-speed connections to each home and office in Australia. It also is allowing telephone and ISPs to deliver entertainment, e-health, security, and more to homes and businesses.
What Technologies Do the NBN Use?
The NBN uses multiple technologies, including:
Fiber to the premises
Fiber to the node
Fiber to the building
Hybrid fiber coax
Fixed wireless
Satellite
Most residents and businesses are going to use one of the first three technologies.
The network created by the NBN is designed to push Australia's economy forward by offering better connections to the rest of the world. Most people use the NBN as a way of connecting to the Internet, communicating with friends and family, and watching streaming services.
Once a home or business is connected to the NBN, homeowners need to purchase a new NBN plan and modem. The NBN allows users to continue to search the web as they always have but with a more stable network and faster speeds.
The NBN sells four speed tiers to ISPs that repackage them and sell them to the public. The options include:
NBN 12
NBN 25
NBN 50
NBN 100
The numbers after NBN refer to megabits per second. Basically, this number tells you how fast you can download things. The higher the number, the faster you can download information. If you purchase the NBN 50 plan, you will have Internet speed that is faster than legacy ADSL plans. It is enough to allow a family of four to liberally use the Internet.
Who Benefit from NBN Satellite and Fixed Wireless Plans?
Wireless signals are ideal for those of us who live in rural areas of Australia. It is price counterproductive to run cables all the way out to our homes, so wireless signals allow us to benefit from the Internet without sacrificing performance.
You can compare it to the mobile Internet on your phone. There are large transmission towers located around the country that are part of the NBN. You have an antenna or receiver on your house. If you live in a populated area, there may be a single transmission tower that services multiple home simultaneously.
If you live in remote parts of the country, then your NBN service is delivered via a satellite known as Sky Muster. There will be an antenna on the roof of your home and the signal will travel to your home from space. The technology seems futuristic. Since the signal is traveling great distances, there are limits to how fast the signal can go.
Who Benefits from Home Wireless Broadband?
Although Australia leaves much to be desired when it comes to land good Internet speeds, Australia does have some of the best mobile phone networks on the planet. Many people are realizing that it is a lot better to use wireless broadband as opposed to connecting to a fixed service like the NBN.
Home wireless broadband plans share many similarities to mobile broadband plans. However, wireless plans have more data, offering up to 200 GB per month. Additionally, wireless broadband plans will come with a Wi-Fi router that is comparable to the one you would use when connected to the NBN. These are powerful pieces of hardware that allow you to get signal in each room of your home.
Good wireless broadband plans are a little bit more expensive than what you would pay for the NBN plans. However, as more people begin to use them, it is expected that the price of these plans will begin to drop.
The World Of Australian ISPs
It's difficult to imagine living life without constant access to the Internet. As of 2023 more than 14.7 million Australians have Internet in their home or business. This means that approximately 88 percent of homes and businesses are connected.
Internet usage is evenly distributed throughout Australia, with people in Tasmania using less Internet than the majority of the country. Telstra Corporation Limited is the biggest provider of telecommunications, including the Internet, in the country.
Australia has a reputation for having some of the lowest Internet speeds among developed countries. It is behind countries like Russia, Hungary, and Kenya. Most Internet subscribers have speeds of between 24 Mb per second and 100 Mb per second.
A recent study placed Australian as the 62nd slowest Internet globally. Ouch ?
Although Telstra Corporation Limited is the biggest name in telecommunications, there are a number of new and established Internet providers operating on the island. It can be difficult to choose the right one. We've compiled some information about the biggest players in Australian telecommunication with the goal of helping you get a better sense of the market and make a good decision.
In addition to briefly reviewing these companies, we have included some relevant information about the Internet options available in Australia and how these may impact the service you receive.
FAQ: How Can I Pick the Best Internet Plan?
---
We have had a brief review of the best ISPs in Australia. Now, we would like to discuss a few things that you should consider when selecting a new Internet plan for your home. There are three primary factors you should consider. They include:
The amount of data you will need
The speed of your NBN plan
Signing a contract or not
How Much Data Do I Need for My ISP Plan?
The answer to this question is going to vary from household to household. In 2018, the average Australian household used around 85 GB of broadband data each month. That being said, most people view the Internet like a utility. No one would want to purchase a fixed amount of electricity knowing that if they went over that fixed amount, the electricity would be turned off. Similarly, most people want their Internet to always be on. That's why most opt for unlimited data.
How Much Data Are You Currently Using?
If you feel that unlimited data is not right for you, the best way to figure out how big of a data plan you need is to look at your old Internet bills. These usually have your monthly usage. If you don't have a paper copy, you should be able to find this information on your ISP's website.
Steps to Minimize Data Usage
If you are shocked by the amount of data you are using and you want to pay for a cheaper plan, you can make some tweaks to your Internet usage. For example, on social media, set videos to never autoplay. Additionally, review your Netflix streaming quality. The higher the quality, the more data you are using. If you are downloading movies, download them in SD as opposed to HD. An HD quality movie on iTunes is around 4 GB, whereas an SD quality movie averages 1.5 GB.
How Fast Should Your NBN Plan Be?
This can be a tricky question for Australians because for the longest time we didn't get to choose how fast our Internet connection was. However, now the NBN is giving us a choice.
There are two factors that we need to consider when determining how fast is enough for us. The first thing we want to think about is NBN speed from the vantage point of how quickly we are able to download things. Then we want to think about the maximum capacity of our connections.
For example, let's say that we opted for the cheapest NBN 12 plan. We get 12 Mbps. However, in our house we have six people who are frequently on the Internet. If everybody is online simultaneously, each person only getting around 2 Mbps each, which is nothing.
In most cases, we recommend that you get a NBN 50 plan. This will allow a family of four to connect to the Internet with good speed. Sure, you will save a few extra dollars purchasing a slower service. However, when everyone in the family is fighting to stream Netflix, watch videos on YouTube, or play online games, you will realize that the few extra dollars you saved are not worth it.
Should We Get a ISP Plan on Contract?
The answer depends on what you want from your Internet.
The Benefits of Going Contract Free
You may want a contract free month-to-month plan because you are not locked in it for the long haul. You will likely need to pay a set up fee, and you will likely be charged for your router and modem. But you are free to cancel your service at your leisure. If you do not like your provider, you can move on at any time. This is a good option for people who are considering trying out a new provider that they are not confident in.
You will also be able to easily change providers if you find a better deal. However, if the new deal you find is also set up on a month by month basis, you will likely need to pay another expensive set up fee. Here in Australia our broadband market is not as robust as our smartphone market. This means there is less competition, so you will likely not see a huge fluctuation in prices from one provider to another unless there is a deal.
Benefits of Getting a Contract
If you go the contract route, your ISP will lock you in for between 12 and 24 months. However, you will likely save money over time. Some of the perks you get for signing a contract could include not paying a set up fee, getting a free or discounted modem, and having a cheaper monthly price.
Long-term contracts usually come with some type of bonus. They may include a television, laptop, or access to other services. While all ISPs use contracts, only a few work on a month-to-month basis.
We hope you have enjoyed our review of the top 10+ best ISPs in Australia. As always, we love to hear from our readers. Let us know your experience with the different ISPs you have used in the comments section below.
---