Disclosure: Privacy Australia is community-supported. We may earn a commission when you buy a VPN through one of our links. Learn more.
BetterNet Review – STAY AWAY If You Value Privacy
If you think any VPN, even a free one, is better than none at all, think again. The crap factor on some is just too high.
Free VPNs can offer you all of the perks in the world. However, there is a reason why they are free. They are making money somehow.
Usually, it is by selling your data or by showing you a ton of ads. Their services are usually not secure, they have a limited number of servers available, and they just don't work well.

When you read our reviews, there is a common thread that you're going to see.
It is that quite often no VPN is better than a free VPN.
Betternet is a free VPN service that once again validates our opinion.
To its credit, Betternet does do a better job of protecting your data than some of the other free VPNs we reviewed. But as you read this review, you will see why we didn't include Betternet in our list of the best free VPNs.
Who Is Betternet?
---
This may be the first time you've heard of Betternet. That's likely because they are a relatively new company that came on the scene mid-2015. Since the creation of the company, they have been growing little by little.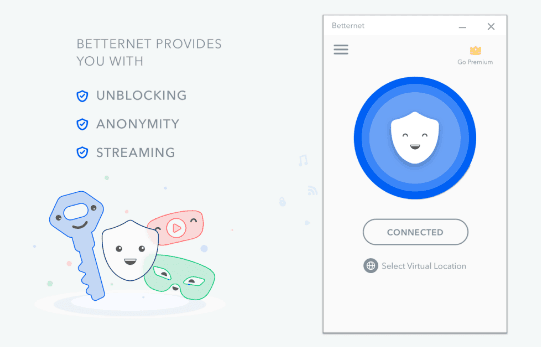 Of course, the primary reason why people are attracted to them is that the VPN is totally free. It can be used on a number of platforms, ranging from android to Mac to Windows. There are even extensions that can be used on the Chrome browser and Firefox.
You get all of that without even paying a penny. What's nice is that there is no need to register, so they don't have any of your personal information, like your name or your email address.
Cons
The app has malware
Retains certain data
Gives third parties access to data
IPv6 and IPv4 leaks
DNS leaks
Slow speed
Frequent dropped connections
How Does Betternet VPN Make Money?
---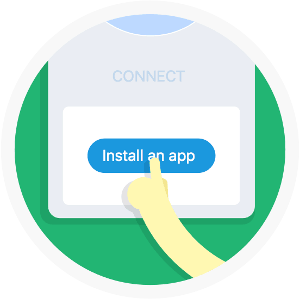 According to the Betternet website, this service is free because they offer free sponsored apps. When you download the mobile app, you'll see an "install app" button.
By clicking the button, you receive advertisements for other applications you can install. Every time you install an application, Betternet makes cash.
They offer videos. When you install the app, you'll see a button that says "watch a short video". By watching the video, you help Betternet make money.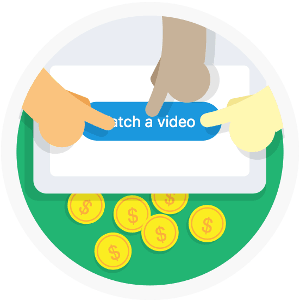 Betternet claims that this model is working well for them. The users install the recommended apps, and Betternet is able to keep the lights on.
They promise to keep their service free forever thanks to the support and loyalty of their clients. They also claim that their purpose is not to make a profit, but it is to simply cover their maintenance costs.
Interestingly, Betternet recently unveiled its "premium version". This service was created to cover expenses that the free service was not covering. It is designed to help add servers and provide the highest quality service for users.
We have a number of issues with this. It's very common to hear people say that when you use a free VPN, you are the product. Basically, what this means is that what free VPNs like Betternet sell is your data. They are selling their real clients. They give the advertisers access to you.
This means that the focus is not providing you with a good product but instead on providing the advertisers access to a good product, your money.
Malware Galore
---
An academic paper entitled "An Analysis of the Privacy and Security Risk of Android VPN Permission Enabled Apps" outlines just how dangerous Betternet VPN is when it comes to malware.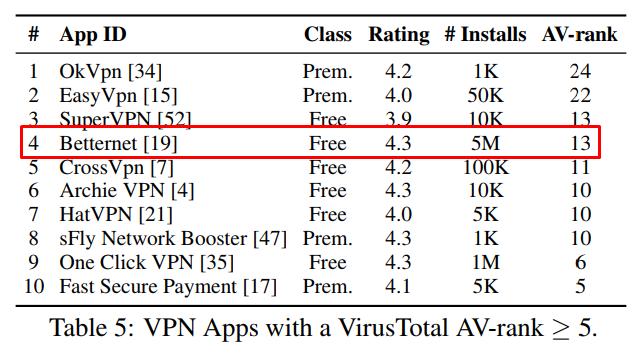 The academic paper showed that Betternet was shown to be positive for malware by 13 different antivirus programs. This study underscores the importance of looking beyond the ratings on a service like Google Play.
Users may rate the software very high, but it's because they don't know the damage the software is potentially doing to them and their privacy.
Should You Trust Betternet VPN?
---
By now you probably know how we are feeling on the subject. But we would like to take a few minutes and look at Betternet's privacy policy and see how it compares to the best VPNs we've reviewed.
Right off the bat, looking at the privacy policy we see some things that give us a reason for concern. Betternet VPN says they do not identify you.
However, they go on to say that they do collect information that you share, which they use to support their product advertising. In other words, they take your information and give it to others.
If you choose to use a third-party product or service or in any way interact with those parties, Betternet VPN has no responsibility whatsoever for your security.
Well, at least they warn you.
Why Does Betternet Allow Malware and Tracking on their Applications?
---
These tools allow them to collect your data. This is the best way for them to make money from their free VPN application.
Once your data is collected, it can be sold or can be used to target you with advertisements tailored to your perceived likes.
This, in turn, means revenue for Betternet. Truth be told, this is the business model for most of the free apps that you download.
That's the Free Service, Is the Paid Service Any Better?
---
To gain access to the premium Betternet VPN, you first have to download the free VPN. Once it's been installed, you are given the steps needed to go through the installation process.
Here, you're given the option to start the seven-day trial. However, before you can start the trial, you have to provide Betternet with a bunch of your personal information.

The price you pay will vary depending on how long you subscribe to the product. The longer you subscribe, the bigger your loyalty discount is. You're given the option to subscribe for one month or one year.
The one month price is $12.99. However, if you pay for the year upfront, the monthly price plummets to $7.99. If you opt for the seven-day trial and you do not cancel your subscription, your subscription will automatically renew at the $12.99 rate.
When you input your payment method, you automatically set up a recurring billing process. If you forget to cancel the agreement before the subscription comes to an end, Betternet will charge you for another period, the one month, or year.
According to Betternet's refund policy, you may receive a prorated refund of your current subscription payment amount. If the account is terminated because of a breach of the terms and conditions, there are no refunds available.
All refunds are given at the discretion of Betternet, and they reserve the right to deny your refund for any reason, or for no reason at all.
Security Settings
---
After you install the Betternet VPN client, you may be surprised to learn that there is no kill switch, no startup control, and no leak protection options. Do we take it as they have ZERO security?
As mentioned, when you sign up for the free seven-day trial, you have to handle your payment details. This is concerning because you don't have an account with Betternet.
There's no place that you're going to log into to look at your payments, review invoices, or cancel the service.
There does exist the option to cancel subscriptions from a mobile device. But what if you paid on your desktop? For security reasons, if you decide to use the trial and pay with your credit card, test the service for a day or two and then cancel it right away if you feel it is necessary.
This will give you time to go through the rigmarole of breaking free from the service.
Where Are Betternet's Servers Located?
---
When you use the free service, there is no option to select the server you connect to. By default, the Virtual Location is set to the United States.
When using the premium option, you can connect servers located in:
Algeria
Argentina
Armenia
Australia
Austria
Azerbaijan
Bahamas
Belarus
Belgium
Belize
Bosnia & Herzegovina
Brazil
Bulgaria
Cambodia
Canada
Chile
China
Colombia
Costa Rica
Croatia
Czech Republic
Denmark
Ecuador
Egypt
Estonia
Finland
France
Germany
Greece
Hong Kong
Hungary
Iceland
India
Indonesia
Ireland
Israel
Isle of Man
Italy
Japan
Kazakhstan
Kyrgyzstan
Laos
Latvia
Liechtenstein
Lithuania
Luxembourg
Malaysia
Malta
Moldova
Monaco
Montenegro
Mexico
Nepal
Netherlands
New Zealand
Norway
Panama
Pakistan
Peru
Philippines
Poland
Portugal
Romania
Russia
Singapore
Slovakia
South Africa
South Korea
Spain
Sweden
Switzerland
Taiwan
Thailand
The United States
Turkey
Ukraine
United Arab Emirates
Uruguay
Vietnam
Venezuela
You're not allowed to choose specific servers, just regions.
Server Speed
---
Server speed was problematic whether we were dealing with the free version or the paid version. Below is a baseline speed test evaluating the network.

And here it is connected to the optimal server on Betternet.

Whether you are trying to connect to servers in Europe or the United States, you frequently get the DNS errors. When you're able to connect to their service, the results you get are very inconsistent.
What Is Our Final Verdict?
---
Oh, we absolutely love Betternet and think everyone should use the paid service. While you're at it, take a gun, and shoot your own foot too.
No, but seriously, Betternet is one of the worst VPNs we've ever reviewed. The servers are unreliable. They have little to no support. There are no features, and there are a whole host of privacy concerns. When it comes to unblocking streami

And even if we were able to get around geo-restrictions, the server speed was so slow that streaming was all but impossible.
We feel bad for those who have been lured by free candy, only to end up in the gingerbread house. Please don't be one of those people.
Another Alternative – NordVPN
---
If you're looking for a quality VPN service, we recommend NordVPN. NordVPN has over 5,000 servers around the world, has a clear no logging policy, offers unparalleled customer support, has servers specifically designed to get around geo-restrictions, and is reasonably priced.
NordVPN is user-friendly and has simple software.
They are very committed to protecting the privacy of their customers.
With this top-tier VPN, you do not have to worry about hidden fees or clauses.

They do not try to upsell products, and you are able to use the service on up to five devices with just one subscription.
Every single one of NordVPN's servers gets around geo-restrictions on services like Netflix. Because they are located is in Panama, you are protected from a number of government surveillance programs that threaten to compromise your privacy.
NordVPN has a stellar customer support and offers a 24 /7 live chat.
It allows P2P services and offers plans ranging from $2.99 a month to $11.99 a month. And while this price might be a little bit more expensive than some of the other VPNs on the market, it's important to remember that with VPNs, you get what you pay for.
Sometimes, free comes at an even loftier price. Take your privacy seriously and invest in a good VPN. Prevent what might have been a great disaster from happening. Go with NordVPN.
---
More Useful Guides: