Disclosure: Privacy Australia is community-supported. We may earn a commission when you buy a VPN through one of our links. Learn more.
What Do Australians Think About The State of Online Privacy in 2020? (We Asked 2000 People)
Online privacy is a big deal. Let's look at how Australians responded to a new survey on the topic.
The level of safety that you have online might not be as important s breathing but it's not too far down the list. When you watch the news, you will occasionally see stories regarding data breaches affecting major companies and websites.
One of the biggest data breaches of all-time affected Yahoo. It is estimated that in 2013, about three billion accounts were compromised in a hack.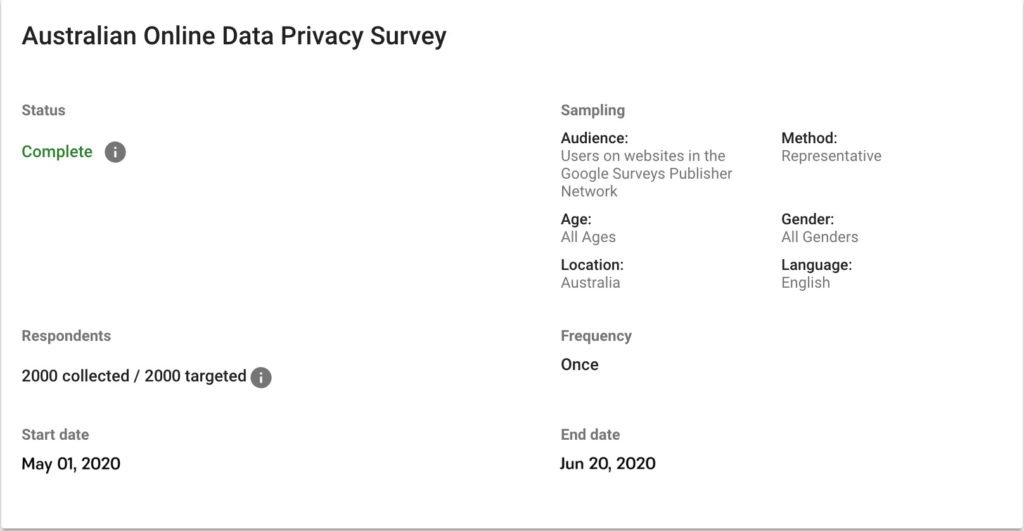 There are dozens of other examples of data breaches that violated millions of people.
It is natural to be concerned about these breaches since they can result in people getting your sensitive information, and then using it in nefarious ways.
How We Gathered Our Data
---
To better understand how Australians feel throughout the country we used Google
Surveys to collect data on 5 specific data points.
Our survey went out for almost 8 weeks gathering data from over 15 cities and 2000 individuals of all backgrounds and education. Our goal was to better understand how people throughout the country feel about online privacy and how they plan to protect it.
Our Sample Size Were the Following:
Males/Females
Aged 20-55
Active Google Account Users
Currently employed
Australian born and living in Australia
List of Cities Sampled – Sydney, Melbourne, Brisbane, Perth, Adelaide, Gold Cost, Canberra, Newcastle, Hobart, Geelong, Wollongong, Cairns, Darwin
Online Privacy Law Strength
---
There are laws in Australia that are enforced to help protect you when you use the internet.
Unfortunately, it seems that the majority of people polled are unaware of what these are. The following statistics represent how people feel about the efficacy of online privacy laws in Australia:
Approximately 11.8 percent of people feel they are about right
Approximately 20.5 percent of people feel they are weak and ineffectual
Approximately 67.7 percent report that they do not know what the laws are

Confidence in Companies
---
When a company has a website, it is their responsibility to take the steps necessary to protect their customer data. They must adhere to all online privacy laws in the country and constantly reevaluate their strategies for data protection.
When Australians were asked about their confidence in companies working to protect their data, they responded in the following ways:
Approximately 11.3 percent of people are mostly confident
Approximately 30.8 percent are somewhat confident
Approximately 57.9 percent are not at all confident
Before providing your information, make sure to check their privacy policy.
You should also look for evidence that they use software which abides all necessary privacy laws, including everything from their web hosting services and infrastructure to the content management system used on the site — all must be compliant with the latest privacy regulations.
This ensures that you fully understand the potential risk when handing over your personal information.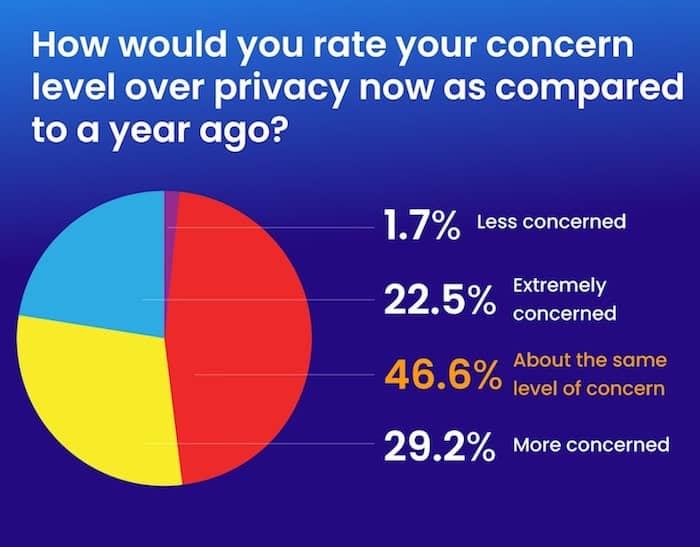 Privacy a Year Ago
---
How safe people feel online changes with time. New laws and guidelines may help to either reduce or heighten your level of privacy.
When questioned about how they feel about their privacy online now compared to a year ago, people responded in the following ways:
Approximately 1.7 percent of people say they are less concerned
Approximately 22.5 percent of people report that they are extremely concerned
Approximately 29.2 percent of people state that they are more concerned
Approximately 46.6 percent of people assert that their level of concern is about the same as it was a year ago

Biggest Threats to Privacy
---
Several factors can contribute to threatening your safety online. Knowing which threats people are most prevalent gives you a chance to examine your own level of safety online.
This also makes it possible to determine where changes need to be made to enhance your overall privacy. The following are cited as the primary privacy threats people worry about:
Approximately 3.8 percent of people cite foreign government surveillance
Approximately 26.9 percent cite companies trafficking and collecting data
Approximately 30.1 percent cite Australian government surveillance
Approximately 39.2 percent cite hackers and other types of cybercriminals
Sacrificing Privacy for Convenience
---
It is a fast-paced world and people expect greater convenience for daily tasks. However, when it comes to technology, too much convenience can sacrifice your overall safety online.
The following statistics show how people feel about gaining greater convenience by sacrificing their privacy online:
Approximately 5.0 percent are willing to sacrifice their privacy for greater convenience
Approximately 6.7 percent put the highest value on convenience
Approximately 88.3 percent state that they believe that privacy is more important than convenience
Protecting Your Information Online
---
You have some control over your privacy online. Knowing what you can start doing right now allows you to play an active role in what happens to your information once you put it out into cyberspace.
Consider the following to keep yourself and your information safer:
Never use a website that does not start with "HTTPS"
Always protect your passwords with a password manager and ensure that they are complicated.
Stick to bank and shopping websites that are encrypted.
Block any activity trackers on the internet.
When you connect to public Wi-Fi never do anything that involves your personal information, and always use a recommended VPN service.
Update your security software often.
Consider using multi-step authentication.
Reliance on the internet is only going to grow as time passes. In order to keep up, the Australian government and people are involved in a national conversation about how to devise and set privacy standards now and in the future.
It is important to know the laws regarding online privacy in Australia. Taking the right precautions to protect your information is also of critical importance. With a little knowledge and due diligence, you can reduce your risk of becoming a victim.
We're looking for more data to add to this study. If you're Aussie and living in Australia now, please share your thoughts with us here. We'd love to hear what you think.
---