Disclosure: Privacy Australia is community-supported. We may earn a commission when you buy a VPN through one of our links. Learn more.
Proton VPN Review – Experienced Security Leaders (Can They Deliver?)
ProtonVPN is not an impressive service yet, but they seem to be trying hard. Here's my opinion on how they stack up against the competition.
ProtonVPN is the brainchild of the Harvard physicists who were behind ProtonMail. ProtonMail's claim to fame is the fact that it was housed in an underground bunker. ProtonVPN is a virtual private network designed to secure your web traffic.
ProtonVPN is a service that is focused on providing security.
To its credit, it is one of the only VPN services that offer a truly free option. It's a good service.
But would it qualify as being the best VPN? Let's look at a few factors that can help us determine the answer.
Overview
---
| Features | Information |
| --- | --- |
| Usability: | Easy to use |
| Logging Policy: | No logging policy |
| Server Size: | 1,400+ servers |
| Server Distribution: | 61 countries |
| Support: | Ticket |
| Torrenting: | Limited |
| Streaming: | Limited |
| VPN protocol and encryption: | OpenVPN, IKEv2, WireGuard protocol / AES 256-bit encryption |
| Headquarters: | Switzerland |
| Price: | From $4/month |
| Official Website: | https://protonvpn.com/ |
Pros
Servers are physically secure
Good privacy policies
The Internet client is easy to use
P2P friendly
Can include ProtonMail
Secure Core connections
Cons
Limited servers and server locations
Server speed issues
Not all clients get full access to server features
Features:
Three server locations with the free version of the VPN
AES 256-bit encryption
4096 – bit RSA key encryption
HMAC with SHA384 for message authentication
Open VPN protocols
Swiss-based company
Proton VPNs Secure Core is located 1,000 m below the surface in a fallout shelter
Kill switch and Always-on VPN
Transparency report
Warrant canary
Can You Trust ProtonVPN?
---
When determining whether or not a VPN is trustworthy, one of the first places we like to look is at their privacy policy. In discussing their philosophy, ProtonVPN says that they are committed to protecting the privacy of their users.
This means that they collect the minimal amount of information needed with the goal of allowing their clients a private and anonymous experience.
ProtonVPN promises not to collect any logs. As such, they are committed to not sharing information about your connections or the websites you visit.
They do store a single timestamp of the most recent activity on your account login. This does not include information about where you sign in from or how long you have been logged in. This is standard practice with all VPNs.
This allows them to make sure that customers are not abusing their service by having more people use the VPN than the subscription permits. The timestamp is overwritten each time you connect to the server anew.
Some have wondered how ProtonVPN is able to avoid retaining log data as this is compulsory under Swiss law. ProtonVPN gave a detailed explanation of this in their privacy policy.
The take away from their blog is that the laws that require storing logging information apply to major telecommunication operators, which ProtonVPN is not. So they are not affected by those laws.
Are Proton Mail's Servers Safe?
Others are concerned that many of ProtonVPN's servers are not located in Switzerland. Instead, they are located in countries like Canada, the United States, and China where things like logging and monitoring are enforced.
So one could ask how would the no-log policies work in this situation. The answer is that the policy is the same regardless of where the servers are located. According to ProtonVPN, their servers do not store any personal information, so it's safe to connect to whatever country the user would like.
ProtonVPN is open and upfront about the fact that they know whether or not a particular client is connected to the VPN service. But this is true with every VPN service out there. What we like about ProtonVPN is that they are responsible enough to disclose that fact. For us, this is a good thing.
Also, the fact that they track timestamps of login attempts is good because it allows them to protect against brute force attacks. A VPN service that says it does not log login attempts is either lying or they are not security-conscious.
So after examining different aspects of their privacy policy, we feel that ProtonVPN is honest. They are upfront about what they will and will not collect. They are backed by individuals who have years of experience in the data privacy field and who take protecting the privacy of their clients seriously.
Since they are a Swiss company, they are not subject to EU legislation. They are not a member of the Five Eyes or the 14 Eyes surveillance programs led by the United States. However, as we mentioned above, Switzerland has also passed some surveillance laws that make us think twice.
These laws require telecom operators to store connection logs for 12 months. Because of the ambiguity of the wording, one could walk away believing that this does not apply to emails and VPN services. This is the tactic that ProtonVPN is taking.
ProtonVPN's Pricing
---
ProtonVPN offers four different pricing methods. Each price point offers optional discounts if you pay annually.
The first tier of service is free. However, it is a very limited service. You only have access to servers in the Netherlands, the United States, and Japan. There are no extra features offered.
However, if you sign up for the free service, you have the option to try the paid service seven days for free. So that's a good option if you want to get a feel for whether or not ProtonVPN's service will work for you.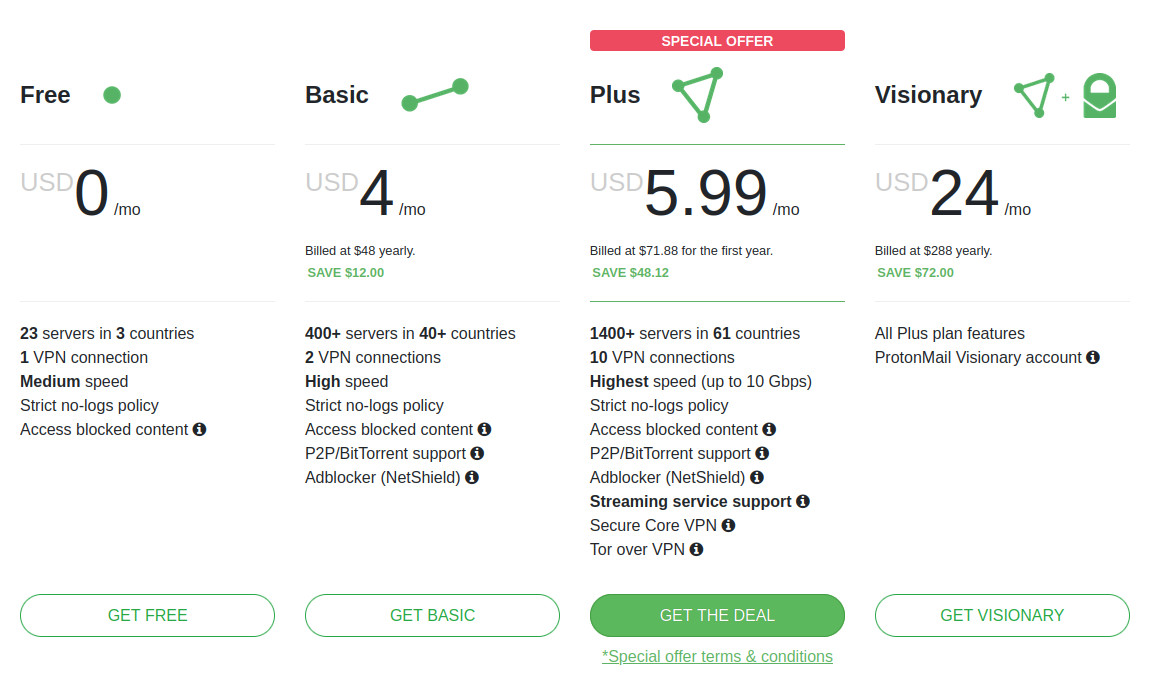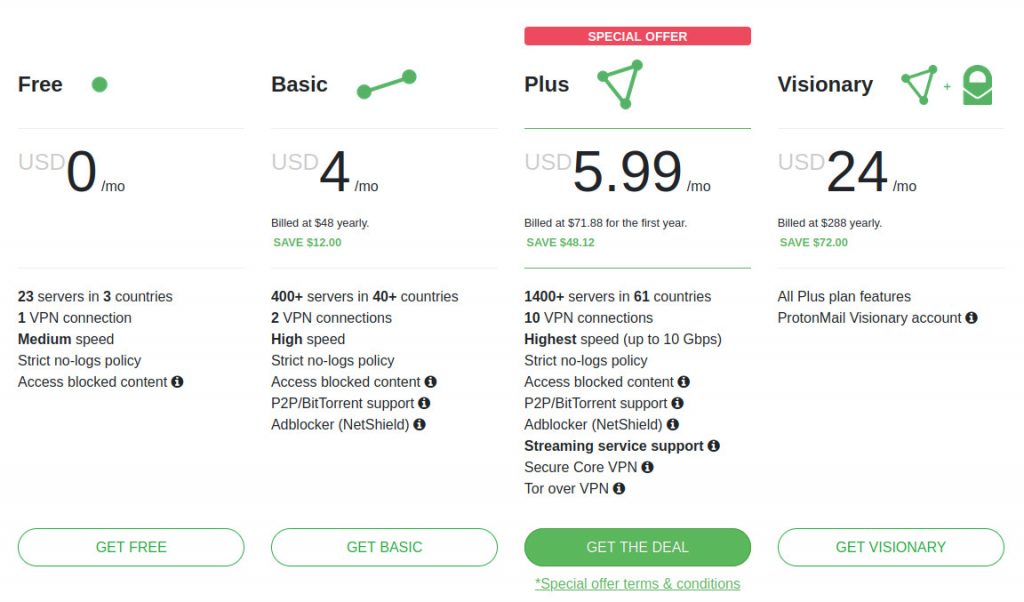 The next option is their $4 basic plan. You have access to 400+ servers. You can connect two devices simultaneously. The speed of the service is higher than what you get with the free option, but this is not their fastest speed.
The next option is $5.99 a month. Your connection limitation is increased to ten devices. Here you get access to their highest speed, their torrent servers, and their Secure Core. For the money, this is the best plan to go with. It gives you everything you're going to need out of a VPN.
The final plan is $24 a month, paid once a year. This plan is very close to the $5.99 plan with the exception that you also get access to ProtonMail.
You can pay with a major Credit Card, PayPal, Bitcoin or Cash.

ProtonVPN offers a 30-day money-back guarantee. However, this is not a full money-back guarantee. It's a prorated guarantee. So you only get refunded for the unused portion of the month. If you use the service for five days, you'll get a refund for the unused 25 days.
This honestly is not a good refund policy, especially when you look at other services that offer a full no questions asked money-back guarantee.
On the positive side, according to their terms of service, ProtonVPN may provide a prorated refund to their clients, if for some reason their service was either not available or unstable. This would be done after the account holder makes a request. All refunds are processed within 14 days of the request.
ProtonVPN Server Speed
---
ProtonVPN has okay speeds using the plus plan. It's about 13 percent to 15 percent slower than an unprotected connection. The closer you physically are to the server, the faster the speeds tend to be.
Checking the connection using their plus servers led to a little bit higher loss in connection speed. However, we expected this because of the increased level of encryption. Although there was some speed loss, the service was still fast enough to use online streaming services.
The Secure Core network connections had the slowest speeds of all on the service. This is to be expected because the path to get to the VPN destination server is augmented with multi-hopping. This added security measure ups the ping time significantly and noticeably lowers the Internet speed.

Starting with a base ISP down speed of 28 MB per second, the encrypted connection lowers the speed to 18.46 MB per second. We're talking about a 35 percent drop in speed. We saw that the same results were true regardless of the server. Speed dropped between 25 percent and 35 percent.
This is a drastic loss in speed, but it's fast enough so that you can go about your Internet activities if you are willing to sacrifice speed for increased online privacy.

With the free VPN service, you're going to notice the greatest dip in connection speed. This is because the service grants access to a small number of low bandwidth servers that often are at load capacity.
Here we started with a base ISP download speed of 28.22 MB per second. It dropped down to around 15.5 MB per second. This is a drop of around 45 percent. And other test speeds dropped between 30 and 60 percent. Depending on how fast your original ISP connection is, this could produce a noticeable effect and impact your ability to enjoy surfing online.
So the free choice is not really a good option for individuals who routinely use the Internet with a VPN. If you rarely need a secure Internet connection or you are tight on money, then this might be a good option for you.
Understanding the Secure Core Connections Option
---
One of the upper-tier features of the service is its Secure Core network. This network is a group of servers located in Iceland, Switzerland, and Sweden. All of these countries have very powerful privacy laws. The servers that make up the Secure Core network are in extreme security data centers.
These servers are completely owned and controlled by ProtonVPN. These servers are connected to the Internet using their own dedicated network IP address.
This allows users complete protection against compromised VPN servers and countries with lower regard for Internet privacy, such as China. Or it protects users from surveillance in countries like Australia, the United Kingdom, and the United States.
If the VPN supplier in a country like Australia was forced to monitor the VPN network traffic, they may be able to use time correlations as a way of attacking a user's online surfing privacy.
When a user is connected to the Secure Core network, these timing correlation attacks would only trace back to ProtonVPN's Secure Core network. This minimizes the chance that law enforcement or government agency would be able to trace the user's true IP address.

The basic idea is that your connection begins by multi-hopping via the Secure Core networks. Then it makes its final connection to the destination VPN server. If you are connecting to a server in the United States with the Secure Core network, the traffic would first pass through a server in Iceland or Switzerland and then go to the final destination VPN server in the United States.
Server Location
---
ProtonVPN has a relatively small number of server locations.
At around 1,400+ servers, this is less than what other VPN services have. For example, NordVPN has more than 5,100+ servers, and Private Internet Access VPN has more than 3,000+ servers.
The more servers a VPN company has, the more options there are for spoofing your location.
If you travel a lot, you want access to a nearby VPN server as your connection will be faster when compared to the one that's in a different country or even on a different continent.
ProtonVPN has 61 server locations. To its credit, they are working on increasing their number of server locations.
These are the Secure Core servers that are used to add additional protection against VPN endpoint compromises.
These are the standard servers that are used to provide a high-bandwidth connection for subscribers.
Do We Recommend ProtonVPN?
---
Although ProtonVPN is relatively new in the industry, they have the technical expertise and backing of the team behind ProtonMail. As a result, ProtonVPN is a secured VPN network. They are a good option, but they are far from being in the same category as the best VPN services we have reviewed.
Their client is easy to use with Windows. The Secure Core network provides an increased level of security. However, that increased level of security comes with a noticeable reduction in speed.
They do offer a free seven-day trial where you can experience the full power of the VPN. However, if someone is looking to use ProtonVPN as a free service, they are going to be disappointed. The servers are usually saturated, and so your Internet speed may be reduced by up to 50 percent.
They have a decent pricing plan with the $5.99 plus service being the best choice for your money. That being said, we feel that this VPN lacks many of the features one would expect from a paid service.
A major downside for us is the number of locations that they have VPN servers in. Also, their customer support is missing a live chat option.
As we said, this is a relatively new company. When you visit their online forum, you see that they are actively engaged with their customers and are taking steps to improve the quality of the service they offer.
We look forward to reviewing this product again and seeing the improvements they have made. But, for now, we feel that this service is not worth the money.
A VPN Service That's Worth the Price – NordVPN
---
Do you want a VPN service that gives a quality service at a fair price? We recommend NordVPN.
NordVPN has thousands of servers spread across 60 countries in 6 out of 7 continents.
They have a clear no-logging policy and provide the best customer support we have seen.

NordVPN is easy to use and reflects the company's commitment to putting its customer's privacy first. There are no hidden fees or clauses. You are able to protect multiple devices with just one subscription.
Because they are located in Panama, you are protected from a number of government surveillance programs that threaten to compromise your privacy.
NordVPN has a fantastic customer support and offers a

24 /7 live chat

NordVPN

allows torrenting

using special servers

NordVPN has plans that range from $11.95 per month to

as low as $3.30 per month

Most of NordVPN's servers

can get around geo-restricted content like Netflix
With NordVPN, you get what you pay for.
---
You May Also Like: