Disclosure: Privacy Australia is community-supported. We may earn a commission when you buy a VPN through one of our links. Learn more.
Total VPN – Avoid This One (Serious Server Issues)
Update: TotalVPN is no longer available in 2021. Their website is still online but the service has been shut down.
High prices and lackluster service and features. This VPN service has a lot NOT going for it.

Total VPN boasts a surprisingly friendly user interface. It's so friendly that novices to the VPN world should have no difficulty using it. Unfortunately, there aren't many positives to this service beyond its ease of use.
This service provider is a relative newcomer on the VPN marketplace. Nonetheless, their services are polished and sophisticated.
Total VPN uses reliable VPN protocols like Open VPN, but its logging policy is troubling and their data transfer rates leave something to be desired. Worse services are out there, but that does not make Total VPN the service of choice for sophisticated users.
Total VPN Overview
---
Total VPN is owned by Endurance International Group, which is headquartered in Burlington, Massachusetts, USA. The organization is the parent company of such recognizable tech businesses as Bluehost, HostGator and Constant Contact. Initially, Total VPN was headquartered in the UK. Both the US and the UK are considered to be less than ideal locations in which to found a VPN service.
| Features | Information |
| --- | --- |
| Usability: | Easy to use |
| Logging Policy: | Questionable Logging Policy |
| Server Size: | 60++ servers |
| Server Distribution: | 30 locations worldwide |
| Support: | 24/7 live chat and ticket system |
| Torrenting: | Allowed |
| Streaming: | Limited |
| VPN protocol and encryption: | OpenVPN protocol; |
| Headquarters: | USA |
| Price: | $4.99 |
| Official Website: | https://www.totalvpn.com/ |
Total VPN – Small Subsidiary of a Giant Entity
---
This is because both of these nations are party to the Five Eyes surveillance agreement and also because of the laws governing record retention in these countries.
People who are concerned with maintaining privacy and anonymity are advised to seek a VPN provider that is not a member of the Five Eyes.
Accordingly, you can trust that if a law enforcement agency comes knocking on the doors at Total VPN, any and all data that they have collected about you will be shared. This is borne out by the company's privacy policy, something which is explored in greater detail later.
Total VPN is definitely not on our list of the best VPNs for Australians. Read more to find out why.
Security and Encryption
---
Users at least get decent encryption with Total VPN. This is largely because several options are provided. One of these is OpenVPN, a protocol that is considered to be the best available to date.
Because it's open source, OpenVPN gives users the advantage of a worldwide support system. The source code is available to all, making it possible to modify or enhance it to fit a particular purpose.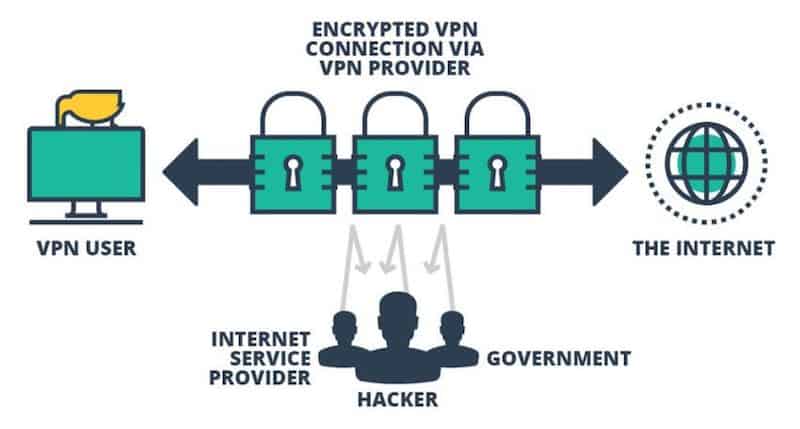 In addition, Total VPN also supports PPTP (Point-to-Point Tunneling Protocol), which is an older protocol that is no longer recommended.
Unfortunately, Total VPN defaults to the this protocol. This means that less sophisticated users may be leaving themselves vulnerable to hackers and other attacks. The other options, which include IkeV2 and L2TP/IPSec, are much more secure and afford better protection. For more great info, read our complete guide to encryption for newbies.
Total VPN's Server Locations
---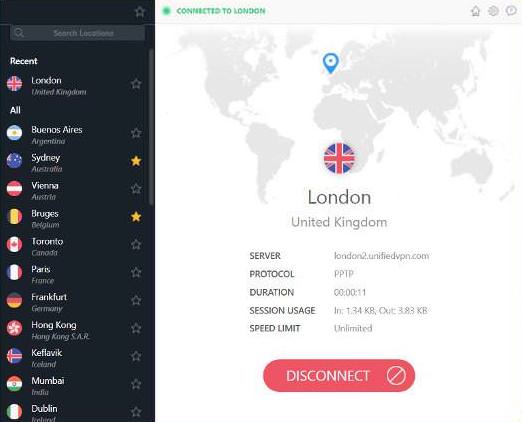 Total VPN boasts on its website that it has servers located on all seven continents.
Then, it says that it does not actually have servers in Antarctica because it is too cold.
Apparently, the company does not acknowledge that South America is a continent, because it says that they have no servers there.
However, they do have 17 servers in North America. These are located in places across the US including New York City, Los Angeles, Seattle, Miami and Chicago.
There also is one server in Toronto, Canada. In Europe, users will find 20 servers.
From Dublin and London to Warsaw and Bucharest, the company's coverage on this continent is quite comprehensive–at least relative to the total number of its servers.
Asia gets five servers in Singapore, Hong Kong, Tel Aviv, Tokyo and Mumbai. Unlike many other VPN companies.
Total VPN does not overlook Africa, though they have only one server there, which is found in Johannesburg, South Africa. Oceania is covered by a single server in Sydney, Australia.
3000 Servers Vs 17 Servers
With servers at just over 30 locations, this offers decent coverage for a VPN company of this size. However, it's undoubtedly unimpressive when compared with the coverage offered by the major players in the field.
Some even boast more than 3,000 servers that are located in over 150 countries around the world. If you travel frequently or want an excellent selection of servers, then you would be advised to select one of the more elite providers.
Using BitTorrent or P2P with Total VPN
---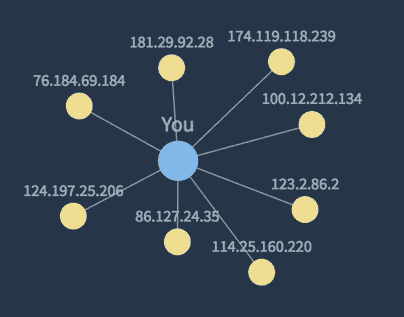 Nothing expressly forbids file sharing or using BitTorrent sites while logged on to Total VPN. In fact, it's included in the Terms of Service, to which customers must agree when signing up.
The company even promises a P2P dedicated server, which is located in the Netherlands, but most users say that it offers abysmal performance.
If file sharing is a primary concern with your online usage, then another VPN is more likely to satisfy your needs.
Total VPN Speed Test Results
---
Speed tests conducted while using Total VPN showed overall decent, though lackluster, data transfer rates. However, there was significant variation depending upon which server was used.
People who sign up for the free version of Total VPN's service are likely to be plagued with incredibly slow transfer rates. This is because free users can only connect to three servers that are located in Singapore, Iceland and Amsterdam.
Unless you are located in one of these areas, you can expect consistently slow performance. If you want to take your chances on getting upgraded data transfer rates, then you'll have to pay a premium price.
Testing Download and Upload Times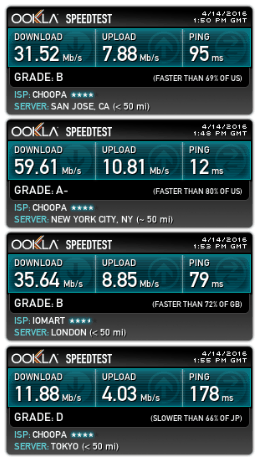 Connecting a computer in New York, New York to the San Jose server elicited download times of 31.52 Mbps and upload times of 7.88 Mbps.
Transfer times were predictably faster when connecting to the server in New York. The download rate increased to 59.61 Mbps while uploads improved slightly to 10.81 Mbps.
Going farther afield to London yielded slower rates. Download speeds of 35.64 Mbps and upload speeds of 8.85 Mbps were hardly impressive.
By far the slowest transfer rates were recorded while using the server in Tokyo, which isn't surprising considering the distance between Japan and the actual geographic location of the computer.
Both downloads and uploads were dismal at rates of 11.88 Mbps and 4.03 Mbps, respectively.
On average, using Total VPN increased the time it takes to download by about 76 percent while increasing upload times by approximately 59 percent.
Those numbers are significant, so if speed is among your most important metrics, this may not be the VPN service for you.
Total VPN's Logging Policy
---
Make no mistake, Total VPN keeps track of your identity information. This is stated without equivocation on the privacy policy page for parent company Endurance International Group. Anything that you provide to them during the registration process is retained.
This information may include name, address, phone number, email address, credit card data and geographic location. Data also is recorded if you contact the company for customer support.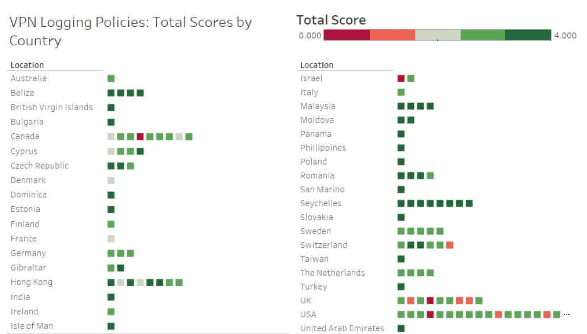 Worse than this is the company's policy with regard to with your "Use of Services, Website Visits and Support." According to the policy, information related to the user's IP address, the browser they use, the pages they look at and the user's geographic location all is collected.
Additionally, the company will track how you arrived at their service page and which links you use to leave it. Even your interactions on social media may be made note of by Total VPN.
Much of this data collection is stated as being used to improve services and to track how well the systems are operating. They also claim that they are tracking your online movements to diagnose any problems with the services they offer.
However, they also state that the data they keep helps them to market third-party products and services to you. This information also may be shared with selected partners and brands related to Endurance International Group, third parties or "for legal reasons."
The upshot is that your privacy and anonymity are hardly assured with Total VPN. If you are dedicated to protecting yourself online, then this service is not the right one for you.
Pricing Options for Total VPN
---
Total VPN is definitely not one of the more reasonably priced services out there. It may offer a free service, but this version is limited to the use of only three servers and is subject to data caps.
The regular price for the company's premium subscription is $14.97 per month, which is certainly not as affordable as many competitors. Specials frequently are offered at approximately half of that per-month price.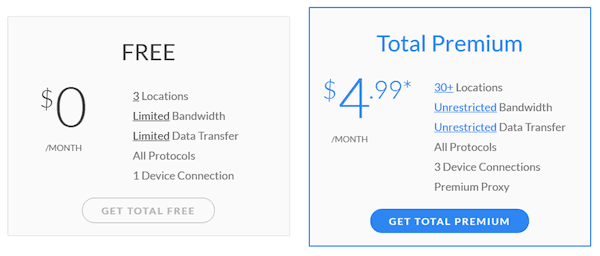 A one-year subscription can be purchased for about $5.99 per month, and customers who go even bigger with a two-year subscription will be charged approximately $4.99 per month.
Keep in mind that these are introductory terms. The company's terms of service allows them to renew your contract at the full going rate at the end of the term, so be watchful for that.
Is Total VPN Recommended?
---
Because of its relatively slow speeds and expensive pricing structure, Total VPN cannot be recommended at this time. Many other VPN services like NordVPN and Surfshark are available on the market today.
If Total VPN wants to be truly competitive, they will have to significantly improve their offerings.
---
You May Also Like: