Disclosure: Privacy Australia is community-supported. We may earn a commission when you buy a VPN through one of our links. Learn more.
Bitcoin Price Prediction for 2022-2040
With Bitcoin potentially reaching a million per coin in the future, the idea of it hitting $100,000 as early as January 2022 might not be so unrealistic.
On the flipside, others think the price could swivel at some point to as low as $25,000.
While that last view is probably less popular, to assist you in your Bitcoin predictions for 2022, I've incorporated a wide range of opinions in this guide – ending with my own thoughts.
Table of Contents:
Bitcoin Explained
---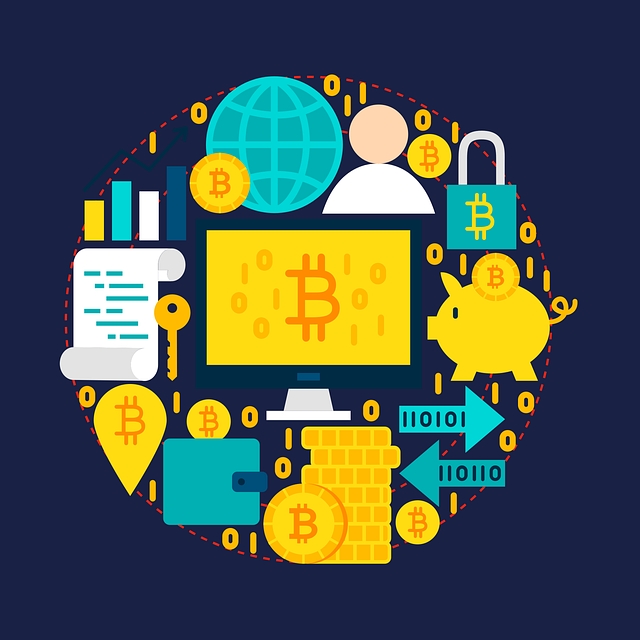 Bitcoin was created at the start of 2019 – based on concepts laid out in a 2008 white paper who's listed author is Satoshi Nakamoto.
It's now the most recognised digital currency, enabling a peer to peer exchange of value on the digital plane. This happens via a cryptographic protocol that handles encoding and decoding data.
What is 'De-Fi'?
Bitcoin operates inside of a decentralized finance or 'De-Fi' model. This cryptographic network is hyper focused on reaching immutable global consensus, which it achieves by publishing transactions on a regularly updated public ledger known as the 'blockchain.'
Cryptocurrencies are used as digital money and (1) are independent of any centralised control such as state, financial or governmental, (2) can be transferred peer to peer, internationally, without need for centralised middlemen, and (3) have an immutable monetary model.
At a practical level, the DeFi model is a disruptively novel way to do 'hard value' digital transactions.
At the societal level, Bitcoin opens up wider emerging markets in developing countries. Crazy to think that it was launched anonymously by a tight-knit group of technologists. It's now a major financial asset measured at the tens of billions of dollars.
BTC's also the most regulated cryptocurrency – it has varying levels of restrictions of use by the major economies. For instance, China has banned its use and issuing. While El Salvador was first to mandate bitcoin as legal tender.
Humble Rise
In 2010, Floridian developer – Laszlo Hanyecz – jokingly bought two pizzas for the grand sum of 10,000 BTC. Today, that amount would be valued at over $330 million instead of the paltry forty bucks they were worth back then.
In other words…early proponents of Bitcoin were mostly on the fringe. Users, known as 'cypherpunks,' were mainly strong privacy and cryptography advocates, for technologies used as vehicles of political and social change.
Indeed – one of Dodgecoin's cofounders exited his own company, believing that Dogecoin, and perhaps crypto itself, was a Ponzi scheme… As a second aside, the popular cryptopunks NFT based its brand name on the cypher tag.
We've since seen Bitcoin climb from cents (it stayed in the cents up to March 2010) – up to almost $60,000 a coin in the winter of 2021.
Legality
It's strong in most places. Today, regulators and major economies have given clarity on Bitcoin's legality and of crypto.
We have many exchanges integrated into central banking, facilitating the conversion of local currencies to (and from) BTC more easily – plus custodial services that help institutional investors get exposure to assets. An increasing number of high-profile investors have been signalling interest.
Key Features
Disinflationary – mining of new coins will slowly decrease along a fixed schedule that is inbuilt into the code. The rate that new coins are added into circulation will halve in the following pattern: beginning with 50 coins per block (one added around each 10 minutes) this will halve roughly every four years. By 2024, the issuing rate will reach much less, to 3.25 BTC.
Limited supply – a key pillar in the core protocol; the final availability of coins will be 21 million in sum. This is known as the total supply, which allows bitcoin to be our 'hard asset,' which is one of the key characteristics that has allowed it to be seen as an investment prospect.
Mining incentives – sources wired for securing the bitcoin network are maintained by incentivising participants, called miners. The process is called proof-of-work (PoW). Each minor adds new blocks to the chain, which form the blockchain ledger.
400% increase? Lessons learned from the "GameStop Squeeze"
---
The 400% figure is what very popular sources of Bitcoin news, like CT, are touting will happen by January. But these guys are super crypto advocates. So why should we care?
Lessons Learned from the GameStop Squeeze
How GameStop happened was as follows:
A bunch of Redditors got together to agree the company should be valued higher (than it was at the time). 'r/wallstreet' investors all pumped up GameStop's share cost, and the rest is history… Sure, there's a Robin Hood – stealing from the rich to feed the poor – narrative involved there. But the dynamic still applies.
In my GameStop short squeeze post, I showed why to never discount the power of "buzz" hype. And certainly not with a new technology.
Value is in the eye of the beholder, and a seasonal investment in BTC could be just what Santa ordered. Seasonal shopping trends are a thing… we could see cryptocurrencies becoming the first of its kind, trending gift that you can't physically touch.
Bitcoin Price Predictions from Financial Experts 2021-2022
---
Bitcoin set staggering records throughout each quarter of 2021. So it's generally been an incredible year.
Unsurprisingly, many experts in the crypto world and traditional finance and Fintech, are already anticipating how bright the future will be for this crypto coin.
It's already well above $50,000. What is the upper limit?
Many say well into the six digits. So let's have a look at sources who disagree and who hold the same sentiment – afterwards, I'll make my own case:
Standard Chartered Bank
Standard Chartered bank submitted their forecast in August 2021 that anticipated BTC mounting $100,000 by early next year. This reflects the views of many institutional crypto forecasters. Nick Spanos, co-founder of the Zap.org decentralised network, is one such example: he predicts that Bitcoin will reach $100,000 in the future.
Tim Draper
Tim Draper, billionaire venture capitalist, has even greater expectations, predicting that BDC will reach $250,000. He made this forecast back in 2020, and reaffirmed it in mid-2021, forecasted for the close of 2022.
Token Metrics
Token Metrics' senior analyst Bill Noble shared his personal forecast as $75,000 by the end of 2021. He also cautioned the price could plummet to as low as $25,000.
Long Forecast
Trading analytics website Long Forecast also posted a brief Bitcoin price prediction for the closing months of 2021 that sees the price rising to within $66,332-$72,186.

For 2021, they've forecasted a slow uptake throughout the year. But by the end of 2022, Bitcoin may be valued inside the $139,647-$173,330 range.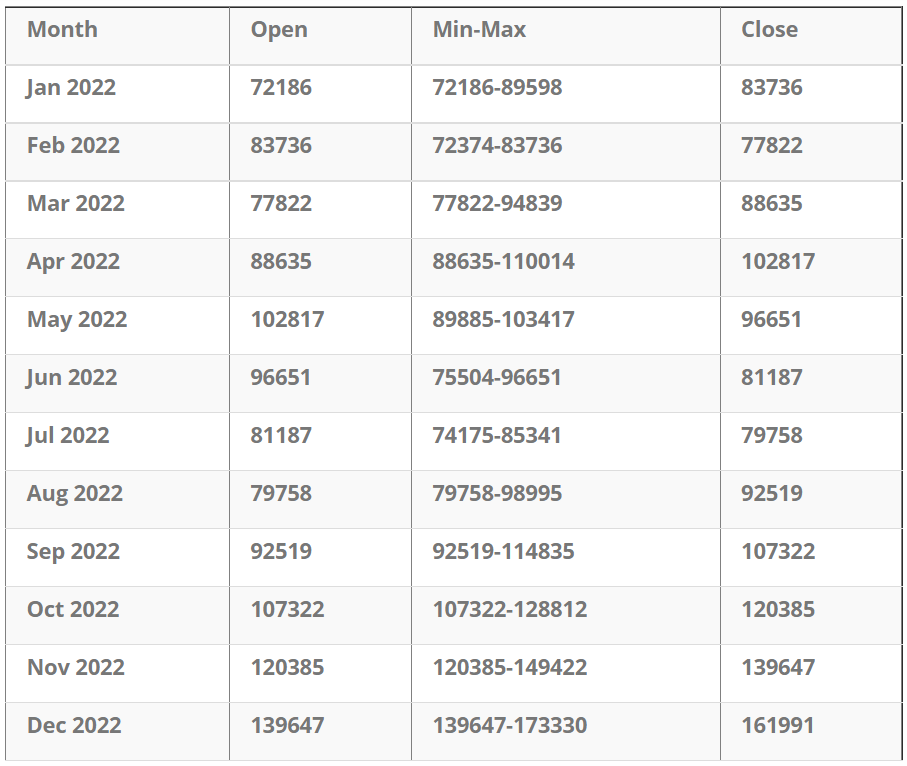 All Forecast
On the other hand, All Forecast is more conservative with its Bitcoin price predictions. They believe Bitcoin's value will stick tightly to around the $60,000 mark.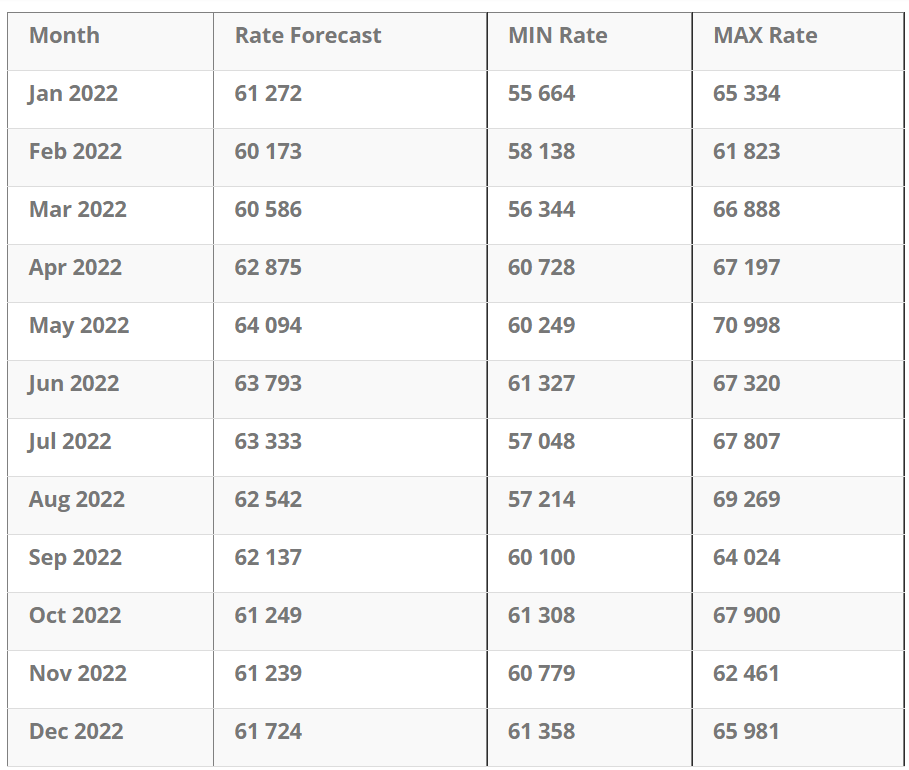 Digital Coin Price
Their graph of what BTC will be worth in 2022 was more positive, forecasting this at very near $225,000.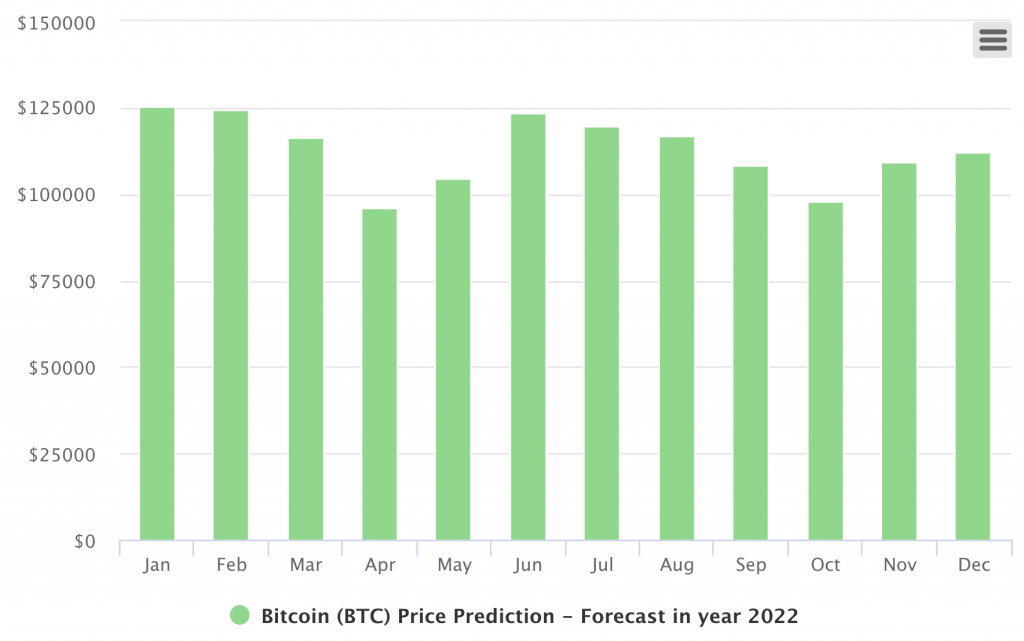 Bitcoin Price Predictions from Financial Experts 2023-2024
---
Some popular sources gave their view on Bitcoin's value 2023-2024, adding to Tim Draper's:
Long Forecast
Long Forecast has an optimistic forecast of over $200,000.
Looking ahead to 2024, they think BTC will remain there with a peak of $267,550 by mid 2024.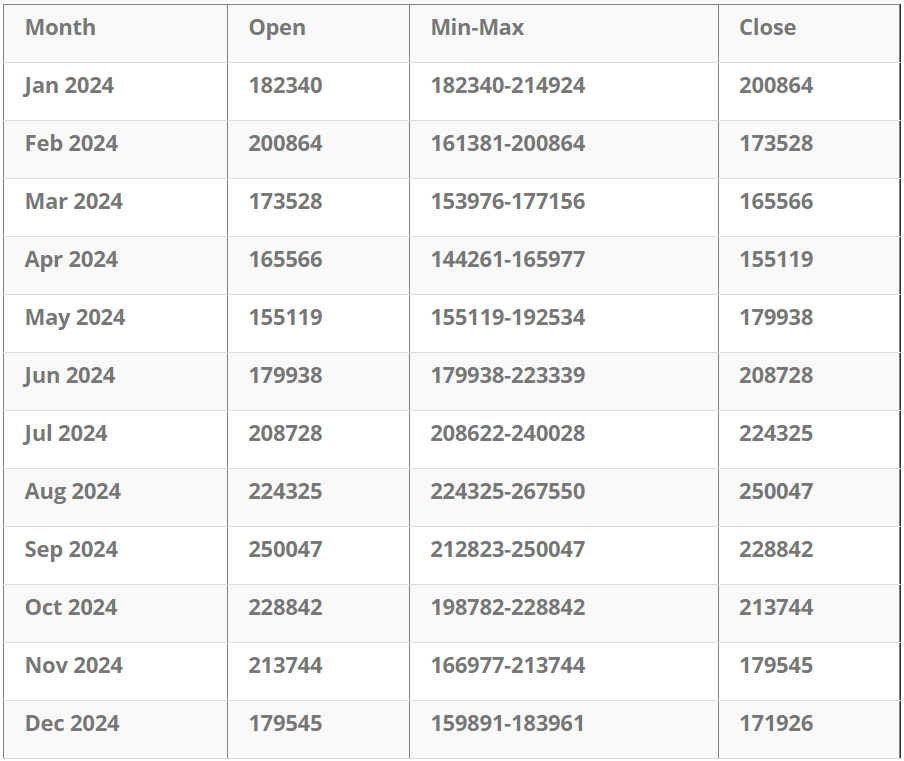 All Forecast
All Forecast doesn't foresee a massive uptick in 2023: BTC will stay within $61,000-$63,000 range.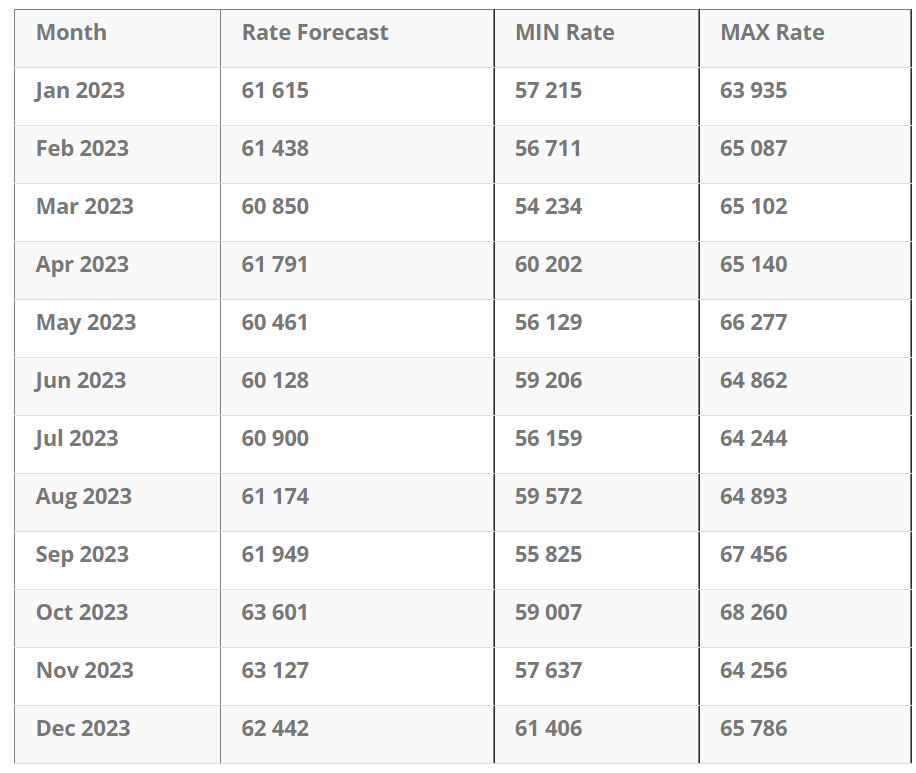 Digital Coin Price
Let's look at a few month-to-month price chart tables from Digital Coin Price, who's speculating on Bitcoin's price 2023-2024. See the tables below for how they project how BTC's value will fluctuate – it hovers at around the $125,000 mark.
The $150,000 landmark is then reached in 2024. But they think BTC will shed its spike soon after, returning to $125,000 by December 2024.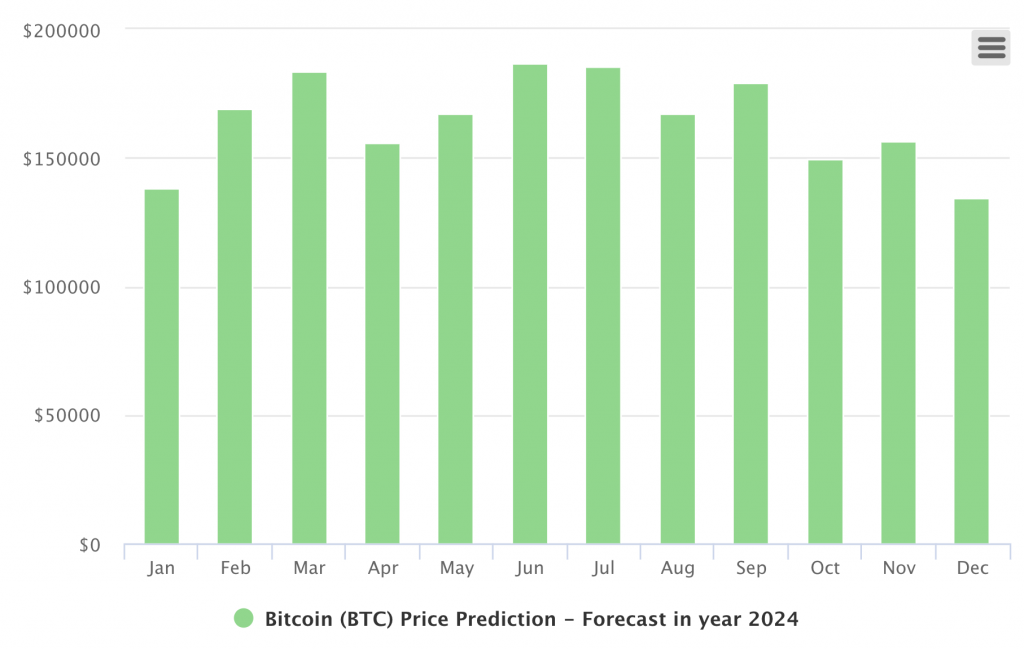 Long-Scale Bitcoin Price Predictions from Financial Experts 2025-2030
---
In the half decade to come, what are financial analysts saying about BTC's value? … It's forecasted to grow. Although looking this far ahead has the same problems as with forecasting the weather, a few sources have made an attempt.
Many analysts take the view that Bitcoin has not spent its potential. 50 Fintech specialists, for instance, polled recently suggested that Bitcoin may spike to $250,000 by 2025 – and a jaw-dropping $5 million by 2030.
Digital Coin Price
A chart shared by Digital Coin Price made an attempt to sketch out Bitcoin's price change in 2021 to 2028. They anticipate a leap at some stage, wherein BTC climbs over the $250,000 mark and drives towards $300,000.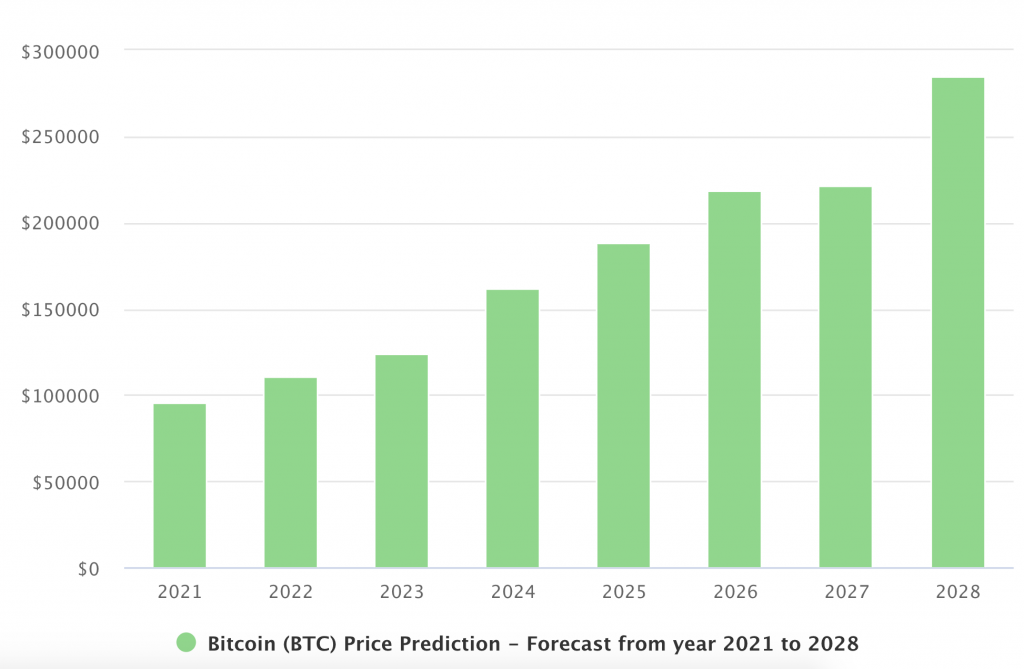 Price Prediction
This source shared their own prediction for the price development of Bitcoin 2025-2030. Their view is that BTC can reach into millions, with 2029 as the crossover where Bitcoin first hits seven digits, and averaging at a price of $1,172,169 in that year.
Coin Price Forecast
Have a look at their BTC price forecast, which sketched out possibilities for 2025 up to 2030.
Price History of Bitcoin Before 2021
---
Let's start with the price movements of Bitcoin since its inception. In the picture below, you can see the most striking events and price increases – up to June 2021. See here for a real-time BTCUSD price chart of the Bitcoin Forex market.
Bitcoin Market Crash 2020
2020 began poorly – due to the COVID pandemic causing a worldwide economic recession. Between February and March, Bitcoin fell from just over USD$10,000 to USD$4,000. 2020's crash didn't just affect the crypto market of course: the stock market index (AEX), for instance, ended with the largest downturn since 1987, more than a 10% drop.
50% Reduction in May 2020
Bitcoin's fall from grace reached its halfway point on May 11. This adjusted the reward per block to 6.25 BTC. The ironic consequence was in making a number of the coins circulating scarcer, which would coincide with people receiving their stimulus money packages. 'Supply and demand' market force rules at work, the price rose.
Bitcoin Network Update in June 2020
June 28, 119 developers make Bitcoin Core upgrades to the network. Core manages the full ecosystem, so this was pretty big news. The OpenSSL encryption protocol was no longer part of the Core code, thereby substantially increasing security levels in gaps in its cyber security profile.
US Banking Adopts BTC in July 2020
We saw the approval of the applied-for licence and bank charter – for allowing US banks to provide bitcoin services to customers. The authorisation was given by the Comptroller of the Currency (OCC), responsible for issuing licences and oversight. The first banking companies to take advantage of this were Avanti, BitPay, Kraken and Paxos.
$250 million MicroStrategy in August 2020
For reasons of ghost inflation, business intelligence firm MicroStrategy buys $250 million worth of bitcoin. This is the most bullish development of the month.
PayPal and BitMEX in October 2020
Derivatives platform BitMEX is dramatically found to be operating without proper licenses and furthermore accused of market manipulation, which is poor news for bitcoin prices. The US Commodity Futures Trading Commission (CFTC) sues BitMEX.
On the other hand, billion-dollar e-commerce company PayPal adopts Bitcoin, also buying up to 70% of the most recently mined bitcoins. Its acceptance of cryptocurrency drives the market, pushing prices up.
More Institutional Investment in December 2020
After MicroStrategy's big investment, a hoard of other institutions follow the lead: Grayscale, Guggenheim, Ruffer Investment, Square, Stone Ridge and MassMutual – each in the same scale. MicroStrategy furthermore raises $650 million, through debt securities, using that cash flow for more bitcoins. The activity propels BTC to $24,000 that month.
Bitcoin Price Change in 2021
---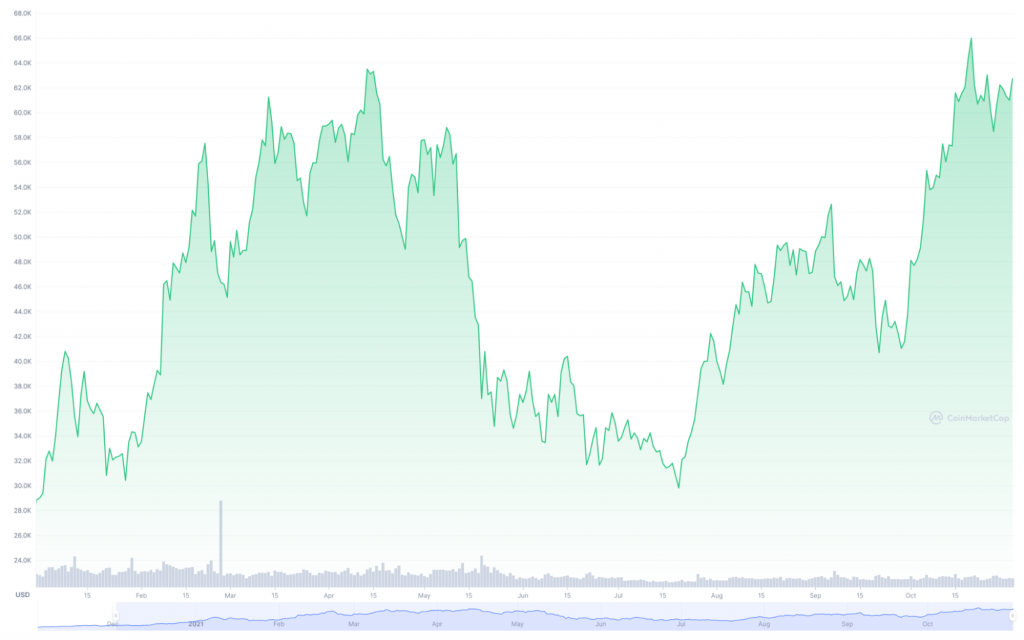 Chief Investment Officer, Jeff Dorman of the digital asset investment goliath Arca, says bitcoin has graduated from a digital assets playschool to mainline global investment. Traditional investors now have the know-how and ability to directly purchase bitcoin. This is happening faster than anyone forecasted.
But here are additional timestamps, for more insight into what pushed Bitcoin's value in 2021:
Crash Follows FCA Warning in January 2021
On the Forex, the BTC/USD currency pair takes a dive at the start of 2021 prompted by regulatory issues. The U.K.'s financial conduct authority wants those investing in crypto derivatives and assets to be prepared to lose "all of their money." Rapidly, about large and $175 billion in market value is stripped from the market.
Mr Bailey, FCA chief says because days are "numbered". He adds that there is a very low chance consequences will remain in existence in their current form. Additionally, Janet Yellen, secretary of the U.S.
Treasury mentions working "closely" with the Federal Reserve Board and regulators federal banking and securities. Both situations suggest harsher cryptocurrency actions ahead.
Tesla Pumps Bitcoin Value in February 2021
Investors are concerned about whether Bitcoin will return to its base value. Serendipitously, Elon Musk posts about Bitcoin on his Twitter page, inside of a day the price climbs by 11%. Tesla also mentions a mysterious $1.5 billion purchase of Bitcoin in an SEC filing, which pushes BTC to over $40,000.
Coinbase Listed on NASDAQ in April 2021
A new all-time high of over $63,000 set in April, one day before coin base gets his share listing in the United States on the NASDAQ. Coyne base, the largest cryptocurrency exchange in the US, also means news for other crypto currencies, including Ethereum. This represents a landmark win for crypto investors and advocates.
China Bans Mining in May 2021
In an effort to curtail financial hazards, China announces it will outlaw Bitcoin mining. This sends Bitcoin spiralling, leading to BTC dropping in value from more than $50,000 to about $32,000 in May. By this stage, China's portion of BTC mining has virtually reached zero.
Environmental Opposition in July 2021
ESG (environmental, social and governance elements) opposition further diminishes sentiments in the crypto market, which drops to single digits. This is compounded by unfavourable regulatory stories from the Financial Action Task Force. The wider global market is also affected.
China's Full-Scale Ban on Cryptocurrencies in September 2021
Since 2019, online cryptocurrency trading has been illegal, but was worked around by using foreign exchanges. This time around, China's cabinet announces a full ban, with the People's Bank of China stating digital currencies and related business activities are considered "illegal financial activities." This drops the price of Bitcoin by over $4,000.
US Regulatory Approval 2021
On the other hand, the USA's fifth largest retail bank, US bank, releases its proprietary Bitcoin custody offering for fund managers. In the future, the Biden administration may also launch an executive order to advise federal agencies. If this goes through, these agencies will be prepared to analyse and give guidance on markets, which is a big boon for traders.
Bitcoin's price stabilised to a bit over $56,000 in this month.
FAQs and My Predictions
---
What you've been waiting for, I'm sure. I'll use some of the most commonly asked questions – about Bitcoin's price development – as a framework, to share my own thoughts on how and if BTC will rise in 2022 and beyond.
What will be Bitcoin's price in 2025?
Predicting the price of Bitcoin at micro level is fool's gold. There are too many unknowns.
But my personal view is there's too much convenience and utility for it to ever reach zero, save from some cataclysmic event. For instance, who could have predicted – at the time – that a pandemic would cause a 2020 global recession, dropping BTC's value by 40% in a single day?
Overall, the trend seems to be that the value of the dollar will decrease as less money is printed and decentralised networks get used more. Adoption by regulatory agencies in the US was a landmark accomplishment, alongside institutions like PayPal, Tesla, central banks – and countless others.
What will be Bitcoin's price in 2040?
Once again, you can't realistically predict the worth of Bitcoin in 2040. Apart from some tokenized forms, such as stablecoins, cryptocurrency is not tied to the value of any fiat currency. Its price development therefore is heavily swayed by single events. Any serious positive or negative change could radically alter its value instantaneously.
Should I buy Bitcoin now?
A great deal of fintech, institutions, and traditional financiers are questioning how high BTC will go. Currently valued at just under the $60,000 mark, you'll want to avoid getting involved if BTC is already at its high.
So they may wait for it to dip. But we can all recall how this trend – of "waiting too long" – already played out at other landmark points of BTC's price development: at the $20, $20,000, $50,000 marks, and so on. There is widespread anticipation for BTC to reach $300,000. So the potential is strong.
Will Bitcoin keep rising?
I would bet my hat on Bitcoin continuing to rise, if not because most investors seem to believe so. As with the GameStop short squeeze I covered recently, you cannot underestimate co-creative boosts originating from trader sentiments.
The unique selling point of Bitcoin is two-pronged: on one hand, the currency itself is a disruptive technology akin to the Internet itself. Secondly, because it is a household name with a majority stake.
Is Bitcoin the future?
Everyone is wondering whether Bitcoin has a future. Almost undoubtedly. BTC has been anchored-in by the Goliaths. For instance, Facebook has created a BTC stablecoin with its value further rooted in a cohort of fiat currencies that include the dollar and euro.
Meanwhile, central banks are hard at work to integrate the coin, mirroring their enthusiasm for the E*TRADE platform which first developed online trading itself for widespread public use. The momentum is enormous; as the everyday consumer becomes more familiar with the currency, this will further boost bitcoin adoption.
How do traders predict Bitcoin's price, growth and dips?
In the long term, mainly by reading the tea leaves of sentiment. These range from traditional analyses, such as price charts and indicators. Broadly and fundamentally, these are based on economic calendars, financial leaders, political events, and industry world news. These can be contrasted against previous market movements, to make pattern-based predictions.
The growth development of Bitcoin's value can be forecasted at two levels: for economy and crypto industry developments. One example of this is how the wider pandemic caused the 40% diminishment of BTC's value. And another micro example, how PayPal's integration of BTC and cryptocurrencies caused a spike.
Who forecasted Bitcoin accurately in the past?
Nobody foresaw the pandemic of 2020. Which meant almost all forecasts for 2020 were inaccurate. Somebody is always bound to be right via the laws of probability. Nevertheless, a few people who happened to predict Bitcoin's value correctly in the past were Tim Draper and Mike Novogratz, who foresaw BTC reaching $10,000 by 2018.
---
You Might Also Like: