Disclosure: Privacy Australia is community-supported. We may earn a commission when you buy a VPN through one of our links. Learn more.
LastPass Review (2023) – Amazing Security… Worth the Price?
Staying safe online today is a hard thing to do. With hackers and cybercriminals relentlessly trying to steal your personal information, you may be hesitant to trust website and mobile apps with things like credit card numbers and email passwords.
Data breaches have become a regular occurrence and often leave people vulnerable to attack.
Internet passwords were designed to be the ultimate safeguard against online threats. As long as you chose a unique password and never shared it with anyone else, in theory your accounts and data should remain safe.
But as cyberattacks have evolved, even complex passwords have been hacked and exposed.
People have begun to demand better security tools to keep their data safe. Password managers like LastPass offer a new way to handle your online accounts.
In this review, we'll look at the most important features of password managers to see if LastPass can help fill the looming gap between security and vulnerability.
What is a Password Manager?
---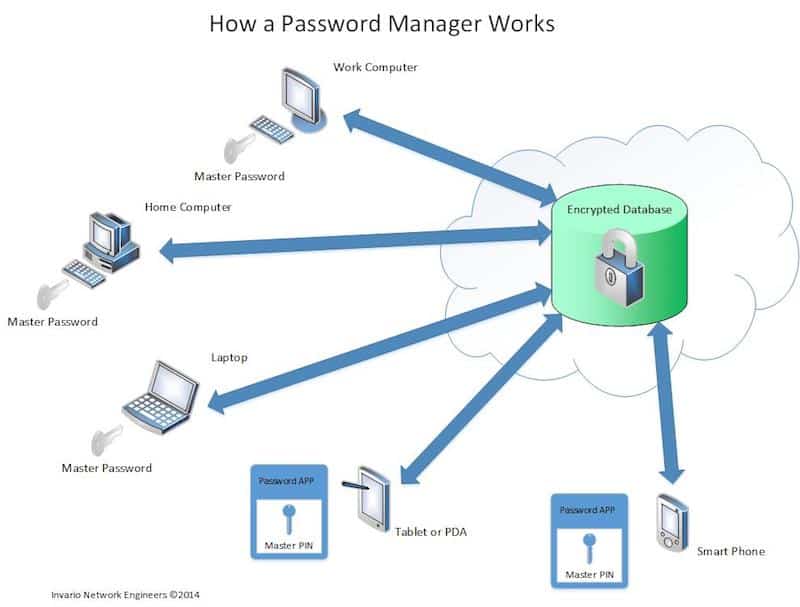 Practically every modern website requires an account and password. That includes websites related to banking, email, social networking, and shopping.
Best practices dictate that you should use a unique password for every single online service, but trying to remember them all is a major challenge.
Using the same password for all sites is also bad, because it makes you more vulnerable to cyberattacks.
The best password management tools can rescue you from both of those dilemmas. They save all of your unique passwords so that you don't have to remember each one while also ensuring that individual credentials are kept secure.
This will save you time as your browse the web while also delivering piece of mind.
Can You Trust Cloud Based Services?
However, there are some potential negatives when it comes to cloud-based password products. First of all, using one requires you to have a great deal of trust in the company operating the service.
If you cannot be certain that the tool is encrypting all of the passwords you store in it, then there is a risk using the password manager.
Before investing in any password management tool, make sure to research its compatibility with all of the devices you use on a regular basis.
If the service cannot be used with certain operating systems or websites, then it may actually make it more cumbersome to try to rely on during your day-to-day life.
Also, keep in mind that a password storage utility functions as a single point of failure.
If you lose or forget your master password, you essentially become locked out from all of your individual accounts, pretty much the same issue when using shared computers and cannot install the password management software on them.
In those [hopefully-rare] cases when you don't have a password manager, you'll obviously have to retrieve and memorize all of your unique passwords, that or end up using a single password for all of your online accounts, which makes you a very nice target for my hacker friend China.
Jokes aside, if that were the case, finish reading this article and you'll end up solving that problem quicker and more seamlessly than you might think.
Overview
---
The first release of LastPass was built in 2008 by a group of four developers who were desperate for a better password management solution.
That team had previously worked together on a cloud platform and understood that there was potential to build a web-based tool that could store passwords online while remaining safe and secure to use.
Here is our detailed guide on Two Factor authentication to understand the concept better.
Seven years after that initial launch, the product was acquired by LogMeIn for over $100 million. LogMeIn is a company that specializes in remote-desktop tools that allow individuals to control servers or workstations over a basic internet connection securely.
The company's branding has remained the same since the acquisition and is essentially being run as a standalone product.
LastPass Solutions
---
An excellent password manager needs to reliable, secure, and easy to use. LastPass meets all three criteria with their solution, which works either as a computer browser extension or a mobile application. The service supports syncing across all devices that you own.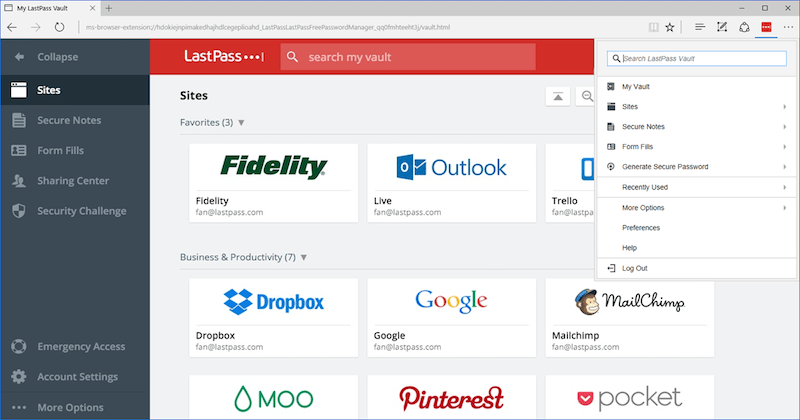 For computer users, the browser extension can be downloaded with a single click. It supports all popular modern browsers, including Google Chrome, Mozilla Firefox, and Microsoft Internet Explorer.
Once installed, a new icon will appear in the upper-right corner of your toolbar. When you click on the button, you will be asked to either log in to an existing account or create a new one from scratch.
New users will create an account linked to their email address. After that, they'll need to choose a master password to be used daily in the browser extension. This master password functions as the primary key for using and managing all other saved credentials in the service.
Once you have set up your master password, you'll be able to view your private vault that is capable of storing individual credentials as well as credit cards and other confidential pieces of information. You can manually add website passwords to this vault or have the service do it automatically as you browse the web.
Each day when you open a browser on your computer, the extension will prompt you to enter your master password. From that point on, you'll be able to access all accounts in your vault without needing to manually type in any more credentials.
The extension will auto-fill your saved usernames and passwords while keeping that information secure.
The mobile application is available for Apple iOS and Android and operates in much the same manner as the browser extension.
For devices that support it, fingerprint verification can be set up so that when you need to enter a password from your smartphone or tablet, you can use your finger to authenticate your master password.
More Features Than Your Typical Password Manager
---
Although the basic functionality of LastPass may seem simple, the developers behind the software are constantly working on new features to make the tool more flexible and comprehensive in how it manages your sensitive data. These types of releases are made available to all users through regular software updates.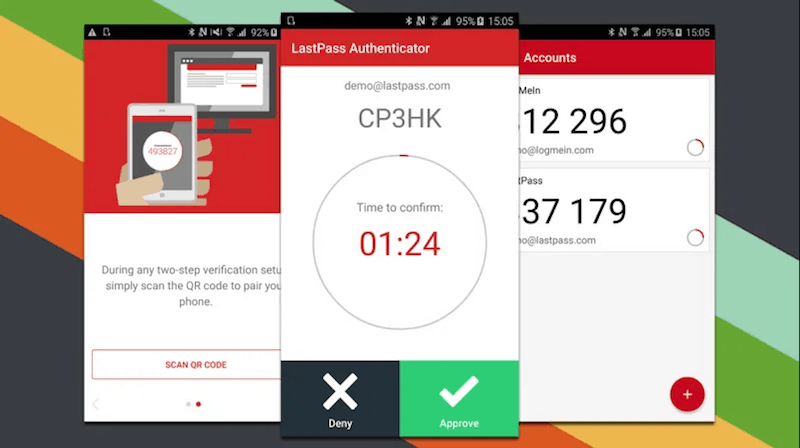 The built-in password generator function is crucial to getting the most out of the password management system.
With a single click, the browser extension or mobile app will create a complex, randomized password string that will be nearly impossible to guess or hack.
You can use the password generator for every new site you visit and each string gets automatically added to your private vault.
Wide Range of Features
When you are browsing through your private vault, you'll notice a wide range of new categories available from the sidebar.
Each menu item represents a separate type of data that you can store securely. These include things like wi-fi passwords, emergency contact numbers, and notes involving insurance, bank accounts, or passports.
Sharing passwords with other people is always a risky endeavor, even when it's with a close friend of family member. To help reduce the danger, LastPass recently launched a new feature called Families which makes it easy to share credentials between multiple people.
You can link six accounts together and choose which passwords are added to the shared space. At any time you have the ability to add or remove visibility to that account information.
With internet privacy becoming a hot topic of discussion, cybersecurity experts are urging internet users to add extra layers of protection to their online accounts. One easy way to do this is with two-factor authentication, where you use a normal password plus another form of identification.
With "2FA", a text message system is the most common form of two-factor authentication, but LastPass has designed their own version that functions like a hardware token.
LastPass Authenticator allows you to verify your identity with many popular websites by using its mobile app each time you are prompted for two-factor authentication.
Premium Features without the Premium Cost
---
New users can get started with LastPass for absolutely no cost. Both the browser extension and mobile app are available as free downloads. Free accounts include unlimited storage in your private vault, as well as access to the password generator and two-factor authentication services.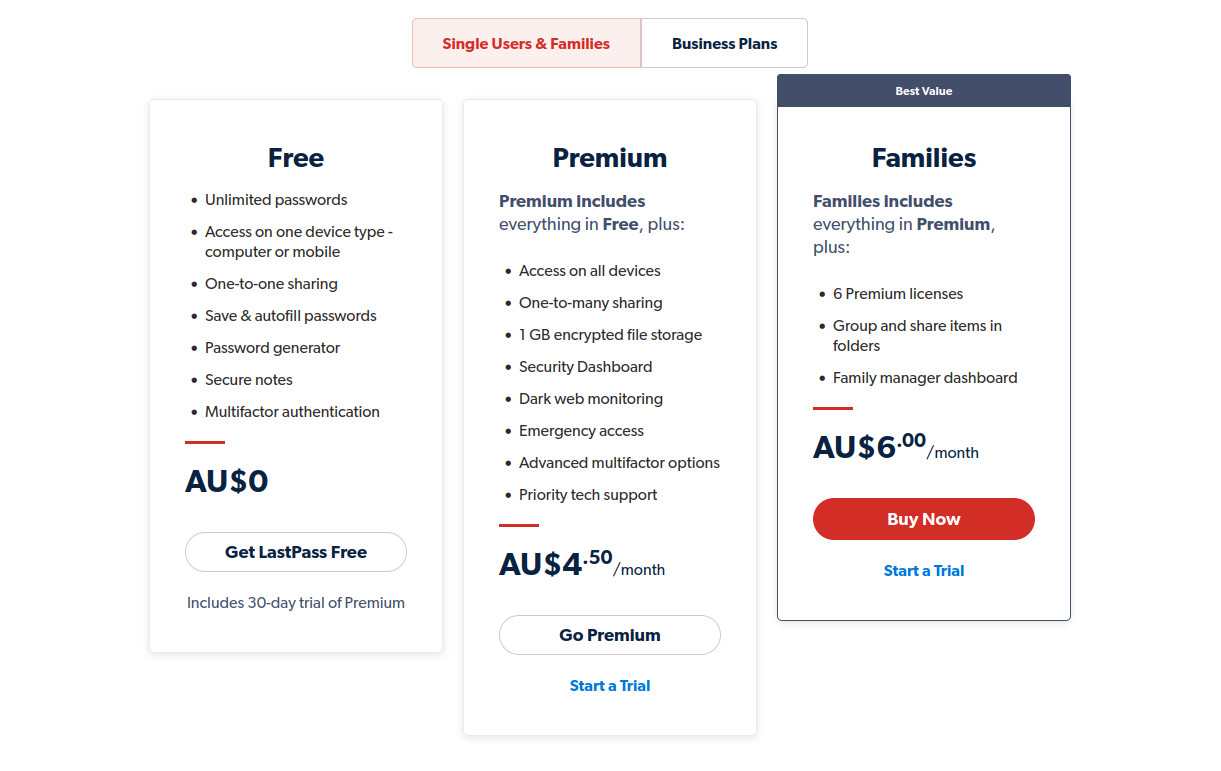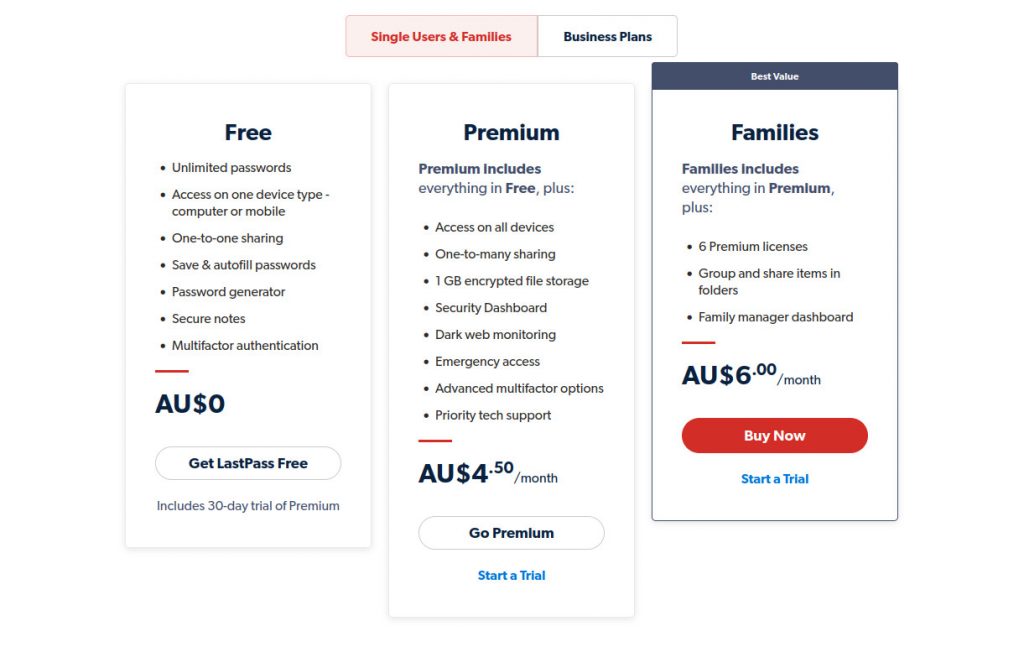 For those who desire more features and functionality, LastPass offers four separate product options, including two for personal use and two for business use.
The personal options are Premium and Families and the business options are Teams and Business. A Premium subscription costs AU$4.50 per month and unlocks several features not included in the free plan.
You gain the ability to send encrypted information from your vault to external users. Also, the subscription will allow you to set an emergency contact who can access your data when needed. Lastly, the Premium plan includes one gigabyte of encrypted storage that you can use to safely move any type of file to the cloud.
The Families option costs AU$6 per month and allows you to link up to six users under the same umbrella account. As the head of the family vault, you'll be able to determine which passwords are shared among all individuals so that you do not need to send them through unsecured channels.
The Teams subscription is designed for smaller companies that have between 5 and 50 employees. The cost is $AU6 per month per user in the organization. All employees get access to a private vault as well as a shared space for managing passwords, licenses, and other secure data.
For larger companies, the Business package costs AU$9 per user per month and offers IT-level control over secure data management. It includes a suite of admin controls that you can use to centralize your identity access systems. In addition, the tool can integrate with your existing directory repositories.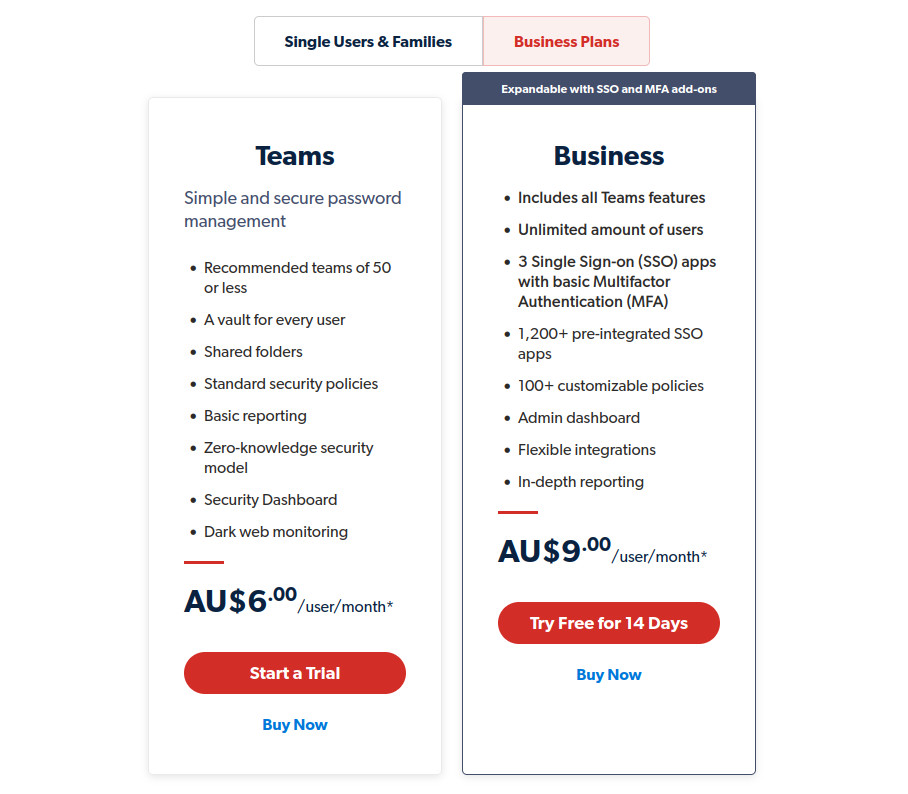 LastPass Security and Encryption
---
LastPass supports full encryption at the device level, which means that even its developers cannot see or obtain the information you store in your private vault. Your master password is never sent to the cloud servers and cannot be accessed by hackers who may be intercepting your web traffic.

The product is built on the Advanced Encryption Standard (AES) 256 bit cipher, which is what the U.S. government uses to protect classified information. The system relies on both PBKDF2 and SHA-256 algorithms when storing password information.
This process is known as salted hashes, which functions as a one-way function to encrypt data as random strings.
Installation Guide
---
The LastPass browser extension is available as a free add-on for multiple operating systems from the company's download site.
For Chrome and Firefox, simply initiating the download activity will install the extension onto your browser toolbar. Mac users who want to use Safari will need to double-click the .dmg file and log in to their account with the installation wizard.
Also note that a universal installer is available for Windows that will add extension support for all active browsers.
On the mobile side of things, users can download the smartphone and tablet app from either the iOS App Store or the Google Play Store.
Once installed, a prompt will appear for the user to log in with their email address and master password. The service will then begin syncing all of your saved credentials.
It's all a very seamless process.
Customer Support
---
LastPass offers different levels of customer support based on the subscription package you have. As would be expected, those with free accounts will receive a lower tier of service than those paying for monthly plans. However, all users have access to the company's knowledge base and FAQ content.
The Premium, Families, and Teams plans all include priority technical support. This means that users can submit service tickets regarding issues or errors. The Enterprise package goes one step further and assigns a dedicated team of customer support experts to be available around the clock.
FAQs
---
Which Password Manager is Easiest to Use?
A: Ease of use depends on the person, so it's best to try out the free versions of a few tools to see what works best for you. The most popular services today include Keeper, 1Password, and LastPass.
Can LastPass be Hacked?
A: Your individual credentials are safe because they are never transferred to the cloud servers and are always kept encrypted. However, if someone manages to steal your master password, then your entire vault is at risk.
Is There a Free Version of LastPass?
A: Yes, the free plan includes the browser extension, mobile apps, and unlimited credential storage in your private vault.
Can I Use LastPass with Yubikey?
A: Yes, support is available for the Premium and Enterprise plans.
Conclusion
---
Thanks to hackers and cybercriminals, you are always vulnerable to attack when using the internet. Password managers are designed to alleviate some of the risk by giving you a central, secure location to store all of your confidential information and account credentials.
But how do you go about choosing the best tool to use for securely saving your passwords?
As we hope this LastPass review has shown, the service comes with a long reputation of security and cloud-based innovation.
Trusting any company with your passwords may feel scary, but their implementation of a private vault has proven to be reliable and protected.
The fact that their basic tool is available for free doesn't hurt things, although users who need more functionality or enterprise support have the option to upgrade to paid plans.
---