Disclosure: Privacy Australia is community-supported. We may earn a commission when you buy a VPN through one of our links. Learn more.
Surfshark Review – Is This New VPN Worth Trying?
When I first heard that another VPN service was entering the Australian market, my first reaction was – how could this possibly be any better/different than many of the already-great VPNs available today?
But I'm a curious bloke and like to scratch my own itch when it comes to VPN research. Hence, I wouldn't be able to rest unless I gave Surfshark's new VPN a legitimate try.
This Surfshark review is designed to provide you with a comprehensive overview of the Surfshark VPN protocols, features, customer service, and functionality.
Sounds good? Awesome.
First and foremost, what – and who – is behind Surfshark?
Surfshark is a new, virtual private network (VPN) service that's brought to you by a company located in the British Virgin Islands.
The company has been in business for a little over six months, offering low-cost VPN plans and a number of features you'll love.
How does it stack up against other, more established VPN networks?
Read on to get our take on Surfshark, the good and the bad, and decide for yourself if it's worth a try.
Surfshark VPN Overview
---
| Features | Information |
| --- | --- |
| Usability: | Very easy to use |
| Logging Policy: | Strictly no logging |
| Server Size: | 3200+ servers |
| Server Distribution: | 65 countries |
| Support: | 24/7 Customer Support |
| Torrenting: | Allowed |
| Streaming: | Allowed |
| VPN protocol and encryption: | OpenVPN, IKEv2/IPsec protocol / AES 256-GCM encryption |
| Headquarters: | British Virgin Islands |
| Price: | From AU$3.33/month |
| Official Website: | https://surfshark.com |
What Makes Surfshark Different?
---
Let's take a few minutes to discuss whether this network has anything to offer that will make you want to leave your current provider.
One important feature it has as a VPN is support for both the IKEv2 and OpenVPN protocols. By using these protocols, they offer the leading encryption standards for Windows users (via IKEv2) as well as everyone else (being that OpenVPN is open source).
Keep in mind, some of the older VPN protocols used by many VPNs do not have the most up-to-date encryption.
This is an important distinction, as Netflix and other companies are able to detect VPNs and initiate blocks due to thousands of users originating from the same IP address.
Further, Surfshark's support for both IKEv2 and OpenVPN means that it can be installed on a range of routers and devices. You can go also into settings on OpenVPN to switch between TCP and UDP.
Surfshark VPN protocols use military-grade 256-bit AES encryption. However, the company goes the extra step of incorporating a 2048-bit DHE-RSA key exchange and a SHA512 authentication hash for additional security (translation: the best possible encryption and security). There's also DNS and WebRTC leak protection woven into the technology that powers this network.
Surfshark has the all-important killswitch feature that allows you to quickly terminate your session in the event of untimely network disconnection. However, it isn't enabled by default from any platform other than their iOS app.
To enable the killswitch in Windows, you'll have to click on the gear icon, locate "killswitch" under the security menu, and toggle it to the "on" position. To turn on the killswitch for Android-powered devices, you'll have to locate it in the phone or tablet settings and enable it manually.
Now, let's get down to the nitty-gritty details. What are the best and worst reasons to choose Surfshark?
Pros
Unblocks Netflix and other media streaming services
Works well for torrenting and P2P file sharing
Strict no-log policy
Unlimited servers, IP addresses, bandwidth, and connections
Located in a country with no data retention or reporting laws
Superior security and encryption
Kill-switch included with all plans
Available in countries with net censorship or blocks
Accepts crypto-currencies
Free trial and 30-day money-back guarantee
DNS, IPv6, and WebRTC leak protection
Cons
Speeds can vary from server to server
App interface lacks functionality and design optimisation
Servers may not be located in the country listed (though they are rapidly adding more)
Slow response from email support team, but much improved in recent months
Proprietary Features
---
In addition to high-level SurfShark encryption, privacy safeguards, and leak protection, the VPN includes some special features that are purpose-built to enhance your experience.
Here are five from the list that deserves special attention:
Use the

CleanWeb™

feature for the extra power to block ads, malware, and tracking software.

Whitelister™

lets you create a split tunnel with your VPN. The purpose is to allow users to bypass or whitelist some web pages and apps without leaving the security of the network itself. It's great to use on your mobile phone with a banking app. You'll find the control in your security settings tab.

MultiHop™

is a feature that's useful for privacy-conscious people who really want to cover their tracks online. This additional layer of encryption allows you to create a double VPN and allows you some extra security in countries that ban VPN services. Your network traffic is secured and routed through two VPN tunnels. Simply use this feature to gain access to your preferred server via another server. Be forewarned that this may reduce your network speed considerably.

With the network in

NoBorders Mode™

, users in countries where the internet is blocked can surf without worry. It enables the same sort of access as the MultiHop feature by obfuscating your traffic without slowing down your speed.

Camouflage Mode

is a very handy feature that allows you to disguise VPN use from your internet service provider.
The Surfshark User Experience
---
You can download the SurfsharkVPN by going to their web page and downloading the version that supports your OS or getting the version for your mobile device from the app store for your model. This network offers one-click functionality.
You can set it to open upon startup from your PC and devices or use the Quick Connect button. Surfshark supports Mac, Windows, Linux, Android, and iOS devices.
There's an extension for use with Chrome and Firefox browsers. It can also be configured with routers or as TOR-Over-VPN for maximum security. (Read more about the best VPN routers and how to set them up.)
Does the Functionality Translate to Their Mobile Apps?
The user interface is deceptively simple, with most of the important features lined up at the bottom of the screen. All of the features and functions work well on mobile devices for both Android and iOS.
If you want to benefit from the free trial, download the SurfShark app to your phone. That way, you can take advantage of the unlimited connections to use it on PCs and other devices.
An added feature – since the VPN first launched – is an option to allow small packets. This may help improve the performance and speed on mobile devices and routers.
Surfshark Coverage
---
The company has more than 3,200 servers spread out over 65 countries. It has ramped-up its capabilities from the original 100 servers since its launch three years ago, so time will tell how far their reach might extend.
As of now, they offer a wide enough network of servers to provide you with several options when you log on. The SurfShark network does have servers in India, Turkey, and several other oppressive countries where the internet is censored and/or websites are blocked.
One mark of a good service provider is how easy they are to contact if there's a problem, and how quickly they're able to resolve any issues. Surfshark gets high marks on all but one of these criteria.
The first place you can look for assistance is the help section of their website.
There, you'll find a number of tutorials, best practices to optimize your connection, and an extensive FAQ section.
The company also offers 24/7/365 live chat support and a contact form for those who want to submit a specific complaint or comment. This is where their grade dips a little. The email contact can take up to 24 hours to get a response. There is also no phone number or physical address listed on their website.

Logging Policy
---
Any time you have to provide personal or financial information, you have to be concerned about how much of that info is retained by the company. You also have to wonder how much they keep to either share or sell, or what the logging policy really looks like.

Good thing Surfshark doesn't store or sell any information regarding:
Activity

IP addresses

Name

Location

Browser history

Session time stamps

Bandwidth used

Network traffic
This company has a strict no-log policy, but you will have to provide your payment information and email address to create an account. However, Surfshark doesn't retain any of your information; all payment records remain with the company your account is billed to. They also support anonymous payment options like cryptocurrency.
What About Speed?
---
Speed tests of this network show decent speeds when using servers located in some parts of the EU and the United States, especially those on the East Coast. The speeds suffer a bit when the servers are located in remote areas and cities that are further from their base of operations. This is typical of many VPNs, so it isn't really a deal-breaker.
Speeds were tested using streaming video and with a 256MB game file on a system with a 60Mbps connection. Working from a baseline of 98.71Mbps, speeds were clocked that ranged from a low of 25.74Mbps out of the server in Hong Kong to a high of 71.06 out of Amsterdam.
Average speeds hovered at around 50Mbps, which is still good enough for streaming media content, gaming, sharing files or even as a great VPN for torrenting.
Pricing
---
The company offers several levels of service and pricing options, but even their basic subscription will give you some of their best features. Their monthly pay-as-you-go plan is priced at AU$16.95 per month.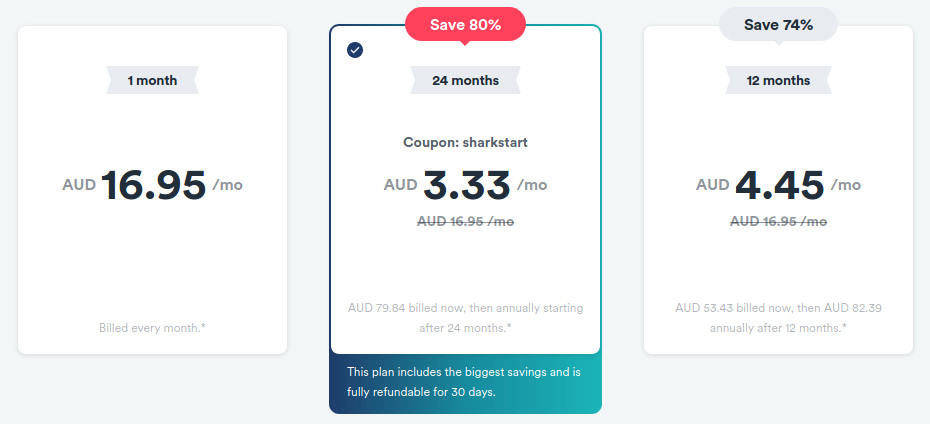 If you don't mind a long-term commitment, the best value option is their 24-month plan that's billed upfront at AU$79.84 every 2 years. That comes out to about AU$3.33 per month.
With their 2-year plan, they effectively became the cheapest VPN provider that brings about this much value in their packages.
You have the option of paying for the services in different currencies like AUD, CAD, and USD, Euro, GBP…
To those who prefer a more "digital experience", the company offers a wide range of payment channels than many other VPN providers.
All major credit cards

PayPal

Cryptocurrency

Amazon Pay

Google Pay
All plans are billed in advance for the full term of the subscription, and they offer a 30-day money-back guarantee. There's also a free trial available for Mac users and those with Android or iOS supported mobile devices. New subscribers can use the coupon code "sharkstart" at checkout.
So, What's the Verdict on Surfshark?
The platform is great for all of the reasons you'd want a VPN, such as access to streamed content, big-name content platforms like NetFlix, Hulu, and P2P file-sharing websites. Best of all, you get unlimited connections. That isn't a perk you'll find with even the largest competitors.
The proof is in the pros and cons. If the positive traits of a service outweigh the negatives.
You have a platform that will perform as promised without costing you a fortune.
All in all, this VPN lives up to its promise. The price is right, and you get a lot of functionality.
There's less coverage than you would get with other Australian VPN services, and there may be issues with speed and access, but that's as far as the major downsides go.
With the speed at which Surfshark is expanding their coverage geos, who knows how fast their services could get in the future. They might even end up as fast as NordVPN.
FAQs
---
No Surfshark review would be complete without offering you a chance to jump to some frequently asked questions about the network and it's parent company.
Q: Can I Try Surfshark for Free?
The company offers a free trial for macOS, Android, and iOS devices. They also offer a 30-day money-back guarantee on every plan, and all packages offer the same level of functionality you get with a full subscription of month-to-month plans.
Q: How Do I Know Surfshark Can Be Trusted?
It's difficult to know what to make of new companies and services. The best we can do is provide our opinion of the company and its services as we experienced them.
However, we can tell you that Surfshark has garnered an excellent rating from 88 percent of current or previous users on TrustPilot. That, coupled with the multiple ways to contact the company and responsive customer service should go a long way toward establishing their credibility.
Q: Can I Use Surfshark VPN on My Router?
The short answer is yes. In order to use Surfshark, your router must support the OpenVPN protocol, and you must be able to configure Open VPN as the client, not the server.
You can find out of your router supports this protocol by looking in your owner's manual or checking the router manufacturer's website. You can also type the name of the manufacturer into the knowledge database at the Surfshark website to get specific instructions for your model.
Q: Is Surfshark More Secure Than ExpressVPN?
The best part of comparison shopping is seeing how Surfshark might stack up against other platforms like products from ExpressVPN or NordVPN.
Looking at them side-by-side, you can conclude that Surfshark doesn't offer the same speed or breadth of services as larger and more established providers, and ExpressVPN has a built-in speed test for their servers.
That being said, the company has undergone a rigorous audit that unearthed no leaks or other issues.
Final Thoughts
---
There are no two ways about it. If you want to protect yourself online, you need to find the best VPN for your system and budget.
Not only does a private network offer peace of mind and anonymity, but the right VPN can also even prevent someone from stealing your information and selling it on the dark web.
You should approach finding a VPN like you would tackle buying a security system for your home – ie, don't settle for anything less than complete and total privacy and security.
Look for unbiased reviews from tech professionals as well as finding out how the network works for real customers. The best way to see for yourself is to take advantage of free trial periods that allow you the time and functionality to really test the scope and limitations of the network.
When you combine solid privacy protection with supplementary safeguards like password managers and antivirus software, you'll have added layers of security from end-to-end.
---
You Might Also Like:
Roy 10/10 Speed : Fast Usability : Easy To Use
April 25, 2020
They are everything they claim to be
I did not need it but while browsing top VPN 2020 they kept showing up. When I saw the price it was all over. Great choice they won 2 gold and 1 silver in 2020 info security excellence awards. I did not see any of the other big ones mentioned.
Adam 9/10 Speed : Fast Usability : Easy To Use
January 20, 2020
Great features
MultiHop and Camouflage Mode were the features I couldn't resist. I have encountered a couple of connection drops while streaming although nothing that the customer service couldn't fix
Dave 9/10 Speed : Fast Usability : Easy To Use
January 20, 2020
Great VPN
Changed from Avira to Surfshark as Avira became very slow. Unlimited devices and cost were main considerations, have now been using Surfshark for 4 moths and have had no problems – very happy.