Disclosure: Privacy Australia is community-supported. We may earn a commission when you buy a VPN through one of our links. Learn more.
Avira Phantom VPN – We DON'T Recommend This One (Test Results)
Too few servers, too slow, and – oh, by the way – how about those German privacy laws?
Avira Phantom VPN has a lot going for it. It uses the latest and greatest VPN protocols and AES-256 bit encryption.
Moreover, torrenting is allowed and Netflix appears to largely be available on many servers. Avira Phantom also boasts a built-in kill switch and the ability to connect multiple devices at once.

Avira Phantom VPN has a lot going for it. It uses the latest and greatest VPN protocols and AES-256 bit encryption.
Moreover, torrenting is allowed and Netflix appears to largely be available on many servers.
Avira Phantom also boasts a built-in kill switch and the ability to connect multiple devices at once.
This collection of positives is not enough to overcome the fact that data transfer rates are incredibly slow with this service. The company also is headquartered in Germany, which may be a problem for users who are especially concerned about the privacy of their data.
The logging policy additionally may be a turnoff for some people.
Let's break it down.
Avira Phantom VPN Overview
---
| Features | Information |
| --- | --- |
| Usability: | Very easy to use |
| Logging Policy: | Some logging policy |
| Server Size: | 1400 servers |
| Server Distribution: | 37 countries |
| Support: | Email and Telephone (paid plan only) |
| Torrenting: | Allowed |
| Streaming: | Allowed |
| VPN protocol and encryption: | OpenVPN, IPSec, Ikev2 protocol / AES 256-bit encryption |
| Headquarters: | Germany |
| Price: | From $6.75/month |
| Official Website: | https://www.avira.com |
Security and Encryption
---
Avira Phantom has clients for Windows, Android, macOS and iOS. When you connect with Android or Windows, then you'll be using the OpenVPN protocol. This is the protocol of choice for most informed users as it has the advantage of being open source technology.
Those who are using macOS or iOS will have the benefit of the IPSec protocol. Sophisticated users may note that there is a lack of choice when it comes to VPN protocols with this service.
However, the average user is unlikely to notice.

Avira Phantom VPN does have a built-in kill switch, but this feature is only available to paying customers and not to those who opt to use the free version of this service. A kill switch is vital because it stops the apps on your computer from continuing to browse when the VPN suddenly loses its connection. This ensures that you maintain total privacy throughout your browsing session.
One mark in Avira Phantom's favor is that it offers DNS protections. DNS is what transforms the URLs that people search for into IP addresses that computers can more readily understand. With an in-house DNS service, Avira Phantom makes it far more difficult for any third party to monitor a user's DNS requests.
Avira Phantom VPN's Server Locations
---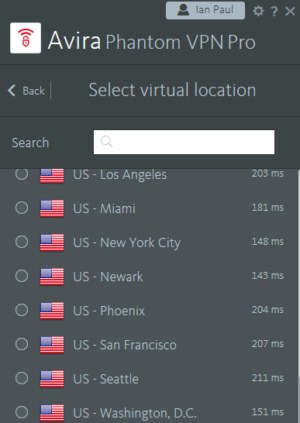 One of the reasons that Avira Phantom VPN is so slow may be related to its smaller number of servers. In total, it has 1400 servers in 37 countries.
Most of these are located in Europe in countries such as Austria, the Czech Republic, Italy, Germany, France, Romania, the Netherlands, Poland, Switzerland, the UK and Spain.
With its headquarters being in Germany, this concentration of European servers is not surprising.
Other servers are located in the US, Canada, Mexico, Australia, Brazil and Singapore. There are a dozen servers in the US, but with just two servers in South America, and the Middle East and Africa are left out entirely. If you are living in one of these places, then it may be wise to seek a different VPN provider.
Avira Phantom's website does promise that more locations will be added in the future, but there are no details concerning when this might happen or where those servers might be located.
Why is this relatively small number of servers significant?
When a VPN provider offers users only a few servers from which to choose, it means that the amount of traffic on each server is multiplied. As the server becomes increasingly crowded, performance, especially data transfer rates, is impaired.
Additionally, the greater the diversity of location of the servers, the more likely users are to find a server that's close to home, which should improve browsing speed. If hiding your geographic location is critical, then having more servers from which to choose means better spoofing abilities as well.
If you look at the top picks for Australian VPNs, you'll see that the majority of high quality services have thousands of servers available.
Using BitTorrent or P2P with Avira Phantom VPN
---
Members of Avira Phantom's customer support team have said that they do not distinguish between different types of web traffic. This means that P2P and downloading of torrents are allowed. Unlike other VPN providers, file sharing is not limited to specific servers.
Avira Phantom VPN Speed Test Results
---
Most people who have used a VPN before know that these services can help to ensure your anonymity and privacy online. They also know that the price they pay for this anonymity is speed. A really reputable VPN provider with a network of thousands of servers and a good diversity of server locations will cause less impact to your data transfer rates.
Unfortunately for Avira Phantom VPN, their system suffers from an incredible lack of servers. This means incredibly slow data transfer rates. Benchmark testing without the use of a VPN gave download speeds of 98.71 Mbps and upload speeds of 53.00 Mbps. When Avira Phantom VPN was turned on, download rates dropped to just 6.98 Mbps while upload rates were a measly 9.02 Mbps.
This test was conducted using Avira's server in the Netherlands, which is quite far away from the test computer's actual location. Testing on a server in the US was even worse. This yielded results of 4.34 Mbps for downloads and 2.23 Mbps for uploads. That's a download speed of approximately 95% slower than the results achieved without a VPN, and the upload speeds were similarly impacted.
When compared with some of the bigger VPN providers out there, these speed test results are pretty dismal. Imagine having to wait several minutes for a website to load. It would be immensely frustrating. You'd probably give up and walk away long before you'd accomplished anything.
Avira Phantom VPN's Logging Policy
---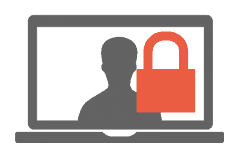 Many VPN providers boast about a no logging policy but then indicate in their privacy policy or terms of service that they actually do some limited tracking and maintaining of records regarding their customers. Avira Phantom VPN is different in that they are upfront about the logging that they do.
The company says that they keep data pertaining to diagnostic information so that they can keep ahead of bugs and other issues that are likely to interfere with user experience. Avira also may track whether specific users are paid or free customers because there are limits on how much data a free customer can use within a one-month period.
Beyond that, the company says that they do not track which websites its customers visit or their IP addresses.
Pricing Options for Avira Phantom VPN
---
Avira Phantom offers both free and paid versions of its service. The free version limits customers to just 500 MB per month. All traffic is encrypted, and it is possible to access geo-restricted sites. DNS leak prevention is included, and access via multiple devices is possible.

The paid version is called Phantom VPN Pro. Users who choose this service have access to unlimited data, as well as all of the features that are included in the free plan. However, the paid service comes with two major features that are not available to free customers. These features are the kill switch and customer support access.
Well Priced or Overpriced?
That's right. Anyone who chooses not to pay for Avira Phantom VPN will not have the advantage of an automatic kill switch that protects them in the event that their VPN service becomes unavailable. Additionally, free customers have no access to customer support whatsoever.
The Avira Phantom VPN website does have a knowledge base, but it does not necessarily have the answers that users are seeking. User forums also are available, but experience suggests that this is not an efficient or effective manner for resolving service issues.
Having customer support with the paid plan is not necessarily a great deal, either. Access is available via phone or email, and support is provided for speakers of multiple languages. However, response times seem to be slow, stretching into hours or days. When answers are received, they frequently are not to the point, necessitating more back and forth. Resolving a simple issue could take a week or more.
The paid subscription costs $10.95 per month (or $80.95 for annual plan). This is not a bad price, but the lack of customer support and slow data transfer speeds mean that the service isn't worth the expense. One nice thing is that Avira Phantom VPN makes it possible to connect an unlimited number of devices. This is especially good news for business owners or people who have lots of devices to protect.
Is Avira Phantom VPN Recommended?
---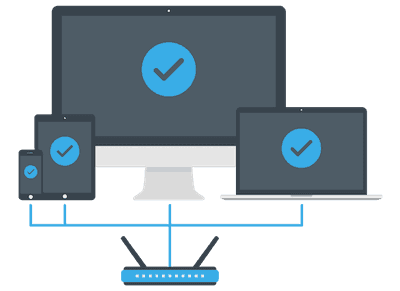 Avira Phantom VPN is not recommended for a number of reasons.
While it is available for use on devices running Windows, Mac, iOS and Android, it is not possible to set up this service on a router so that all of your connected devices enjoy the same protection.
Additionally, it is not possible to use Avira Phantom in connection with TOR to provide yourself with an added layer of protection. SmartTVs, game consoles and Linux devices similarly are not compatible.
There are better services with much faster data transfer rates and competitive pricing readily available. If you want a Privacy Australia recommendation, then check out our review of NordVPN. You won't be disappointed.
---
You May Also Like: