Disclosure: Privacy Australia is community-supported. We may earn a commission when you buy a VPN through one of our links. Learn more.
Hide.Me VPN Review – Good Choice but Slow Speeds (Test Results)

Established in 2012, Hide.me is a relatively new player in the VPN game. Its founders all have experience in the IT departments of high-pressure sectors like major corporations with offices in several countries and federal governments.
This means that they are well-qualified for designing services that are meant to protect the privacy of its customers.
Despite this pedigree, Hide.me isn't as good as it could be. In its favor, the company is headquartered in Malaysia, a country that is not a member of the Five Eyes or even the 14 Eyes.
This is excellent news for people who want to be certain that their private data won't be turned over to the first law enforcement or government organization that comes knocking on Hide.me's doors.
See the totalitarian-heavy list below and then keep reading to find out what we really think about Hide.me
Hide.Me VPN Overview
---
| Features | Information |
| --- | --- |
| Usability: | Easy to use |
| Logging Policy: | No logging policy |
| Server Size: | 2000+ servers |
| Server Distribution: | 75+ locations |
| Support: | 24/7 Live Chat, Emails & Tickets |
| Torrenting: | Limited |
| Streaming: | Limited |
| VPN protocol and encryption: | WireGuard, OpenVPN, IKEv2, IPsec, SoftEther, SSTP protocol / AES 256-bit encryption |
| Headquarters: | Malaysia |
| Price: | From $3.00/month |
| Official Website: | https://hide.me |
Decent Security and Encryption
---
Also in Hide.me's favor is the VPN protocols that it uses. OpenVPN protocol is the first choice for many users as this encryption is open source. An open source product has the advantage of being used by more people, which means that it has probably been more thoroughly examined for vulnerabilities than comparable products.
Other available protocols include IKEv2, SSTP and PPTP. Those last two are largely outdated and do not provide the same level of encryption that comes with OpenVPN and IKEv2, so use those with caution. The SoftEther protocol additionally is available through Hide.me. Most other VPNs do not have this technology available.
The intention behind it is to make Internet traffic even more difficult to detect. However, many other VPNs come with features that are designed to make tracking a user's online movements virtually impossible, so this alone is not a reason for choosing Hide.me's VPN services.
Hide.me's Server Locations
---
When compared with other competitors like NordVPN, Hide.me has relatively few servers. In total, there are 2000+ servers. They are located in 40+ countries in 75+ varied locations. Other, more sophisticated, VPN service providers have thousands of servers in hundreds of countries, giving users far more options.
Not Enough Servers to Meet Global Demand
Having a relatively small number of servers means that more users must get crammed onto the same server. Each person receives a quite small piece of bandwidth when they log on, and this affects performance. This may be just one of the reasons why Hide.me does not perform as well in speed tests as other VPN companies.
The diversity of server locations also may be critical to performance. Generally, data transfer rates are faster when users can log on to a VPN server that is relatively close to their actual geographic location.
Crowded servers, and a lack of many servers in diverse locations, means slow data transfer speeds and being forced to choose a server on another continent just to get connected.
This can lead to repeated frustration for regular users.
As far as locations go, Hide.me does a decent job of guaranteeing diversity. It boasts ten U.S. and Canadian servers, one in Mexico and one in Brazil. The majority of its servers are located in Europe. Hide.me's other servers are located in Australia (Melbourne, Sydney, Perth, Brisbane and Adelaide), New Zealand, Cambodia, Egypt, Hong Kong, India, Indonesia, Japan, South Korea, Morocco, Philippines, Singapore, South Africa, Taiwan, UAE and Vietnam.
Currently, the service has no servers in Russia, but they do have servers in the Ukraine and Turkey.
Using BitTorrent or P2P with Hide.me
---
Hide.me does enable usage of BitTorrent and P2P on certain servers. The servers in the U.S., Mexico, the UK and Australia are notable exceptions to this permission. On its website, Hide.me claims that using the SOCKS proxy on P2P torrent traffic makes the transfer rates faster.
There is little evidence to support this claim. However, the SOCKS5 proxy has a kill switch that allows for more secure downloading of torrents.
Hide.me VPN Speed Test Results
---
Using any VPN is going to affect your data transfer rate. Essentially, when you're using a VPN, all of your online requests have to jump through additional hoops and venture farther afield than they would otherwise be required to.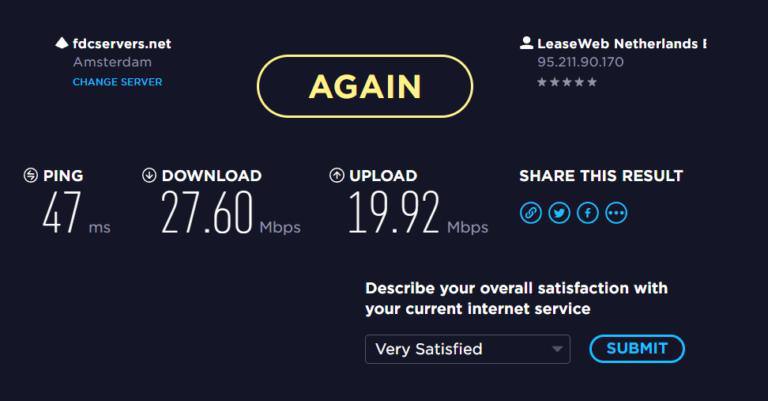 Speed tests using the Hide.me VPN service delivered less-than-impressive results. Using the server in New York, the download speed was 17.17 Mbps while the upload speed was an uninspiring 10.10 Mbps.
The numbers improved when using a server in Amsterdam. Here, the download speed was 27.60 Mbps while the upload speed was 19.92 Mbps.
Using the UK server in London yielded similar numbers. Downloading occurred at a rate of 28.69 Mbps while the uploading was 20.41 Mbps.
The server in Hong Kong's performance was especially dismal. With a download rate of 11.71 Mbps and an upload rate of 3.19 Mbps, it is fairly clear that this is not the kind of speed that sophisticated users expect.
Keep in mind that your performance may vary. The results of any speed test mainly capture a moment in time, for better or for worse. This means that you may experience improved or degraded results on your devices.
Hide.me's Logging Policy
---
Hide.me boasts a strict no logging policy. Thanks to being headquartered in Malaysia, a country that has no laws concerning mandatory data retention, this is one of the few VPN services for which this boast holds true. This is critical, especially when considering the ways that people spend time online. Read more about VPN logging here.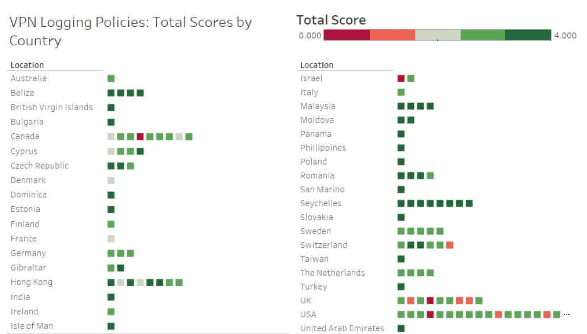 Although many people would quickly claim that they have "nothing to hide" online, this statement is rarely true.
The reality is that no one wants someone else nosing through their emails, getting access to their banking or other financial information or "listening in" on private conversations.
Accordingly, it's critical to use the best VPN for privacy and to ensure that no one is keeping track of your personal online movements
Is Hide.Me Hiding Their Logging Policy?
In an effort to avoid any legal liability, Hide.me says that they do not log the personal data of any users, nor do they maintain any records on their servers. Hide.me also declares that they in no way monitor what their users do in the virtual world.
They have actually taken the rather unusual step of becoming certified by an unaffiliated security analyst, who declared that Hide.me is not keeping logs on its customers.
According to the company's publications, they do not even log the true IP address of any users, nor is there a timestamp on the connection. Since privacy is one of the biggest reasons for using a VPN, Hide.me's no logging policy is one feature that is very much in the company's favor.
Pricing Options for Hide.me
---
Another point in this VPN provider's favor is that they do offer their service for free. However, there are some notable exceptions and limitations for users who choose the free version of Hide.me.
Customers do not have to enter their credit card information on a free plan, but they have access to only five server locations. Additionally, they are restricted to using one device at a time. If you're looking for a free one, here are some better free VPN choices.
Another frustrating restriction is that the free customers are limited to 10 GB of data each month. The free version of Hide.me also is maddeningly slow, despite the company's promise to make their best efforts to keep things moving at no less than three Mbps.
Free users further may not like that the available VPN protocols are limited to IPSEC, SSTP, PPTP, and L2TP. IPSEC, which includes IKEv1 and 2, is a reliable option, but the other latest and greatest protocols are reserved for paying customers.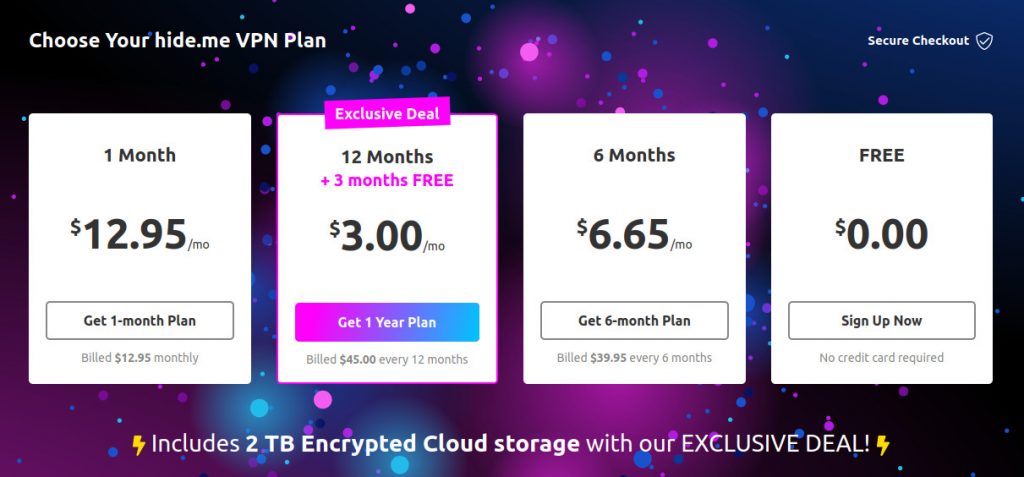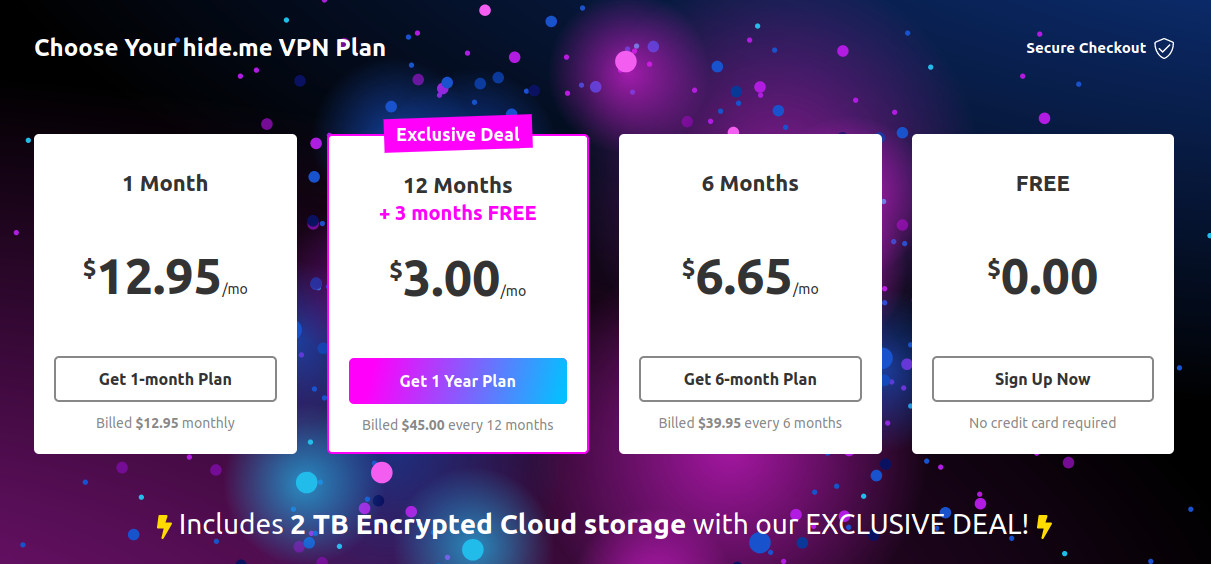 All paid plans feature:
30-days money-back guarantee if users are not satisfied
Unlimited data traffic
75 Locations / 2,000 Servers
10 Simultaneous Connections
Dynamic Port Forwarding
Fixed IP Address
Streaming Support
No Logs
No Ads
Is Hide.me Recommended?
---
With its lack of speed and its inflated plan costs, we can't recommend Hide.me at this time. If your goal is to find the most cost-effective solution, then you're better off using Surfshark, which offers more functionality at lower prices.
---
You May Also Like: