Disclosure: Privacy Australia is community-supported. We may earn a commission when you buy a VPN through one of our links.
Learn more.
Best VPNs for Android, iOS, and Mac
The use of mobile devices now take up a large block of our time, but only few remember that these little high-powered babies need to have protection too.
Mobile users and Mac fans have reason to rejoice. While most of the privacy apps in the past have focused on what works in a Windows PC or Mac environment, more service providers are facing the realities of an increasingly mobile world.
We've sifted through a range of Virtual Private Network (VPN) services to curate a list of the top contenders for use on Apple and Android powered devices.
Ready to know which works best with which? Keep going.
Are Free VPNs Any Good?
---
It's tempting to just find a free app on Google Play or the Apple Store. There are probably hundreds of them out there.
However, free VPN apps may come with a hidden cost.
Few developers create an app out of the goodness of their hearts. Most want to make money or they need to market another service or app, and they do so at the expense of your data and online privacy. You'll get slower speed and restricted access unless you switch to their "premium" service, and they make sure to let you know frequently with popup solicitations. Or, they'll sell your information to third-party advertisers. Many keep logs of your activity, and your IP may be still visible to others.
If the company uses their own domain names servers, your data can leak. In other words, your free, private network may not be so secret or free. Commercial VPNs offer a good ROI. For a small fee, you'll have access to military-grade encryption without speed or privacy being sacrificed. Paying for service also means that you'll also be able to circumvent online trackers, cookies, and annoying ads.
How to Select the Right VPN for Mobile Access
---
Commercial, subscription-based VPNs are secure and reliable, but not all of them are optimized for mobile use. The most secure of these virtual networks use the OpenVPNprotocol, which doesn't enjoy native support by either Android or iOS without a third-party provider. Both operating systems do support L2TP/Ipsec protocols, so make sure that your VPN does as well.
There are other considerations when it comes to mobile devices and VPNs, such as whether you're using a 4G network, Wifi connection, or switching between both.
Other problems that your mobile VPN might encounter that aren't a concern with stationary access are:
Who's accessing the internet from your mobile device
Coverage gaps and roaming
Bandwidth
Battery life
Limits on memory and processing power
When you're considering any VPN service provider, you should take into account:
What protocols they support?
How many servers they have and their location?
How many simultaneous connections do they allow?
Do they have restrictions on bandwidth or services?
Android vs iOS
---
The difference between Android and Apple-supported devices is reminiscent of the old PC vs Mac debate; there are pros and cons for each, and they both have die-hard loyalists who would never use anything else. They also both have design and aesthetic considerations that make some app incompatible with one or the other without some alterations.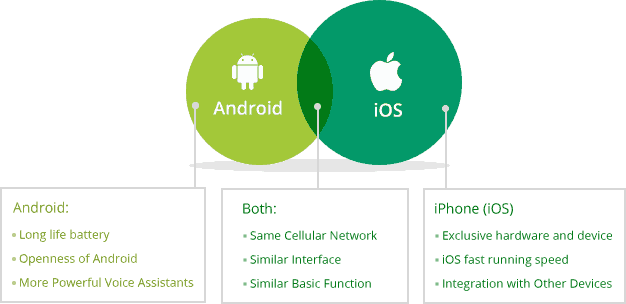 We're not here to debate which operating system is better or why. We've looked at a range of VPNs, and picked the top two for each environment. There are more private network services being optimized for mobile, and that's a good thing. Mobile use is only going to increase. Service providers and apps developers who face that reality are the ones who will remain in business. Of those that are currently mobile-friendly, we looked at price, features, number of servers, locations before choosing the top two.
Because all of the things we've mentioned are important to your privacy, security, and enjoyment, here are the best bets to fulfill your requirements when choosing a mobile VPN.
Best VPNs for Android Devices
---
Android-supported devices have the widest user base, with close to one billion daily users active at any given time. That means of the two platforms, there are more that are optimized for Android users available on the market. We looked not only for mobile support, but networks that have dedicated Android apps rather than separate manual configuration.
ExpressVPN – Maximum Security and Reliability

---
ExpressVPN has a lot to recommend it. In fact, it's one of the top choices for most VPNs. However, we felt that the lack of a killswitch and limited connections dropped it into a close second place.
That doesn't mean there aren't a lot of things to love about this network. It boasts the most servers and locations of any network, and speed doesn't suffer, either. Security is handled through a military-grade AES 256-bit encryption standard. It's installed via Google Play of an APK file, and the instructions are pretty easy to follow.
Visit ExpressVPN
In addition to being optimized for smartphones, Express also supports a range of Android-powered devices like tablets, Kindle readers, and Android TV consoles.
Although ExpressVPN isn't the most budget-friendly network, they do offer a 30-day money back guarantee and a seven–day free trial. Customer support is provided 24/7/365 through live chat, and the service is available in 94 countries.
Best Features: The advanced options like their location selector are what makes this app stand out. We liked the added flexibility, functionality, and customization features.
Cost: ExpressVPN offer three plans. You can pay as you go for $12.95 per month, enjoy a six-month contract for $9.99 per month, payable in advance, or get a yearly subscription for the equivalent of $6.67 per month, paid annually.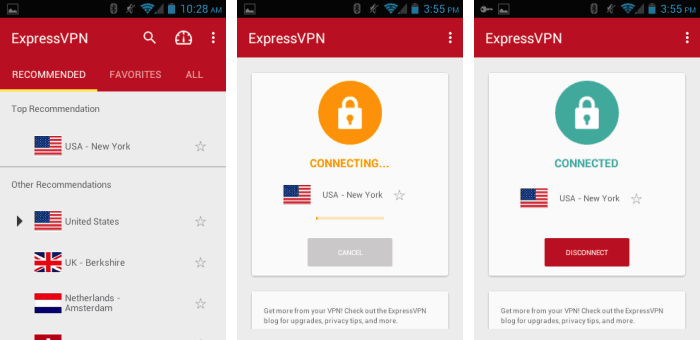 Number of servers: 2,000
Number of device connections: 3
Available IP addresses: 30,000
Locations: 148
Pros:
Straightforward and easy to use
Well-designed
Nice balance of speed and performance
VyprVPN – Speed Champion
Cons:
Only allows a max of three device connections
Less than half of the available IP addresses of closest competitor
No killswitch
---
VyPrVPN has fewer servers and locations than our number one choice, but it does offer more speed and some proprietary security solutions like their tailored Chameleon protocol. The interface is user-friendly, and there are features aimed directly at Android enthusiasts. This virtual private network supports OpenVPN, L2TP/IPsec, and PPTP in addition to their own protocols for more flexibility.
Best Features:  There were a range of features we enjoyed about this network, including:
Easy-to-access killswitch
Auto-connect option for untrusted networks
DNS leak protection
Protocol switching
URL filters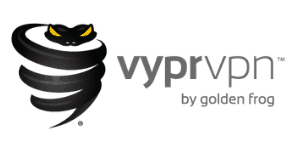 Visit VyprVPN
Cost: The company offers two tiers of service and several plans. Basic users can opt for a pay-as-you-go monthly plan for $9.95, which is $12.95 with their premium service. The yearly contract breaks down to $3.75 per month, payable in advance, for basic or $5.00 per month under their premium package.
Number of servers: More than 700
Number of device connections: Up to 5
Available IP addresses: More than 200,000
Locations: 70 and growing
Pros:
Works great on Android-based devices
Speed is second to none
State-of-the-industry security
Proprietary security solutions
Cons:
The don't offer refunds
Customer support is only available online
Best VPNs for Mac
---
Apple and Mac fans will have no other platform, but there are fewer apps that support iOS without making some concessions. Have no fear. We were able to find two excellent services that not only support iPhone, they'll also work well with your iPad and your desktop computer. As we stated before, it offers that most locations of any VPN service and a higher number of servers. But, that isn't what makes it the best of the bunch for iOS environments.
NordVPN – CIA Security
NordVPN may be the best-known VPN on the market, and it's certainly high on most lists of best private networks. However, there were just a few things that made this the number two choice for iOS platforms.
For one thing, speed suffered a little bit even though the level of security is on par with the best. Encryption is provided via 256-bit AES, and it's based in Panama, well outside of the 14 Eyes Alliance countries. Added security is available through a conveniently located killswitch and an iron-clad no-log policy.
Visit NordVPN
Best Features: This VPN offers great security at an even greater value – combined with the fact that it connects up to six devices makes it ideal for families.
Cost: This company offers the best deal with a two year plan at $3.99 per month. There's also a pay-as-you-go plan for $11.95 per month, a 30-day money back guarantee, and a seven-day free trial.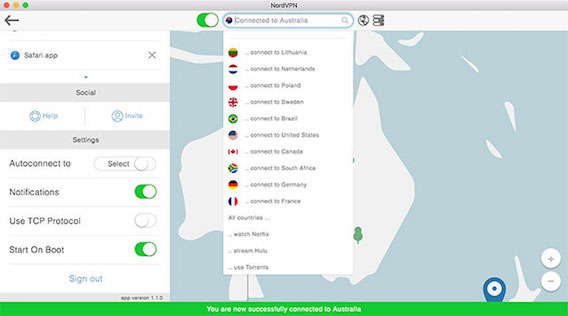 Number of servers: More than 5,000
Number of device connections: Up to six
Available IP addresses:
Locations: 62
Pros:
Great value
Lots of locations
High number of simultaneous connections
ExpressVPN – Yup, Once Again
---
What comes in second for Android users is the number one pick for iOS fans. The UI fits in nicely with the iOS aesthetic, it's easy to install from the Apple store, and it's available at the Amazon App Store.
This service offers an absolute no-log policy, which means your data is safe from everyone. You can also get responsive customer support around the clock via live chatbot. It supports iPhones, iPads, Apple TV, and Fire TV sticks or consoles.
Visit ExpressVPN
Best Features: We like the flexibility you get with Express as well as the wide reach this network offers. Look for functionality in areas like browser extensions and router or mobile apps.
Number of servers: 2,000
Number of device connections: 3
Available IP addresses: 30,000
Locations: 148
Pros:
Fastest network
Tight security
Superior leak protection
Most locations
Cons:
No killswitch
Not budget priced
What's a VPN?
---
Virtual Private networks create a tunnel that allows web surfers safe passage from their device to the internet by shielding their activity from prying eyes. That means that while you're working on the road, you can access files on your home or business networks with fewer concerns about someone hacking into your smartphone or accessing your private data. It also means that your employees can work on sensitive data from anywhere without jeopardizing the integrity of customer data.

The best VPNs will make it appear that your internet activity is taking place on another network, from another location. This allows you to view movies and TV shows on Netflix in Canada while vacationing in the Bahamas or make it seem like your smartphone in Australia is on a network in New York. It means that people living in or visiting countries where censorship and oppression are rampant can still taste a little freedom in the virtual world.
In short, any reason that you would need safe, secure access to information while surfing the internet or using your cloud-based account is reason enough to use a VPN.
Why You Need a Solid, Secure Mobile VPN
---
It's estimated that approximately 77% of Americans now own a smartphone. In fact, by 2020, there will be about 4.78 billion mobile phone users world wide.
That's a lot of information flying around.
Mobile devices like tablets and smartphones aren't only used for conducting business and keeping in touch while they're on the road. People are reading, viewing, and sharing eBooks, movies, and other content on handheld devices more often than they do on their TVs, gaming systems, or home computer.
Increased mobility means more freedom and flexibility. Unfortunately, it also increases your risk and exposure to bad actors online. Mobile users frequently access the internet from public locations. Even if you have a hotspot of internet on your smartphone, chances are that your using it at an airport, coffee shop, or other places with a high density of people and where not-so-secure public WiFi networks exist.
Not all VPNs are created equally. Your home or office VPN may not support your mobile device, or it may only be protected while your at the physical location. Finding the best one to suit your requirements, budget, and lifestyle will allow you hassle-free, safer browsing in any computing environment. Never take a shortcut on security.
You May Also Like: