Disclosure: Privacy Australia is community-supported. We may earn a commission when you buy a VPN through one of our links. Learn more.
TunnelBear VPN Review – Seriously Lacking in Speed & Security
Cute theme but, man, this service must…get…faster in order to run with the big dogs – err – bears.
TunnelBear provides basic, entry-level VPN services at an affordable rate.
While the company's offerings may satisfy the needs of less sophisticated users, people who are expecting speed and advanced features are likely to be disappointed by this VPN provider.

Read our full review for the pros and cons.
TunnelBear Overview
---
| Features | Information |
| --- | --- |
| Usability: | Easy |
| Logging Policy: | No logging |
| Server Size: | 1000+ servers |
| Server Distribution: | 49 countries |
| Support: | Ticket System and Virtual Support |
| Torrenting: | Not allowed |
| Streaming: | Limited |
| VPN protocol and encryption: | OpenVPN and IPSec/IKEv2 protocol / AES 256-bit encryption |
| Headquarters: | Canada |
| Price: | From $3.33/month |
| Official Website: | https://www.tunnelbear.com/ |
More About TunnelBear
---
TunnelBear was founded in 2011 by tech entrepreneurs Ryan Dochuk and Daniel Kaldor. On their resumes are companies like Microsoft and Goldman Sachs as well as a startup that dealt with mobile security.
Headquartered in Toronto, the company was recently purchased by U.S. cyber security giant McAfee.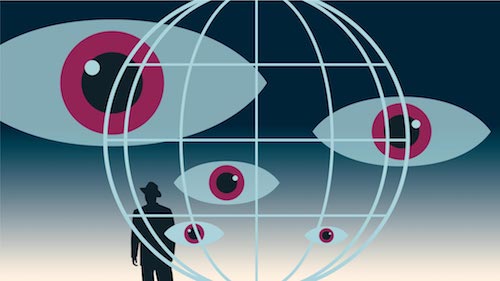 For now, it seems that TunnelBear will continue to operate out of Canada, which is not necessarily the best news for people who want guaranteed anonymity from their VPN provider. Like the U.S., Canada belongs to the surveillance alliance known as Five Eyes.
For those asking what is Five Eyes – it is a cooperative effort between the governments of the U.S., Canada, Australia, New Zealand and the U.K.
Research reveals that each country is intentionally spying on the citizens of the other members, which may enable them to circumvent any domestic restrictions that typically might prevent such activity.
Tracking the Internet usage of those citizens may be a primary goal of the alliance.
A "No Logging" Policy – Sort of
---
Like many other VPN providers, TunnelBear advertises a strict "no logging" policy. However, users who care to delve deeper into the privacy policy will quickly discover that the "no logging" policy applies only to certain data.
The privacy policy states that the company does not maintain records of which IP addresses visit their website, the IP addresses that are accessed via the company's servers and any DNS queries that are carried out while users are connected.
Additionally, any data about the apps, websites or online services that users access while connected via TunnelBear will not be stored.
So far, so good, but the privacy policy also states that the company retains data concerning user names, email addresses and operating systems. They also keep the last four digits of the credit card used for payment and maintain a record of how much data is used.
Keep in mind that TunnelBear is headquartered in Canada, a member of the Five Eyes network.
As such, this is not necessarily the best place to establish a VPN company, especially if your customers demand complete anonymity. If the government or a surveillance alliance comes knocking, TunnelBear will have to turn over any data that is requested.
Is TunnelBear Secure?
---
The good news about TunnelBear is that it uses some pretty hefty security and encryption measures. OpenVPN, which is industry standard encryption, is available on most devices running Windows, Mac or Android. Users who have a recent version of iOS get IPSec/IKEv2 encryption. Take a look at our full guide on encryption.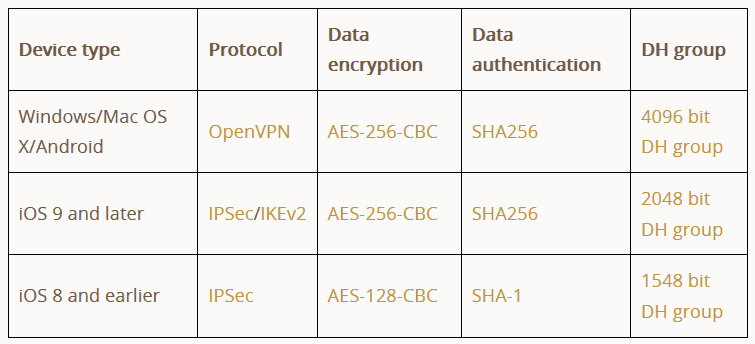 Both of these encryption protocols are currently the latest and greatest available. The 256-bit AES protection is the same that you would get with other, more sophisticated VPN services.
The Fail-Safe Feature
---
Additionally, TunnelBear is equipped with VigilantBear, an option that provides leak protection. This is essentially a kill switch that is activated whenever no VPN connection is available. It is vital to know that this option is not a part of the default settings.

If you have this service and want to take advantage of the kill switch, then you must change your settings. TunnelBear's user-friendly interface makes this a fairly easy process.
The Obfuscation Feature
---
GhostBear is the company's obfuscation feature. This element of the service is designed to circumvent any VPN restrictions and to offer protection against deep packet inspection.
It is increasingly common for VPN services to be blocked in totalitarian countries such as North Korea, China and Saudi Arabia. Networks provided by academic institutions or workplaces also may be set up to block VPNs.

In these cases, an obfuscation feature can be invaluable. TunnelBear's version of this service is available for users of Android, Mac OS and Windows. Once again, this is not part of the default settings, but it can be turned on under the security settings.
People not living in countries with restrictive Internet laws and not trying to circumvent a work or school network may not need the additional obfuscation feature, which may only slow down browsing speeds, something with which TunnelBear already struggles.
Unimpressive Speed with TunnelBear
---
It's true that user settings can affect the speed with which the user is able to browse. A more powerful CPU and network settings are two of the factors that may have a positive or negative impact on your experience.
However, if your VPN does not offer sufficient bandwidth and quality servers, then uploading and downloading will always occur at a snail's pace.
TunnelBear tested at unimpressive numbers. A server in Switzerland afforded 54 Mbps on downloads while a server in France provided a dismal 34 Mbps. A U.S. server performed even worse at 13.87 Mbps for downloads.
Upload times were no better. A New York server uploaded at just 15.04 Mbps while an Amsterdam server slightly improved on that number with a 27.20. In London, a server delivered an upload speed of 48.36 Mbps, but another in Hong Kong performed at a new low for uploads at 2.63 Mbps.
No one necessarily expects their browsing to be lightning fast when using a VPN. However, these times were significantly slower than times with other VPN services.
Don't Expect Netflix
---
Users love Netflix, and to be able to access the service in various jurisdictions, a VPN is a vital necessity. However, Netflix is getting better at blocking people from using VPNs to access their service.
This is because Netflix is bound by contracts, some of which block them from providing content outside of prescribed regions.
For instance, people in the U.S. may have to pay extra fees to gain access to premium content that may be available with basic Netflix service elsewhere. Accordingly, U.S. users may benefit from gaining access to another region's version of Netflix.
It's in Netflix's best interests, and that of their partners, to keep people from accessing content that is intended for another region. Cracking down on VPNs accessing Netflix has become a top priority for the company.
Let's face it. Netflix has deep pockets, so they are always going to come out ahead of smaller, less affluent companies.
Some of the bigger, more powerful VPNs can get around Netflix's protocols. TunnelBear simply isn't one of the bigger, more powerful VPN providers.
They have servers in just 49 countries, which is not particularly impressive, and their diversity of server locations doesn't rival that offered by other VPN providers.
If you want some better alternatives check out our Netflix friendly VPNs.
Torrenting Is a No-Go
---
If you're looking for a VPN that will support P2P or torrents, then you would be well advised to look elsewhere. TunnelBear used to not allow any sort of torrents or P2P on its VPN. This is no longer the case.
However, the terms of service specifically forbid any sort of illegal actions while using TunnelBear. If you're planning to download some free music or movies, this would be a breach of copyright law and a breach of TunnelBear's terms of service.
Users for whom BitTorrent is a primary objective may do well to look elsewhere. TorGuard offers technology that is purpose built for people using sites like BitTorrent, and it can be used in conjunction with other VPN services.
Number of Servers and Locations
---
TunnelBear boasts approximately 1,000 servers housed in more than 49 countries across the globe. That is not too shabby, but is not particularly competitive with some of the best VPN providers.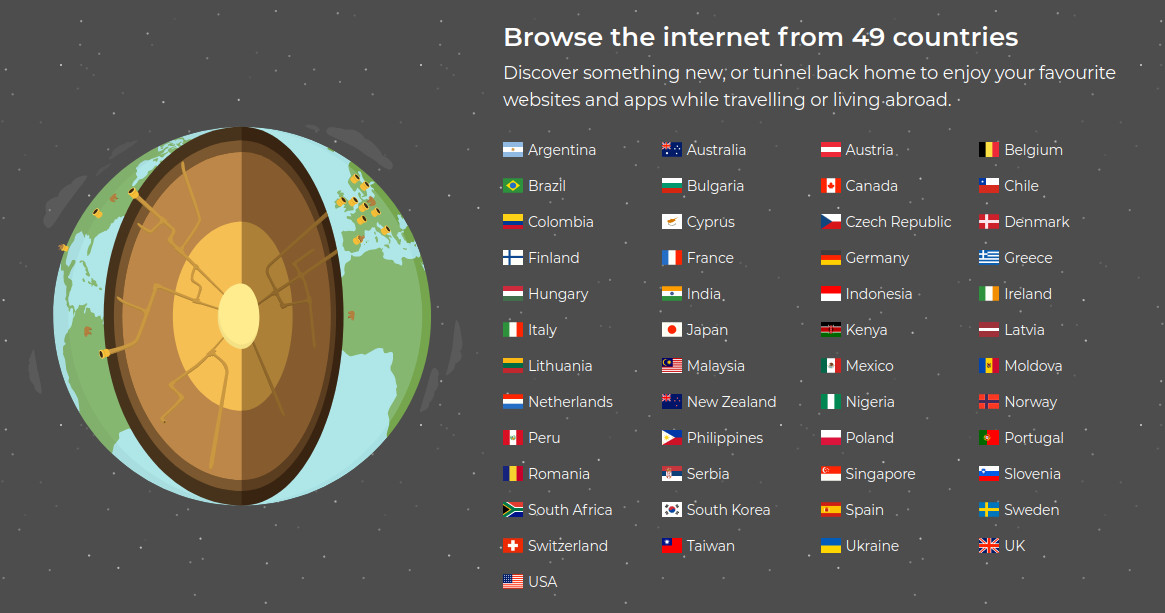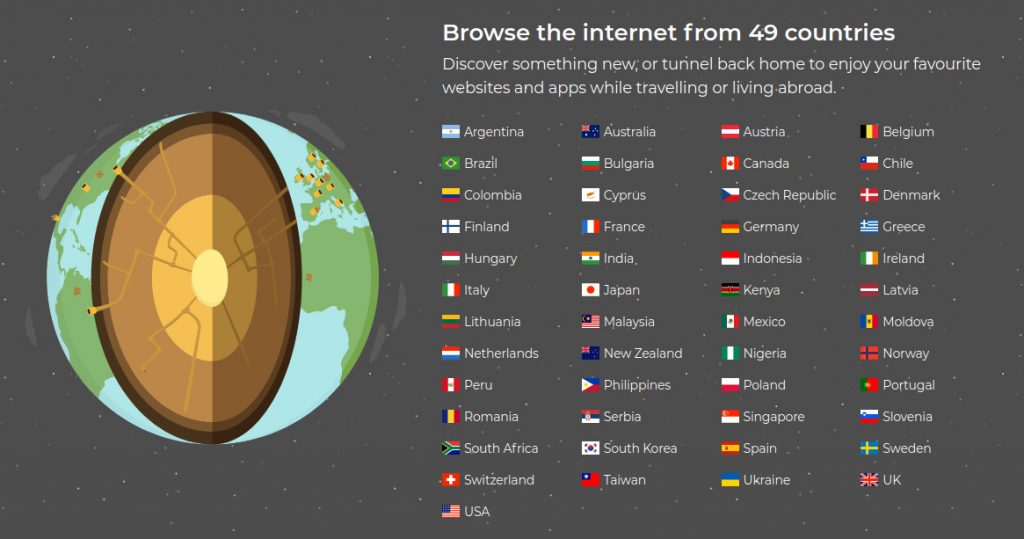 The number and location of servers is critical to how useful a VPN is. With more server locations, there's a better chance of successfully spoofing your actual location. Additionally, geographic diversity means that you are more likely to find a server near you whether you are at home or on the road. The closer a server is to your actual location, the faster the VPN service is likely to perform.
TunnelBear has no servers in the Middle East. There are servers in the U.S. and Canada as well as in Europe, Japan, Mexico, Brazil and Australia…
This isn't terrible, but with competitors offering servers in more than 100, and sometimes close to 200, nations, TunnelBear simply is not equipped to compete in the global marketplace.
Some VPN users also like to consider which countries their data is traveling through. When a VPN company uses only physical servers, this is easy to do. If the company says that a server is located in Switzerland, then that is where the user's data is being routed through.
However, many VPN providers are now using virtual servers to conduct traffic. This means that a server may appear to be in Switzerland when it is really in China. For some users, this is a cause for concern.
The good news for TunnelBear users is that the company says that they only use physical servers. Consequently, people can rest assured that their data is being routed precisely where they expect it to be.
TunnelBear does note that they may use virtual servers if demand is high enough, so that is something else for potential customers to be aware of.
TunnelBear Customer Support
---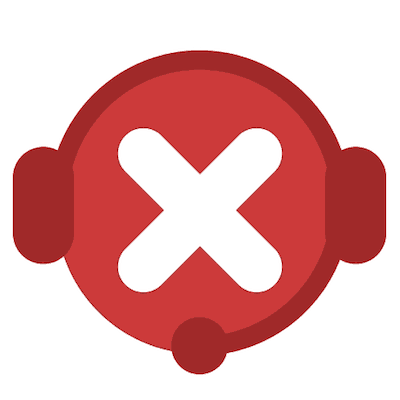 Unfortunately, TunnelBear does not get high marks for customer support. Their interface is pretty straightforward and easy to use.
People who are less sophisticated users still may run into difficulty, and if things go wrong for advanced users, they expect prompt, thorough assistance.
Customer support is only available through a ticketed, email system. No live support is offered, and do not expect to find a phone number to call. This means that it often takes hours to receive a response.
If the response does not fully answer the customer's question or resolve their issue, then the customer is faced with another wait of several hours.
This can be immensely frustrating, particularly when the user is working on a deadline. Some users have even reached out to TunnelBear on the company's Twitter profile to obtain assistance, but without any luck. TunnelBear will simply tweet a suggestion to send an email to the support center instead.
Once help is received, it seems to be pretty reliable. Just don't expect it to happen with any sort of speed or efficiency.
How Much Does TunnelBear Cost?
---
TunnelBear offers three pricing plans. The "Little" plan is free, which sounds like a great deal. However, users are limited to 500 MB of data each month.
That is just a tiny amount of data. Most people will go through that much data in just a few days. This free plan may be a great way to test out the service, but that's about the only reason to use it.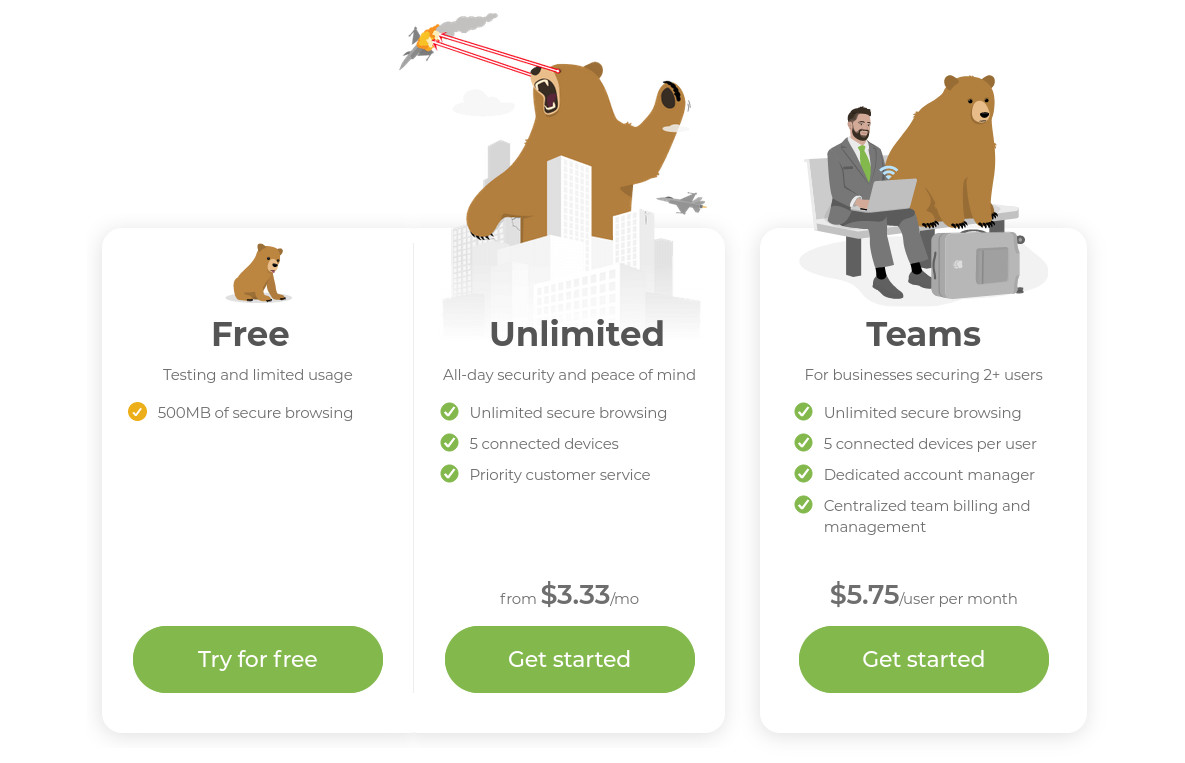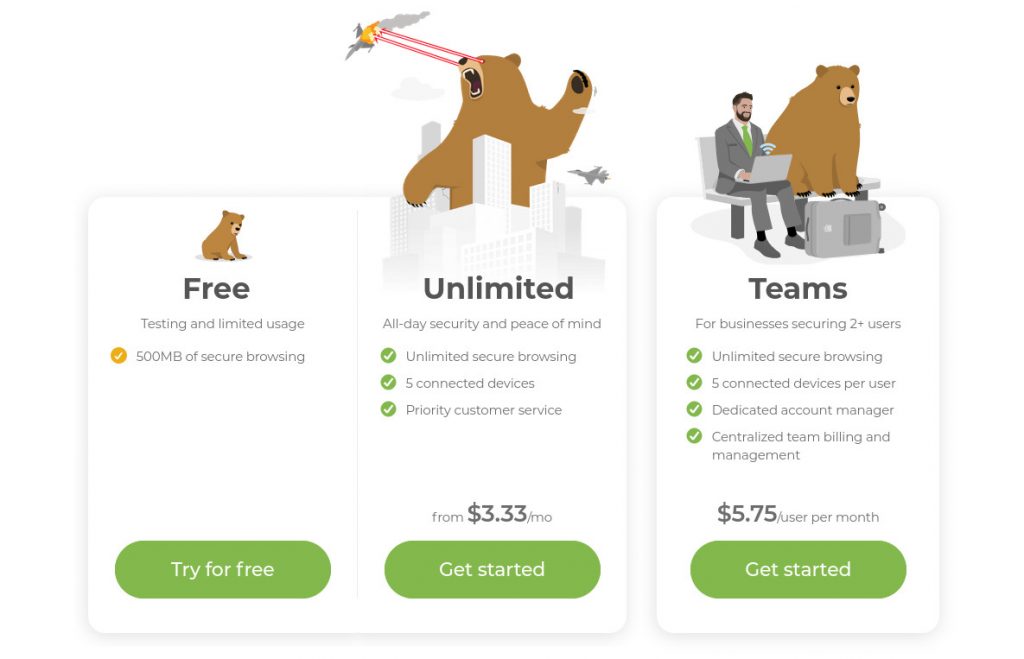 The "Unlimited" package costs just $3.33 a month, and it provides unlimited data, 5 connected devices and priority customer service.
This pay-as-you go plan may make a lot of sense for some customers, especially those who want the freedom to discontinue the service whenever they like.

Payment options include debit cards, credit cards and bitcoin for those who want greater anonymity.
Is TunnelBear VPN Recommended? Definitely NOT
---
TunnelBear has some decent features. However, there are much better VPN providers that offer more robust features at better prices (Think NordVPN).
TunnelBear also struggles when it comes to its lamentable upload and download times. If speed is a priority for you, then it would be wise to seek a different VPN provider.
While TunnelBear does have a cute interface with its bear theming and is easy to use even for beginners, it just falls short of user expectations.
---
You May Also Like: