Disclosure: Privacy Australia is community-supported. We may earn a commission when you buy a VPN through one of our links. Learn more.
Dashlane Review – An Essential for Privacy and Security
You know how sometimes a company does one thing really well and then they try to do something else and it's kind of…meh? Hello Dashlane.
Is password stress ruining your life? How many do you have?
If you're like most people, then you have passwords for just about every website you visit.
Credit card companies, banks, email services and social media accounts all require you to have passwords, and that may be just the beginning.

When you log into a website to look at your investments, you have to use a password. If you want to order a pair of shoes online, then you'll need a password. What if you want to access a utility bill and pay it online? Guess what you'll need?
If you are really concerned about security, then you know that it is vital to have a different, complex password for each and every one of these websites. In fact, many websites are placing increasingly stringent requirements on passwords.
Many of them now have to be a minimum of 8 or 12 characters, combining upper case letters, lower case letters, numerals and special characters.
Remembering them all is virtually impossible, and it is not necessarily advisable to ask your computer or ISP to remember them all. If your system gets hacked, then all of those passwords are incredibly vulnerable.
This is where a service like Dashlane becomes invaluable. Dashlane is a password manager. It not only keeps track of each of your passwords for dozens of websites and accounts, but also it can make it possible to quickly and easily change all of your passwords at one time.
More than that, Dashlane provides some amount of secure data storage and protection against identity theft. It also offers a VPN service. However, this feature is severely limited, and generally is not considered a good reason to choose this service.
Read on for the big reveal why.
The Lowdown on Dashlane
---
"Versatile" and "powerful" are among the terms that are most frequently attributed to Dashlane's services. When you have Dashlane, it can help you fill out tiresome online forms, and you can rest assured that the system is capable of securely storing virtually any kind of data.
What really sets Dashlane apart from the competition is its ability to change all of your passwords with just one click. The time savings inherent in this feature is nothing short of phenomenal.
Users of Dashlane also benefit from a friendly interface that is extremely easy to use. Also, it hardly matters whether you are using the desktop or mobile version of the website. Both are responsive, and there really is little difference between the two.
Without a doubt, it is more expensive than the competition. However, many users will find that the cost is worth it based on the features of the service.
How Much Does Dashlane Cost?
---
This password manager does not have to be expensive. A level of the service that stores 50 passwords is available free of charge. This includes use of the service on one device and useful security alerts. Moreover, members with this plan receive payment autofill and instant form completion capabilities.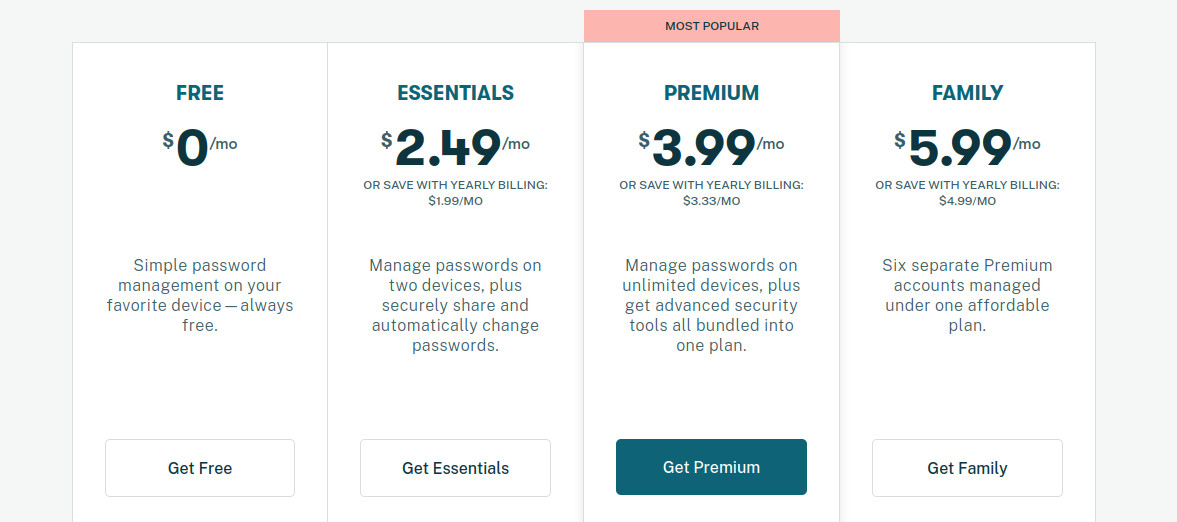 The premium membership costs $3.99 per month, or $3.33 per month when it is billed on an annual basis. With this plan, it is possible to manage an unlimited number of passwords on an unlimited number of devices. This plan further includes automatic syncing across all devices when passwords and data are updated.
Autofill capabilities for forms and payment info are included as is dark web monitoring. Storage for sensitive files also comes with this program. Another attractive feature is the VPN that provides a safe and private connection on any WiFi network.
Dashlane's VPN Service
---
If you already have a VPN service, then it doesn't necessarily make sense to choose Dashlane's premium or family accounts. As VPN providers go, Dashlane's services are certainly among the more expensive in the market.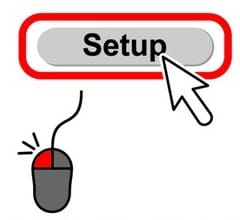 Additionally, this is some pretty basic VPN service. If you're out and about and want to use a local WiFi network, then you can select the VPN item from the Dashlane menu. You choose "setup," which takes you through a brief process. Few options are available.
For instance, unlike with other VPN providers, you cannot choose which server you use while browsing.
Dashlane automatically selects the nearest available server. This may or may not be helpful to you, depending upon your reasons for using a VPN.
Essentially, this means that this VPN service does not make it possible for you to spoof your location. If this is a primary reason for relying on a VPN, another service would be better suited to your needs.
For more VPN reviews check our guide to the best VPNs for Australia.
Use of VPN on Unlimited Devices
---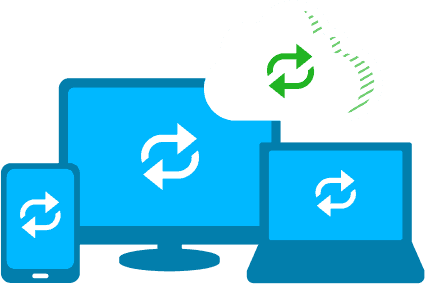 The good news is that you can use Dashlane's VPN on any device on which you have installed the company's services.
With the ability to install Dashlane on an unlimited number of devices, this means that you could potentially have a rudimentary VPN on every device that you might use for web surfing.
Other than the benefit of being able to use the VPN on multiple devices, this is a pretty bare-bones service. There is no ability to configure your VPN protocol. Additionally, there is no kill switch.
If your connection to the VPN is disrupted or otherwise becomes unexpectedly unavailable, your browsing session will not automatically end. This can be a major concern because the status of the connection does not display unless or until you click on the VPN menu.
Dashlane Compatibility
---
Microsoft Edge, Mozilla Firefox, Google Chrome and Apple Safari all are compatible with Dashlane. Dashlane is supported on the main desktop and mobile platforms: Windows 10, Android, MacOS and iOS.

Getting Started with Dashlane
---
Most users simply download the Dashlane app from the company website. This is exceptionally easy to do, as the applicable extensions are automatically installed on every available browser on the device that has compatibility with the software. An email address and master password are all that is required to complete the setup process.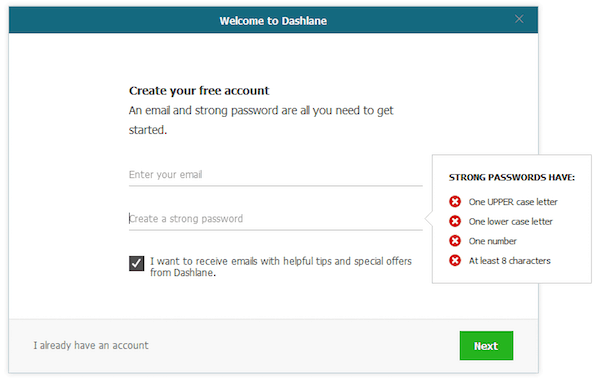 It is extremely vital that you remember this master password. If you forget it, it is not possible to recover it. This means that you have to start the process over again from the beginning.
Of course, Dashlane recommends that you choose a master password that features at least eight characters, so chose with care.
If users have already used some sort of reliable password managers on their computer, then it may be possible for Dashlane to automatically import these data. For this reason, it may be valuable and efficient to use your computer rather than a mobile device for initial account setup.
If you want to install Dashlane on additional devices, then Dashlane will send you an email with a unique security code for each device.
Using Dashlane on the Computer
---
Dashlane can be accessed via a standalone app, by logging into the company website or by using a browser extension. The most features, and probably the best user experience, are available through the app.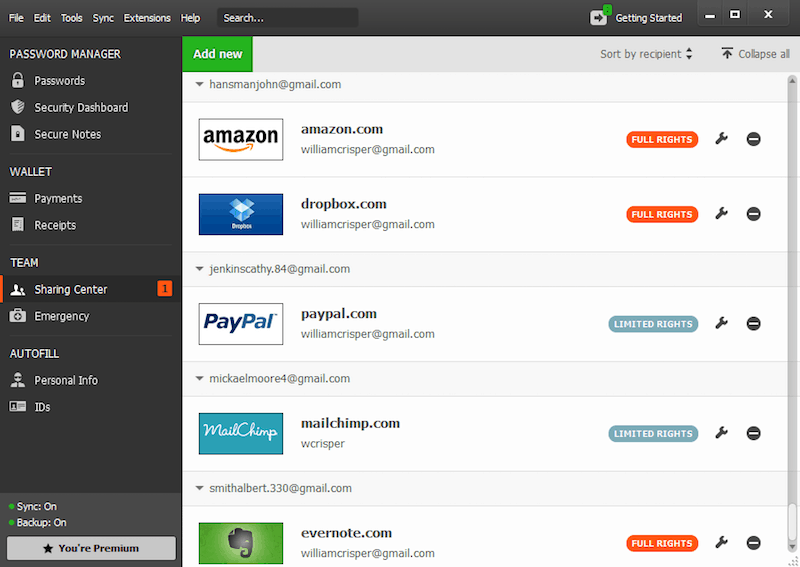 The interface in the app is intuitive and quite easy to use. It features nine primary sections which can be viewed on the left side of the screen. On the right, users can view their personal data in either grid or list format.
Icons for various websites are included in the data, which makes it easier for users to find what they are looking for.
Password Changer is the feature that mainly makes Dashlane a worthwhile service. With it, you can potentially change all of your registered passwords with just one click.
Currently, there are approximately 500 websites that are registered for this service. It's likely that most of the websites that you have a password for are among these 500.
How Good Are Your Passwords?
---
A Security Dashboard makes it easy for users to see at a glance how healthy their status is. If you have any passwords that are not up to par, that is, that they are weak, old, reused or compromised, the system will let you know.
Use the Security Dashboard in conjunction with Password Changer to keep your security up to snuff across the web.
Keeping Data Secure
---
Also on the Dashlane app, users will find a feature called Secure Notes. This is the place where customers can store all sorts of text. Most people use it for software licenses and banking information, though other types of uses are possible.
The app also features a Wallet section. This has all sorts of helpful features that make it easy to fill out online forms with a minimum of fuss and effort. This is an especially attractive feature for people who are prone to typing errors.
The Wallet section is sub-divided into four sections. Receipts, Identification, Payments and Personal Info can all be filled out by the customer. These are pretty straightforward, but as is typical with Dashlane, the interface is pretty impressive.
An American user who enters their Social Security number, for instance, will see that the interface looks like a Social Security card. Similarly, a passport number will be inputted to an interface that looks like a passport. It all makes a mundane exercise a little more interesting and fun.
Sharing With Dashlane
---
Dashlane's app also makes it possible for users to share their passwords with other Dashlane customers. This is a completely secure process that allows customers to maintain control of their information. They can simply share the password or they can grant access to edit, share and view all of the available data.
Dashlane's Zero Knowledge Architecture
---
Anonymity and privacy are increasingly important in the virtual world. Accordingly, people who use VPNs to browse the web are extremely interested in companies that have a no logging policy.
Dashlane uses AES-256 encryption to ensure your security and anonymity. This is true on the company's servers and on the devices on which the software is installed. As mentioned earlier, each customer's master password is the only key to their account.
This password is not stored at Dashlane in any capacity. This means that not only does Dashlane not have access to your account, but neither do potential identity thieves.
Dashlane also makes use of two-factor authentication. This can only be activated while using the desktop version of the app. On select newer iOS and Android devices, it may also be possible to use biometric logins with Dashlane.
Should I Use Dashlane as My Primary VPN?
---
Dashlane offers considerable value as a password management system. It is extremely secure, and it is undeniably helpful for when users have to make certain that their passwords are strong or when it is necessary to update numerous passwords at once.
However, if you do not have a VPN provider and you are considering purchasing a Dashlane premium or premium plus plan mainly because it provides you with a VPN, then this is not the best choice.
Dashlane's VPN is a flimsy protocol at best.

You have no server choice, which makes it impossible to spoof your location. Your connection could sever at any time, and you would not know about it until you went looking to discover whether or not your connection was still secure.
Many other VPN providers offer far more robust services that come with far more choices and faster speeds for uploading and downloading data. This is possible because these companies have hundreds, if not thousands, of servers at their disposal (think NordVPN).
Moreover, these servers are located in incredibly diverse places, and users have the option to choose which server they connect with. Dashlane generally does not offer these services.
This is because Dashlane is primarily aimed at password security and management. Look elsewhere for VPN services.
---
You May Also Like: