Disclosure: Privacy Australia is community-supported. We may earn a commission when you buy a VPN through one of our links. Learn more.
CommSec Review
CommSec is a household name among Australian investors.
One of the most well-known stock brokers in Australia (#6 best for us) is the Commonwealth Bank of Australia's trading platform, which is affiliated with the bank.

A large percentage of Australian investors (over 50%) use CommSec for stock trading, market analysis, and other investment-related services. The brokerage costs on this platform are among the highest in Australia, yet it nevertheless attracts a huge number of investors.
Let's look in more detail at this AU investment company in our CommSec review.
Table of Contents:
CommSec Review ⭐ – Overview
---
CommSec at a glance:
Trusted. Operated by Australia's Commonwealth Bank, it first opened its doors in 1995—making it almost 30 years in the industry.
Mobile version. CommSec Pocket is its mobile app that focuses on exchange-traded funds and complements the company's traditional online platform for share trading.
Popular in Australia. Despite the rise of various digital-first trading platforms including SelfWealth, STAKE, and Pearler in recent years, traditional brokerages continue to attract the majority of investors, offering broader capabilities than PayPal online banking ✔️
Pros
✔️ Automated UI. CommSec Pocket lets new investors gain simple stock market entry for things like buying ETFs that include Apple shares. When you set up automatic investments using the Regular option, you may reap the benefits of dollar cost averaging over time without lifting a finger.
✔️ Low initial risk. The danger is minimal. Investing may be started with just $50. In comparison, the typical minimum investment to acquire shares directly through a broker is $500.
✔️ Some low fees. Trades under $1,000 are charged a flat fee of $0.20, while trades exceeding this are charged 0.20% of the difference. There are no monthly or yearly maintenance costs associated with your account.
✔️ Support. Use the app to invest and track your portfolio from any device. A wealth of high-quality resources for anyone interested in learning more about investing and exchange-traded funds (ETFs).
Cons
✖️ Only ETFs. You can't use CommSec Pocket to buy shares in an IPO or any other direct stock investment (IPO).
✖️ Prudence required. All transactions in the financial markets are subject to market risk. The ups and downs of share prices are known as "market risk," and they pose a threat to your assets.
✖️ Stocks have great uncertainty. Because you could be dealing in firms all around the globe, currency exchange rate fluctuations might have an effect on your portfolio. The risk associated with foreign exchange rates.
✖️ Limited ETFs. A failure to personalise. Only seven specialised ETFs are available. The minimum investment is high in comparison to other micro-investing applications in Australia such as Spaceship and Raiz.
✖️ Can be sluggish. The withdrawal process might take a day or longer.
📰 Stay Up-to-Date on Our News: e.g. Elon Musk buying Twitter.
CommSec Review 2023
---
CommSec is an Australian online stock broker. It has been one of Australia's most prominent stockbrokers since its founding in Sydney in 1995.
The Commonwealth Bank of Australia owns and operates this firm, which is a commission-only broker. Budgetary control, leveraged trading, SMSF-managed funds, and online investing are just a few of the many services it offers. 
Many global investors trust CommSec for efficient trading because of the company's dedicated service, special incentives, and users' priority status. So if you've ever thought about buying stocks but were intimidated, CommSec Pocket might make it simpler than ever.
You may find similar apps on the market to this one. Both Raiz and Superhero are often used as substitutes. How does it compare, then? Learn the ins and outs, limitations, and potential improvements, as well as your other alternatives.
First, What is CommSec Pocket? 📱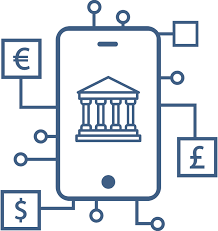 The Commonwealth Bank of Australia has developed a mobile app for micro-investing called "CommSec Pocket" (CBA).
Users with even only $50 can start investing in a variety of carefully curated mutual funds. CBA promotes itself as a stress-free way to put money to work.
You can spend as little as $50, simply download CommSec's app and set up an account.
Newbie investors are the primary target audience for this app.
You can only put your money into ETFs (trading on the Australian Stock Exchange).
The CommSec Pocket app is a popular micro-investment tool developed by the team, the brokerage division of CommBank.
⭐ Overall: CommSec is a provider of online and mobile trading solutions for individual investors—it's designed for those who don't know much about investing or who don't want to have to make as many choices about what/when to purchase or sell.
CommSec Review of Trustworthiness
---
Our search for a broker begins with whether or not they are subject to any applicable regulations.
A registered brokerage business should be your first choice since you know they are adhering to investor-safety regulations. The fact that CommSec is subject to oversight gives you peace of mind that you can use them for legal trading.
Despite being 100% owned by the Commonwealth Bank of Australia, Commonwealth Securities Limited (CommSec) is not a guaranteed subsidiary. They take part in both the clearing and settlement processes, making them a market member of the Australia Stock Exchange (ASX) and Cboe AU—obeying Australia's privacy rules all the way…
They have a measure of credibility thanks to their affiliation with Australia's largest bank and their oversight by ASIC, the country's financial market regulator.
Operational Countries
CommSec is an Australian company with headquarters in Sydney. They state explicitly on their site that it is intended only for the consumption of Australian citizens. Please feel free to browse our top broker reviews for alternatives for more.
If you are CHESS sponsored by CommSec and have an Australian checking account connected for the settling of transactions, you may be allowed to trade with the broker even if you are presently located outside of the AU. Applicants from certain countries may be subject to additional regulations according to local laws and standards.
CommSec Platform Review
---
CommSec offers both a robust web-based brokerage account and a mobile app. Trading on the move is made possible through CommSec's smartphone and tablet applications, and the company's user-friendly internet platform simplifies and expedites the process of obtaining and analysing market data. CommSec Pocket is a convenient and inexpensive way to invest on the go.
WebTrader by CommSec
---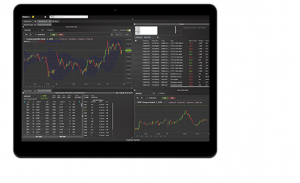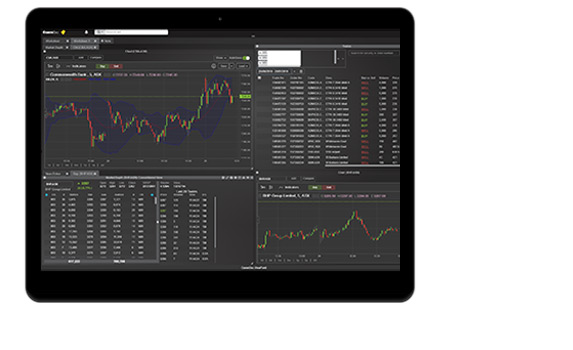 The firm provides a browser portal with an intuitive design and numerous useful research and dealing features, such as a community forum, powerful real-time graphing, stock screening, trade limitations, stock bulletins, and more.
The fact that it works with Chrome, Edge, Safari, and Firefox is a big plus for me when it comes to this online trading platform. This means there is no need to download or run any special software in order to use it on any device.
We haven't tested how well this works with all of the most secure browsers for Australia.
Mobile App (Pocket CommSec)
---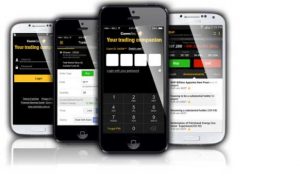 The CommSec smartphone app is just as excellent as the website, with all of the useful tools including interactive and configurable charts, a stock watchlist, and comparative charts.
You can monitor the market and make trades from any location with the CommSec Mobile App. When you a fast look at your holdings and the most recent market updates, investing apps come in quite helpful.
Some people may have thought investing was beyond their horizons, but thanks to CommSec Pocket, it is now easier than ever.
Just $50 can get you started on the path to wealth creation. You may invest in seven different categories based on your interests, such as technology, sustainability leaders, or Australia's top 200 firms. The staff there is there to guide you through the share market learning process with helpful tidbits of information in the form of articles, videos, and advice.
You'll be purchasing shares of a dividend Exchange Traded Fund (ETF) via CommSec Pocket. Market-Traded Funds are similar to shares in that they are traded on a stock exchange; however, an ETF reflects an investment in a basket of firms and assets rather than a single company. You can have exposure to a wide range of asset classes with only one ETF.
Each CommSec Pocket ETF corresponds to a certain investment concept, such as a specific market or country. There is always some level of danger when investing, so it's smart to weigh the pros and cons thoroughly before making a final decision.
IRESS
When it comes to efficiently gathering stock market information, look no further than the web-based tool, IRESS Viewpoint. When you log in to your CommSec account, you'll be able to place and manage orders for every trading account.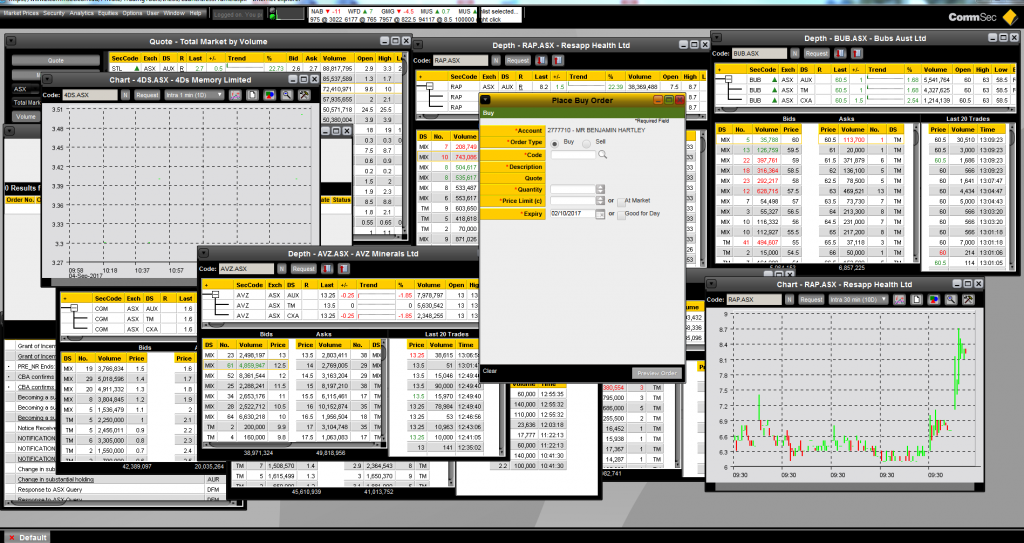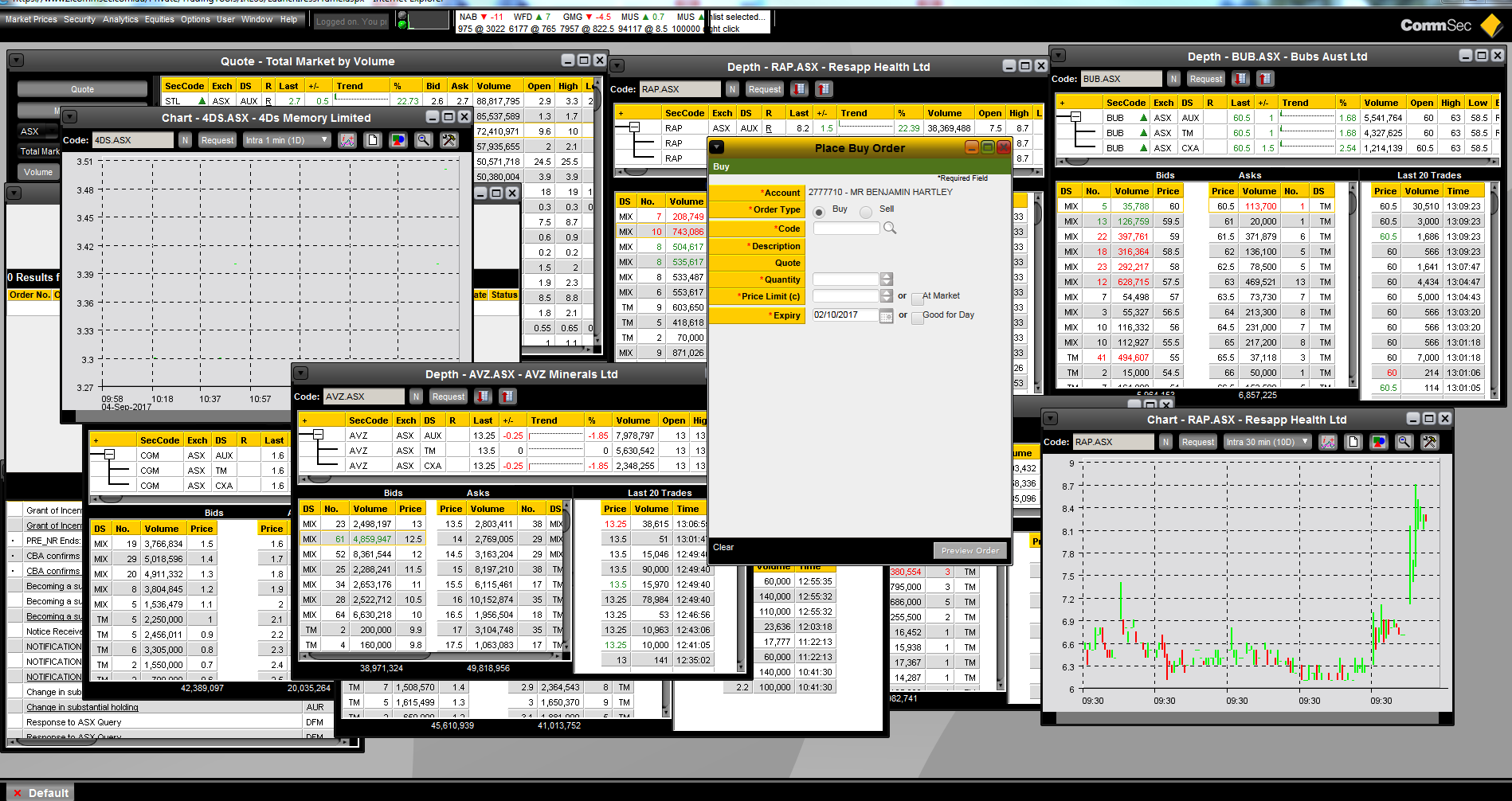 Your account details, including your Portfolio, Open Orders, and Fund balances, are all viewable online. ViewPoint's adaptable layout, constant market data, and access to more than 120 markets provide for a stress-free digital trading experience, thanks to the platform's ideal blend of data, software, and on-the-ground assistance.
For ASX-listed assets such as AU shares, ETFs, ETOs, and warrants, CommSecIRESS is an active, real-time information and trade service. CommSecIRESS is an asset management platform that integrates past data, a marketplace map, notifications, and watchlists, making it ideal for professional traders.
It's also fantastic that the desktop may be modified to fit your own trading preferences. Since CommSecIRESS is a month-to-month service, there is no need to worry about committing to it for an extended period of time. If you are a frequent trader, you may even get free membership.
As one of the top trading platforms available, IRESS ViewPoint has impressed me. Investors and speculators alike will appreciate this genuine multi-asset platform's features. Equity markets may be accessed across the world with 100% DMA (Direct Market Access), and the trading interface is highly customizable and has high-quality visuals.
Without the trouble of juggling several applications, ViewPoint can be tailored to fit the unique trading and market data demands of each individual user.
Here are a few of IRESS's most notable capabilities:
✔️ Extensive set of technical indicators and chart analysis tools (almost fifty in all)
✔️ Fully functional on Mac and Windows
✔️ Many graphical charts with extensive customization options
✔️ Market depth is an available add-on
✔️ Complex order management with state-of-the-art technology
✔️ The ability to make several watchlists and get detailed information
✔️ Real-time reporting facilitated by a slew of search and filtering options
CommSec Review of Key Tools and Education Resources
---
Traders may always be on top of things with the support of CommSec's wide selection of cutting-edge tools. Goldman Sachs Stock Recommendations, Morningstar Premium Ratings, Market Reports, and CommSec Executive Series are just a few examples.
You can customise chart templates to be as simple or sophisticated as you want using the many tools that come standard with the platforms. All the tools necessary to do basic, technical, and price movement analysis are included.
Tools for Tracking and Managing Stocks
---
When you open an account with CommSec, you can create a personalised watchlist ⌚to track the stocks that you're interested in as you study the market. When I'm sitting on the sidelines looking for chances, I find this to be a helpful approach to monitoring the market.
You won't have to trawl through hundreds of options to find the few financial instruments that are really important to you.
CommSec's Top Management Series
In order to provide traders with insights into prospective trading opportunities, CommSec's analysts conduct interviews with the senior executives of Australia's major firms on a regular basis. You could learn about changes in the market that you wouldn't have known about otherwise. Instead of naively acting on the insights, I want to double-check all signals using my own market research.
Statistical Analysis of the Markets
Live share market headlines and briefings, videos, share prices, and forecasts are just a few of the ways the broker's knowledgeable staff keeps you abreast of market developments. I thought the market studies were really thorough, and I appreciate the added value they provide to my business. To subscribe to such extensive market research from a third-party company would cost several thousands of dollars. When everything you need is in one convenient location, it's easy to relax.
A Look at Morningstar's Top-Tier Premium Ratings
In-depth research on a wide range of investment options is available to subscribers of Morningstar Premium. CommSec gives you access to Morningstar Premium ratings for companies across a wide range of industries.
This service level can really beneficial when deciding which stocks to trade. When it comes to research, analysis, and ratings for individual stocks and mutual funds, Morningstar is often regarded as a top resource. If you subscribe to Morningstar Premium, you'll have unrestricted access to all of that data. The fund screener applications will assist you in reducing the vast pool of available funds to a manageable size.
Stock Picks From Goldman Sachs
This broker also offers access to cutting-edge research, in the form of stock recommendations from Goldman Sachs. Market, industry, and economic developments are discussed. Prior to making a decision, I believe it is wise to get the input of as many knowledgeable people as possible.
Educational Resources
---
If you are new to investing or simply want to brush up on your abilities, CommSec Learn is a great resource that won't cost you a dime. If you want to get a leg up on the markets before you dive in, you may discover a wealth of useful instructional tools there. Learn about the latest stock market news, reports, videos, prices, and trends with the help of CommSec's seasoned professionals.

📙 Learning that follows a predetermined course
📙 Topics are broken down into small enough chunks so you can easily dip in and out of them
📙 Take your time and fit it into your current schedule
They have everything you need to gain self-assurance and make sound financial decisions based on your unique priorities and values. No matter how much you know about investing now, there is always more to learn. This is precisely what you can expect to get by using CommSec Learn.
CommSec's website has 3 primary learning resources:
#1 Become Familiar with the Fundamentals
You might think of this part as the proverbial "first step" in your trading career since it will expose you to fundamental concepts in investing and trading. Learn how to buy stocks but also fundamentals that will help you make better use of your favourite budgeting app. I enjoy how this part is broken down into three categories: beginner, intermediate, and advanced.
#2 Knowledge & Instruction
Insights, techniques, and trading ideas are provided in this part to aid in the development of your investment knowledge and expertise. There's enough variation in the subject matter that everybody can pick up some useful information. I like how in-depth articles and videos from professionals may help you hone your approach.
#3 Webinars 💻
The broker's extensive library of premade webinars provides traders with a wealth of information on a variety of trading concepts and methods. It's open for exploration—see how experts handle trades and where to arrange them! To hone one's trading skills and get insight from the practical experience of others, I think this is a fantastic resource.
Creating a CommSec Account ⭐
---
More than 2,000 equities listed on the Australian Stock Exchange are available for trading with CommSec, investing your hard-won savings in a few button clicks.
But if you're a trader seeking a way to expand your portfolio and trading potential, they're happy to provide you with margin loans. Diverse instruments like crypto CFDs, fixed-income products, and mutual funds are some of the other investment options available via CommSec. I believe they provide a great variety of investments to choose from, so anybody can build a balanced portfolio.
The broker provides entry to 24+ of the world's most important financial markets, including the NYSE, NASDAQ, and LSE. Trade Exchange-Traded Options (ETOs), Exchange-Traded Funds, and the stocks of more than a hundred international blue-chip 🔵 businesses—across multiple markets.
It's important to remember that you'll need a CommSec International Assets Trading Account in order to trade any of these foreign securities.
Overall Experience
With CommSec's award-winning trading platform and a CommSec Share Trading Account, you may buy and sell Australian shares and other securities listed on the Australian Stock Exchange.
You'll appreciate the ease of checking share and market prices in real-time for free, making transactions using whatever cash account—or Commonwealth Direct Investment Account 3 (CDIA3) if you like, with brokerage fees starting at only $10.
Investors may manage their funds and do business whenever and wherever it is convenient for them with a CDIA. Based on my research, they provide a wide variety of trading accounts to suit a variety of needs and preferences.
Opening an Account… 📁
---


You can buy and sell Australian shares quickly, easily, and cheaply with a CommSec Trading Account (there are different kinds, e.g. share trading accounts). Create orders with no initial investment to respond quickly to market fluctuations and take advantage of unexpected investing possibilities. Orders may be placed in a number of convenient ways, including online, through the mobile app, and over the phone.
If you're an Australian resident with all your basic credentials at hand, it's pretty straightforward to open a CommSec account.
Make sure you have these details 📖 :
✔️ Official ID like your passport or driver's license.
✔️ A valid Australian residential and postal address.
✔️ A valid email address.
✔️ Your mobile phone number.
✔️ Your Australian (or, if applicable, overseas) tax information.
Got all that? Then you're good to go. Note: you may require different accounts according to the type of trading you want to do, for example, margin, contract for difference (CFD beginner's guide), and foreign security accounts.
Pro CommSec One
You won't find another application like CommSec One anywhere else, designed specifically for serious traders. It's a one-stop-shop trading solution that comes with special perks and personalised assistance. With the help of the CommSec One support team, you can maximise the potential of every exchange.
Plus, CommSec and other pros in the field will be available to you to answer your questions and provide advice as you expand your investment savvy. CommSec members may join CommSec One at no cost. All that's required is that you satisfy certain qualifying requirements over the course of a year.
Support
CommSec's customer care is accessible through a number of different mediums, including e-mail, phone, live chat, and a web-based form. If you need instant assistance during trading hours (when the Australian market is open), you may reach them then. In addition to their website, you may contact them via their Twitter and YouTube accounts.
Support is not accessible around the clock like some other brokers, but that's not a deal breaker for me.
Funding
You can fund your CommSec account in one of two primary ways. Now, you have two options when you create your CommSec account: 1) You can use any available Cash Account for transaction settlement. 2) Or you can open a Commonwealth Direct Investment Account—and have access to more competitive brokerage fees.
CommSec's cash integrations enable you to make instantaneous wire transfers and just require a single login via NetBank or CommSec to handle your cash and trading accounts.
However, if only they had more options for making payments—such as using in-browser processors. Whenever I need to rebalance my trading account, this is the quickest and easiest method for me to do it. The following alternatives are available to you:
Link Your Financial Accounts
Connecting your Australian bank account at the time of application is the preferred method. Your designated bank account will be automatically debited two business days following the execution of a purchase order.
BPay Compatible
You can finance your purchase transactions using BPay in addition to the bank account you've designated for settlement. Payment must be arranged in advance to guarantee that funds are clear and accessible on the date you settle, which is typically on business day two after the purchase order was placed. This clearing period might be as long as two business days.
Conclusion 🌞
---
CommSec offers its clients a diverse and user-friendly platform to effectively trade using all the necessary tools and approaches you'd expect of a leading trading provider.
Even access expert opinions on how to accurately assess current market conditions and pricing, therefore minimising the risk of financial loss.

Considering everything, CommSec has a lot going for them, and we're pleased by the investment products and services they provide to its customers—we like how accessible the market is for novice and seasoned traders alike to understand the interface and features.
The platforms are adaptable and simple to use, yet they have all the features necessary to do in-depth research into the industry and make calculated conclusions. There is a wide variety of account options to suit any trading strategy, and there is a wealth of instructional material for newcomers.
However, CommSec could enhance its services by providing additional payment choices and free sample accounts so that prospective customers may test out the platforms before making a long-term commitment. Accordingly, they might be an excellent option for Australians who want a centralised location from which to oversee their various financial accounts and assets.
In addition to the initial sign-up cost, there are no ongoing membership or service costs. You may open an account with CommSec and start trading in as little as 5 mins if you know the account you want.
---
You Might Also Like: