Disclosure: Privacy Australia is community-supported. We may earn a commission when you buy a VPN through one of our links. Learn more.
Trust.Zone VPN Review 2022 – VPN in Seychelles
How ya goin', friends? I'm Isaac Turner and in this review, I'll go over all of the pros and cons I encountered when I tested out this VPN on my Macbook.
This Seychelles-based company (Trusted Solutions, Ltd.) has been around since 2014.
Trust.Zone is said to be a truly anonymous VPN that prevents your ISP (Internet Service Provider) from seeing what you're up to.
When they started getting plugged by some of the biggest names in tech media, I took notice and decided to try them out for myself. I needed to know if I could believe all the hype.
As I trust you'll see in this review, the results were surprising, particularly for a service that's only been around for a few years.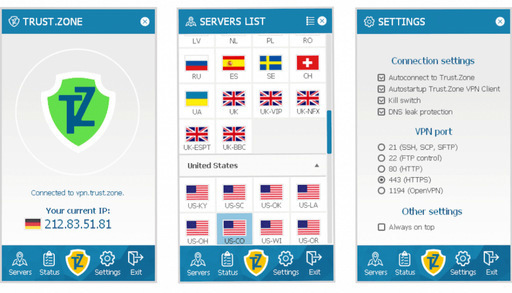 In this review, I'll tell you all about the speed tests results of this VPN, Trust.Zone's usability, the dependability and helpfulness of their customer support and my overall experience with this service.
Before we jump into it, let me tell you a bit more about the company behind Trust.Zone.
For starters, their website boasts a fun, vibrant look featuring a little caped crusader cartoon who clearly represents the protection that they provide. One of the first things you notice is that the caped crusader is presenting us with a massive 50% off sales promo. That's some awesome savings for a first-time user.
Very few VPNs offer such large discounts right off the bat, preferring to offer free trials to upsell prospective subscribers on costly annual plans. Trust.Zone obviously recognized this industry-wide trend and decided to have the edge of competitors by giving newbies a substantial incentive for joining.
The site looks trustworthy and appears to be legit, but as we all know, you can't always judge a book by its cover.
Let's get right to it.
What Trust.Zone Says About Themselves
---
Your ISP and visited websites see IP addresses of our servers with encrypted traffic. All content transfers, personal details, chats are safe.
Trust.Zone is a service from Seychelles.
Trust.Zone Overview
| Features | Information |
| --- | --- |
| Usability: | Very easy to use |
| Logging Policy: | No logging policy |
| Server Size: | 188+ servers |
| Server Distribution: | 98 zones |
| Support: | Ticket System |
| Torrenting: | Allowed |
| Streaming: | Allowed |
| VPN protocol and encryption: | WireGuard, OpenVPN, L2TP/IPSec, IKEv2 protocol / AES 256-bit encryption |
| Headquarters: | Seychelles |
| Price: | From $2.33/month |
| Official Website: | https://trust.zone/ |
Why is That Important?
---
Trusted Solutions, Ltd is located in Mahe, Seychelles which is a democracy without restrictions on VPNs. In many countries, VPN use has been outlawed and government institutions often demand that VPN services hand over user session logs as evidence in court cases.
With Trust.Zone's Seychelles-based IP addresses, this won't be the case. Data retention laws do no apply to them. You won't have to worry about any sensitive data being scrutinized by governments or third parties.
Seychelles is also a paradise on Earth, it's truly gorgeous. Definitely a place to check out if you can afford the trip. And as any tourist who has visited Seychelles can tell you, it's important to have a VPN when traveling. Cybercriminals prey on tourists because they think they're out of their depth.
As I mentioned earlier, Trust.Zone has been garnering some really positive reviews online. Some VPN experts have referred to them as, "A straightforward VPN with a well-designed Windows client."
That being said, they also admonish their readers about Trust.Zone's lack of advanced features and low speeds as we can see here: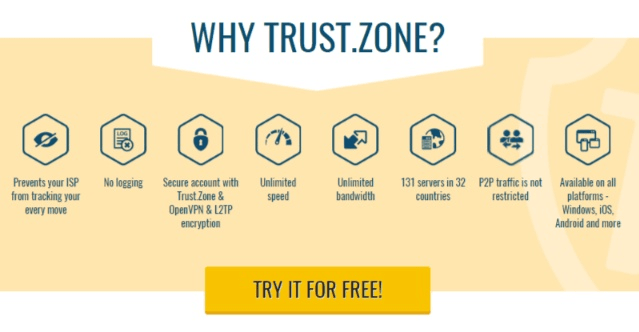 Since TechRadar issued this warning, it appears as though Trust.Zone has taken measures to beef up their features, speeds and options for mobile clients.
But before we delve into Trust.Zone's speeds, servers and advanced features, let's take a look at their compatibility.
What Does Trust.Zone Offer?
---
Trust.Zone's VPN supports all of the following operating systems and devices:
iOS
Android
Windows
MAC
Linux
This VPN service enables you to surf the web totally anonymously by concealing your IP address and location.
They claim to prevent ISPs from monitoring your online activity and ward off cyber threats such as malware, ransomware, etc.
With Trust.Zone, you get a lot of the features people have come to expect from a VPN like a no logs policy, unlimited bandwidth and more.
One of the big things users should always consider before subscribing to a VPN is widespread availability. With 131 servers in more than 32 countries, you can get Trust.Zone almost anywhere. They have placement in most major cities across the world.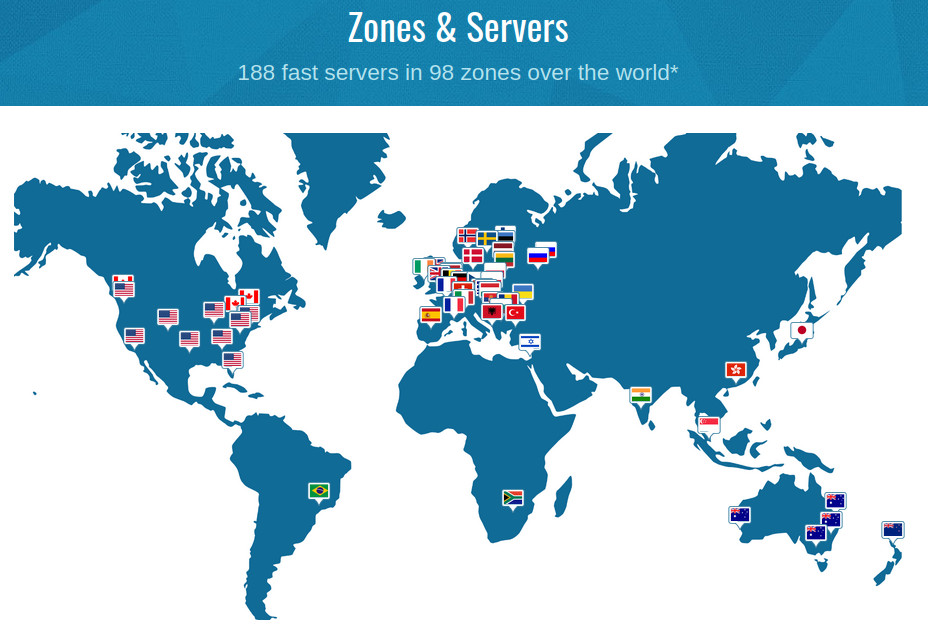 Trust.Zone also offers a master kill switch, which is a terrific feature to have in case your WiFi gives out and you lose your secure VPN connection. Without a kill switch, your online activity would be exposed to your actual ISP.
But with a kill switch, your browsing session is automatically brought down to hide your activity from prying eyes.
Additional Features
---
If your router supports OpenVPN or L2TP/IPSec VPN Client, Trust.Zone can be used on your router.
Their handy Manual Setup Page walks you through how to create a router VPN setup.
Trust.Zone VPN is also compatible with the full version of DD-WRT firmware. As with their Manual Setup Page, they provide instructions on their DD-WRT Instructions Page. This enables you to find and select the VPN nearest to your current location. The steps are easy to follow.
They allow P2P file sharing and provide access to blocked Netflix catalogs. Anyone who has used a VPN can tell you how valuable this is as torrenting and streaming are two of the most common activities that are blocked or prohibited in several countries.
Pricing & Plans
---
When I decided to test them out, Trust.Zone's site was offering a limited time FREE three-day trial. Their free test includes 1GB data transfer which is pretty enormous for a free VPN service.
Most free VPNs or VPN free trials limit users to far less than a gigabyte. It's not out of the ordinary to find one offering less than 500 MB.
What's more, Trust.Zone gives free users 143 locations with unlimited bandwidth. The only downside here is that you only get one simultaneous connection, so you won't be able to run the VPN on a multitude of devices, but for the purpose of giving them a try, this is more than adequate.
Locationwise, this is really awesome, as most free VPNs limit access to only one or two locations.
Trust.Zone's plans include a month-long package, a one-year plan, and a two-years plan. When I tested them out, I saw that they were running a special on the annual plan. If I decide to go with them in the long run, that's the plan I would probably go for.
Each of their plans give users access to all of their 188 locations with no data caps and unlimited bandwidth. You'll get three simultaneous connections and unrestricted server switching.
They are currently having a winter sale, so now's as good a time as any to sign up for a discount.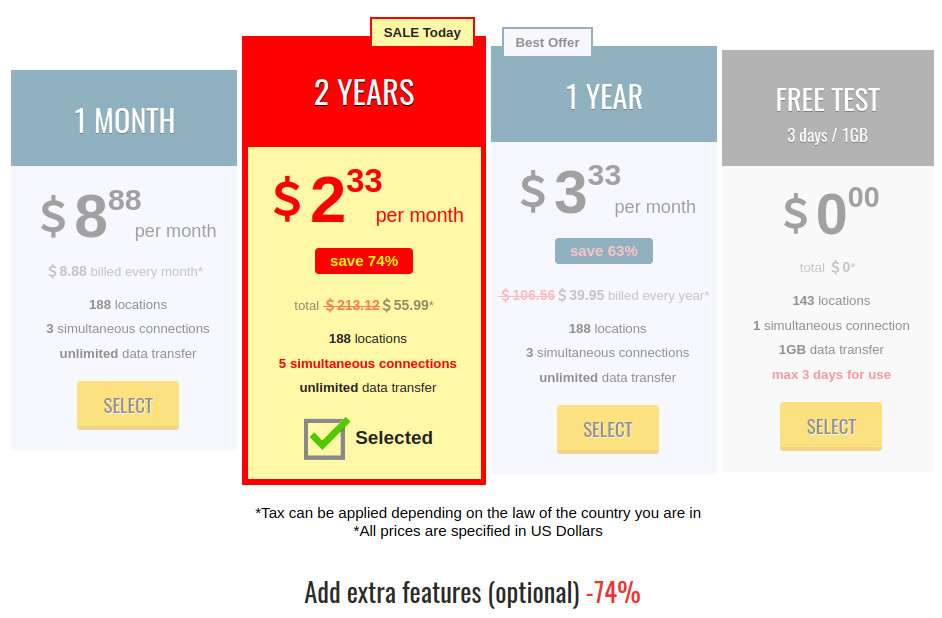 The monthly plan is $8.88 per month. This is a month-to-month plan, the pricing is based on their desire to keep you subscribed. As such, the pricing is really good. Many of the VPNs I've reviewed give you no other choice but to commit to an entire year in order to get a price break. Most of them never end up being much less than $9.50 per month.
Their one-year package is $3.33 per month. This means that the complete price for your first year is just $39.95. That's ace! You're talking about a 63% discount over the monthly package.
The two-year package is $2.33 per month. With this plan, you save 74% over the first plan.
So if you're feeling skeptical, you can either sign up for a free trial or get their monthly plan to start with. But the monetary benefit of getting their annual plan is pretty obvious.
They accept a range of payment methods including Bitcoin, PayPal, PayPro…

Trust.Zone also offers a 10-day money back guarantee as long as your bandwidth usage does not exceed that 1 GB.
This is in addition to their free test. That gives you two methods by which to check them out and see if they're worth the money.
The pricing sounds fairly good at first blush, yeah? But how do they compare to their competitors? Let's find out straight away.
As a service that hasn't been around all that long (Est. 2014), you'd be forgiven for expecting some flaws in their software. But I'm happy to report that that does not appear to be the case with Trust.Zone.
I was actually genuinely jargoggled by how smooth my experience was with their service. They clearly know what they're doing and they're doing it well.
Here's a thorough list of areas that I was pleased with when I tried them out.
Security & Privacy
---
This is the most important aspect of any VPN—security. Hands down, that's the number one reason one should use VPNs.
It's all well and good to feature an adorable little cartoon character on your homepage to seem inviting to consumers, but if you can't pair that design with solid encryption, you're not going to have any kind of longevity as a VPN.
Luckily, both for users and the company behind the service, Trust.Zone delivers the goods where it matters the most. Your online activity is genuinely secure and private when you're using your account.
Their AES-256-bit encryption ensures that you are getting the strongest algorithms used in symmetric key cryptography.
Trust.Zone's Encryption
This awesome encryption features an AES-256-CBC cipher, SHA256 authentication and an RSA-2048 handshake. This is military-grade stuff right at your fingertips.
An RSA handshake is imperative because it's used to secure your data transmission with a secret decryption key. With RSA, the user creates and publishes the public key, meaning that you play a role in your own encryption.
The RSA-2048 handshake cannot be cracked, making it one of the most secure solutions around.
Is Torrenting Allowed?
Yes. Trust.Zone allows unlimited downloading and file sharing. Unrestricted P2P traffic can be quite rare with a lot of the VPNs on the market, but this one does not limit you in this area. If you want more about torrents read our guide here.
Logging Policy
Trust.Zone have a firm no logging policy.
As I mentioned before, Seychelles has no data retention laws so they have no reason to keep your data.
This is absolutely critical when selecting a VPN because I've tested out many VPNs that say they don't keep logs, but lots of them have made the news for handing over user session logs to law enforcement and the like for the purpose of trying and convicting users.
Connection Speeds (One of the Faster Around)
---
Many VPN services claim to offer lightning fast speeds, Trust.Zone included. In an effort to see exactly how accurate their claims were, I ran a speed test of my own to determine where they're at in this area.
Here are the results of my tests which I completed with a 100 Mbps Internet connection:
US Server
Ping: 195 ms
Download: 60.61 Mbps
Upload: 36.75 Mbps
EU Server
Ping: 43 ms
Download: 69.46 Mbps
Upload: 46.12 Mbps
Asia Server
Ping: 315 ms
Download: 14.51 Mbps
Upload: 7.14 Mbps
As you can probably guess, I was very happy with the speeds I achieved. When stacked up against their competitors, even the long-established ones, Trust.Zone came out on top as one of the fastest VPNs available.
Usability
---
The usability of Trust.Zone was consistent and easy-to-use.
Some VPNs, even the extremely fast ones, can experience lags or intermittent sluggishness. Others are very complicated once they've been installed. This was not the case when I tested out Trust.Zone.
I was able to download more than 230 files with consistent speeds and no connectivity issues.
Once you create your account and install the program, you're off to the races straight away.
Here's how the client looks once you load 'er up: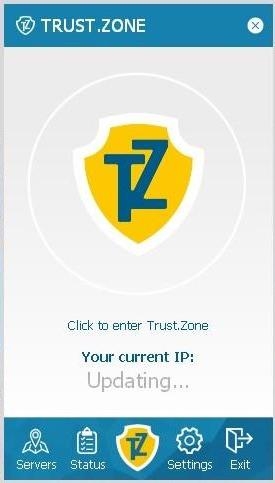 The tabs for Status, Settings and so forth are easy to identify and easy to select. The buttons are rather intuitive even on a Smartphone so you won't need an expensive Stylus to work them.
When you click on the Servers tab, you'll see a list of servers from which you can pick your desired selection:
Some bedrock info about you subscription can also be viewed here: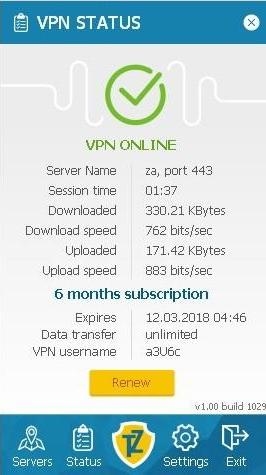 The Settings tab will tell you everything you need to know about your connection and the options at your disposal for your port.
You'll notice the "Kill switch" option under your connection settings. Be sure to keep that one checked off.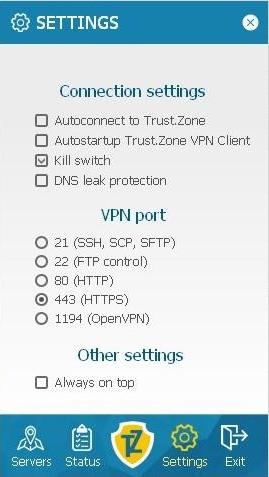 To turn off the VPN, you just pop into the Exit tab and click "Ok." Simple as piss.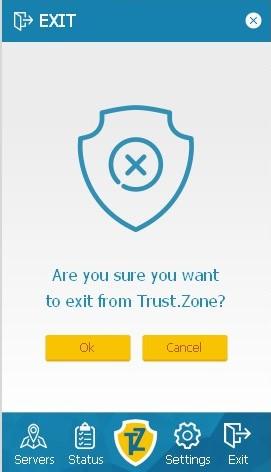 Does Trust.Zone Work on Netflix?
---
As you may know, Netflix has been blocking VPN services left, right and center. They have taken a vocal stance against piracy and have to restrict regional access to much of their library due to licensing rights with many of their shows and movies unavailable in certain territories.
As such, users are always on the lookout for a VPN that's able to unblock the Netflix catalogs in the US, American Samoa, Puerto Rico and so forth.
Perhaps due in part to their lack of name recognition (relatively new company whose name isn't well-known), users are able to access Netflix with ease. It worked perfectly when I tested it out and I was able to stream anything I wanted from the US catalog.
I just selected a compatible server, logged into my Netflix account and Bob's yer uncle! I was in.
The first thing I saw were the foreign titles pictured above. I clicked on the Will Smith movie and it played without a…Hitch.
Trust.Zone Cons
---
While I was pleased with almost everything about my experience with Trust.Zone from their strong encryption and fast speeds to their user-friendly interface and affordability, I did notice one negative aspect to their service:
Limited Customer Support
Many of the best VPNs, like NordVPN, offer 24/7 customer support options such as live chat. This is their way of making sure that their customers are taken care of round the clock and that any hiccups that occur are swiftly resolved.
Alas, this was not the case with Trust.Zone. They offer only a ticketing system for customer support and they're only available to field your questions or concerns Monday through Friday from 6:00 AM to 4:00 PM.
This could be an issue for a lot of people, depending on where in the world they live.
Here is what their customer support form looks like: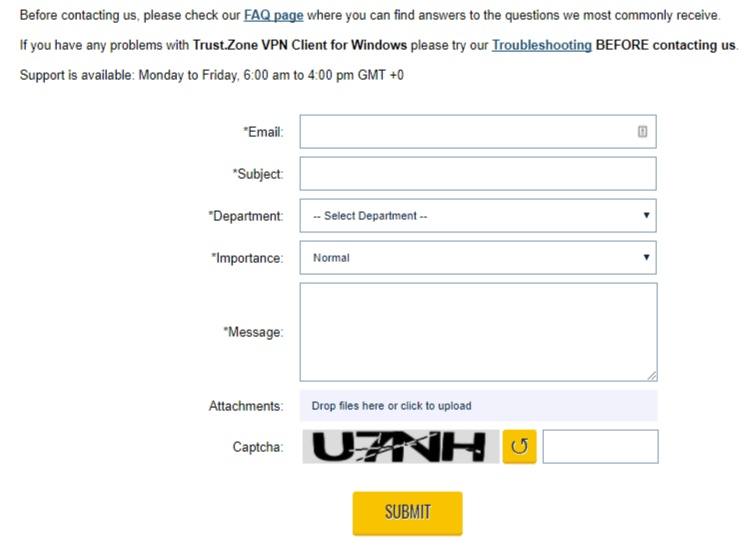 You can also access their drop down menu for more options:
Additionally, you are able to select the degree of importance, whether it's a "trivial" matter or a "critical" one.

Once you've submitted a question, you'll see on the dashboard that your ticket has been added.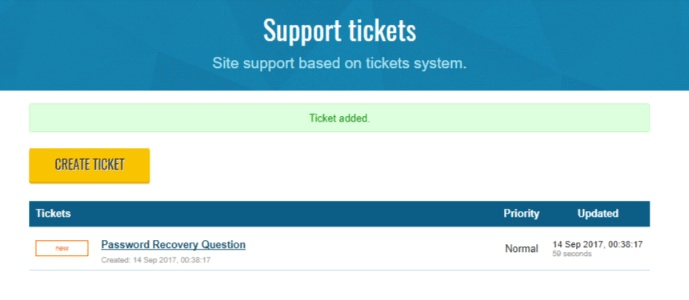 Fortunately for me, my question was answered in only a few hours, but I could still see how this could inhibit the activity of a user who has a real technical problem that impinges his/her ability to perform a particular time-sensitive online task.
Do I Recommend Trust.Zone?
---
I definitely do.
After careful review, I can say with confidence that Trust.Zone delivers solid privacy and security, top notch features and rock solid encryption. They are also one of the easiest VPN solutions to use.
Their affordability and widespread availability are an added bonus.
The live feed of their download and upload speeds for each of their servers takes the headache out of struggling to figure out which one to choose.
And given their geographical location, you'll know that there will be no data retention by the company or third parties.
Pros
Compatible with most devices
Affordability
Fast speeds
Strong encryption
Adequate ticketing system
Torrenting allowed
Unblocks Netflix
Plenty of servers across the globe
No logging
Usability
Live feedback of speeds for each server
Cons
Limited customer support options
Hope this review helps and for more info, check out guide to free VPNs and also our list of recommended password management apps.
---
You May Also Like: