Disclosure: Privacy Australia is community-supported. We may earn a commission when you buy a VPN through one of our links. Learn more.
How to Get American Netflix in Australia (100% Solution)
Netflix has more than 158 million subscribers (and counting).
This is probably more than what the company's founders could dream of when they started the company as a place to rent videos online back in 1998.
Back at that time, Netflix became famous in part because of the company's offer of unlimited DVDs, which would be sent to your house.
When this idea first came on the scene, it was revolutionary. The idea of not needing to go to a Blockbuster to rent a DVD changed everything. Americans grasped onto the concept.
In 2002, Netflix only had 700,000 subscribers. By 2005, their subscriptions had jumped to 3.6 million. What Netflix and those who were fans of the program did not understand is that there was something even better in the offing.
In 2007, Netflix launched its streaming feature. So you did not need to wait for a DVD to arrive at your home. You could have the movie of your choice on demand.
The founders of Netflix said that they were interested in starting streaming a lot earlier, but the Internet speeds at the time did not make it possible. That's right – they were ahead of their time.
As the popularity of Netflix streaming began to grow, it started to be supported on game consoles, handheld devices, and televisions. Interestingly, at that point in time, streaming services with Netflix were only available in the United States.
That would all change in 2010 when Latin America and Canada, as well as the Caribbean in 2011, were able to access Netflix streaming service. That same year Netflix started to produce its own original content. In 2013, House of Cards debuted. It was an unquestionable hit.
It seemed like Netflix had one success after another. Just look at programs like:
Stranger Things

Orange Is the New Black

The Crown
#1 NordVPN – The Best Netflix Streaming Solution
---
Key Features:
SmartPlay technology
Unblocks Netflix from any country
OpenVPN protocol with AES-256 bit encryption


Pros
Free trial
Money back guarantee
Zero-logging policy
Cons
Speed can be quite inconsistent at times
NordVPN has always been at the top since it began. Boasting over 5,000 servers around the globe, NordVPN has covered a huge geographic area that spans 6 continents, providing the services to all who need protection.
With their proprietary SmartPlay technology, most, if not all of their 5,000 servers could gain access to US Netflix and any other Netflix, and stream without encountering any errors. You don't get this with any other VPN provider
NordVPN is a tad more expensive than many of the paid VPNs. However, once you start looking into their available plans, you'd notice how much you start saving when you look into longer terms.
In fact, the monthly cost goes down so much that they end up being one of the cheapest VPN plans you can ever get if you look at their 3-year plan.
Month to month – $11.95 each month.

Annual – $83 per year, or $6.99 each month.

2-year plan – $95.75 for two years. This breaks down to $3.99 per month.

3-year plan – The upfront payment is $107.55, or about $2.99 per month.
The great thing is that all NordVPN plans come with a 7-day free trial. It also has a 30-day money-back guarantee. If during the first thirty days you don't like what you see, you can shut it down and get all of your money back
You can trust NordVPN to keep your privacy private. This may not be that big of a deal when talking about the movies that you stream on US Netflix.
However, it might be a bigger deal when talking about other online activities.

NordVPN has been audited by accounting firms, and these firms attest to the fact that when they say they do not keep logs, they do not keep logs.
#2 Surfshark – The Cheapest Netflix Streaming Solution
---
Key Features:
Above Industry Standard Encryption
Zero Logging Policy

Pros
Cheap
Unblocks Netflix from any country
Easy to Use
Cons
Fewer servers than other options
NordVPN is well known in the Netflix streaming arena due to its vast number of servers. Having that many servers make it difficult for Netflix to block any of them.
NordVPN does cost a good chunk of change compared to our runner up choice on this list. Surfshark has no issues accessing Netflix and it is about half the price of NordVPN.
With Netflix increasing their prices every now and then, it feels good to use a VPN that doesn't cost almost as much as the subscription to Netflix itself.
When choosing a newer company to perform a service as important as unblocking geo-restrictions when using Netflix, it makes sense to be skeptical. Going for the new kid on the block can seem like a dangerous move. When it comes to Surfshark, it's actually pretty safe.
Surfshark is a fantastic pick for people who are looking to get around geo-restrictions without basically paying another Netflix subscription. It's fair that other VPNs charge a premium for their service as they have provided quality encryption tunnels for years.
It's also fair that Surfshark came in and offered the same quality service for a fraction of the price.
We highly recommend taking a look at Surfshark's websites for their current introductory pricing. If you are still skeptical about this VPN, check out the full Surfshark review for more information.
#3 ExpressVPN – Great Balance of Speed & Security
---
Key Features:
Works with US Netflix
Works on most platforms


Pros
Fast speeds
Strong encryption
Phenomenal support
Cons
You can only connect three devices simultaneously
A little more expensive even in their longest term plan
Spotty connection with Netflix Australia
If for some reason NordVPN is not a viable option for you, our next recommendation on the list would be ExpressVPN. This is a British Virgin Islands VPN service. It offers a number of amazing features and has phenomenal power.
Similar to NordVPN's reach, ExpressVPN also has a massive network, which is currently at 3,000 servers in 160 cities spread across 90 countries. For those interested in watching Netflix in the United States, you will be happy to know that the US has some of the best coverage for this VPN.
One of the downsides of ExpressVPN is the fact that you can only connect three devices with one account. However, even this is not that big of a downside. Think about it, how many devices do most people need to have connected to a VPN simultaneously?
Usually, just one. And if you need to connect your entire house, ExpressVPN offers VPN router support. (Read more: Best VPN Router)
Another downside is the price. ExpressVPN is one of the most expensive VPNs you are going to find. If you purchase their service on a month-by-month basis, you will spend $12.95 each month.
If you use their six-month service, you will pay $59.95 upfront, which averages out to $9.99 a month. If you go for their 15-month program, you will pay an upfront fee of $99.95. This breaks down to $6.67 per month.
Two more things that we like about ExpressVPN are their customer service and their 30-day money-back guarantee. ExpressVPN is so confident in their product that even after you pay for the product, you have 30 days to get your money back with no questions asked.
The customer service with ExpressVPN is some of the best that we've seen. We have had a number of conversations with their tech support and have always found them to be knowledgeable, helpful, and very accessible.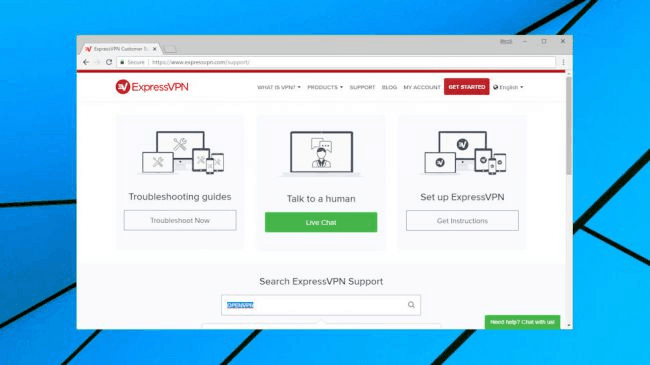 Just to add one more feather to ExpressVPN's cap, their privacy policy is beyond reproach. Time and time again, governments have tried to access information about their clients. However, since ExpressVPN is true to its promise, it keeps no logs on its clients.

So when governments or other institutions try to get a hold of these logs, ExpressVPN can honestly say that they do not exist.
#4 VyprVPN – Amazing Functionality + Speed & Security
---
Key Features:
Works with US based Netflix
Chameleon protocol

Pros
Proven no logging policy
Live chat support
3-day free trial
Cons
No money back guarantee
Problems connecting in China
Issues with their Windows client
VyprVPN is a Switzerland-based VPN that focuses on privacy. They offer more than 700 servers and more than 70 server locations. A major plus for this VPN is that they own and manage all of their own servers. They do not use any third parties.
Their service works on a number of platforms, including Apple TV and Android TV. Independent auditing has shown that VyprVPN does not keep logs.
VyprVPN has relatively simple pricing plans. These plans allow you to choose whether you are going to pay yearly or make payments on a month-by-month basis.
Choosing the basic monthly plan will be $9.95 a month. This allows three devices to simultaneously connect to the service. If you pay for the entire year, you get the same service for $60 a year, or five dollars a month.
If you opt for their premium plan, you have the option of paying $12.95 a month every month or subscribing for one year at $80 per year, which breaks down to $6.67 per month.
With the premium plan, you can connect five devices and take advantage of their proprietary Chameleon protocol designed to get around services that are made to block VPNs while streaming.
Why You Should Use a VPN?
---
When you use a VPN to get around Netflix geo-blocking, you have the added benefit of being able to connect your device to a server or another device over a secure connection. Whether you're in Washington or Melbourne, it won't matter.
You can continue browsing and streaming knowing that any information transmitted online is encrypted and cannot be intercepted. The three VPNs we have reviewed offers stellar speeds, stellar service, and are completely committed to helping you maintain your privacy.
Best of all, they have been tested and shown to work with US Netflix.
Is a VPN My Only Option?
---
For your money, getting a VPN is your best option for getting around Netflix's geo-blocking. However, it is not your only option. Smart DNS proxies are designed to reroute traffic that is geo location-aware.
This means that when your traffic is blocked outside of the US, it will be routed to the US. Traffic that is routed with Smart DNS proxies is not encrypted. This could have some pluses when talking about streaming.
Since only a small part of your traffic is rerouted, bandwidth speed is preserved.

It's very simple to set up, even if you are not good with computers.
The service works by replacing the DNS address that you are assigned by your ISP with a new one that doesn't have any information revealing your real geo-location.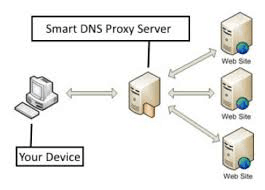 Your connection request to the website that you want to access is intercepted.
Any information that might leak your geo-location is replaced with new data that points to the location where you want to access the geo-blocked content from.
For the sake of our discussion, all information identifying you as being in Australia or any other country is replaced with information that makes it seem like you are in the United States.
As viable as this may sound, it doesn't work all the time. Sure, you may get access, but only after trying to switch locations many times, every single time you try to watch.
FAQs
---
Q: Is a VPN Legal in Australia?
A: Yes. VPNs are legal in Australia. When you use a VPN to circumvent geo-blocked material, like US Netflix, you may be doing so against the wishes of the right holders.
However, circumventing geo-restrictions is not the same as sneaking past the best home security system in the neighborhood and breaking into a home.
Like most online technologies, Australia legislation is a bit vague on what is and is not allowed. As of right now, there are no laws that inhibit you from using a VPN in Australia. Nor is it illegal to bypass geo-restrictions.
Q: What Free VPN Works With Netflix?
A: None. Free VPNs are not worth it. Their service is slow, so even if they are able to get around Netflix geo-restrictions, you're not able to stream the video. Free VPN services see you as merchandise. They steal your private information and often use that information to make money for themselves.
Q: Can I Watch American Netflix in Australia Without a VPN?
A: A smart DNS may make it possible for you to watch US Netflix in Australia without using a VPN. With that said, the safest and most sure-fire way is to use a VPN, like NordVPN, ExpressVPN, or VyprVPN.
In 2012, Netflix made the hop across the pond, becoming available in the United Kingdom. Soon after Netflix became available in most markets around the world.
Related Read: Watch Bollywood Movies Online
TL;DR – Get a VPN (Virtual Private Network).
TD;LR – The only one true solution to getting a permanent working solution for Netflix access is by using a VPN.
While a few websites recommend using proxies or even TOR, they don't tell you the full story. Proxies lack the encryption and security that a VPN provides while using TOR completely puts your speed down to a maximum of just Kb/s.
? But please please PLEASE whatever you do, avoid "free" VPNs. Even the best free VPNs are a dime a dozen.
We strongly recommend that you stay away from free VPNs as they are generally not the best solutions for Netflix. Their security policies are often atrocious and can make your device vulnerable to attacks.
Their speeds are very slow. They have horrible logging policies, so they monitor the sites you visit and what you do while online.
If you want the best VPNs, we suggest any one from the three:
Read our full NordVPN review or visit NordVPN
Check out newcomer Surfshark, provides streaming services for not only Netflix but HBO, Hulu, Amazon Prime and about 12 other outlets. Visit Surfshark or read our SurfShark review.
If budget is less of a concern, go with ExpressVPN. They are a bit faster the Nord and SurfShark and have a nicer UI on their mobile and desktop apps.
To be frank, you can't go wrong with any of the above three VPN services. They all work roughly the same and will allow you to watch your favorite Netflix shows from anywhere in Australia.
Need more information? Keep reading..
US Netflix is Not "Worldwide" Netflix
---
Travelers from the United States are often surprised when they want to watch American Netflix in Australia and do not see many of their favorite shows. The reason for this is that American Netflix in Australia is geo-blocked.
Sure, you will be able to watch Netflix, but when you are in Australia, you are going to miss a ton of content. You also get quite a lot of content, depending on how you look at it.
Netflix Australia has a generous movie library. Australians get access to Netflix's original content. This includes TV shows, movies, kids programs, documentaries, and comedy specials.
As a bonus, Australian users get access to Australian titles that US viewers have not seen and in most cases have never heard of. Finally, in some cases, Australian viewers can stream shows when new episodes arrive, whereas US subscribers have to wait until the entire season is complete.
The biggest difference you will see is when you look at licensed content. As an example, Friends, the unbelievably popular US TV series, is available on US Netflix. But it cannot be found on Netflix Australia. The same is true of shows like:
Criminal Minds

Breaking Bad

The Walking Dead

Supernatural
True, you are able to see some of the shows on competing stream platforms. Just not Netflix. This is also true if you are looking at watching Avengers: Infinity War and Incredibles 2.
Cost Comparison: US Netflix vs Australian Netflix
---
An interesting fact is that Australians don't pay that much less than US residents for Netflix. Australian residents can purchase the starting package at $9.99 a month.
For $13.99 per month, they can have high depth streaming. At $17.99 a month, Australians can get the best package Netflix offers in the area with all of the added bells and whistles.
In the United States, 2020 brings with it an 18 percent increase in the price of the standard Netflix package. It will go from $10.99 a month to $12.99 a month. The premium plan will jump from $13.99 a month to $15.99 a month. And the basic plan goes from $7.99 a month to $8.99 a month.
To be fair, Netflix is working hard to make its content global. However, there are a number of licensing issues that come into play. So the question is, how can Australians who want to watch US Netflix get access to the US library? There are a couple of options.
How Does Netflix Geo-Block Content?
---
Geo-blocking, in a nutshell, occurs when the content you want to watch is blocked in your geographic location, similar to how websites are blocked. Netflix uses geo-blocking as a way of dividing the world into market segments.
This allows them to sell their products for different prices, increasing their profit as opposed to having one price and one policy worldwide.
Netflix is not the only streaming company to do this. And it does not always work in the United States' favor. For example, UK residents in the United States may be shocked when BBC iPlayer does not work.
How does Netflix know what country you are in? Based on your IP address. Each computer or Internet-connected device has an IP address. So when you visit websites, the IP address tells the Internet where to send the information.
Another great example here is Youtube, which also blocks content depending on your geographic location. Youtube US is not Youtube Australia, even if it appears so. (Read more: Unblock Youtube)
Your IP address is provided by your ISP, or Internet service provider. In the same way that a physical address tells the world where you are located, so your IP address shows your location, making it easy to track you.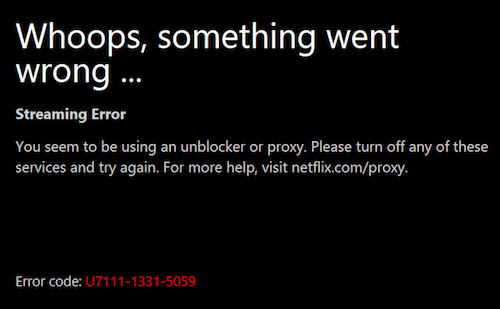 Streaming services can make use of this information when deciding what content users should be allowed to see based on their location.
If you try to connect using an IP address that is blocked, you get the dreaded Netflix error screen.
This happens even if you pay for a service like Netflix. Americans who are traveling for vacation or business have seen this firsthand.
Unfettered Access to Netflix
---
The long and the short of it is that you need to find a way to get the streaming service to believe that you are in a different geographic location. There are a few viable ways of doing this, but we will only focus on the best working solution to get Netflix US.
Remember, you want to have the right tool for the right job. Having the best password manager, for example, will do nothing to help protect your logins from ending up in the wrong hands.
So spending money on the wrong solution to get around geo-blocking is only going to leave you frustrated or worse, harm your online privacy.
No matter if you're in Sydney, Perth, Brisbane, or any other Australian city, we tested services below and they all work with Netflix, providing you with high-speeds – all the while being completely legal. The bottom line, get any one of the tested VPNs below. These are the best VPNs for Netflix.
Final Thoughts
---
Netflix has a lot of amazing content. Because of licensing restrictions, American Netflix in Australia is not available. If you are frustrated with these limitations, there are options. A smart DNS might work.
However, for our money, your best bet is to use a VPN. A VPN is going to hide your IP address and at the same time encrypt the information you are transmitting and receiving.
Of the four VPNs we've reviewed, NordVPN is the best at accessing Netflix. However, the other two do a good job as well. We would love to hear from you. What steps have you taken to get streaming Netflix US in Australia?
Let us know in the comments section below. Also, check out the FAQ section for answers to some of your frequently asked questions about streaming Netflix US in Australia. Thanks for reading.
---