Disclosure: Privacy Australia is community-supported. We may earn a commission when you buy a VPN through one of our links. Learn more.
How to Store Your Cryptocurrency Safely – 3 Best Options (Beginner/Advanced)
Crypto is scary but having your money stolen is even scarier. Today we're going to look at how to store your crypto safely.
Most people have at least a vague familiarity with cryptocurrency these days. Mainly, that's because of the historic gains that these assets made back in 2017. Digital currencies began the year with a starting value of $17.7 billion, but by the end of the year, they had hit the $613 billion mark.
Compare that to the stock market. Traditionally, it gains about seven percent per year. With the possibility to make your fortune virtually overnight, it is little surprise that cryptocurrency is appealing to an increasingly wider audience around the world.
However, this does not mean that there are no risks associated with trading in cryptocurrency. One of the biggest risks is the danger of being hacked. A single hacking incident may be all that it takes to wipe out all of your cryptocurrency assets. Storing those assets in the right way may make all of the difference.
In this article we're going to break down the most common ways that malicious third parties utilize to get into your crypto wallet and steal your funds. We'll explore both free and paid options and discuss which one we think is the best choice.
A History of Cryptocurrency Hacks
---
All investments involve inherent risks. This is certainly true of cryptocurrency, even though this is one of the newest investment opportunities out there. Already, several monumental hacks and thefts have occurred, many of which have made headlines around the world.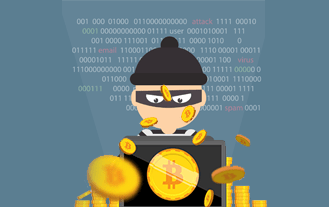 For instance, one of the best-known hacks occurred over at Mt. Gox, a cryptocurrency exchange. When the breach was uncovered in 2014, hackers had already been skimming cryptocurrency from the exchange for years. They obtained a total of about $487 million for their efforts. Experts found that the problem with Mt. Gox was inferior coding security. There was no version control software. This made it possible for coworkers to accidentally overwrite code if they happened to be updating the same file.
Mt. Gox also made the mistake of using untested software, which meant a fundamental failure to protect the security interests of its customers. Experts further noticed that only the Mt. Gox CEO had the power to approve alterations to the exchange's source code. That was the case even if a major security breach was identified. Unsurprisingly, Mt. Gox was forced to declare bankruptcy.
It's also worth considering the Coincheck hack. With an estimated $534 million lost, this is another truly significant hack. This Japanese-based cryptocurrency exchange reported that more than 500 million crypto coins had been stolen from one of the company's hot wallets. The hackers funneled the coins into a separate account, but Coincheck insisted that they did not feel that their hot wallets were a security risk. Coincheck is now in the process of reimbursing all of the customers who lost money in the hack.
Ensuring Your Safety with Cryptocurrency
---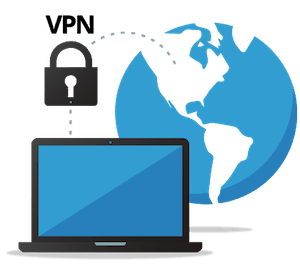 If you're going to be trading in cryptocurrency, then you've got to protect yourself. That means working with providers who use best-in-class security measures.
To protect yourself, it also is advisable that you use a VPN every time you go online, but especially whenever you will be dealing with cryptocurrency. A VPN can thoroughly disguise both your true identity and your location, ensuring your privacy and anonymity regardless of where you roam online.
Another crucial security measure is to use a digital wallet to safely store your cryptocurrency. However, it is valuable to understand that not all digital wallets are created equal. There are hot wallets and cold wallets and a number of factors to weigh before you make a decision.
What Is a Digital Wallet?
---
If you're going to conduct any transactions with Bitcoin or other assets in the digital realm, then you need a way to securely store those assets. In most cases, that means using a cryptocurrency wallet.
Adequate security measures for such a wallet usually include both public and private keys, a concept which is discussed in greater detail below. Essentially, you use the private key to access the assets in your digital wallet. If someone else gets their hands on your private key, then chances are good that you'll never see those assets again.

When you have a cryptocurrency wallet, it's a little like being your own bank. This makes you ultimately responsible for your security, so it's important to take this seriously.
Cryptocurrency wallets come in a variety of formats with hot wallets and cold wallets being the most numerous and accessible. Each has their advantages and drawbacks, which also are discussed below. Whether you choose one or the other or decide to use both, these options are far preferable to storing your cryptocurrency on an exchange.
Why You Shouldn't Store Your Crypto on Exchanges
---
On the surface, storing your Bitcoin or other digital assets on an exchange sounds reasonable. It's convenient, and your assets are at their most liquid. You also won't have to worry about forgetting about the seeds or passwords that give you access to your assets. Beginners will appreciate that no technical knowledge is necessary for setting up the exchange account, and some of them offer two-factor authentication.
However, those advantages don't outweigh the disadvantages. Many of the largest, most high-profile hacks in the cryptocurrency world have occurred in exchanges. These organizations are huge targets for hackers, and this puts your data and assets at risk. Some exchanges, like BTC-E, have even been seized by authorities for illegal activity. Victims of that scam are unlikely to get their money back.
It is far better to rely on a digital wallet that requires public and private keys for access. When it comes to password protection we highly recommend using an advanced password protection service.
How Public and Private Keys Work
---
The key is one of the most important factors of any cryptocurrency wallet. The best ones use a combination of public and private keys for virtually unbreakable encryption. This means that your cryptocurrency is remarkably secure.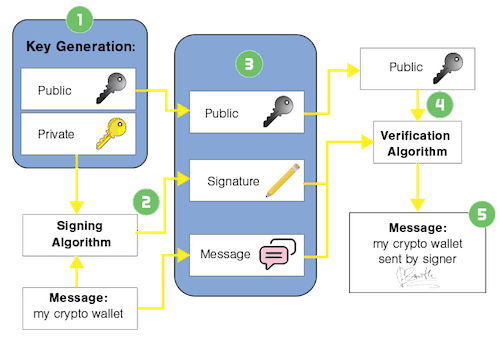 Initially, it is vital to understand symmetric cryptography. This refers to having to use just one key to encrypt and decrypt data. Imagine that you have a lockbox where you store your traditional paper currency.
The lockbox is opened by just one key, which you have in your possession. Only that key or an identical copy of that key may open the lock so that you can access the contents.
That is one level of security, but when you move on to using both a public and a private key, this is called asymmetric cryptography. Now, you will have to have two keys to open the box. In this scenario, the lock is more complicated. One would only be able to turn the lock clockwise. The second key may only turn the lock counterclockwise.
The owner of the box selects one of these keys to keep private. It is vital that this key is kept in perfect confidence and never shared with anyone. This is the private key. The public key can be shared far and wide. Copies of it may be distributed to absolutely anyone, and the owner of the lockbox has no reason to fear. Without access to the private key, it is impossible for any of the people who have the public key to open the lockbox.
Each pair of public and private keys is made up of a long string of numbers. Some of them also contain letters. This creates an extreme level of security because there are infinite options for keys. When the cryptocurrency wallet that you select includes asymmetric cryptographic measures, you can rest assured that your currency is secure.
Options for Wallets – Cold Wallets vs Hot Wallets
---
Cold wallets and hot wallets have a great deal in common. The biggest and most significant difference between the two is that hot wallets are connected to the Internet while cold wallets are not.
Some people like to think of hot wallets as being like checking accounts. They are used for keeping the money that you're likely to spend in the short term by making purchases. The cold wallet is more similar to savings accounts. Currency is kept there over the longer term, and the owner doesn't necessarily plan to spend it in the near future.
Some hot wallets are associated with digital asset exchanges. This is because these companies hold the customer's funds within their servers. Other hot wallets are software based. The companies that offer this software do not store users' private keys.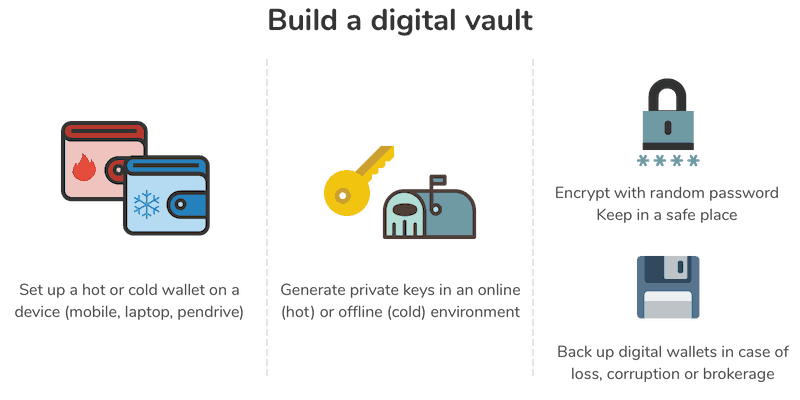 The most popular cold wallets also may be referred to as hardware wallets. Essentially, this is a physical device that does not have a connection to the Internet. When it is needed, the hardware wallet can be plugged into a computer. Each transaction that is requested is confirmed by the customer pressing a specific button on the hardware device.
Why Cold Wallets Are Superior
---
Overall, cold wallets offer greater security than hot wallets. This is because hot wallets are kept on Internet-connected devices, making them vulnerable to hacking. Because a cold wallet is rarely connected to a computer that is connected to the Internet, it is far more secure.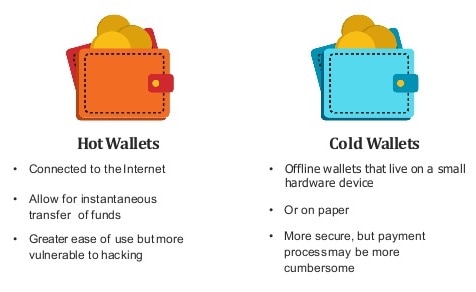 Of course, it is important to understand that hot wallets are more accessible and convenient than cold wallets. If you use a cold wallet, then you'll have more digital hoops to jump through whenever you want to use your cryptocurrency.
This may make it sound like hot wallets are the way to go, but give this some serious thought. Hot wallets are convenient but hazardous. Can you really afford to lose potentially thousands of dollars in cryptocurrency if your hot wallet gets hacked?
Protecting your assets should be your main concern when dealing with cryptocurrency. That's why cold wallets just make sense. Of course, you could always store the majority of your holdings in a cold wallet, and then have a hot wallet for upcoming transactions. Just be sure that you're not keeping large amounts of cryptocurrency in your hot wallet for extended periods of time.
Best Cold Wallet Choice – Ledger
---
The Ledger Nano S is the latest and greatest cold wallet on the market today. It's a multicurrency hardware wallet that uses an extraordinarily secure chip. At a price of approximately $100, it is a bit expensive. However, if you're trading in a lot of cryptocurrencies, then you can't afford to skimp on security.

With the Ledger Nano S, you get state-of-the-art security. The hardware wallet includes a secure chip that is outfitted with a custom operating system. This smartcard chip features a secure element, which is appropriate for applications that must adhere to the most stringent security. This tamper-resistant chip would be costly to hack, and it is virtually impossible to do so, which means that hackers will look elsewhere.
Currently, in excess of 30 cryptocurrencies are supported on the Ledger Nano S. These include well-known currencies like Bitcoin and Ethereum in addition to Litecoin, XRP and others. The Ledger company is dedicated to adding new crypto assets to its lineup.
Despite the advanced nature of the technology at work in the Ledger Nano S, it is remarkably easy to use. This hardware wallet is equipped with a screen and two buttons. Each action that customers take is clearly readable on the screen. This makes secure verification of each transaction possible. The straightforward buttons are used to complete all actions.
The Ledger Nano S is supposed by the Ledger Live app. It outlines processes in a step-by-step manner so that even novices to the cryptocurrency world will be able to safely and securely complete transactions.
The unique private keys that are associated with each Ledger Nano S device are stored on the hardware. These are the keys that make transactions possible. If the hardware wallet is lost or stolen, then the owner loses access to their crypto accounts. Restoration of the accounts is possible with a 24-word recovery phrase that is set during device initialization.
For its superior security features and ease of use, it's easy to recommend the Ledger Nano S as the top choice for a cold wallet.
Best Hot Wallet – Coinbase
---
Coinbase is a bitcoin broker that was established in San Francisco in 2012. Since then, it has grown to include an exchange for cryptocurrency and a wallet. It is the largest Bitcoin broker in the world.
As a hot wallet, this one is great for beginners. Transferring to the GDAX exchange is easy, instant and free. Coinbase also fully ensures all of its crypto holdings. Customers may opt for two-step verification as well as Google Authenticator if they want additional security. Coinbase further offers a vault for even longer-term storage of assets.
Much of Coinbase's popularity comes from its being organized in the US. As such, the company works hard to adhere to American financial regulations. Complying with US banking laws makes it easier for investors to trust the company. However, it also means that copious amounts of information about customers are collected. Names, addresses, financial data and Social Security Numbers all may be recorded.
This may not appeal to some people who are attracted to cryptocurrency because of the possibilities for anonymity. Nonetheless, many people will appreciate the adherence to banking laws and the level of security that Coinbase supplies.
Coinbase wallet supports a more limited list of cryptocurrencies, likely because of all of the banking regulations with which it must comply. At this time, Bitcoin is not supported by Coinbase Wallet. That may be a significant drawback for some potential customers. However, many other digital financial instruments are supported beyond cryptocurrencies. For the right consumer, this could be an excellent choice.
Top Free Digital Wallet
---
For a free cryptocurrency wallet, it would be hard to do better than Exodus. This is a great option for anyone who is looking to keep their cryptocurrency transactions on the most affordable basis possible.
Despite being available for free download, the Exodus interface is beautiful. It's great to look at and exceptionally easy and intuitive to use. Even novices will be able to hit the ground running with this digital wallet.
Dozens of cryptocurrencies are supported on Exodus. Each user selects a 120-word master seed that is written down and stored in a safe place. This master seed is used if the wallet ever needs to be restored. Exodus also asks users to create a password for their wallet.
Exodus uses a pie chart to show you your digital assets. If you'd like, you may also select from among a variety of "skins" to tailor the look of the interface to suit your style. Localization settings are available so that currency amounts are expressed in terms of your local currency.
Be mindful that Exodus does not use open-source technology. This means that you must trust that the software doesn't have any undisclosed bugs or issues that might put your assets at risk. It also is helpful to remember that Exodus essentially is a hot wallet. This means that it is inherently riskier to use this service than it is to go with a trusted cold wallet.
If you only want to deal with one digital wallet, make it a cold wallet. These offer the best possible protection and security known at this time. Use a hot wallet only for transactions that are imminent.
---
You May Also Like: