VanishedVPN is an Australia-based VPN service that has only been around for just over a year. As such, they are fairly untested and haven't exactly penetrated the marketplace the way that other companies like ExpressVPN and NordVPN have.
Their big claim to fame was a plug by Lifehacker who called them their "favourite VPN for accessing US Netflix."
But should prospective users believe the hype?
Let's take a closer look!
If you're looking for the quick and dirty, we don't recommend Vanish. Instead take a look at our review of the top VPNs in Australia.
Visit VanishedVPN.com
What is VanishedVPN?
Advertised as being ideal for overseas shopping, online gaming, sports and streaming, VanishedVPN is a virtual private network solution out of Australia.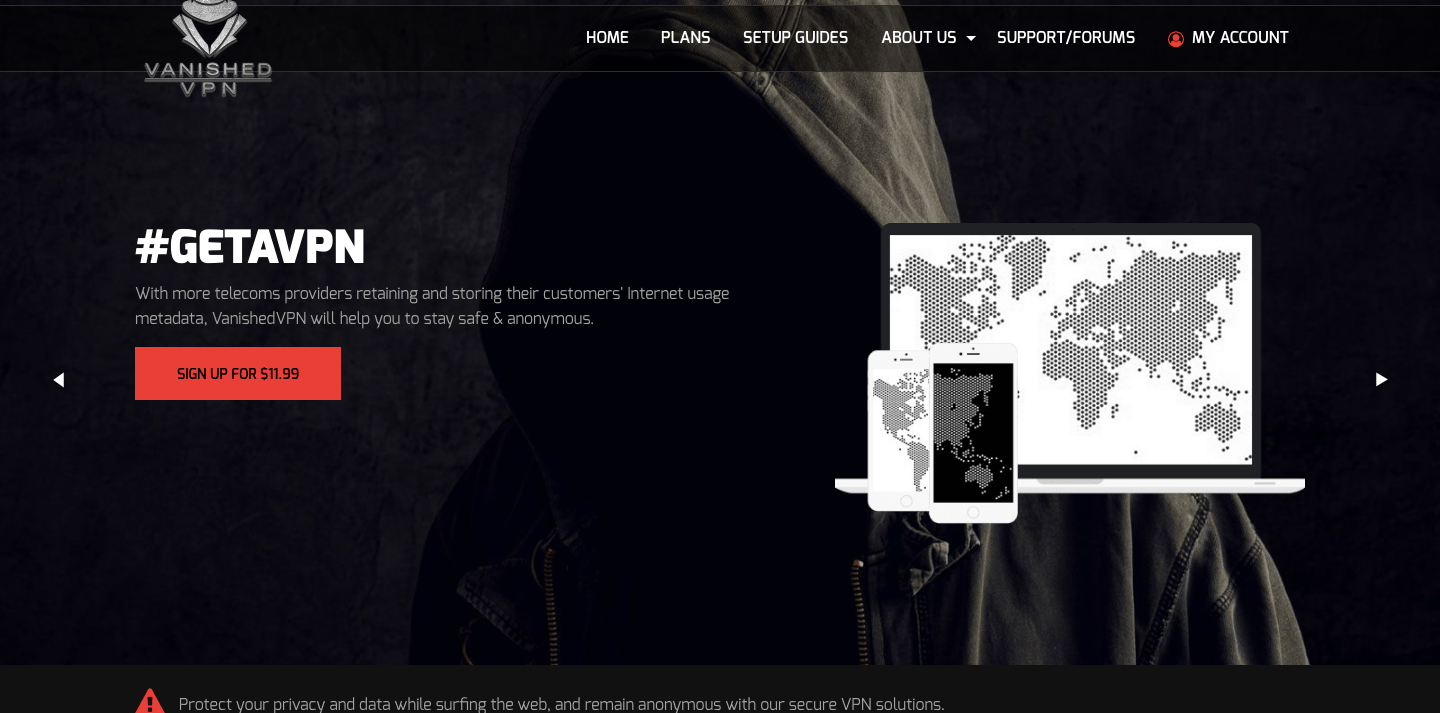 This doesn't exactly bode well for us Aussies because Australia is a member of the Fourteen Eyes, a multinational cooperative who collect signal intelligence and share it with one another. This means that your sensitive data will never truly be safe, regardless of whether you are using a VPN or not.
The vast majority of reputable VPNs maintain a strict "no logs" policy which assures users that their sessions will not be recorded nor sold to third parties. VanishedVPN openly admits to saving your data for a period of 30 days. This includes your source IP address and your connection start and stop time.
Although VanishedVPN claim to never log a user's traffic or the content of said user's communications, but is that really a claim they can make in good conscience?
Under the UKUSA Agreement and all related amendments, the Australian government can serve VPNs with subpoenas or search warrants, and that VPN would be obliged to share their users' logs.
VanishedVPN's essential function is as a geo-unblocking solution. Geo-blocking refers to sites blocking people in other countries from viewing restricted content. For Aussies eager to watch their favourite American TV shows, VanishedVPN is a viable option.
With VanishedVPN, you'll be able to catch up on the newest episodes of Game of Thrones and enjoy old faves like Dexter, Breaking Bad or Netflix's own Orange is the New Black. VanishedVPN is able to gain access to BBC iPlayer, ITV, Hulu, Crackle and other geo-blocked streaming services.
What's the "True" Cost of VanishedVPN?
As I mentioned earlier, there are only two pricing options with VanishedVPN, neither of which seems all that impressive.
They offer a standard plan or their "best offer" plan (annual).
The Standard Plan

$11.99
Billed every month
3 simultaneous connections

"Best Offer" Plan

$8.33/month
Billed annually as $99.99
$43.89 in savings
3 simultaneous connections
Personally, I'm not so keen on the Standard vs. Best Offer packages since I like to pay as I go. And I don't really trust a VPN that doesn't offer a money back guarantee or a free trial. Even some of the worst VPNs around give you a minimum 3-day free trial so you can acquaint yourself with their service and tell if they're legit.
Cancelling VanishedVPN Service
All users are able to cancel their service at any time, but it is important to bear in mind that no refunds are issued. Since VanishedVPN does not issue refunds, users who have purchased a yearly subscription will not be compensated for the portion of time left on their account.
The only way to get a refund on a yearly subscription plan is to cancel within the first 30 days of service. Cancellation goes into effect as soon as VanishedVPN is notified that you want to cancel.
Is VanishedVPN Safe?

VanishedVPN's "Features" page appeared blank when I used it. Therefore, there is no way for me to confirm that their service is a safe and secure one. Unlike virtually every other VPN available, they make no mention of their precise protocol or encryption.
Only a real drongo would feel like they could roam the web freely on a VPN that doesn't disclose its method of cryptography. That's a surefire way to get caught in yer grundies.
(Unfortunately) Their Geo-Blocking Isn't All It's Cracked Up to Be
It's more than a bit bodgy for a site to bill itself as the VPN for US Netflix…only to deactivate a user's account for streaming Netflix content. But that's exactly what happened to me after I signed up with them.
In the interest of full disclosure, I should say that I really put this one to the test by continually streaming for a period of 24 hours. I was also Torrenting which may seem suspect, but most VPNs that are good for streaming also allow P2P. Regardless, this just seems like false advertising.
The Pros of Using VanishedVPN
VanishedVPN's marketing strategy is more than a little hokey. Anyone who advertises a miniature router as "The Amazing Invizbox" probably belongs working in the circus instead of in cyber.
BUT…despite its ridiculous name, the "Invizbox" is actually one of the more appealing offerings on Vanished VPN's site. This mini router enables users to connect their Smart TV, Playstation or Xbox to the VPN's server.
Alas, the Invizbox is listed as being currently out of stock, so this potential pro lives up to the site's name and vanishes right before your eyes once you click on "Find Out More."
About the only good thing I can say about VanishedVPN is that they are pretty informative in terms of configuration. They offer detailed setup guides for iPhone, iPad, Mac, Windows, Android, ATV, PS4, PS3, Sports, Chromecast, Surface, Routers and more.
VanishedVPN Speed Test
For the sake of ensuring the accuracy of my review, I decided to run a speed test using speedtest.net on a 100 Mbps server in the AU. To put this in perspective, I was in Sydney at the time. So performance was not affected by rugged conditions or anything.
Here are the results of my test:
AU Server (Sydney)

Ping: 49 ms
Download Speed: 9.37 Mbps
Upload Speed: 0.47 Mbps

US Server (New York)

Ping: 140 ms
Download Speed: 29.74 Mbps
Upload Speed: 2.07 Mbps
It's obvious from these findings that speed is not VanishedVPN's strong suit nor is their transparency. Nowhere on their website do they let potential customers know anything about their servers or protocol(s).
Most VPNs pride themselves on listing their multitude of server locations. VanishedVPN doesn't disclose any of this information.
Customer Support Quality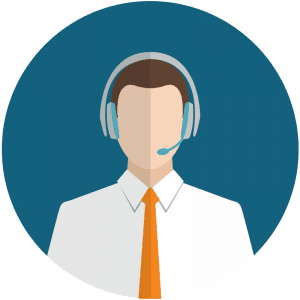 VanishedVPN does not offer 24/7 live chat like some of the better VPN solutions on the market. On the contrary, you are limited to an email only option for filing a complaint or asking any technical questions.
Their customer support team are knowledgeable enough, but this is nowhere near as great as services like VyprVPN or ExpressVPN. Some sites rely only on a ticket system while others are there online to help you in real time. Sadly, VanishedVPN is not one of the latter.
How to Use VanishedVPN
If you've decided to go with VanishedVPN, the signup/setup process is rather simple. You just register your account by providing your email address and creating a password. Once you've completed signup, their setup guides will walk you through the process of accessing their interface on a range of compatible devices.
For those using Windows, you will have to download the OpenVPN app and apply the VanishedVPN openVPN configuration files. This will take about five minutes.
From there, it's really quite easy.
Download and install the OpenVPN software from openvpn.net. Make sure to allow the TAP drivers to install when you receive the pop-up later on during the installation.
Download the VanishedVPN OpenVPN config file from here for the Server that you want (i.e. usa.ovpn for the USA VPN to watch US Netflix).
Move the file that you downloaded (USA.ovpn in our example) to your OpenVPN config folder at (C:\Program Files\OpenVPN\config). Click continue when asked for administrator access to continue.
Right click on the OpenVPN GUI shortcut icon on your desktop, and choose 'run as administrator'.
Right click on the OpenVPN icon in the taskbar at the bottom of your screen.
Select the connection that you want (USA in our example), and select 'connect' from the drop down menu.
Copy and paste your VPN username (your email address) and password that you can see on the 'my account' dashboard on our site. These are case sensitive.
The icon should turn green to show that you're connected.
To test that you're connected, try and play some content from the location that you are now connected to (for example if you are connected to USA, navigate to netflix.com and you should see the US catalogue).
You're all set, mate!
Do I Recommend VanishedVPN?
VanishedVPN is far from the worst or most expensive VPN. In fact, many reviewers praise the price, even though I've personally seen better. As I said before, there's not much to recommend this one.
There is a relative dearth of price options to this one. Many VPN sites offer free trials and 3-month packages. VanishedVPN only offers a monthly or annual billing plan, neither of which is particularly remarkable in terms of price point. There are certainly more affordable VPNs on the market, many of them with solid reputations and a track record of transparency.
By contrast, VanishedVPN provides minimal information on their practices and policies. But while the scarcity of advanced features is a drawback in this seasoned VPNer's eyes, I can see how that might appeal to the less-experienced user who just wants the privacy and security of a VPN for casual surfing or intermittent streaming.
For all other users, I would strongly suggest that you opt for a more established and fully-featured service like ExpressVPN or NordVPN.
Have you ever used VanishedVPN? Wanna share your own experience with this VPN? I welcome your thoughts about my review and this VPN. Drop me a line in the comments below!
You May Also Like: